Lecture Notes in Electrical Engineering
Free Preview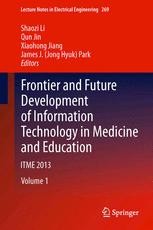 Frontier and Future Development of Information Technology in Medicine and Education
ITME 2013
Editors: Li, S., Jin, Q., Jiang, X., Park, J.H. (Eds.)
Free Preview
Proceedings addresses the ever important areas of Information Technology in the Medical sector
Highlighted fields include how we use IT in modern day Education
Multidisciplinary volume with appeal to Professionals and Researchers in the field of Engineering, Computer Science, Medicine and Education
see more benefits
Buy this book
eBook $389.00

price for USA in USD

ISBN 978-94-007-7618-0
Digitally watermarked, DRM-free
Included format: EPUB, PDF
ebooks can be used on all reading devices
Immediate eBook download after purchase

Hardcover $749.99

price for USA in USD

ISBN 978-94-007-7617-3
Free shipping for individuals worldwide
Institutional customers should get in touch with their account manager
Usually ready to be dispatched within 3 to 5 business days, if in stock

Softcover $499.99

price for USA in USD

ISBN 978-94-024-0181-3
Free shipping for individuals worldwide
Institutional customers should get in touch with their account manager
Usually ready to be dispatched within 3 to 5 business days, if in stock
IT changes everyday's life, especially in education and medicine. The goal of ITME 2013 is to further explore the theoretical and practical issues of IT in education and medicine. It also aims to foster new ideas and collaboration between researchers and practitioners.

Shaozi Li currently serves as the Chair and Professor of Cognitive Science Department of Xiamen University, the Vice Director of Fujian Key Lab of the Brain-like Intelligence System, and the Vice Director and General Secretary concurrently of the Council of Fujian Artificial Intelligence Society. He is also the senior Member of CCF(China Computer Federation) and ACM, the Member of  IEEE. His research interests cover Artificial Intelligence and Its Applications, Moving Objects Detection and Recognition, Machine Learning and Computer Vision, Natural Language Processing and Multimedia Information Retrieval, Network Multimedia and CSCW Technology and others. He has published nearly 150 papers in journals and proceedings, including Machine Learning, Electronic Letters, Soft Computing, Multimedia Tools and Applications, International Journal of Computational Intelligence System, International Journal of Distance Education Technology, Chinese Journal of Electronics, Journal of Software, and etc.

Qun Jin is a professor at the Networked Information Systems Laboratory, Department of Human Informatics and Cognitive Sciences, Faculty of Human Sciences, Waseda University, Japan. He has been engaged extensively in research works in the fields of computer science, information systems, and social and human informatics. He seeks to exploit the rich interdependence between theory and practice in his work with interdisciplinary and integrated approaches. He has published several academic books and more than one hundred refereed papers in journals and proceedings, including ACM and IEEE Transactions. His recent research interests cover ubiquitous computing, human-centric computing, human-computer interaction, behavior and cognitive informatics, data integration and information fusion, life logs and big data mining, user modeling, information search and recommendation, e-learning, e-health, and computing for well-being.

Dr.Xiaohong Jiang is currently a full professor of Future University Hakodate, Japan. Before joining Future University, Dr.Jiang was an Associate professor, Tohoku University, from Feb.2005 to Mar.2010. Dr. Jiang's research interests include computer communications networks, mainly wireless networks and optical networks, interconnection networks for massive parallel computing systems, routers/switches design for high performance networks, network coding for wireless networks, VoIP over wireless networks, network security, VLSI/WSI systems, etc. He has published over 220 technical papers at premium international journals and conferences, like IEEE/ACM Transactions on Networking, IEEE Journal of Selected Areas on Communications, IEEE Transactions on Parallel and Distributed Systems, IEEE Transactions on Communications, IEEE INFOCOM. Dr. Jiang was the winner of the Best Paper Award and Outstanding Paper Award of IEEE WCNC 2012, IEEE WCNC 2008, IEEE ICC 2005-Optical Networking Symposium, and IEEE/IEICE HPSR 2002. He is a Senior Member of IEEE, a Member of IEICE.

Professor James J. (Jong Hyuk) Park received his Ph.D. degree in Graduate School of Information Security from Korea University, Korea. From December, 2002 to July, 2007, Dr. Park had been a research scientist of R&D Institute, Hanwha S&C Co., Ltd., Korea. From September, 2007 to August, 2009, He had been a professor at the Department of Computer Science and Engineering, Kyungnam University, Korea. He is now a professor at the Department of Computer Science and Engineering, Seoul National University of Science and Technology (SeoulTech), Korea. Dr. Park has published about 100 research papers in international journals and conferences. He has been serving as chairs, program committee, or organizing committee chair for many international conferences and workshops. He is a president of the Future Technology Research Association International (FTRA) and Korea Information Technology Convergence Society (KITCS).
Table of contents (468 chapters)

The Anti-Apoptotic Effect of Transgenic Akt1 Gene on Cultured New-Born Rats Cardiomyocytes Mediated by Ultrasound/Microbubbles Destruction

Pages 1-9

Li, Dongye (et al.)

Logic Operation in Spiking Neural P System with Chain Structure

Pages 11-20

Luan, Jing (et al.)

A Mathematical Model of the Knee Joint for Estimation of Forces and Torques During Standing-up

Pages 21-28

Wang, Zhi-qiang (et al.)

Adaptive Online Learning Environment for Life-Long Learning

Pages 29-37

Du, Zhao (et al.)

A Membrane Bin-Packing Technique for Heart Disease Cluster Analysis

Pages 39-49

Liu, Xiyu (et al.)

Teaching Chinese as a Foreign Language Based on Tone Labeling in the Corpus and Multi-Model Corpus

Pages 51-59

Lin, Zhu

A Systematically Statistical Analysis of Effects of Chinese Traditional Setting-up Exercise on Healthy Undergraduate Students

Pages 61-71

Li, Tiangang (et al.)

Sample-Independent Expression Stability Analysis of Human Housekeeping Genes Using the GeNORM Algorithm

Pages 73-80

Li, Li (et al.)

Development of a One-Step Immunochromatographic Strip Test for Rapid Detection of Antibodies Against Classic Swine Fever

Pages 81-92

Ren, Huiying (et al.)

Cramer-Von Mises Statistics for Testing the Equality of Two Distributions

Pages 93-101

Huang, Qun (et al.)

Establishment of Craniomaxillofacial Model Including Temporomandibular Joint by Means of Three-Dimensional Finite Element Method

Pages 103-112

Jun, Zhang (et al.)

The Teaching and Practice for Neutral Network Control Course of Intelligence Science and Technology Specialty

Pages 113-121

Yu, Lingli

A New ACM/ICPC-Based Teaching Reform and Exploration of "Design and Analysis of Algorithms"

Pages 123-131

Zheng, Yunping (et al.)

Application Studies of Bayes Discriminant and Cluster in TCM Acupuncture Clinical Data Analysis

Pages 133-143

Feng, Xiangyang (et al.)

Implanting Two Fiducials into the Liver with Single Needle Insertion Under CT Guidance for CyberKnife® SBRT

Pages 145-155

Yu, Li (et al.)

On the Statistics and Risks of Fiducial Migration in the CyberKnife Treatment of Liver Cancer Tumors

Pages 157-164

Yu, Li (et al.)

The Comparative Analysis with Finite Element for Cemented Long- and Short-Stem Prosthetic Replacement in Elderly Patients with a Partial Marrow Type I Intertrochanteric Fracture

Pages 165-184

Shao-lin, Wang (et al.)

The Exploration of Higher Undergraduate Education Mode Based on University-Enterprise Cooperation

Pages 185-193

Wu, Yunna (et al.)

Higher Education Quality Supervision System Research

Pages 195-203

Wu, Yunna (et al.)

Micro-blog Marketing of University Library Based on 4C Marketing Mix

Pages 205-212

Qing, Feng (et al.)

On Ethics and Values with Online Education

Pages 213-220

Wang, Jiayun (et al.)

What? How? Where? A Survey of Crowdsourcing

Pages 221-232

Yin, Xu (et al.)

Hierarchical Clustering by a P System with Chained Rules

Pages 233-242

Sun, Jie (et al.)

Design and Implementation of Key Techniques in TCM Clinical Decision Support System

Pages 243-251

Zhu, Mingfeng (et al.)

The Effect of a Simulation-Based Training on the Performance of ACLS and Trauma Team of 5-Year Medical Students

Pages 253-263

Zhao, Jie (et al.)

A Novel Enhancement Algorithm for Non-Uniform Illumination Particle Image

Pages 265-272

Weihua, Liu

Research on Predicting the Number of Outpatient Visits

Pages 273-280

Lu, Hang (et al.)

Acute Inflammations Analysis by P System with Floor Membrane Structure

Pages 281-291

Xue, Jie (et al.)

Different Expression of P

Pages 293-306

Wang, Feng (et al.)

Attitudes Toward and Involvement in Medical Research: A Survey of 8-year-Program Undergraduates in China

Pages 307-320

Li, Jie-Hua (et al.)

Study the Effect of Different Traditional Chinese Medicine Treatment which to the Elasticity Modulus of Asthma Rats' Lung

Pages 321-327

Xu, Zhao-xia (et al.)

Cloning and Characterization of Two cDNA Sequences Coding Squalene Synthase Involved in Glycyrrhizic Acid Biosynthesis in

Pages 329-342

Liu, Ying (et al.)

Ontology-Based Multi-Agent Cooperation EHR Semantic Interoperability Pattern Research

Pages 343-351

Yang, Jian (et al.)

Visual Analysis on Management of Postgraduate Degrees

Pages 353-363

Ling, Chen (et al.)

An Energy-Saving Load Balancing Method in Cloud Data Centers

Pages 365-373

Li, Xiao (et al.)

Application of a New Association Rules Mining Algorithm in the Chinese Medical Coronary Disease

Pages 375-383

Yuan, Feng (et al.)

Design and Development of a Clinical Data Exchange System Based on Ensemble Integration Platform

Pages 385-392

Yu, Wang (et al.)

The Management and Application of a Radio Frequency Identification System in Operating Rooms

Pages 393-402

Leu, Jun-Der (et al.)

Exploiting Innovative Computer Education Through Student Associations

Pages 403-411

Hu, Wei (et al.)

Traditional Chinese Medicine Literature Metadata: A Draft Technical Specification Developed by the International Organization for Standardization

Pages 413-420

Yu, Tong (et al.)

A Visualization Method in Virtual Educational System

Pages 421-429

Zhang, Guijuan (et al.)

Moral Education with the Background of Information Globalization

Pages 431-440

Xiang, Liying

A Bayes Network Model to Determine MiRNA Gene Silence Mechanism

Pages 441-448

Fu, Hao-yue (et al.)

The Novle Strategy for the Recognition and Classification of the Red Blood Cell in Low Quality Form Images

Pages 449-456

Cao, Qiyou (et al.)

Scalable and Explainable Friend Recommendation in Campus Social Network System

Pages 457-466

Du, Zhao (et al.)

Application of Virtual Reality Technology in Medical Education

Pages 467-476

Shi, Yan-Li

An Improved Outlier Detection Algorithm Based on Reverse

Pages 477-487

Fangfang, Xie (et al.)

A Practical Study on the Construction of Diversified Network Monitoring System for Teaching Quality

Pages 489-499

Bing, Jia (et al.)

Reformation and Application of "Project-Tutor System" in Experimental Course Teaching of Fundamental Medicine

Pages 501-509

Xu, Li-fa (et al.)

A Knowledge-Based Teaching Resources Recommend Model for Primary and Secondary School Oriented Distance-Education Teaching Platform

Pages 511-521

Zhao, Meijing (et al.)

A Fast and Simple HPLC–UV Method for Simultaneous Determination of Emodin and Quinalizarin from Fermentation Broth of

Pages 523-529

Yu, ShaoMei (et al.)

Alteration of Liver MMP-9/TIMP-1 and Plasma Type IV Collagen in the Development of Rat Insulin Resistance

Pages 531-543

Hou, Jun-feng (et al.)

Evaluation Method for Software System Reliability

Pages 545-552

Lu, Han (et al.)

P System Based Particle Swarm Optimization Algorithm

Pages 553-563

Du, Qiang (et al.)

Specifying Usage of Social Media as a Formative Construct: Theory and Implications for Higher Education

Pages 565-578

Hu, Tao (et al.)

Unsupervised Brain Tissue Segmentation by Using Bias Correction Fuzzy C-Means and Class-Adaptive Hidden Markov Random Field Modelling

Pages 579-587

Zeng, Ziming (et al.)

An Adaptive Cultural Algorithm Based on Dynamic Particle Swarm Optimization

Pages 589-602

Peiyu, Liu (et al.)

A Modified Approach of Hot Topics Found on Micro-blog

Pages 603-614

Ran, Lu (et al.)

Computational Fluid Dynamics Simulation of Air Flow in the Human Symmetrical Six-Generation Bifurcation Bronchial Tree Model

Pages 615-623

Qi, Shouliang (et al.)

Discrimination of Solitary Pulmonary Nodules on CT Images Based on a Novel Automatic Weighted FCM

Pages 625-633

Xin, Zhang (et al.)

Investigation of Demands on On-Campus Health Information Education Services

Pages 635-645

Li, Zhao-feng (et al.)

Suicidality in Medication-Native Patients with Single-Episode Depression: MRSI of Deep White Matter in Frontal Lobe and Parietal Lobe

Pages 647-657

Wang, Xizhen (et al.)

Relating Research on ADC Value and Serum GGT, TBil of Lesions in Neonatal Hypoxic Ischemic Encephalopathy

Pages 659-667

Guan, Yue (et al.)

Design and Implementation of the Regional Health Information Collaborative Platform

Pages 669-677

Hua-Ming, Kong (et al.)

A Multi-objective Biogeography-Based Optimization with Mean Value Migration Operator

Pages 679-686

Gao, Kai-ge (et al.)

Observation of Curative Effect on 200 Cases of Myasthenia Gravis Treated with Traditional Chinese Medicine

Pages 687-693

Di, Wang (et al.)

Integrating Social Question–Answer Sites in Learning Management System

Pages 695-703

Liu, Yongqi (et al.)

The Study of Dynamic Threshold Strategy Based-On Error Correction

Pages 705-712

Yang, Zhimin (et al.)

Identification of Evaluation Collocation Based on Maximum Entropy Model

Pages 713-721

Zhao, LingYun (et al.)

Comparison of Beta Variable Gene Usage of T Cell Receptor in Peripheral Blood and Synovial Fluid of Rheumatoid Arthritis Patients

Pages 723-735

Zhou, Jianwei (et al.)

New Impossible Differential Cryptanalysis on Improved LBlock

Pages 737-745

Liu, Xuan (et al.)

Speckle Noise Reduction in Breast Ultrasound Images for Segmentation of Region Of Interest (ROI) Using Discrete Wavelets

Pages 747-754

Amutha, S. (et al.)

Sonic Hedgehog Signaling Molecules Expression in TGF-β1-Induced Chondrogenic Differentiation of Rat Mesenchymal Stem Cells In Vitro

Pages 755-762

Shi, Yingchao (et al.)

A FCA-Based Approach to Data Integration in the University Information System

Pages 763-771

Liu, Yong (et al.)

Research and Design on Agent-Based Collaborative Learning Model for Sports Students

Pages 773-781

Lu, Zhaoxia (et al.)

Toxicology Evaluation and Properties of a New Biodegradable Computer Made Medical Biomaterial

Pages 783-794

Ma, Jinshu (et al.)

Investigation and Analysis on Ear Diameter and Ear Axis Diameter in Maize RIL Population

Pages 795-801

He, Daowen (et al.)

Descriptive Statistics and Correlation Analysis of Three Kernel Morphology Traits in a Maize Recombinant Inbred Line Population

Pages 803-809

Liao, Changmin (et al.)

Study on Two Agronomic Traits Associated with Kernel Weight in a Maize RIL Segregation Population

Pages 811-817

Liao, Changmin

Improved Single-Key Attack on Reduced-Round LED

Pages 819-827

Liu, Feng (et al.)

Automatic Screening of Sleep Apnea-Hypopnea Syndrome by ECG Derived Respiration

Pages 829-836

Qiao, Qing (et al.)

Research on the Informatization Top-level Design Methods

Pages 837-847

Huilin, Zhang (et al.)

Research on Optimization of Resources Allocation in Cloud Computing Based on Structure Supportiveness

Pages 849-858

Yuan, Wei-hua (et al.)

Ambidextrous Development Model of University Continuing Education in Yunnan Province Based on CRM

Pages 859-868

Zuo, Hong-wu (et al.)

Bibliometric Analysis on the Study of Education Informatization

Pages 869-877

Chen, Qiaoyun

A Method for Integrating Interfaces Based on Cluster Ensemble in Digital Library Federation

Pages 879-887

Pan, Peng (et al.)

Long Term Web Service Oriented Transaction Handling Improvement of BTP Protocol

Pages 889-898

Yao, Zhi-Lin (et al.)

The Verification of a Newly Discovered Hepatitis B Virus Subtype Based on Sequence Analysis

Pages 899-907

Yi, Qingqing (et al.)

A Primary Study for Cancer Prognosis based on Classification and Regression Using Support Vector Machine

Pages 909-920

Qinan, Jia (et al.)

Feature Extraction and Support Vector Machine Based Classification for False Positive Reduction in Mammographic Images

Pages 921-929

Truong, Q. D. (et al.)

Research on Distributed Synchronous CAD Collaborative Design System

Pages 931-939

Li, Chen

Enterprise Evolution with Molecular Computation

Pages 941-949

Li, Xiuting (et al.)

Research and Implementation of Auxiliary System for Waken-up Craniotomy

Pages 951-957

Yu, Liu (et al.)

Investigation Performance on Electrocardiogram Signal Processing Based on an Advanced Algorithm Combining Wavelet Packet Transform (WPT) and Hilbert-Huang Transform (HHT)*

Pages 959-968

Bo, Jin (et al.)

Study on Self-Adaptive Clinical Pathway Decision Support System Based on Case-Based Reasoning

Pages 969-978

Qu, Gang (et al.)

Wireless Body Sensor Networks with Cloud Computing Capability for Pervasive Healthcare: Research Directions and Possible Solutions

Pages 979-988

Xu, Xiaoya (et al.)

Robust Predictive Control of Singular Systems with Structured Feedback Uncertainty

Pages 989-999

Liu, Xiaohua (et al.)

Image Enhancement Methods for a Customized Videokeratography System Designed for Animals with Small Eyes

Pages 1001-1009

Chen, Bin (et al.)

Cloning and Expression of Catechol 2,3-dioxygenase from

Pages 1011-1019

Yu, Shuang (et al.)

Design of Trust Model Based on Behavior in Cloud Computing Environment

Pages 1021-1028

Zhang, Yong Sheng (et al.)

The Study of Community–Family Remote Health Supervisory System Based on IOT

Pages 1029-1037

Lu, Dongxin (et al.)

Consistent Metric Learning for Outcomes of Different Measurement Tools of Cervical Spondylosis: Towards Better Therapeutic Effectiveness Evaluation

Pages 1039-1047

Zhang, Gang (et al.)

Design and Creation of a Universal Model of Educational Process with the Support of Petri Nets

Pages 1049-1060

Balogh, Zoltán (et al.)

The Application of MPC-GEP in Classification Rule Mining

Pages 1061-1071

Yao, Min (et al.)

Effects of Informationization on Strategic Plan of Regional Universities

Pages 1073-1083

Chen, Guilin (et al.)

A Survey on Wireless Camera Sensor Networks

Pages 1085-1094

Liu, Xiaolan

A Modified Hexagon-Based Search Algorithm for Fast Block Matching Motion Estimation

Pages 1095-1103

Cheng, Yun (et al.)

Protection of Xi Lei Powder to Intestinal Mucosa in Enema-Microstructure Observation by TEM and Light Microscope

Pages 1105-1111

Zhang, Feng (et al.)

Study on the Theory Building of Relationship Between National Culture Benefit and Language Education Policy

Pages 1113-1118

Ma, Jingying

Study on the Defect and Research About Discipline Speech Act Theory of Educator

Pages 1119-1123

Ying, Li

Study on the Nature of Education Information: The Education of Digital Virtual World

Pages 1125-1130

Junmei, Zhang

Study on the Construction of General Framework of Educational Cost Management Mode in Colleges and Universities

Pages 1131-1136

Hongbo, Xiu

Study on the Risk Identification and Warning of Tax Administration

Pages 1137-1142

Weidong, Liu

Study on the System Design of Sports Public Service Performance Evaluation

Pages 1143-1148

Liu, Weidong

Research on the Construction of Teaching Resources Platform in Universities

Pages 1149-1154

Meng, Qian

Applications of Virtualization Technology to Digital Library

Pages 1155-1161

Xiaoyi, Yu (et al.)

The Health Status Among College Teachers: Taking Jiangxi Local Colleges as Example

Pages 1163-1173

Guo, Kaiqiang (et al.)

Research on Students' Perception and Expectations of Printed Materials in Online Education

Pages 1175-1182

Yiqiang, Jin

Task Driven is an Effective Teaching Model of Discrete Mathematics in High Education

Pages 1183-1187

Shuai, Liu (et al.)

Evaluation on Application of Scene-Simulation Teaching Method in Oral Medicine Teaching

Pages 1189-1194

An, Xiaoli (et al.)

Research on Three Convolutions Related Issues in Signal Processing

Pages 1195-1200

Song, Wei

Evaluation of College Students' Self-Regulated Learning Based on the IT Technology

Pages 1201-1205

Wang, X. (et al.)

The Association Analysis of P16 in Transitional Cell

Pages 1207-1211

Hui, Yu

Problem-Based Learning (PBL) in Eight-Year Program of Clinical Medicine in Xiangya School of Medicine: New Mode Needs Exploration

Pages 1213-1220

He, Jieyu (et al.)

Design of Virtual Reality Guide Training Room Based on the Modern Education Technology

Pages 1221-1227

Pengshun, Zhang

Exploration and Practice of Teaching Mode of Mechanical Engineering Control Foundation Based on Project Driving

Pages 1229-1233

Wu, Tao (et al.)

Wireless Sensor Network Distributed Data Collection Strategy Based on the Regional Correlated Variability of Perceptive Area

Pages 1235-1240

Zhang, Yongjun (et al.)

The System Design of the Network Teaching Platform of Learning Based on the Concept of Development Evaluation

Pages 1241-1245

Yong, Liu

3-Dimensional Finite Element Analysis on Periodontal Stress Distribution of Impacted Teeth During Orthodontic Treatment

Pages 1247-1252

Wang, Xu-xia (et al.)

A Score-Analysis Method Based on ID3 of NCRE

Pages 1253-1258

Xu, Zeng

Education Cloud: New Development of Informationization Education in China

Pages 1259-1266

Yang, Liangtao

CRH5 EMU Fault Diagnosis Simulation Training System Development

Pages 1267-1276

Wang, Jian (et al.)

A Study on Recruitment Requirements of Small and Medium-Sized Enterprises and the Talent Training of Local Colleges

Pages 1277-1281

Weiwei, Zhang

Simultaneous Determination of Atractylenolide II and III in

Pages 1283-1289

Sun, Xiao-hong (et al.)

Research on the Pharmacokinetics and Elimination of Epigallocatechin Gallate (EGCG) in Mice

Pages 1291-1298

Liu, Yang (et al.)

Simultaneous Determination of Five Phthalic Acid Esters (PAEs) in Soil and Air

Pages 1299-1306

Hu, Tian-yu (et al.)

The Relationship Between Employability Self-Efficacy and Growth: The Mediator Role of e-Recruiting Perceived

Pages 1307-1313

Chou, Chun-Mei (et al.)

A Study to Analyze the Effectiveness of Video-Feedback for Teaching Nursing Etiquette

Pages 1315-1320

Zhu, Xiaoling (et al.)

A Biomedical Microdevice for Quantal Exocytosis Measurement with Microelectrodes Arrays

Pages 1321-1324

Sun, Liguo (et al.)

The Construction of Comprehensive Financial Evaluation System in Higher Vocational Colleges Based on Connotation Construction

Pages 1325-1330

Zhu, Zhongsheng (et al.)

Spatial Covariance Modeling Analysis of Hypertension on Cognitive Aging

Pages 1331-1335

Lin, Lan (et al.)

A New Practice Mode and Platform Based on Network Cooperation for Software Engineering Specialty

Pages 1337-1342

He, Ling

Post-Newborn: A New Concept of Period in Early Life

Pages 1343-1350

Chen, Long (et al.)

Analysis of the Characteristics of Papillary Thyroid Carcinoma and Discussion on the Surgery (Experience of 392 Cases)

Pages 1351-1357

Liu, Jia (et al.)

Skills of Minimally Invasive Endoscopic Thyroidectomy via Small Incision of Neck (Experience of 1,226 Cases)

Pages 1359-1364

Liu, Jia (et al.)

Research on the Contemporary College Students' Information Literacy

Pages 1365-1372

Wenjuan, Zhong (et al.)

The CEMS Research Based on Web Service

Pages 1373-1381

Zang, Wenke (et al.)

Enterprise Development with P Systems

Pages 1383-1388

Li, Xiuting (et al.)

Application of Microblog in Educational Technology Practice Teaching

Pages 1389-1393

Yuan, Jiugen (et al.)

Ultrasound Image Segmentation Using Graph Cuts with Deformable Prior

Pages 1395-1400

Li, Lin (et al.)

Classifying and Diagnosing 199 Impacted Permanent Using Cone Beam Computed Tomography

Pages 1401-1405

Wang, Xu-xia (et al.)

Research Status and Development Tendency of Multi-campus and Two Level Teaching Quality Monitoring and Security System

Pages 1407-1411

Lei, Mu (et al.)

Analysis of the Research and Trend for Electronic Whiteboard

Pages 1413-1417

Guo, Guiying (et al.)

Study on Multi-faceted Teaching Model of Common Courses in Stomatology: Taking Curriculums of "The Oral Prevention and Health Care" as an Example

Pages 1419-1423

Xu, Yanyang (et al.)

Teaching Discussion on Pattern Matching Algorithm in the Course of Data Structure

Pages 1425-1430

An, Yang (et al.)

The Optimal Medical Device Order Strategy: An Improved EOQ Model in Hospital

Pages 1431-1436

Yan, Wei (et al.)

Improve Effectiveness and Quality of Course Practices by Opening, Reusing and Sharing

Pages 1437-1441

Lan, Rao (et al.)

Application of PBL Teaching Method in the Experimental Teaching of Hematologic Examination

Pages 1443-1448

Sun, Min (et al.)

Study on Bilingual Teaching of Heat Transfer Curriculum Assisted by Distance Education

Pages 1449-1454

Su, Shunyu (et al.)

Nonlinear Analysis of Bioprosthetic Heart Valve on Suture Densities

Pages 1455-1462

Yuan, Quan (et al.)

Reflections on Primary Post Capacity-Oriented Integrated Practice Teaching of Oral Courses in Higher Vocational Colleges

Pages 1463-1471

Wang, Chun-feng (et al.)

Excellent Man Marathon Runners and Plateau, Plateau Training Period Portion of the Blood in the Index Comparison Analysis

Pages 1473-1480

Sheng-lin, Zhang

The Implication of Collaborative Learning in College English

Pages 1481-1485

Sufeng, Yan (et al.)

Bilingual Teaching Efficiency of Prosthodontics in Different Teaching Methods

Pages 1487-1491

Chen, Liangjiao (et al.)

Practice of Paradigm Teaching on Circuit Theory

Pages 1493-1499

Ge, Yumin (et al.)

The Study of Relationship Between the Nature and Other Properties of Traditional Chinese Medicines Based on Association Rules

Pages 1501-1506

Zhe, Wang (et al.)

Usage of Turbine Airflow Sensor in Ventilator

Pages 1507-1514

Wu, Yaoyu (et al.)

Study on the Model of Double Tutors System in Postgraduate Education

Pages 1515-1519

Wang, Jian (et al.)

Research on the Mobile Learning Resources Based on Cellphone

Pages 1521-1525

Lehui, Huang (et al.)

Data Structure Teaching Practice: Discussion on Non-recursive Algorithms for the Depth-First Traversal of a Binary Tree

Pages 1527-1531

Xu, Zhong-wei

Contrast Analysis of Standardized Patients and Real Patients in Clinical Medical Teaching

Pages 1533-1537

Yali, Zhang (et al.)

Effect of Jiangtang Fonglong Capsule on Expressions of Insulin of Deaf Animal Models of Diabetes

Pages 1539-1545

Li, Ruiyu (et al.)

The Discussion for the Existence of Nontrivial Solutions About a Kind of Quasi-Linear Elliptic Equations

Pages 1547-1554

Kou, Bingyu (et al.)

A Team-Learning of Strategies to Increase Students' Physical Activity and Motivation in Sports Community

Pages 1555-1559

Wu, Hongyv (et al.)

Research on Feet Health of College Students

Pages 1561-1568

Meili, Pan

Uncertain Life

Pages 1569-1574

Wang, Shao-lin (et al.)

Large-Scale Clinical Data Management and Analysis System Based on Cloud Computing

Pages 1575-1583

Wang, Ye (et al.)

Satisfaction Changes Over Time Among Dentists with Outpatient Electronic Medical Record

Pages 1585-1590

Cai, Hong-wei (et al.)

Discussion on English Collaborative Learning Mode in Vocational Schools Under the IT-Based Network Environment

Pages 1591-1595

Yang, X. (et al.)

The Design of Learner-Centered College Teaching Resource Libraries

Pages 1597-1601

Wei, Cui (et al.)

Research on Practice Teaching of Software Engineering

Pages 1603-1608

Sun, Lianying (et al.)

Construction of Transportation Professional Virtual Internship Platform

Pages 1609-1614

Jianguang, Zhao (et al.)

Chronic Suppurative Otitis Media Bacteriology Culturing and Drug Sensitive Experiment of Er Yannig

Pages 1615-1618

Liping, Wu (et al.)

Research Hotspots Analysis of Hypertension Receptor by PubMed

Pages 1619-1624

Li, Chaopeng (et al.)

Creative Approaches Combined with Computer Simulation Technology in Teaching Pharmacology

Pages 1625-1631

Wang, Chuang (et al.)

Problems and Counterplans of College English Independent Study Under Network Environment

Pages 1633-1638

Fengjie, Zhai

Integrity Verification of Cloud Data

Pages 1639-1644

Kong, Fan-xin (et al.)

Establishing Automotive Engineering School-Enterprise Practice Training Model Based on Excellent Engineer Plan

Pages 1645-1650

Guo-qing, Geng (et al.)

Mechanical Finite Element Analysis to Two Years Old Children's Orbital-Bone Based on CT

Pages 1651-1657

liu, Jing (et al.)

Study on Digitalized 3D Specimen Making of Pathologic Gross Specimen Basing on Object Panorama

Pages 1659-1665

Hua-quan, Ran (et al.)

Ontology-Based Medical Data Integration for Regional Healthcare Application

Pages 1667-1672

Wen, Yu-Xin (et al.)

The Application of Positive Psychology in Effective Teaching

Pages 1673-1681

Lin, Yu (et al.)

The Exploration of Paramilitary Students Management in Vocational Colleges

Pages 1683-1689

Haohui, Wang

Research on a New DNA-GA Algorithm Based on P System

Pages 1691-1698

Zhao, Shuguo (et al.)

Study on the Assistance of Microblogging in English Literature Teaching

Pages 1699-1705

Fang, Haixia

Problem-Based Learning of Food Hygiene in Higher University of Traditional Chinese Medicine

Pages 1707-1711

Xia, Daozong

Education Security of Bridgehead Strategic in Southwest China: Concept, Problems and Solutions

Pages 1713-1717

Tian, Jing (et al.)

Applications of Network-Based Education in Lifelong Medical Education

Pages 1719-1724

Sun, Liyuan (et al.)

The Application of Informatics Technology in Foreign Medical Undergraduates Teaching

Pages 1725-1730

Liu, Limei (et al.)

Discussion on the Reform of Teaching Software Development Training Curriculum Based on Application Store

Pages 1731-1736

Zhu, Yan-jun (et al.)

Research on Construction of Bilingual-Teaching Model Course for Bioinformatics

Pages 1737-1745

Hu, Dong (et al.)

Research on Endpoint Information Extraction for Chemical Molecular Structure Images

Pages 1747-1752

Zhong, Zhao-man (et al.)

Using Video Recording System to Improve Student Performance in High-Fidelity Simulation

Pages 1753-1757

Shen, Wangqin

Exploration of Vocational Talents Culture Model of "Promote Learning with Competition, Combine Competition with Teaching"

Pages 1759-1764

Cao, Wen-liang (et al.)

Research of Training Professionals in Computer Application Major from the Perspective of the Connection Between Middle and Higher Vocational Education

Pages 1765-1770

Hu, Xuan-zi (et al.)

Meta Analysis of Teachers' Job Burnout in China

Pages 1771-1778

Liu, Jian-ping (et al.)

Similar Theory in Material Mechanics Problem

Pages 1779-1783

Mao, Luo (et al.)

Some Reflections on the Course Teaching of Physical Oceanography

Pages 1785-1789

Liu, Hao (et al.)

A Neural Tree Network Ensemble Mode for Disease Classification

Pages 1791-1796

Qi, Feng (et al.)

Application of PBL Model in the Teaching of Foreign Graduate Student

Pages 1797-1802

Xia, Songzhu (et al.)

The Influence in Bone Mineral Density of Diabetes with Deafness in Different Syndrome Types by Prescriptions of Hypoglycemic Preventing Deafness

Pages 1803-1811

Li, Ruiyu (et al.)

Application of Data Mining in the Assessment of Teaching Quality

Pages 1813-1819

Qu, Huabin (et al.)

A Data Mining System for Herbal Formula Compatibility Analysis

Pages 1821-1828

Jinghua, Li (et al.)

The Analysis of the Chronic Patients' Demand of the Hospital Health Information Service

Pages 1829-1832

Li, Guiling (et al.)

Learning from Errors and Learning from Failures: A Study on the Model of Organizational Learning from Errors

Pages 1833-1840

Xie, Yangqun (et al.)

Employment-Oriented Web Application Development Course Design Reform

Pages 1841-1846

Dong, Chong-jie

A Process Model of User Reactions to IT System Features

Pages 1847-1853

Yu, Yan (et al.)

Application of Modified PBL Mode on Pathophysiology Courses

Pages 1855-1861

Hua, Tang (et al.)

Meditations on the Semantic Net: Oriented Library Information Service in Cloud Computing Era

Pages 1863-1870

Liu, Yumei

Synthesis and Antibacterial Activity of Resveratrol Derivatives

Pages 1871-1881

Chen, Yuanmou (et al.)

Comparison of Intravenous Propofol Using Target-Controlled Infusion and Inhalational Sevoflurane Anesthesia in Pediatric Patients

Pages 1883-1890

Su, Dong (et al.)

Effect of Different Fluids on Blood Volume Expansion in Epidural Anesthesia of Elderly Patients

Pages 1891-1898

Su, Dong (et al.)

The Application of Association Rule Mining in the Diagnosis of Pancreatic Cancer

Pages 1899-1903

Shaoyun, Song

Meta-Analysis of Chinese Herbs in the Treatment of Nephropathy: Huangqi and Danggui Type Formulations

Pages 1905-1911

wei, Ming-gang (et al.)

Establishment and Significance of Digital Embryo Library for Enhancing Embryology Teaching Effect

Pages 1913-1917

Sheng-Bin, Bai (et al.)

3D Reverse Modeling and Rapid Prototyping of Complete Denture

Pages 1919-1927

Li, Dantong (et al.)

Simulation Training on Improving Basic Laparoscopic Skills of Medical Students

Pages 1929-1934

Hong, Ni (et al.)

Research on Reforming of Vocational Colleges for Music Majors in Education

Pages 1935-1940

Li, Liu

Research on Badminton Sports in National Fitness Activities

Pages 1941-1945

Dong, Yanling (et al.)

University Students' Humanity Quality Education of Tai Ji Quan to Cultivate Influence

Pages 1947-1952

Qiang, Ji (et al.)

Study Progress of Traditional Chinese Massage Treatment of Lumbar Disc Herniation

Pages 1953-1959

Lan, Qing (et al.)

Chinese Anti-Inflammatory Herb May Postpone the Forming and Exacerbating of Diabetic Nephropathy (DN)*

Pages 1961-1969

Gao, Hongjie (et al.)

Analysis of Electromagnetic Radiation Effect on Layered Human Head Model

Pages 1971-1977

Ping, Lanlan (et al.)

A Study on Potential Legal Risks of Electronic Medical Records and Preventing Measures

Pages 1979-1985

Shengli, Hu (et al.)

Fostering the Autonomous Learning Ability of the Students Under the Multimedia Teaching Environment

Pages 1987-1991

Chen, Zhao-ying (et al.)

Pattern Matching with Flexible Wildcard Gaps

Pages 1993-1998

Junyan, Zhang (et al.)

Establishment and Practice of the New Teaching Model of Maxillofacial Gunshot Injuries

Pages 1999-2005

Tang, Zhen (et al.)

Research of Database Full-Text Retrieval Based on Related Words Recognition

Pages 2007-2011

Pei-zhi, Gao (et al.)

Construction and Application of High Quality Medical Video Teaching Resources

Pages 2013-2021

Wanjiang, Chu (et al.)

Research and Construction of Mobile Development Engineer Course System

Pages 2023-2029

Shao, Xiufeng (et al.)

Backward Direction Link Prediction in Multi-relation Systems

Pages 2031-2035

Hong, Wang (et al.)

The Innovation of Information Service in University Library Based on Educational Informationization

Pages 2037-2042

Fang, Liu

Speculate the Teaching of Medical Microbiology Network Resource

Pages 2043-2048

Hongying, Wang (et al.)

Clinical Significance of the Detection of Serum Procalcitonin in Patients with Lung Infection After Liver Transplantation

Pages 2049-2053

Guo, Juan (et al.)

Exploration of Teaching Strategies in Medical Network Teaching

Pages 2055-2060

Li, Bing (et al.)

The Application of Information Technology Means During Clinical Medical Education in China

Pages 2061-2065

Xing, Ying (et al.)

Research Hotspots Analysis of Hypertension Treatment by PubMed

Pages 2067-2072

Jinjie, Hou (et al.)

Research Hotspots Analysis of Hepatitis Receptor by PubMed

Pages 2073-2078

Jinjie, Hou (et al.)

The Application of Information Technology in Modern Sports Teaching

Pages 2079-2083

Li, Xiao Hong (et al.)

How to Use Multimedia Technology for Improvement of the Teaching Effect of Medical Immunology

Pages 2085-2090

Jianbing, Ding (et al.)

Application of Mind Map in Teaching and Learning of Medical Immunology

Pages 2091-2094

Wang, Song (et al.)

Electron Microscopy Technology and It's Application in the Morphology

Pages 2095-2102

Sun, Caili (et al.)

Empirical Study on the Relationship Between Financial Structure and Economic Growth: An Example of Zhejiang Province

Pages 2103-2107

Zhang, Songyan

The Teaching Design of Digital Signal Processing Based on MATLAB and FPGA

Pages 2109-2114

Tian, Xiaoyan (et al.)

The Design of an Management Software for High Value Medical Consumables

Pages 2115-2121

Longfu, Zhou (et al.)

Libraries Follow-Up Services in the Era of Fragmentation Reading

Pages 2123-2128

Yanxiang, Lu

Research on Construction of Green Agriculture Products Supply Chain Based on the Model Differentiation

Pages 2129-2133

Zhao, Bo

Visualization Analysis and Research of Scientific Papers and Thesis in University

Pages 2135-2142

Xie, Jiangning (et al.)

Multimedia Assisted Case-Based Teaching Application in Intercultural Communication

Pages 2143-2147

Fang, Huang (et al.)

The Informatization Reform and Practice of the Humanities Courses in Nursing Profession

Pages 2149-2153

Wang, Ying

A Modified Minimum Risk Bayes and It's Application in Spam Filtering

Pages 2155-2159

Zhu, Zhenfang (et al.)

Research of CRYPTO1 Algorithm Based on FPGA

Pages 2161-2168

Haifeng, Zhang (et al.)

Change of Plasma Adrenomedullin and Expression of Adrenomedullin and its Receptor in Villus of Normal Early Pregnancy

Pages 2169-2175

Ruan, Lihong (et al.)

A Summary of Role of Alveolar Epithelial Type II Cells in Respiratory Diseases

Pages 2177-2182

Li, Xueliang (et al.)

Application of Inquiry Teaching in Econometrics Course

Pages 2183-2188

Zhang, Songyan

Extract Examining Data Using Medical Field Association Knowledge Base

Pages 2189-2193

Wang, Li (et al.)

The Analysis and Research on Digital Campus Construct Model

Pages 2195-2200

Xiaoming, Liu (et al.)

Emotional Deficiency in Web-Based Learning Environment and Suggested Solutions

Pages 2201-2208

Li-hua, Cai

Mapping Knowledge Domain Analysis of Medical Informatics Education

Pages 2209-2213

Qian, Danmin (et al.)

Negation Detection in Chinese Electronic Medical Record Based on Rules and Word Co-occurrence

Pages 2215-2220

Zhang, Yuanpeng (et al.)

Design and Implementation of Information Management System for Multimedia Classroom Based on B/S Structure

Pages 2221-2231

Zhu, Xian (et al.)

The Application of E-Learning in English Teaching of Non-English Major Postgraduate Education

Pages 2233-2238

Daqing, Qu

The Construction of Semantic Network for Traditional Acupuncture Knowledge

Pages 2239-2245

Zhu, Ling (et al.)

The New Training System for Laboratory Physician

Pages 2247-2251

Wang, Rong (et al.)

The Investigation on Effect of Tele-Care Combined Dietary Reminds in Overweight Cases

Pages 2253-2258

Chen, Y. -P. (et al.)

A Training System for Operating Medical Equipment

Pages 2259-2265

Kanehira, Ren (et al.)

The Essential of Hierarchy of E-Continuing Medical Education in China

Pages 2267-2272

Feng, Tienan (et al.)

The Reverse Effects of Saikoside on Multidrug Resistance

Pages 2273-2280

Bai, Huiying (et al.)

Research and Practice on "Three Steps of Bilingual Teaching" for Acupuncture and Moxibustion Science in Universities of TCM

Pages 2281-2285

Meng, Xiang Wen (et al.)

Current Status of Traditional Chinese Medicine Language System

Pages 2287-2292

Cui, Meng (et al.)

The Selection Research of Security Elliptic Curve Cryptography in Packet Network Communication

Pages 2293-2300

Zhang, Yuzhong

Improvement of Medical Imaging Course by Modeling of Positron Emission Tomography

Pages 2301-2305

Qiao, Huiting (et al.)

The Research of Management System in Sports Anatomy Based on the Network Technology

Pages 2307-2314

Liu, Hong (et al.)

Innovation of Compiler Theory Course for CDIO

Pages 2315-2320

Na, Wang (et al.)

The Design and Implementation of Web-Based E-Learning System

Pages 2321-2324

Hou, Chunjie (et al.)

Complex System Ensuring Outstanding Student Research Training in Private Universities

Pages 2325-2330

Xu, YueYu

The Influence of Short Chain Fatty Acids on Biosynthesis of Emodin by

Pages 2331-2336

Li, Xia (et al.)

Relationship Between Reactive Oxygen Species and Emodin Production in

Pages 2337-2343

Lv, Ping

A Studies of the Early Intervention to the Diabetic Patients with Hearing Loss by Hypoglycemic Anti-deaf Party

Pages 2345-2352

Guo, Kaoshan (et al.)

Effect of T Lymphocytes PD-1/B7-H1 Path Expression in Patients with Severe Hepatitis Depression from Promoting Liver Cell Growth Hormone Combinations from Gongying Yinchen Soup

Pages 2353-2360

Junhui, Zhang (et al.)

The Influence of Hepatocyte Growth-Promoting Factors Combined with Gongying Yinchen Soup for Depression in Patients with Fulminant Hepatitis Peripheral Blood T Lymphocyte Subsets and Liver Function

Pages 2361-2366

Wu, Liping (et al.)

The Impact of Hepatocyte Growth-Promoting Factors Combined with Gongying Yinchen Soup on Peripheral Blood SIL-2R of Depression in Fulminant Hepatitis Patients

Pages 2367-2373

Kaoshan, Guo (et al.)

Design and Development of Learning-Based Game for Acupuncture Education

Pages 2375-2380

Huang, Youliang (et al.)

Clinical Research on Using Hepatocyte Growth-Promoting Factors Combined with Gongying Yinchen Soup to Cure Depression in Patients with Fulminant Hepatitis

Pages 2381-2387

Kaoshan, Guo (et al.)

The Development of Information System in General Hospitals: A Case Study of Peking University Third Hospital

Pages 2389-2396

Xue, Jiang (et al.)

Several Reflections on the Design of Educational Computer Games in China

Pages 2397-2401

Yun, Nie (et al.)

A Rural Medical and Health Collaborative Working Platform

Pages 2403-2411

Yanfeng, Jiang (et al.)

Application of Internet in Pharmacological Teaching

Pages 2413-2417

Jianguang, Chen (et al.)

Assessing Information Literacy Development of Undergraduates

Pages 2419-2423

Li, Fei (et al.)

Improved Access Control Model Under Cloud Computing Environment

Pages 2425-2430

Zhang, Yongsheng (et al.)

Research on Regional Health Information Platform Construction Based on Cloud Computing

Pages 2431-2435

Zhang, Zhimei (et al.)

Detection of Fasciculation Potentials in Amyotrophic Lateral Sclerosis Using Surface EMG

Pages 2437-2442

Chen, Boling (et al.)

Biological Performance Evaluation of the PRP/nHA/CoI Composite Material

Pages 2443-2452

Ma, Ning (et al.)

An Integrated Service Model: Linking Digital Libraries with VLEs

Pages 2453-2459

Xiaozhao, Deng (et al.)

The Research and Application of Process Evaluation Method on Prosthodontics Web-Based Course Learning

Pages 2461-2467

Tian, Min (et al.)

Application of Multimedia in the Teaching of Pharmacological Experiment Course

Pages 2469-2473

Chunmei, Wang (et al.)

THz Imaging Technology and its Medical Usage

Pages 2475-2480

Yao, Yao (et al.)

Effects of Project-Based Learning in Improving Scientific Research and Practice Capacity of Nursing Undergraduates

Pages 2481-2486

Li, Ruiling (et al.)

Research on an Individualized Pathology Instructional System

Pages 2487-2493

Hu, Kai (et al.)

Security Problems and Strategies of Digital Education Resource Management in Cloud Computing Environment

Pages 2495-2499

Bo, Li

Vocabulary Learning Strategies in Computer-Assisted Language Learning Environment

Pages 2501-2506

Sun, Liming (et al.)

Bioinformatics Prediction of the Tertiary Structure for the Emy162 Antigen of

Pages 2507-2512

Li, Yanhua (et al.)

IT in Education Application of Computer in Teaching Flavor and Fragrance Technology

Pages 2513-2518

Zhu, Guangyong (et al.)

Building an Effective Blog-Based Teaching Platform in Higher Medical Education

Pages 2519-2524

Ya, Bailiu (et al.)

Design and Implementation of Educational Administration Information Access System Based on Android Platform

Pages 2525-2533

Yan, Yifeng (et al.)

The Application of Information Technology and CBS Teaching Method in Medical Genetics

Pages 2535-2539

Sun, Yang (et al.)

Research on Practice Teaching of Law in the Provincial Institutions of Higher Learning

Pages 2541-2545

Zheng, Haiying

Path Selection for Practice Teaching of Law in Institutions of Higher Learning

Pages 2547-2552

Zhang, Rongxia

Inhibition Effects of Celery Seed Extract on Human Stomach Cancer Cell Lines Hs746T

Pages 2553-2560

Gao, Lin-Lin (et al.)

Research on the Practice of Teaching Auto Selective Course While China Stepping into Automobile Society

Pages 2561-2565

Tiejun, Zhang (et al.)

An Integrated Research Study of Information Technology (IT) Education and Experimental Design and Execution (EDE) Courses

Pages 2567-2573

Wang, Guoying (et al.)

Empirical Study of Job Burnout Among Higher Vocational College Teachers

Pages 2575-2579

Wang, Cheng

Appeals on College Moral Education: Based on Open Environment of Laboratories Under Campus Network

Pages 2581-2587

Zhang, Jun-Yan

Intercultural Pragmatics Research on Written Emails in an Academic Environment

Pages 2589-2598

Zhang, Su

Construction of a Differentiated Embryo Chondrocyte 1 Lentiviral Expression Vector and Establishment of its Stably Transfected HGC27 Cell Line

Pages 2599-2606

Hu, Rui (et al.)

Construction of Expression Vector of miRNA Specific for FUT3 and Identification of Its Efficiency in KATO-III Gastric Cancer Cell Line

Pages 2607-2614

Xin, Yong-Hong (et al.)

Molecular Cloning, Sequence Analysis of Thioesterases from Wintersweet (

Pages 2615-2621

Zhang, Li-Hong (et al.)

Effects of Bodymass on the SDA of the Taimen

Pages 2623-2629

Yang, Guiqiang (et al.)

Effects of Temperature on the SDA of the Taimen

Pages 2631-2636

Yang, Guiqiang (et al.)

Wireless Heart Rate Monitoring System of RSS-based Positioning in GSM

Pages 2637-2641

Shao, Hongfang (et al.)

Research of Separable Polygraph Based on Bluetooth Transmission

Pages 2643-2648

Wu, Zhan-ao (et al.)

The Design of Intelligent Medicine Box

Pages 2649-2653

Mao, Jianhua (et al.)

The Questionnaire Survey about the Video Feedback Teaching Method for the Training of Abdominal Examination in the Medical Students

Pages 2655-2662

Juju, Liu (et al.)

Correlation Analysis on the Nature of Traditional Chinese Medicine

Pages 2663-2668

Pei-Jiang, Zhang

The Classification of Meningioma Subtypes Based on the Color Segmentation and Shape Features

Pages 2669-2674

Zeng, Ziming (et al.)

An Extraction Method of Cerebral Vessels Based on Multi-Threshold Otsu Classification and Hessian Matrix Enhancement Filtering

Pages 2675-2682

Jiang, Xiangang (et al.)

Architecture of a Knowledge-Based Education System for Logistics

Pages 2683-2692

Fang, Dianjun (et al.)

Research and Practice of University Statistics Sharing Scheme

Pages 2693-2697

Xie, Suping (et al.)

A Formal Framework for Domain Software Analysis Based on Raise Specification Language

Pages 2699-2705

Zhao, Yuanzheng (et al.)

Video Feedback Teaching Method in Teaching of Abdominal Physical Examination

Pages 2707-2713

Ma, Huihao (et al.)

Evaluation of EHR in Health Care in China: Utilizing Fuzzy AHP in SWOT Analysis

Pages 2715-2719

Xiang, Ying (et al.)

A Method of Computing the Hot Topics' Popularity on the Internet Combined with the Features of the Microblogs

Pages 2721-2728

Wei, Yongqing (et al.)

The Value of CBL Autonomous Learning Style for the Postgraduate of Medical Imageology: Promoting Professional Knowledge Learning Based on the PACS

Pages 2729-2733

Dong, Peng (et al.)

Web-Based Information System Construction of Medical Tourism in South Korea

Pages 2735-2741

Chen, Yinghua (et al.)

Quantitative Modeling and Verification of VANET

Pages 2743-2748

Liu, Jing (et al.)

Study on the Financial Change of the Primary Health Care Institutions After the Implementation of Essential Drug System

Pages 2749-2754

Zhan, Changchun (et al.)

Construction of a Recombinant Plasmid for Petal-Specific Expression of HQT, a Key Enzyme in Chlorogenic Acid Biosynthesis

Pages 2755-2763

Bi, Yuting (et al.)

Explorations on Strengthening of Students' Programming Capabilities in Data Structure Teaching

Pages 2765-2770

Yucheng, Song (et al.)

A Study of the Effect of Long-Term Aerobic Exercise and Environmental Tobacco Smoke (ETS) on Both Growth Performance and Serum T-AOC, Ca

Pages 2771-2777

Xiao-ling, Xiao (et al.)

Research on Multimedia Teaching and Cultivation of Capacity for Computational Thinking

Pages 2779-2783

Zhang, Yongsheng (et al.)

The Algorithm of DBSCAN Based on Probability Distribution

Pages 2785-2792

Yu, Ma (et al.)

Exploration and Practice on Signal Curriculum Group Construction of Instrument Science

Pages 2793-2798

Rui, Wang (et al.)

On Improving the E-learning Adaptability of the Postgraduate Freshmen

Pages 2799-2805

Jianhai, Ruan (et al.)

Construction of a Network-Based Open Experimental Teaching Management System

Pages 2807-2811

Tong, Yan-Rong (et al.)

Prediction of Three-Dimensional Structure of PPARγ Transcript Variant 1 Protein

Pages 2813-2819

Sun, Cong (et al.)

Interactive Visualization of Scholar Text

Pages 2821-2826

Jing, Ming (et al.)

Date-driven Based Image Enhancement for Segmenting of MS Lesions in T2-w and Flair MRI

Pages 2827-2832

Zeng, Ziming (et al.)

On Aims and Contents of Intercultural Communicative English Teaching

Pages 2833-2837

Lijing, Diao (et al.)

Research on the Cultivation of Applied Innovative Mechanical Talents in Cangzhou

Pages 2839-2843

Huanyun, Wang

On Feasibility of Experiential English Teaching in Higher Vocational Institutes

Pages 2845-2849

Lijing, Diao

Vi-RTM: Visualization of Wireless Sensor Networks for Remote Telemedicine Monitoring System

Pages 2851-2855

Lu, Dianjie (et al.)

The Effect of T-2 Toxin on the Apoptosis of Ameloblasts in Rat's Incisor

Pages 2857-2863

Zhai, Sha-fei (et al.)

A Preliminary Study of the Influence of T-2 Toxin on the Expressions of Bcl-2 and Bax of Ameloblasts in Rat's Incisor

Pages 2865-2870

Zhai, Sha-fei (et al.)

PET Image Processing in the Early Diagnosis of PD

Pages 2871-2877

Ma, Kai (et al.)

"4 Steps" in Problem Based Teaching in the Medical Internship: Experiences from China

Pages 2879-2886

Liu, Huasheng (et al.)

Applications of Pitch Pattern in Chinese Tone Learning System

Pages 2887-2891

Liu, Song (et al.)

Detection of Onset and Offset of QRS Complex Based a Modified Triangle Morphology

Pages 2893-2901

Hu, Xiao (et al.)

Ecological Characters of Truffles

Pages 2903-2908

Wang, Hai-feng (et al.)

A Study on Mobile Phone-Based Practice Teaching System

Pages 2909-2917

Zhang, Tiejun

Study on Application of Online Education Based on Interactive Platform

Pages 2919-2926

Fengyun, Li

Analysis on Curative Effect of Exercise Therapy Combined with Joint Mobilization in the Treatment of Knee Osteoarthritis

Pages 2927-2934

Hongliang, Wang

Predictions with Intuitionistic Fuzzy Soft Sets

Pages 2935-2939

Encheva, Sylvia

Eliciting the Most Desirable Information with Residuated Lattices

Pages 2941-2945

Encheva, Sylvia

Research on Data Exchange Platform Based on IPSec and XML

Pages 2947-2951

Bo, Li

Integration and Utilization of Digital Learning Resources in Community Education

Pages 2953-2959

Yang, Liangtao

Correlation of Aberrant Methylation of APC Gene to MTHFR C677T Genetic Polymorphisms in Hepatic Carcinoma

Pages 2961-2968

Cui, Lian-Hua (et al.)

The Application of Humane Care in Clinical Medical Treatment

Pages 2969-2973

Su, Chunhua

Chinese EFL Learners' Metacognitive Knowledge in Listening: A Survey Study

Pages 2975-2979

Yajun, Zeng (et al.)

Research on Mobile Learning Games in Engineering Graphics Education

Pages 2981-2986

Chen, Huang (et al.)

Design and Implementation of a New Generation of Service-Oriented Graduate Enrollment System

Pages 2987-2993

Zhenglong, Shao (et al.)

Research on the Quality of Life of Cancer Patients Based on Music Therapy

Pages 2995-3001

Wei, He

Design, Synthesis and Biological Evaluation of the Novel Antitumor Agent 2

Pages 3003-3011

Li, Huanhuan (et al.)

On Structural Model of Knowledge Points in View of Intelligent Teaching

Pages 3013-3018

Li, Jun

Evaluation Model of Medical English Teaching Effect Based on Item Response Theory

Pages 3019-3024

Ji, Lanfen (et al.)

Discussion on Intervention of Chinese Culture in Chinese College Students' English Writing and Dealing Strategies

Pages 3025-3031

Ye, Ruxiang

Investigation and Analysis of Undergraduate Students' Critical Thinking Ability in College of Stomatology Lanzhou University

Pages 3033-3038

ZhiGe, Li (et al.)

Surgeons' Experience in Reviewing Computer Tomography Influence the Diagnosis Accuracy of Blunt Abdominal Trauma

Pages 3039-3044

Libo, Sun (et al.)

Analysis of Face Recognition Methods in Linear Subspace

Pages 3045-3051

Li, Hongmei (et al.)

Energy Dispersive X-Ray Spectroscopy of HMG-CoA Synthetase During Essential Oil Biosynthesis Pathway in

Pages 3053-3058

Liang, She-Jian (et al.)

The Method Research on

Pages 3059-3064

Fan, Yong-jun (et al.)

The Impact of Modern Information Technology on Medical Education

Pages 3065-3069

Guo, Zifen (et al.)

In the Platform of the Practice Teaching Link, Study on Environmental Elite Education

Pages 3071-3075

Caihong, Yu (et al.)

The Application of a Highly Available and Scalable Operational Architecture in Course Selection System

Pages 3077-3082

Li, Yanxia (et al.)

Network Assisted Teaching Model on Animal Histology and Embryology

Pages 3083-3087

Ma, Xin (et al.)

Research on Application of Artificial Immune System in 3G Mobile Network Security

Pages 3089-3094

Zhao, Dongming

Neuromorphology: A Case Study Based on Data Mining and Statistical Techniques in an Educational Setting

Pages 3095-3101

Maiorana, F.

Construction and Practice of P.E. Network Course Based on Module Theory in University

Pages 3103-3110

Zhang, Xin-Ping (et al.)

Application and Practice of LAMS-Based Intercultural Communication Teaching

Pages 3111-3115

Long, Bin (et al.)

A Study on Using Authentic Video in Listening Course

Pages 3117-3124

Dou, Yan

Comparison of Two Radio Systems for Health Remote Monitoring Systems in Rural Areas

Pages 3125-3131

Sánchez, Manuel García (et al.)

3D Ear Shape Feature Optimal Matching Using Bipartite Graph

Pages 3133-3138

Sun, Xiaopeng (et al.)

Research on Anti-Metastasis Effect of Emodin on Pancreatic Cancer

Pages 3139-3143

Yu, Haishuai

Research on Chronic Alcoholic Patients with Nerve Electrophysiology

Pages 3145-3149

Wei, He

Genetic Dissection of

Pages 3151-3156

Lu, Hong (et al.)

Impact of Scan Duration on PET/CT Maximum Standardized Uptake Value Measurement

Pages 3157-3162

Fan, Qiuping (et al.)

16-Slice Spiral Computer Tomography and Digital Radiography: Diagnosis of Ankle and Foot Fractures

Pages 3163-3168

Zhang, Hanqing (et al.)

Structural SIMilarity and Spatial Frequency Motivated Atlas Database Reduction for Multi-atlas Segmentation

Pages 3169-3174

Zhao, Yaqian (et al.)

Some Reflections on Undergraduate Computer Graphics Teaching

Pages 3175-3180

Gao, Shanshan (et al.)

The Application of the Morris Water Maze System to the Effect of Ginsenoside Re on the Learning and Memory Disorders and Alzheimer's Disease

Pages 3181-3189

Hong, Tie (et al.)

The Application of HYGEYA in Hospital's Antimicrobial Drugs Management

Pages 3191-3196

Wang, Xiangfeng (et al.)

The Analysis of Wavelet De-Noising on ECG

Pages 3197-3203

Lu, Dongxin (et al.)

Research of Education Training Model by Stages for College Students' Information Literacy

Pages 3205-3212

Zhou, Jinyuan (et al.)

Effect of Bufei Granules on the Levels of Serum Inflammatory Markers in Rats with Chronic Obstructive Pulmonary Disease Stable Phase

Pages 3213-3220

Guo, Sijia (et al.)

Design of Remote Medical Monitoring System

Pages 3221-3225

Lu, Dongxin (et al.)

Development of University Information Service

Pages 3227-3233

Yu, Chun (et al.)

Adaptive Tracking Servo Control for Optical Data Storage Systems

Pages 3235-3239

Wu, Zhizheng (et al.)

Optimal Focus Servo Control for Optical Data Storage Systems

Pages 3241-3245

Wu, Zhizheng (et al.)

Curriculum Design of Algorithms and Data Structures Based on Creative Thinking

Pages 3247-3252

Weiwei, Chen (et al.)

Questionnaire Design and Analysis of Online Teaching and Learning: A Case Study of the Questionnaire of "Education Online" Platform of Beijing University of Technology

Pages 3253-3260

Xu, Shidong (et al.)

The Application of Telemedicine Technology

Pages 3261-3268

Wang, Ming-gang (et al.)

A Method of Data Flow Diagram Drawing Based on Word Segmentation Technique

Pages 3269-3274

Yuwen, Shuli (et al.)

Chemical Reaction Optimization for Nurse Rostering Problem

Pages 3275-3279

Zheng, Ziran (et al.)

Survey of Network Security Situation Awareness and Key Technologies

Pages 3281-3286

Xuan, Zhang

Mining ESP Teaching Research Data Using Statistical Analysis Method: Using One-Sample

Pages 3287-3292

Wang, Yicheng (et al.)

Research on the Impact of Experiential Teaching Mode on the Cultivation of Marketing Talents

Pages 3293-3299

Cai, Jia (et al.)

Lung Segmentation for CT Images Based on Mean Shift and Region Growing

Pages 3301-3305

Zhanpeng, Huang (et al.)

The Application of Psychological Teaching Combined with Daily Life: The Role of the Internet

Pages 3307-3312

Gu, Chuanhua

Developing a Pilot Online Learning and Mentorship Website for Nurses

Pages 3313-3317

Coffey, Sue (et al.)

Estrogenic and Antiestrogenic Activities of Protocatechic Acid

Pages 3319-3327

Hu, Fang (et al.)

A Study on Learning Style Preferences of Chinese Medical Students

Pages 3329-3333

Ding, Yuemin (et al.)

Design and Implementation of the Virtual Experiment System

Pages 3335-3340

Chen, Liyan (et al.)

Application of Simulation Software in Mobile Communication Course

Pages 3341-3345

Chen, Fangni (et al.)

Study on the Effect of Astragalus Polysaccharide on Function of Erythrocyte in Tumor Model Mice

Pages 3347-3351

Ji, Chen-Feng (et al.)

Anti-Diabetes Components in Leaves of Yacon

Pages 3353-3357

Xiang, Zheng (et al.)

Nitric Oxide Donor Regulated mRNA Expressions of LTC4 Synthesis Enzymes in Hepatic Ischemia Reperfusion Injury Rats

Pages 3359-3366

Hong, FF (et al.)

An Optimal In Vitro Model for Evaluating Anaphylactoid Mediator Release Induced by Herbal Medicine Injection

Pages 3367-3371

Xiang, Zheng (et al.)

Change Towards Creative Society: A Developed Knowledge Model for IT in Learning

Pages 3373-3377

Yu, M. (et al.)

TCM Standard Composition and Component Library: Sample Management System

Pages 3379-3388

Liu, Erwei (et al.)

The Teaching Method of Interrogation in Traditional Chinese Diagnostics

Pages 3389-3393

Fu, Jingjing (et al.)

Designing on system of Quality Monitoring on Instruction Actualizing

Pages 3395-3399

Yan, Zhang

Comparisons of Diagnosis for Occult Fractures with Nuclear Magnetic Resonance Imaging and Computerized Tomography

Pages 3401-3408

Li, Ying (et al.)

Identifying Questions Written in Thai from Social Media Group Communication

Pages 3409-3417

Pukkaew, Chadchadaporn (et al.)

A Programming Related Courses' E-learning Platform Based on Online Judge

Pages 3419-3423

Fang, Xiaonan (et al.)

Leading and Guiding Role of Supervisors in Graduate Education Administration

Pages 3425-3428

Zhang, Huaqiang (et al.)

Development of Dental Materials Network Course Based on Student-Centered Learning

Pages 3429-3434

Li, Shibao (et al.)

Research and Practice of Practical Teaching Model Based on the Learning Interest

Pages 3435-3440

Gao, Tao (et al.)

Developing and Applying Video Clip and Computer Simulation to Improve Student Performance in Medical Imaging Technologist Education

Pages 3441-3445

Jiang, Lisha (et al.)

Research on the Quality of Life of Patients with Depression Based on Psychotherapy

Pages 3447-3452

Xiaoqiu, Zhou

On Systematic Tracking of Common Problems Experienced by Students

Pages 3453-3456

Encheva, Sylvia

Research on Nerve Electrophysiology of Chronic Pharyngitis Based on Automobile Exhaust Pollution

Pages 3457-3461

Dong, Chunxin

The Status and Challenge of Information Technology in Medical Education

Pages 3463-3467

Li, Jun (et al.)

The Comparison of Fetal ECG Extraction Methods

Pages 3469-3474

Luo, Zhongliang (et al.)

Study on Evaluation Index System of Hotel Practice Base Based on Bias Analysis and Reliability and Validity Test

Pages 3475-3482

Yin, Changfeng

Improvement on Emergency Medical Service System Based on Class Analysis on Global Four Cases

Pages 3483-3490

Li, Zhe (et al.)

Educational Data Mining for Problem Identification

Pages 3491-3494

Encheva, Sylvia

Statistics Experiment Base on Excel in Statistics Education: Taking Zhejiang Shuren University as Example

Pages 3495-3500

Li, Wenjie (et al.)

Simulating the Space Deep Brain Stimulations Using a Biophysical Model

Pages 3501-3506

Chen, Yingyuan (et al.)

Strategy and Analysis of Emotional Education into the Cooperative Learning in Microcomputers Teaching

Pages 3507-3511

Wang, Dongxing

Construction and Practice of Network Platform for Training of GPs

Pages 3513-3518

Liu, Gang (et al.)

Research on the Construction of Regional Medical Information Service Platform

Pages 3519-3524

Wang, Qun (et al.)

Study on the Application of Simulation Technology in the Medical Teaching

Pages 3525-3529

Yu, Yong (et al.)

Desynchronization of Morris: Lecar Network via Robust Adaptive Artificial Neural Network

Pages 3531-3536

Chen, Yingyuan (et al.)

Building and Sharing of Information Resources in Radio and TV Universities Libraries Under Network Environment

Pages 3537-3542

Juan, Liu (et al.)

Research on Network Information Resources Integration Services in Medicine Library

Pages 3543-3548

Li-min, Zhang

Applied Research of Ultrasound Microbubble in Tumor-Transferred Lymph Node Imaging and Treatment

Pages 3549-3554

Zhao, Xin (et al.)

The Examination of Landau-Lifshitz Pseudo-Tensor Under Physical Decomposition of Gravitational Field

Pages 3555-3560

Zhang, Peng-Cheng (et al.)

Exploring of the Integration Design Method of Rectal Prolapse TCM Clinical Pathway System

Pages 3561-3566

Huang, Zhihui

Errata to: Frontier and Future Development of Information Technology in Medicine and Education

Pages E1-E2

Li, Shaozi (et al.)
Buy this book
eBook $389.00

price for USA in USD

ISBN 978-94-007-7618-0
Digitally watermarked, DRM-free
Included format: EPUB, PDF
ebooks can be used on all reading devices
Immediate eBook download after purchase

Hardcover $749.99

price for USA in USD

ISBN 978-94-007-7617-3
Free shipping for individuals worldwide
Institutional customers should get in touch with their account manager
Usually ready to be dispatched within 3 to 5 business days, if in stock

Softcover $499.99

price for USA in USD

ISBN 978-94-024-0181-3
Free shipping for individuals worldwide
Institutional customers should get in touch with their account manager
Usually ready to be dispatched within 3 to 5 business days, if in stock
Services for this Book
Recommended for you
Bibliographic Information
Book Title

Frontier and Future Development of Information Technology in Medicine and Education

Book Subtitle

ITME 2013

Editors

Shaozi Li
Qun Jin
Xiaohong Jiang
J.H. Park

Series Title

Series Volume

269

Copyright

2014

Publisher

Springer Netherlands

Copyright Holder

Springer Science+Business Media Dordrecht

eBook ISBN

978-94-007-7618-0

DOI

10.1007/978-94-007-7618-0

Hardcover ISBN

978-94-007-7617-3

Softcover ISBN

978-94-024-0181-3

Series ISSN

1876-1100

Edition Number

1

Number of Pages

LX, 3581

Number of Illustrations

886 b/w illustrations

Topics