Springer and the Hellenic Endocrine Society partner to publish the journal Hormones
Journal covering all fields of endocrinology is now part of Springer's clinical medicine journals portfolio
Heidelberg | Athens, 9 April 2018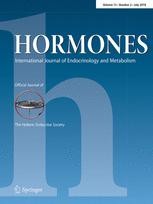 Springer and the Hellenic Endocrine Society have signed a three-year agreement to publish the quarterly journal Hormones: International Journal of Endocrinology and Metabolism. Starting in March 2018 with volume 17, the journal will be available exclusively in electronic format on the platform SpringerLink. Previously the journal was published by the Hellenic Endocrine Society.
Founded in 2002 as the official journal of the Hellenic Endocrine Society, Hormones is an international journal that covers all fields of endocrinology and metabolic disorders such as the disruption of glucose homeostasis (diabetes mellitus), impaired homeostasis of plasma lipids (dyslipidemia), the disorder of bone metabolism (osteoporosis), disturbances of endocrine function and the reproductive capacity of women and men. The target readership and authorship are endocrinologists, both in clinical practice and research.
Invited for submission are original research articles, literature reviews, translational research, editorial commentaries on published papers and letters to the editor on crucial new developments in the field. Contributions on the history of endocrinology are also considered.
Many developments are planned for the journal, including a new cover design, and updated article style and layout. Professor Andrew N. Margioris of the University Hospital of Heraklion in Crete, Greece leads the journal as the editor-in-chief and has already undertaken a restructuring of the editorial board to allocate each associate editor the responsibility of a specific subdiscipline.
Editor-in-chief Andrew N. Margioris said: "We are glad to collaborate with Springer on the development of our journal Hormones: International Journal of Endocrinology and Metabolism. We think that this opportunity will widen our international readership and attract higher quality submissions, thus increasing the worldwide recognition of the journal. This will also help our society to fulfill its mission to share the latest advances in the field of endocrinology within the scientific community."
Carlotta d'Imporzano, an executive editor of clinical medicine journals at Springer, said: "We are proud to welcome Hormones: International Journal of Endocrinology and Metabolism to the Springer clinical medicine journals portfolio. We are especially pleased to have the opportunity to partner with the Hellenic Endocrine Society on this challenging project, and to collaborate on the development of this journal, which is already well established and esteemed in its field. By publishing with us, we aim to support and enhance the journal's international profile and reach."

About


The Hellenic Endocrine Society was established in 1964 by eight distinguished endocrinologists and within a few years, the society grew rapidly. Currently the society organizes a broad range of activities including training courses, conferences, workshops and other scientific events with the aim of informing the research community about endocrinological diseases and metabolic disorders that accompany the disruption of the endocrine glands, such as diabetes mellitus, dyslipidemia, osteoporosis, disturbances of endocrine function and reproductive capacity.


Springer is a leading global scientific, technical and medical portfolio, providing researchers in academia, scientific institutions and corporate R&D departments with quality content through innovative information, products and services. Springer has one of the strongest STM and HSS eBook collections and archives, as well as a comprehensive range of hybrid and open access journals. Springer is part of Springer Nature, a global publisher that serves and supports the research community. Springer Nature aims to advance discovery by publishing robust and insightful science, supporting the development of new areas of research and making ideas and knowledge accessible around the world.

As part of Springer Nature, Springer sits alongside other trusted brands like Nature Research, BioMed Central and Palgrave Macmillan. Visit http://www.springer.com and follow @SpringerNature
Elizabeth Hawkins | Springer Nature | Communications
tel +49 6221 487 8130 | elizabeth.hawkins@springernature.com