Springer encyclopedia for dating methods of fossil finds singled out for scientific research award
Encyclopedia of Scientific Dating Methods wins Mary B. Ansari Best Geoscience Research Resource Work Award 2016
Heidelberg | New York, 26 September 2016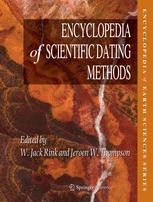 The Geoscience Information Society (GSIS) has chosen Springer's Encyclopedia of Scientific Dating Methods edited by William Jack Rink and Jeroen W. Thompson as the recipient of this year's GSIS Mary B. Ansari Best Geoscience Research Resource Work Award. The award will be presented on 27 September 2016 during the Geological Society of America's Annual Meeting and Exposition in Denver, Colorado.
Discovering an ancient artefact, mineral or fossil is only half the job in geological sciences, biology and archaeology. Dating this find and finding out where it fits in the geological time scale makes up the second half and is crucial for understanding its significance in the context of earth's history. The Encyclopedia of Scientific Dating Methods provides an overview of the physical and chemical foundations of dating methods and their applications. The comprehensive treatise contains almost 200 articles covering widely accepted dating methods to determine the timing and rate of various processes, such as sedimentation (terrestrial and marine), tectonics, volcanism, geomorphological change, cooling rates, crystallization, fluid flow, glaciation, climate change and evolution. The reference work is published in Springer's renowned book series Encyclopedia of Earth Sciences Series.
Petra van Steenbergen, Executive Editor of Earth Sciences, Geography and Environment at Springer, said, "Springer is extremely proud that the Encyclopedia of Scientific Dating Methods is honored with the prestigious GSIS Mary B. Ansari Best Geoscience Research Resource Work Award. We extend our cordial congratulations to the editors, associate editors and contributors of this excellent work."
The content in Springer Nature's Major Reference Works is internationally commissioned and led by editors who are acclaimed and recognized scholars and scientists from top universities in all fields. Editorial boards that ascribe quality and validate the content consist of internationally recognized academic peers and leaders in their disciplines. Contributors include Nobel Prize winners, ground-breaking researchers and high-impact scientists. Over 100,000 scientists and researchers contribute the content that makes up the Springer Nature reference program.
The Geoscience Information Society is a member society of the American Geosciences Institute (AGI) and an associated society of the Geological Society of America (GSA). GSIS connects scientists, librarians, editors, cartographers, educators and information professionals in the geosciences from all over the world, encouraging the continuous exchange of information in this research field. Mary B. Ansari, whose generous donation enables this award, has been a member of the Geoscience Information Society for years and was its president in 1990.
Springer is part of Springer Nature, a leading global research, educational and professional publisher, home to an array of respected and trusted brands providing quality content through a range of innovative products and services. Springer Nature is the world's largest academic book publisher, publisher of the world's most influential journals and a pioneer in the field of open research. The company numbers almost 13,000 staff in over 50 countries. Springer Nature was formed in 2015 through the merger of Nature Publishing Group, Palgrave Macmillan, Macmillan Education and Springer Science+Business Media. Visit www.springernature.com and follow @SpringerNature.