Meet our Editor-in-Chief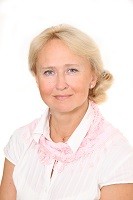 Professor Dr. Olga Golubnitschaja
Dr. Golubnitschaja is the head of the world's first Predictive, Preventive and Personalised (3P) Medicine unit at the Department of Radiation Oncology, University Hospital Bonn, Rheinische Friedrich-Wilhelms-Universität Bonn, Germany.
She has studied journalism, biotechnology and medicine and has been awarded research fellowships in Austria, Russia, UK, Germany, Netherlands, and Switzerland (early and predictive diagnostics in paediatrics, neurosciences and cancer). Dr. Golubnitschaja is the author of more than 400 international publications (research and review articles, position papers, books and book contributions) in the innovative field of predictive, preventive and personalised medicine (PPPM) with the main research focuses on pre- and perinatal diagnostics, diagnostics of cardiovascular disease and neurodegenerative pathologies, predictive diagnostics in cancer and diabetes.
Awards: National & International Fellowship of the Alexander von Humboldt-Foundation; Highest Prize in Medicine and Eiselsberg-Prize in Austria.
Since 2009 Dr. Golubnitschaja is the Secretary-General of the "European Association for Predictive, Preventive & Personalised Medicine" (EPMA, Brussels) networking over 50 countries worldwide, Book Series Editor of "Advances in Predictive, Preventive & Personalised Medicine", Springer Nature; Book Editor of "Predictive Diagnostics & Personalised Treatment: Dream or Reality", Nova Science Publishers, New York 2009; Book Co-editor "Personalisierte Medizin", Health Academy, Dresden 2010.
Dr. Golubnitschaja is the European Representative in the EDR-Network at the National Institutes of Health USA. Additionally, she is a regular reviewer for over 30 clinical and scientific journals and serves as a grant reviewer for the national (Ministries of Health in several European countries) and international funding bodies.
Since 2007 until the present, she works as the European Commission evaluation expert for FP7, Horizon 2020, IMI-1 (Innovative Medical Initiatives) and IMI-2. In years 2010-2013 she was involved in creating the PPPM related contents of the European Programme "Horizon 2020".
Currently, Dr. Golubnitschaja is Vice-Chair of the Evaluation Panel for Marie Curie Mobility Actions at the European Commission in Brussels.