IFMBE Proceedings
Free Preview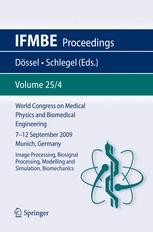 World Congress on Medical Physics and Biomedical Engineering September 7 - 12, 2009 Munich, Germany
Vol. 25/IV Image Processing, Biosignal Processing, Modelling and Simulation, Biomechanics
Editors: Dössel, Olaf, Schlegel, Wolfgang C. (Eds.)
Free Preview
Proceedings of the World Congress 2009 for Medical Physics and Biomedical Engineering
Over 3000 scientists from all over the world discuss recent challenges in Biomedical Engineering and Medical Physics
see more benefits
Buy this book
eBook $469.00

price for USA in USD

ISBN 978-3-642-03882-2
Digitally watermarked, DRM-free
Included format: PDF
ebooks can be used on all reading devices
Immediate eBook download after purchase

Softcover $599.99

price for USA in USD

ISBN 978-3-642-03881-5
Free shipping for individuals worldwide
Institutional customers should get in touch with their account manager
Online orders shipping within 2-3 days.
Present Your Research to the World! The World Congress 2009 on Medical Physics and Biomedical Engineering – the triennial scientific meeting of the IUPESM - is the world's leading forum for presenting the results of current scientific work in health-related physics and technologies to an international audience. With more than 2,800 presentations it will be the biggest conference in the fields of Medical Physics and Biomedical Engineering in 2009! Medical physics, biomedical engineering and bioengineering have been driving forces of innovation and progress in medicine and healthcare over the past two decades. As new key technologies arise with significant potential to open new options in diagnostics and therapeutics, it is a multidisciplinary task to evaluate their benefit for medicine and healthcare with respect to the quality of performance and therapeutic output. Covering key aspects such as information and communication technologies, micro- and nanosystems, optics and biotechnology, the congress will serve as an inter- and multidisciplinary platform that brings together people from basic research, R&D, industry and medical application to discuss these issues. As a major event for science, medicine and technology the congress provides a comprehensive overview and in–depth, first-hand information on new developments, advanced technologies and current and future applications. With this Final Program we would like to give you an overview of the dimension of the congress and invite you to join us in Munich! Olaf Dössel Congress President Wolfgang C.
Table of contents (625 chapters)

Tracking the Dynamics of the Cerebral Autoregulation Response to Sudden Changes of PaCO2

Pages 1-4

Liu, J. (et al.)

Superior effects of Losartan to propranolol on opening angle of portal vein of carbon tetrachloride- induced portal hypertension ratsΔ

Pages 5-8

Zhang, Zong-Qi (et al.)

Effects of arterial wall thickness on pulse wave propagation

Pages 9-12

He, F. (et al.)

Improving an SVM-based Liver Segmentation Strategy by the F-score Feature Selection Method

Pages 13-16

Xu, Y. (et al.)

Design and Implementation of Liver Hyperthermia Treatment Planning System

Pages 17-20

Hongjian, G A O (et al.)

The mechanical behavior of a new designed hip spacer

Pages 21-24

Thielen, T. (et al.)

Lattice Boltzmann Simulation of Blood Flow in Cerebral Aneurysm

Pages 25-28

Zhang, Xiaojun (et al.)

Prognostic Value of Wave Intensity in Patients Awaiting Heart Transplantation

Pages 29-32

Siniawski, Henryk (et al.)

Effects of aortic valve stenosis on coronary artery flow using an in-vitro flow model

Pages 33-36

Gaillard, E. (et al.)

Texture Analysis of Corpus Callosum in Mild Traumatic Brain Injury Patients

Pages 37-40

Holli, K. K. (et al.)

An Adaptive Landmark Scheme for Modeling Brain Deformation in Diffusion-Based Tumor Growth

Pages 41-44

Becker, S. (et al.)

Spatio-Temporal Modelling of First-Pass Perfusion Cardiovascular MRI

Pages 45-48

Schmid, Volker J (et al.)

Transmission sounding of human lungs by complex acoustic signals

Pages 49-52

Korenbaum, V. I. (et al.)

Stem Cell Therapy: Numerical simulation of In Vivo Nutrient Transport and Cells Growth

Pages 53-56

Lazzari, C. (et al.)

Mesh Fusion based Neurosurgical Simulation with Force Feedback

Pages 57-60

Kuroda, Yoshihiro (et al.)

Augmentation of Coronary Blood Flow in Systole by Reflected Waves in the Proximal Aorta

Pages 61-64

Davies, Justin E. (et al.)

Quaternion Grassmann-Hamilton-Clifford algebras: new mathematical tools for classical and relativistic modeling

Pages 65-68

Girard, P. R.

Method for monitoring fetal heart rate from pulsed wave ultrasound during the active stage of labor

Pages 69-72

Luria, O. (et al.)

Developing computational detection of individual respiratory cycle phases from tracheal sound signal during sleep

Pages 73-76

Kulkas, A. (et al.)

Femoral Load Change and Caused Bone Remodeling after Hip Arthroplasty

Pages 77-80

Behrens, B. -A. (et al.)

Fast Detection of Atrial Fibrillation Using Wavelet Transform

Pages 81-84

Bakucz, Peter (et al.)

On the Classification of Acoustic Sequences for Intervention in Essential Hypertension

Pages 85-88

Friedrich, P. (et al.)

Constrained Reconstruction for Sparse Magnetic Resonance Imaging

Pages 89-92

Placidi, Giuseppe

The Reservoir-Wave Approach to Arterial Hemodynamics

Pages 93-96

Tyberg, J. V. (et al.)

A Software Tool for Hemodynamics Modeling in Large Vasculatures

Pages 97-100

Ho, H. (et al.)

Can The DPD Numerical Method Simulate Blood Flow ?

Pages 101-104

Salib, I. (et al.)

Three-Band MRI Image Fusion: A Curvelet Transform Approach

Pages 105-108

Kumar, Y. Kiran

Residual Stress Around Outer Cortical Region in Bovine Femoral Diaphysis

Pages 109-112

Yamada, S. (et al.)

Analysis of the Electro-Mechanical Activation Sequence of the Myocardium Following the Path Described by the HVMB

Pages 113-116

Marcé-Nogué, J. (et al.)

Biomechanical Analysis of Funnel Chest after Correction of Deformation by Stabilizing Plate

Pages 117-120

Gzik-Zroska, B. (et al.)

Analysis of Neck Muscles Influence on Cervical Spine Loading Conditions During Daily Activity

Pages 121-124

Gzik, M.

Oxygen Consumption by Arteriolar Wall During Enhancement and Inhibition of Nitric Oxide Synthesis

Pages 125-128

Shibata, M. (et al.)

Modern Stereological Methods for Studying Blood and Lymphatic Microvessels

Pages 129-132

Krasnoperov, R. A.

System Identification of Mechanomyogram of Anterior Tibial Muscle Evoked by Electrical Stimulation

Pages 133-136

Uchiyama, T. (et al.)

Pilots' Tolerance to the Plus and Minus Gravitational Acceleration Changes

Pages 137-140

Hanousek, J. (et al.)

Identifying Fetal Breathing Movements on the Basis of Spectral Analysis in Fetal Heart Period Time Series

Pages 141-144

Leeuwen, P. (et al.)

Fast Creation of Endocardial Stimulation Profiles for the Realistic Simulation of Body Surface ECGs

Pages 145-148

Keller, D. U. J. (et al.)

Development of a New Surface EMG Amplitude Estimator and the SNR Performance Evaluation Study

Pages 149-152

Choi, Changmok (et al.)

Role of NF -κB in the Injury Induced MMP Expression and Activities in ACL

Pages 153-156

Yang, Li (et al.)

Generating Heart Rate Variability - Application to Hybrid Modeling of Cardiorespiratory System

Pages 157-158

Klonowski, W. (et al.)

A Comparative Proteomic Analysis of Low Shear Stress Induced Vascular Remolding: Regulation of Lysyl Oxidase and TGF-Beta

Pages 159-160

Qi, Ying-Xin (et al.)

Cardiac Pacemaker Simulation Using the MML Framework

Pages 161-164

Chang, D. (et al.)

Precise Measurement System for Knee Joint Motions at Pendulum Test Using Accelerometer – Detection of Angular Acceleration by Two Linear Accelerometers–

Pages 165-168

Yamamoto, Y. (et al.)

Effect of Leaflet Geometry on Mechanical Performance of Stentless Pericardial Aortic Valves – A Dynamic Simulation

Pages 169-172

Xiong, F. L. (et al.)

Categorization of HE Stained Breast Tissue Samples at Low Magnification by Nuclear Aggregations

Pages 173-176

Marugame, Atsushi (et al.)

A Wavelet-Based ECG Delineation in Multilead ECG Signals: Evaluation on the CSE Database

Pages 177-180

Vítek, M. (et al.)

Constitutive Behavior of Coronary Artery Bypass Graft

Pages 181-184

Horny, L. (et al.)

Finite Element Model of Abdominal Aortic Aneurysm

Pages 185-188

Bursa, J. (et al.)

On the Observability of Hodgkin_Huxly Based Cell Models

Pages 189-191

Sabzpoushan, S. H.

Brain Activity Movie Functional MRI with Ultra-High Temporal Resolution at 7 Tesla

Pages 192-194

Windischberger, C. (et al.)

Fetal Development, Nonlinear Heart Rate Dynamics, and Self-Organization

Pages 195-198

Hoyer, D. (et al.)

Petri Nets in Mutual Interactions on Epilepsy

Pages 199-201

KINIE, A. (et al.)

A QCT Based Nonlinear Finite Element Method Proposed for Predicting Failure Initiation Load and Locationin Vertebrae Affected by Tumors

Pages 202-204

Zeinali, A. (et al.)

Verification of Spectrum Analysis for Finger Plethysmography Based on Standing Wave and Harmonics

Pages 205-208

Shin, H. S. (et al.)

Monte Carlo Simulation of Intrinsic Count Rate Performance for Scintillation Gamma Camera

Pages 209-211

Mowlavi, A. A. (et al.)

Modelling of Eye-Hand Motions in a Common 3D Coordinate System

Pages 212-215

Dangel, R. J. Z. (et al.)

Effect of Weightlessness on Micromechanical Properties of Rat Bone

Pages 216-219

Sun, L. W. (et al.)

Flow Induced Turbulent Stress Accumulation Study of the Differently Designed Bi-leaflet Mitral Valves Using Dynamic PIV System

Pages 220-223

Akutsu, T. (et al.)

Stronger Implant Does Not Cause Stress-Shielding in the Fixation of Hip Fractures – Validated Finite Element Analysis and Cadaver Tests

Pages 224-226

Eberle, S. (et al.)

Cervical Soft Tissue Motion Measurement by Optical Coherence Tomography

Pages 227-230

Dämgen, M. (et al.)

Effects of Eccentric Screwing on the Initial Stability of the Acetabular Cup in Bone of Different Qualities

Pages 231-234

Hsu, Jui-Ting (et al.)

An Automatic Angle Tracking Procedure for Repeatable Blood Velocity Measurements

Pages 235-237

Tortoli, P. (et al.)

Metabolic Requirements of Blood Vessels in a Perfusion Bioreactor

Pages 238-241

Hoenicka, M. (et al.)

DTI-Based Thalamus Segmentation – A Group Study

Pages 242-244

Mang, Sarah C. (et al.)

Biomechanical Analysis of Various Shapes and Surface Roughnesses of an Immediately Loaded Implant_3D Finite Element Simulation

Pages 245-248

Huang, Heng-Li (et al.)

Optimizing Coil Currents for reduced SAR in Magnetic Particle Imaging

Pages 249-252

Bohnert, J. (et al.)

Selection of Optimal Hemodynamic Response Function for FMRI Analysis on Acute Stroke Patients

Pages 253-256

Storti, S. F. (et al.)

Post-Reconstruction Partial Volume Correction of PET Images Using Iterative Deconvolution Algorithm and Anatomical Priors

Pages 257-260

D'Ambrosio, D. (et al.)

Functional Correlates of Fractal Behavior of HRV in COPD Patients

Pages 261-264

D'Addio, G. (et al.)

Simulation of the Outflow Pathway in the Human Eye

Pages 265-268

Roy, S. (et al.)

Sensitivity Comparisons of Cylindrical and Hemi-Spherical Coil Setups for Magnetic Induction Tomography

Pages 269-272

Eichardt, R. (et al.)

The Influence of Medical Treatment on Non-linear Complexity Measures of Autonomic Regulation of Heart Rate Variability in Patients with Acute Schizophrenia

Pages 273-276

Schulz, S. (et al.)

Dynamic Multi-scale Model for the Influence of Water on Elastin

Pages 277-280

Haslach, Henry W., Jr.

The Relationship between the COP–COM Variable and the Horizontal Acceleration of the Body in Postural Sway, Falling and Walking

Pages 281-283

Choi, H. S. (et al.)

Breast Tumor Segmentation and Discrimination in Ultrasonic Images Based on a Log-Compressed K-Distribution and Features Corresponding to Diagnostic Criteria

Pages 284-287

Takemura, Atsushi

Speaker-Independent Malay Vowel Recognition of Children Using Neural Networks

Pages 288-291

Ting, H. N. (et al.)

Alveolar Consonant Recognition of Malay Children Using Neural Networks

Pages 292-295

Ting, H. N. (et al.)

Simulation Analysis of the Inverse Problem of the Blood Pressure Scan

Pages 296-299

Talts, J. (et al.)

Effect of Depressive Symptoms on the Diurnal Rhythm of Heart Rate Variability Three Days and Six Months after an Acute Coronary Syndrome

Pages 300-303

Guevara, M. Soledad Ladrón (et al.)

Analysis of Cardiac Torsion with Strain Tensor

Pages 304-307

Horio, Hideyuki (et al.)

Software Phantoms for Texture Analysis

Pages 308-311

Lahtinen, M. (et al.)

High Wall Shear Stress Gradient Suppress Morphological Responses of Endothelial Cells to Fluid Flow

Pages 312-313

Sato, M. (et al.)

Development of a Method to Produce an Arterial Artificial Stenosis Model

Pages 314-317

Pfeifer, S. (et al.)

Non-stationary Langevin Equation in Cardiology

Pages 318-321

Kirchner, J. (et al.)

Construction and Analysis of Human Thoracic Aorta Based on CT Images

Pages 322-325

Fu, W. (et al.)

Frequency Domain SpO2 Estimation Based on Multichannel Photoplethysmographic Measurements at the Sternum

Pages 326-329

Vetter, R. (et al.)

Neural Adaptive Restoration of Computed Radiography Images

Pages 330-333

Binaghi, E. (et al.)

Dynamic Generation of Physiological Model Systems

Pages 334-337

Kretschmer, J. (et al.)

Modeling Radioimmunotherapy with Anti-CD20 Antibody – Optimal Preload Depending on Lymphoma Transcapillary Solute Exchange

Pages 338-340

Kletting, P. (et al.)

Interaction Analysis with Enhanced Joint Symbolic Dynamics in Schizophrenia

Pages 341-344

Tupaika, N. (et al.)

Glaucoma Detection by Wavelet-Based Analysis of the Global Flash Multifocal Electroretinogram

Pages 345-348

Miguel-Jiménez, J. M. (et al.)

Mutual Information Preconditioning Improves Bayesian Networks Learning of Medical Databases

Pages 349-352

Meloni, A. (et al.)

Biotribology of Alternativ Bearing Materials for Knee Arthroplasty

Pages 353-355

Grupp, T. M. (et al.)

Model Selection in Dynamic Contrast Enhanced MRI: The Akaike Information Criterion

Pages 356-358

Ingrisch, M. (et al.)

Determination of Hip Joint Forces by Means of Multi-body Simulation

Pages 359-362

Behrens, B. -A. (et al.)

A 3D Simulation System for Hip Joint Replacement Planning

Pages 363-366

Dick, C. (et al.)

Evaluation of Osteosynthesis Options and Fracture Healing Progress from Computed Tomography Based Finite Element Analysis

Pages 367-369

Koerber, J. (et al.)

Differentiation of Water Signal Components in the Human Brain with EPI FID Analysis at 3T

Pages 370-373

Bender, B. (et al.)

Application of RBF Neural Networks for Predicting Low Birth Weight Using Features Extracted from Fetal Monitoring Signals

Pages 374-377

Jezewski, M. (et al.)

Magnetic Field Design for Efficient 3D-Targeting of MNP Complexes

Pages 378-381

Rüger, A. (et al.)

Analysis of renal calculi structure with the use of X-ray microtomography

Pages 382-385

Taton, G. (et al.)

Heart Rate Variability Approaches to Cholinergic Alterations in Neuropsychiatric Disorders

Pages 386-388

Hoyer, D. (et al.)

Spatio-temporal Filtering for Fetal QRS Enhancement

Pages 389-392

Kotas, M. (et al.)

Particle Method Simulation of Red Blood Cells Infected by Malaria

Pages 393-394

Yamaguchi, Takami (et al.)

Automated Extraction of Atrial Fibrillation Activity from the Surface ECG Using Independent Component Analysis in the Frequency Domain

Pages 395-398

Zarzoso, V. (et al.)

Electrical Stimulation on denervated muscle: bone structural changes and correlation between muscle contraction and bone growth

Pages 399-402

Gargiulo, P. (et al.)

Influence of the set size and probe item affiliation in the Sternberg memory task on auditory event-related potentials

Pages 403-406

Krbot, M. (et al.)

Detection of the EEG spike-wave patterns evoked by volatile anaesthetics

Pages 407-409

Olejarczyk, E. (et al.)

ACCURACY TEST FOR IN-VITRO MICRO-COMPUTED TOMOGRAPHY

Pages 410-413

Stoico, R. (et al.)

A new multi-resolution optimization algorithm for PET - CT cardiac images registration

Pages 414-417

Marinelli, M. (et al.)

Effects of volatile anaesthetics concentration on spectro-temporal pattern of EEG

Pages 418-421

Olejarczyk, E. (et al.)

Recruitment of Smooth Muscle Cells and Intercellular Calcium Waves during Arterial Vasomotion

Pages 422-424

Seppey, D. (et al.)

Comparison of the methods of microscopic image segmentation

Pages 425-428

Korzynska, A. (et al.)

The Role of Atrial Modeling in the Development of ECG Processing Tools

Pages 429-432

Jacquemet, V. (et al.)

Quasi-Newton Algorithms for Medical Image Registration

Pages 433-436

Schröter, M. (et al.)

Stereoscopic Visualization of Mammalian Macrophages Infected by Pathogenic Bacteria

Pages 437-440

Granseier, Michael (et al.)

In-vitro Flexibility Characteristics of Dynamic Pedicle Screw Systems

Pages 441-444

Schilling, C. (et al.)

'MISS Heart': Assisting Systems for Minimal Invasive Smart Suturing in Cardiac Surgery - A Conceptually Closed-Loop Approach

Pages 445-448

Wittenberg, T. (et al.)

An Empirical Methodology for the Definition of Frequency Bands for Spectral Analysis of Heart Rate Variability in Animals: Application to Sprague-Dawley Rats

Pages 449-452

García-González, M. A. (et al.)

Monitoring training-induced metabolic adaptations in the M. gastrocnemius of volleyball players by 31P-MRS

Pages 453-456

Rzanny, R. (et al.)

A Model-Based Method to Estimate Pulse Wave Velocity

Pages 457-460

Leung, M. T. (et al.)

A Novel Setup for Investigations of Reflexive and Reactive Motor Responses in Biceps

Pages 461-463

Staude, G. (et al.)

Evaluation of Benchmark Indexes to Determine the Best Performance of a Binary Neural Classifier

Pages 464-467

Sovierzoski, M. A. (et al.)

Interactive Registration and Visualization of Cardiac Video and Angiography

Pages 468-471

Friedl, S. (et al.)

A Detailed Model for Knee Joint Acceleration Motions Obtained by Pendulum Test

Pages 472-475

Jikuya, K. (et al.)

A Finite Element Model of Upper Cervical Vertebrae (C0-C3) and Biomechanical Analysis of the Atlas

Pages 476-478

Guo, Yuan (et al.)

The Effect of Background Images Combined with Face Images Expressing Disgust

Pages 479-482

Shimada, Takamasa (et al.)

Sleep Stage Diagnosis using Neural Network of Elman-type Feedback SOM

Pages 483-486

Shimada, Takamasa (et al.)

Stress - Strain Simulations for Optimising the Design of Shape - Memory Polymer Based Annuloplasty Rings

Pages 487-490

Lantada, A. Díaz (et al.)

A New Coronary Artery Bypass Graft (CABG) Distal Anastomosis Design

Pages 491-494

Kabinejadian, F. (et al.)

Modeling of Platelet Aggregation in Cerebrovascular Bifurcation Aneurysms

Pages 495-498

Shimano, K. (et al.)

Computational Fluid Dynamics Analysis of Bolus Dispersion in Stenosed Coronary Arteries

Pages 499-501

Graafen, D. (et al.)

Distributions of the potential and electric field of an electrode elliptic array used in tumor electrotherapy. Analytical and numerical solutions

Pages 502-505

Aguilera, Andrés Ramírez (et al.)

Mathematical modeling of tumor growth in mice following low-level direct electric current

Pages 506-509

Cabrales, Luis Enrique Bergues (et al.)

Impact of Model Complexity on Patient Specific Wall Stress Analyses of Abdominal Aortic Aneurysms

Pages 510-513

Maier, A. (et al.)

Labeling GLUT4 with quantum dots for 3D tracking in live L6 cells

Pages 514-517

Qu, Feng (et al.)

Comparison of Two Ultrasonic Methods of One-point Measurement of Pulse Wave Velocity—Where to Set the Echo-tracking Positions, in the Adventitia or Intima?

Pages 518-520

Tanaka, M. (et al.)

Research on Stereo Matching Algorithms

Pages 521-524

Yehui, Du. (et al.)

A Perfusion Culture System Used to Study Vessels with Different Size

Pages 525-528

Lin, C. Y (et al.)

Influence of geometric simplifications on stresses and strains in aneurysm model

Pages 529-532

Děták, M. (et al.)

Sequential Recognition of EMG Signals Using Bayes-Optimal Feature Extraction – Application to the Control of Bio-Prosthetic Hand

Pages 533-536

Kurzynski, M. (et al.)

A Study on EEG based Concentration Power Index Transmission and Brain Computer Interface Application

Pages 537-539

Lee, Chung-heon (et al.)

Development of a Passive Knee Motion Simulator to Evaluate Deep Knee Flexion of Total Knee Prosthesis

Pages 540-543

Takano, Y. (et al.)

Induction of Auditory Hallucination Experience for Patient with Schizophrenia Using Virtual Auditory Hallucination Exposure System: A Preliminary Study

Pages 544-547

Shin, Young Seok (et al.)

Model-based estimation of the hemodynamic status of the growth-restricted fetus

Pages 548-551

Luria, O. (et al.)

Dose Calculation of 166Ho Therapy Using VARSKIN2 Code

Pages 552-555

Mowlavi, A. A. (et al.)

A New Method of Image Processing for High-Contrast Medical Infrared Imaging of the Horse

Pages 556-559

Siewert, C. (et al.)

Mechanical properties of blood clots - A new test method -

Pages 560-563

Monstadt, H. (et al.)

Classification of Seizures in EEG Using Wavelet-Chaos Methodology and Genetic Algorithm

Pages 564-567

Hsu, K. -C. (et al.)

Effect of Slice Thickness on Texture Analysis of Multiple Sclerosis

Pages 568-571

Savio, S. (et al.)

The Interactions between Arterial and Capillary Flow. Cellular Automaton Simulations of Qualitative Peculiarities

Pages 572-574

Knyshov, G. (et al.)

Non Invasive Mapping of Human Atrial Fibrillation

Pages 575-578

Guillem, M. S. (et al.)

Evaluation of intra-aneurismal hemodynamics after stent placement in a pulsatile side wall model using laser Doppler anemometry

Pages 579-582

Dorn, F. (et al.)

Evaluation of Endocardial Electrograms Fractionation Complexity in Human Using Statistical Pattern Recognition

Pages 583-585

Křemen, V. (et al.)

Individualised Pressure Propagation Model for the Elastic Arteries

Pages 586-589

Mookerjee, A. (et al.)

A multi-compartmental mechanical model of the neonatal respiratory system

Pages 590-593

Reddy, P. I. (et al.)

Passive step response of airway smooth muscle

Pages 594-596

IJpma, G. (et al.)

The forward problem study of MAT-MI simulated by Comsol Multiphysics

Pages 597-600

Xu, Guohui (et al.)

Complexity Analysis on 24h Heart Rate Variability

Pages 601-602

Xia, Li (et al.)

Flow-Structure-Acoustic Interaction in a Prestressed Human Larynx Model

Pages 603-606

Kniesburges, Stefan (et al.)

Stochastic Modeling for Actin Responses in Chemotactic Cells to External Signal

Pages 607-610

Zhu, Weiping (et al.)

Effects of VAD Placement on 3D Fluid Flow in a Patient Specific Numerical Model of the Left Ventricle with Ischemic Heart Failure

Pages 611-614

Perschall, M. (et al.)

The Karlsruhe Heart Model KaHMo: A modular framework for numerical simulation of cardiac hemodynamics

Pages 615-618

Schenkel, T. (et al.)

Vertebrae tracking through fluoroscopic sequence: a novel approach

Pages 619-622

Bifulco, P. (et al.)

Coarse-grained Molecular Dynamics of Inhibitors Binding into HIV-1 Protease

Pages 623-625

Li, Dechang (et al.)

Flow Evaluation of Stents in a 180∘ Curved Tube

Pages 626-627

Liepsch, D. (et al.)

Experimental Flow Studies in Carotid Artery Models Using Protecting Systems, e.g. Stents and Filters

Pages 628-630

Liepsch, D. (et al.)

Comparison of two eigenvalue decomposition techniques to detect T Wave Alternans in the ECG

Pages 631-634

Monasterio, V. (et al.)

Development of a Deformable Lung Phantom for the Evaluation of Deformable Registration

Pages 635-637

Chang, J. (et al.)

The Bononiensis Control Parameter: theoretical discussion and clinical effects

Pages 638-640

Pallotti, G. (et al.)

How Do Tissue Conductivities Impact on Forward-calculated ECGs? An Efficient Prediction Based on Principal Component Analysis

Pages 641-644

Bauer, S. (et al.)

Localizing Ectopic Foci in the Pulmonary Veins from Intracardiac ECGs – A Simulation Study

Pages 645-648

Weber, F. M. (et al.)

Intracellular Memory of Stress Fiber Orientation: Focal Adhesions Store It and Microtubules Erase It During Disassembly–Reassembly Process of Stress Fibers

Pages 649-650

Yang, Y. F. (et al.)

On the Self-affinity of the Electroencephalogram: Evaluation of a Whole Spectrum of Scale Coefficients by Detrended Fluctuations Analysis

Pages 651-654

Castiglioni, P. (et al.)

A Technique for Estimating Sclerosis of Carotid Artery with Ultrasonic Echo

Pages 655-658

Nogata, F. (et al.)

Interaction of biomechanics and metabolic activity in abdominal aortic aneurysm wall

Pages 659-661

Reeps, C. (et al.)

Improved Landmark Initialization for 3D Statistical Shape Model Generation

Pages 662-665

Gollmer, S. T. (et al.)

Computer Simulation of Spheroid Response to Irradiation

Pages 666-668

Harting, Christine (et al.)

Calcium Dependent Release and Its Regulation in Cardiac Myocytes: Mathematical Model of the RyR Channel

Pages 669-672

Koivumaki, J. T. (et al.)

Semi-automatic segmentation of sinus node, Bachmann's Bundle and Terminal Crest for patient specific atrial models

Pages 673-676

Krueger, M. W. (et al.)

The Coverage Characteristic of Tibial Component for Unicompartmental Knee Arthroplasty in Chinese Patients – a Morphological Analysis

Pages 677-679

Chang, T. W. (et al.)

Effect of strut-connectors on hemodynamics of stented vessels: a comparison of pulsatile flow through two freshly deployed coronary stents

Pages 680-683

Pant, Sanjay (et al.)

A Software Assistant for the Manual Acquisition of Landmark Data in Medical Images

Pages 684-687

Prüm, H. (et al.)

A Comparison and Evaluation of Several Algorithms as Part of a Template Matching Registration Method

Pages 688-691

Graf, Markus (et al.)

Isocenter Verification in Radiotherapy based on Automatic Image Registration

Pages 692-695

Markaki, V. (et al.)

New Studies in the Cardiovascular System: Diagnostic and Therapeutic Applications

Pages 696-699

Liepsch, Dieter

Numerical Study of Shear Wavelength Observed in MRE Experiments with FEM

Pages 700-703

Naeeni, H. Ajabi (et al.)

Closed Loop: A Classification Framework for Interventional Procedures

Pages 704-707

Sakas, Georgios (et al.)

A Mathematical Model in the Implementation of a Stewart-Gough Platform as an External Fixator

Pages 708-711

Akçali, İ. D. (et al.)

Calculation of reliability maps with respect to inaccuracy in fMRI data

Pages 712-715

Mikl, M. (et al.)

Evaluation of Functional Network Connectivity in Event-related FMRI Data Based on ICA and Time-frequency Granger Causality

Pages 716-719

Havlicek, M. (et al.)

Discriminant System for Severity of Prostate Tumor

Pages 720-723

Tanaka, T. (et al.)

Obstructive Sleep Apnea Screening Using Nonlinear Characteristics of Overnight Pulse Oximetry Recordings

Pages 724-727

Schmittendorf, E. (et al.)

Towards a Simulation of Temperature Induced Blood Clotting in Hepatic RF Ablation

Pages 728-731

Kröger, Tim (et al.)

A Simple Modified Minimal Model

Pages 732-735

Li, L. (et al.)

Pattern Recognition and Feature Selection for the Development of a New Artificial Larynx

Pages 736-739

Russell, Megan J. (et al.)

Modeling of Stretch-Activated Sarcolemmal Channels in Smooth Muscle Cells

Pages 740-743

Lunze, K. (et al.)

Denoising for Diffusion Tensor Imaging of the Human Brain with High Spatial Resolution

Pages 744-747

Hahn, K. R. (et al.)

An Improved Segmentation of Chromosomes in Q-Band Prometaphase Images Using a Region Based Level Set

Pages 748-751

Grisan, E. (et al.)

Characteristics of Pulse Wave Reflection from the Cerebral Circulation in Hypertension - Analysis Using Wave Intensity

Pages 752-755

Niki, Kiyomi (et al.)

EEG based time points for longitudinal MRI studies in neonates with hypoxia-ischemia

Pages 756-758

Jennekens, W. (et al.)

Particle Deposition in CT-Scanned Lung Model Using Laminar Model

Pages 759-762

Luo, H. Y. (et al.)

A new approach for automated location of active segments in intracardiac electrograms

Pages 763-766

Nguyen, M. P. (et al.)

Development of a Prototype for Measuring Plantar Forces

Pages 767-770

Teodoro, E. C. M. (et al.)

Detection of complex movement patterns in multivariate kinematic time series for diagnostics in pediatric neurology

Pages 771-774

Karch, D. (et al.)

Contactless measurement of dermal oxygen saturation with spatial resolution

Pages 775-778

Herzog, M. (et al.)

Development of a miniaturized in-ear pulse oximeter for long term monitoring of risk patients

Pages 779-781

Hülsbusch, M. (et al.)

Autonomic Cardiovascular Regulation during Pregnancy - Interactions and Complexity

Pages 782-785

Seeck, A. (et al.)

Video-EEG-fMRI: Contribution of in-bore Video for the Analysis of Motor Activation Paradigms

Pages 786-789

Fernandes, José. M. (et al.)

B-spline registration versus demons algorithm - a quantitative comparison of accuracy and invertibility based on artificially created test cases for the lung

Pages 790-792

Hub, M. (et al.)

Non Invasive Assessment of Carotid and Femoral Arterial Pressure: Differences in Calibration Using Measured and Calculated Mean Brachial Pressure

Pages 793-796

Graf, S. (et al.)

Applying Computational Fluid Dynamics Methods on Nasal Flow Investigations Based on a Real Domain Generated from CT Data

Pages 797-800

Pantle, I. (et al.)

Enhancement of Breast Images by Noise Reduction and MTF Compensation to Improve Microcalcifications Detection

Pages 801-804

Romualdo, L. C. S. (et al.)

Time-Frequency Features Combination to Improve Single-Trial EEG Classification

Pages 805-808

Yonas, A. (et al.)

The Effect of Graft Strength on Knee Laxity and the In-Situ Forces of Grafts after Posterior Cruciate Ligament Reconstruction

Pages 809-812

Chang, T. W. (et al.)

Rheocardiography method and ways to increase its accuracy of hemodynamic parameters estimation

Pages 813-816

Shchukin, S. I. (et al.)

Reproducibility and Similarity Measures of Waveform Morphology in Atrial Fibrillation

Pages 817-820

Stridh, M. (et al.)

Special Features of Impedance Precardiac Mapping

Pages 821-824

Shchukin, S. I. (et al.)

Embolus Size Estimator for Peripheral Blood Vessels – Theoretical Considerations

Pages 825-827

Zmigrodzki, J. (et al.)

Automated Assessment of Wound Pathology in Clinical Practice

Pages 828-830

Jelinek, H. F. (et al.)

Particle Image Velocimetry Study of a New Scaffold for Aortic Valve Tissue Engineering

Pages 831-832

Akra, B. (et al.)

Development of new instruments for beating heart bypass anastomosis during mini-invasive procedures

Pages 833-836

Kaltenbacher, D. (et al.)

LF Component in Systolic Arterial Pressure in Patients with Atrial Fibrillation: Detection and Reliability

Pages 837-840

Corino, V. D. A. (et al.)

Type 1 Diabetes Regulated by ANFIS at Molecular Levels

Pages 841-844

Kovács, L. (et al.)

Gait Analysis in Patients with Knee Osteoarthritis Walking at Normal Speed on the Flat Ground

Pages 845-848

Yan, Songhua (et al.)

Frequency domain HRV analysis of ischemia manifestation at isolated rabbit hearts

Pages 849-851

Janoušek, O. (et al.)

A Study of Computer Aided Visualization and Quantification of Emphysema

Pages 852-855

Tan, K. L. (et al.)

Monte Carlo Simulations for I-131 Imaging Using a Variance Reduction Technique

Pages 856-858

Khosravi, H. R. (et al.)

An "in vivo" Study of High Frequency Vibration on Muscle Development

Pages 859-862

Ceccarelli, G. (et al.)

Model study of dynamic behavior of the pulmonary epithelium during airway reopening

Pages 863-864

Kuraszkiewicz, B. (et al.)

Decreased Coupling between R-R and QT Intervals in Patients with Panic Disorder

Pages 865-867

Ramachnadraiah, C. T (et al.)

Analysis of heart rate variability dynamics during propofol anesthesia

Pages 868-871

Tarvainen, M. P. (et al.)

Non-Linear Energy Operator for the Analysis of Intracardial Electrograms

Pages 872-875

Schilling, C. (et al.)

Implicit Time Integration in a Volumetric Mass-Spring System for Modeling Myocardial Elastomechanics

Pages 876-879

Jarrousse, O. (et al.)

Influence of Asymmetry and Resulting Inflection on Peak Wall Stress in Abdominal Aortic Aneurysms

Pages 880-883

Doyle, B. J. (et al.)

Adaption of Generic Anatomic Organ Models on Patient Specific Data Sets

Pages 884-887

Grafmüller, M. (et al.)

Simulations of Magnetic Resonance Phased Array Coils Using FDTD Algorithm

Pages 888-890

Giovannetti, G. (et al.)

Computational Investigation of Role of Active Conductances in Information Processing in Striatal Medium Spiny Neurons

Pages 891-894

Parab, V. (et al.)

Estimation of T-Wave Morphology Using Gaussian Functions

Pages 895-897

Lipponen, J. A. (et al.)

Towards a Quantitative Assessment of Dural Ectasia in Patients with Marfan Syndrome

Pages 898-901

Iacono, M. I. (et al.)

The effects of different brain material properties, FE mesh size and hourglass modes on the results of FE head impact analyses

Pages 902-905

Baeck, K. (et al.)

Comparative Analysis of different Wigner-Ville Distribution Implementations for the ECG-based Detection of Obstructive Sleep Apnea

Pages 906-909

Krug, J. (et al.)

A System for Performing Automated Measurements on Large Bone Databases

Pages 910-913

Gottschling, H. (et al.)

A transportable camera based motion analysis system with application to monitoring of rehabilitation of hand

Pages 914-917

Bragge, Timo (et al.)

Is it possible to distinguish different types of ECG-holter beats based solely on features obtained from windowed QRS complex?

Pages 918-921

Chudáček, V. (et al.)

Evaluating Cervical Electromyography with Entropy

Pages 922-925

Vrhovec, J. (et al.)

An improved method for ring artifacts removing in reconstructed tomographic images

Pages 926-929

Brun, F. (et al.)

Operator Fatigue Estimation Using Heart Rate Measures

Pages 930-933

Heinze, C. (et al.)

Creation of a Realistic Endocardial Stimulation Profile for the Visible Man Dataset

Pages 934-937

Kalayciyan, R. (et al.)

Comparison of different clinical models of cerebral autoregulation in time and frequency domain

Pages 938-941

Kožuško, J. (et al.)

Transferring an Artifact Handling System into a Mobile Long-term ECG Device with Dry Electrodes

Pages 942-945

Kirst, Malte (et al.)

Comparison of software developed for FHR extraction from PCG signals

Pages 946-949

Ruffo, M. (et al.)

Dose Accumulation based on Optimized Motion Field Estimation using Non-Linear Registration in Thoracic 4D CT Image Data

Pages 950-953

Werner, R. (et al.)

Color design for an AR-enhanced advice systems in surgery

Pages 954-957

Geißler, N. (et al.)

Belt Machining and Testing of Ceramic Knee Implants

Pages 958-961

Denkena, B. (et al.)

Spatial distribution of tissue mineralization and anisotropic tissue elastic constants in human femoral cortical bone

Pages 962-965

Rohrbach, D. (et al.)

The Finite Element Study of the Subsequent Injury in a MCL Deficient Knee

Pages 966-969

Jie, Yao (et al.)

Experimental "True" CPR Artifact Generation in Human ECG Signals

Pages 970-973

Granegger, M. (et al.)

Electromagnetic Fields near Implanted Cardiac Devices during Magnetic Resonance Imaging

Pages 974-976

Seitz, S. A. (et al.)

Machining Processes of Degradable Implant Materials to Adjust Surface and Subsurface Properties

Pages 977-979

Denkena, B. (et al.)

CPR Artifact Reduction in the Human ECG Using Independent Component Analysis

Pages 980-983

Granegger, M. (et al.)

Voice Fundamental Frequency Extraction Algorithm Based on Ensemble Empirical Mode Decomposition and Entropies

Pages 984-987

Schlotthauer, G. (et al.)

Application of Asymmetric Waveforms for Time-Frequency Representation, on the Example of Otoacoustic Emissions

Pages 988-991

Kwaskiewicz, K. (et al.)

Modeling blood flow in pulmonary capillary networks

Pages 992-994

Weber, S. (et al.)

Detection of Lesions in Colonoscopic Images: A Review

Pages 995-998

Ameling, S. (et al.)

Towards Run Time Visualization in Cardiac Modeling

Pages 999-1002

Reumann, M. (et al.)

A Method for Proper Choice of Hernia Meshes Based on Their Mechanical Behavior

Pages 1003-1005

Kirilova, M. G. (et al.)

Computational Simulations of Magnetic Particle Capture in Simplified and Realistic Arterial Flows: Towards Optimized Magnetic Drug Targeting

Pages 1006-1009

Kenjeres, S. (et al.)

Slow-Phase Onset Influence on Waveform Identification and Foveation Time Measure in Congenital Nystagmus

Pages 1010-1013

Pasquariello, Giulio (et al.)

Velocity Field Analysis of Activation Maps in Atrial Fibrillation A Simulation Study

Pages 1014-1017

Masè, M. (et al.)

Fluid-Structure Interaction of Pre- and Post-Operative Abdominal Aortic Aneurysms

Pages 1018-1021

Molony, D. S. (et al.)

Classification of trabecular patterns in the proximal femur using the vector representation algorithm: its correlation to the degree of osteoporosis

Pages 1022-1024

Pecelis, M. (et al.)

Material model of the collagen decrease in a single trabecula

Pages 1025-1028

Carretta, R. (et al.)

Principal Component Approach for Mapping Functional Connectivity in Event-Related fMRI

Pages 1029-1032

Niskanen, Eini (et al.)

Integrating β-Adrenergic Signaling into a Computational Model of Human Cardiac Electrophysiology

Pages 1033-1036

Otto, C. A. (et al.)

Automated High Content Analysis of Multidimensional Image Data of Cells and Tissue

Pages 1037-1039

Athelogou, M. (et al.)

Detection of Sleep Related Breathing Disorders by Grid Based Biosignal Processing

Pages 1040-1043

Krefting, D. (et al.)

A New Approach for Parameterizing the ECG for Sleep Stage Classification

Pages 1044-1047

Özer, H. (et al.)

Calculation of the Interference Voltage at the Input of Cardiac Pacemakers in Low Frequency Magnetic Field: Influence of the Homogeneous and Heterogeneous Coupling Medium

Pages 1048-1051

Andretzko, J. P. (et al.)

Model Generation from Imaging Data for Simulation in Biomechanics

Pages 1052-1055

Young, P. G. (et al.)

An Automated Real Time System for FRET Based Protein-Protein Interaction Analysis

Pages 1056-1058

Bernardini, A. (et al.)

Motion Artefacts in Capacitively Coupled ECG Electrodes

Pages 1059-1062

Ottenbacher, Jörg (et al.)

Spatial setting of visual attention and its appearance in head-movement

Pages 1063-1066

Abe, K. (et al.)

Joint Histogram-Based Intensity Standardization of Diffusion-Weighted MRI Images

Pages 1067-1070

Punzalan, F. R. (et al.)

The extraction of olfactory evoked potentials in human brain using Independent Component Analysis - based Approach

Pages 1071-1074

Lee, P. L. (et al.)

Evaluation on Envelope Waveforms of Velocity in Common Carotid Artery: Age-, Gender- and Regular Exercise-Related Effect

Pages 1075-1078

Azhim, A. (et al.)

Analysis of Rotational Vertigo Using Video and Image Processing

Pages 1079-1082

Tominaga, S. (et al.)

New Feature for Histopathologic Diagnosis of Early Hepatocellular Carcinoma - Degree of Nuclear Concentration -

Pages 1083-1086

Tanimoto, Y. (et al.)

Estimation of multiple change-points in kinetic signals

Pages 1087-1090

Staude, G. (et al.)

Empirical Mode Decomposition (EMD) – Based Spatiotemporal Approach for Single-Trial Extraction of Post-Movement MEG Beta Synchronization

Pages 1091-1094

Chang, H. C. (et al.)

Implementation of EMD Algorithm for ECG Noise Reduction

Pages 1095-1098

Shyu, K. K. (et al.)

Visualization of thrombus formation and CFD based prediction on shear flows

Pages 1099-1100

Tamagawa, M. (et al.)

A Bayesian methodology to estimate single-trial ERPs with application to the study of the P300 variability in cirrhosis

Pages 1101-1104

D'Avanzo, C. (et al.)

MatchPoint: On Bridging the Innovation Gap between Algorithmic Research and Clinical Use in Image Registration

Pages 1105-1108

Floca, Ralf

In-vivo Visualisation of glomerular filtration by two-photon microscopy in a rat

Pages 1109-1110

Nakamoto, Hiroshi (et al.)

Fusion of Wave-Similarity Maps with 3D-CT Atrial Images for the Investigation of Atrial Fibrillation Mechanisms

Pages 1111-1114

Ravelli, F. (et al.)

A Study of Virtual Reality in Mastology

Pages 1115-1118

Abreu, C. G. (et al.)

Reconstruction and Application of Digital Brain Model on Chinese Visible Human (CVH)

Pages 1119-1122

Qi-yu, Li (et al.)

N-Methyl-D-Aspartate Receptor Channels Influence Dendritic Calcium Signaling in Nucleus Accumbens Medium Spiny Neurons – A Computational Study

Pages 1123-1126

John, J. (et al.)

Simulation of the Effects of Electric Loadings on Bone Surface Remodeling

Pages 1127-1130

Fathi, A. (et al.)

A New and Efficient Method for Automatic Optic Disc Detection Using Geometrical Features

Pages 1131-1134

Bhuiyan, Alauddin (et al.)

Numerical modeling of photonic nanojet behind dielectric microcylinder

Pages 1135-1138

Maděránková, D. (et al.)

Assessment of Compartment Models for Positron Emission Tomography

Pages 1139-1142

Maeda, J. E. M. S. (et al.)

Gradient Artifact Removal in Co-registration EEG/fMRI

Pages 1143-1146

Sartori, E. (et al.)

Registration of Ultrasound Contrast Images for Perfusion Analysis

Pages 1147-1150

Harabiš, V. (et al.)

A New Trunk Subdivision Model for Segmental Bioelectrical Impedance Analysis

Pages 1151-1154

Zhao, Shu (et al.)

Autonomic function in first-degree relatives of patients suffering from schizophrenia

Pages 1155-1157

Berger, S. (et al.)

A Method for Robustly Determining the Relative Orientation of Vectorcardiographic Loop Structures

Pages 1158-1161

Noponen, K. (et al.)

An Inverse Approach to Determine the Elastic Modulus of Bone Tissue by the Indentation Tests

Pages 1162-1165

Qian, X. Q. (et al.)

Eye-blink artifact detection in the EEG

Pages 1166-1169

Babušiak, B. (et al.)

Detection of K-Complex in the EEG Signal

Pages 1170-1173

Gála, M. (et al.)

Comparison of Bolus Arrival Time Determination Methods for the Analysis of Cerebral Hemodynamics by Estimating the Impact of Temporal Resolution of 4D MRA Imaging

Pages 1174-1177

Forkert, N. D. (et al.)

Motor imagery analysis based on EEG signal processing

Pages 1178-1181

Ungureanu, G. M. (et al.)

Identification and Localization of Intramedullary Nail Holes for Orthopedic Procedures Using Cone Beam Reconstruction and Simulation Techniques

Pages 1182-1185

Kamarianakis, Z. G. (et al.)

Determination of focal spot size and the modulation transfer function of mammographic equipment without previous alignment

Pages 1186-1189

Oliveira, P. D., Jr (et al.)

New Evidences on Automatic Tumor Segmentation in Magnetic Resonance Brain Images

Pages 1190-1193

Caldeira, L. L. (et al.)

A Software Tool to Automatically Evaluate and Quantify Diffusion Weighted Images

Pages 1194-1197

Simon, D. (et al.)

Computational Study of Pulstile Blood Flow in Aortic Arch: Effect of Blood Pressure

Pages 1198-1201

Vasava, P. (et al.)

Optimization and Fast Estimation of Vessel Cooling for RF Ablation

Pages 1202-1205

Altrogge, Inga (et al.)

Effect of Aortic Arch Geometry on Pulsatile Blood Flow: Flow Pattern and Wall Shear Stress

Pages 1206-1209

Vasava, P. (et al.)

Resonant acoustic sensor for estimating elastic properties of muscular tissues

Pages 1210-1213

Blasco, H. (et al.)

Experimental Study on the Biomechanical Properties of Pelvic Floor and Uterine Wall for the Rabbit

Pages 1214-1217

Song, H. F. (et al.)

Aquaporin -1 and Transendothelial Water Transport: A Possible Role in Atherosclerosis?

Pages 1218-1221

Joshi, S. D. (et al.)

A Multi-strategy Method for MRI Segmentation

Pages 1222-1225

Martín-Landrove, M. (et al.)

Carotid Elastic Modulus in vivo Estimation Using Ultrasonic Images and Comparison to in vitro Measurement for Animal

Pages 1226-1229

Yokota, Y. (et al.)

Hemodynamic Effects of the Orientation of a Bi-leaflet Mechanical Heart Valve Implanted in an Anatomic Aorta

Pages 1230-1233

Borazjani, I. (et al.)

Phase-Space Reconstruction of Electrocardiogram for Heartbeat Classification

Pages 1234-1237

Chan, Hsiao-Lung (et al.)

A Fuzzy System for Classification of Breast Masses

Pages 1238-1241

Ribeiro, P. B. (et al.)

Trends on Wavelet-Based Functional MRI for Activation Detection

Pages 1242-1245

Wongsawat, Yodchanan

Spatially-Realistic and Reduced Models for Integrative Biomedical Computing

Pages 1246-1248

Bajaj, C. (et al.)

Content based Medical Image Retrieval: use of Generalized Gaussian Density to model BEMD's IMF

Pages 1249-1252

Jai-Andaloussi, Said (et al.)

Interference cancellation for extraction of the transabdominal fetal ECG

Pages 1253-1256

Ţarălungă, D. (et al.)

Filtering techniques using frequency analysis for inertial sensors in gait measurements

Pages 1257-1260

Charry, Edgar (et al.)

Analysis of multiple resolution μ-CT image sets for pore-size distribution estimation

Pages 1261-1264

Aydogan, Baran (et al.)

The effects of the exercise on reactive oxygen species and redox system in rats

Pages 1265-1266

Endo, K. (et al.)

Influence of Low Density Lipoprotein on Migration of Vascular Endothelial Cells under Fluid Shear Stress

Pages 1267-1270

Lei, D. X. (et al.)

Detection of Sleep Disorders by a Modified Matching Pursuit Algorithm

Pages 1271-1274

Sommermeyer, D. (et al.)

Discrimination of Fatigue in Walking Patterns

Pages 1275-1278

Orlandi, S. (et al.)

A Semi-automated 3D Kinematic Estimation of Total Knee Arthroplasty Using X-Ray Fluoroscopic Images

Pages 1279-1282

Yamazaki, T. (et al.)

Effect of Frequency Rhythmic Electrical Modulation System (FREMS) on 0.1 Hz microvascular skin blood flow in dysautonomic diabetic (type 2) neuropathy

Pages 1283-1286

Baccianti, M. (et al.)

Simulation of Radiofrequency Ablation Including Water Evaporation

Pages 1287-1290

Pätz, Torben (et al.)

An Adaptive Virtual Biofeedback System for Neuromuscular Rehabilitation

Pages 1291-1294

Barzilay, O. (et al.)

Can Patient-Specific Classification Improve the Accuracy of Sleep Apnea Detection from the ECG?

Pages 1295-1298

Maier, C. (et al.)

Reasoning and Risk Assessment Based on Real-Time Physiological Simulations and Dependable Vital Parameter Monitoring

Pages 1299-1302

Abkai, C. (et al.)

Blood Pressure and Heart Rate Fluctuations and Baroreflex Control: Insights from Data before and after Brain Death

Pages 1303-1305

Rienzo, M. (et al.)

Non-Contact Respiratory Monitoring Based on Real-Time IR-Thermography

Pages 1306-1309

Abbas, Abbas K. (et al.)

The use of EIT in the detection of regional lung dysfunction in prematurely born neonates

Pages 1310-1313

Zifan, A. (et al.)

A Fast Nonrigid Registration Algorithm for Adaptive Radiotherapy

Pages 1314-1317

Wurst, G. (et al.)

QT variability versus sympathetic cardiac activity in patients with major depression and patients with panic disorder

Pages 1318-1321

Baumert, M.

A Computational Cardiovascular Model for Characterizing Arterial pulses under Various Physiopathological Conditions

Pages 1322-1325

Liang, Fuyou (et al.)

Modeling the 3-Dimensional Center of Rotation of a Total Disc Arthroplasty at L4/5

Pages 1326-1328

Grubisic, I. (et al.)

Biomechanics of Human Gait Simulation

Pages 1329-1332

Culik, J. (et al.)

DIROlab – A Software Tool for Visualization and Evaluation of Data from Diagnostic Imaging and Radiotherapy

Pages 1333-1336

Nix, O. (et al.)

An Intelligent Classifier for Heart Health – Based on Radial Myocardial Strain and Electrocardiogram

Pages 1337-1340

Chao, Pei-Kuang (et al.)

Numerical Models of an Artery with a Net Structured Stent

Pages 1341-1344

Brand, M. (et al.)

Measurement of Optical Pulsation and Transmission Spectra as Reference for a Monte Carlo Simulation of the Finger Tip

Pages 1345-1348

Doemer, B. (et al.)

The Future of Volume Graphics in Medical Virtual Reality

Pages 1349-1352

Muehl, Judith (et al.)

Time-Frequency Based Estimation of Transient Endogen Evoked Components

Pages 1353-1356

Ivanova, G. (et al.)

Enhancement of oscillometric index in non-invasive blood pressure measurements

Pages 1357-1360

Jazbinsek, V. (et al.)

New technique of characteristic impedance determination within the arterial system: part II

Pages 1361-1364

Khaled, B. A. (et al.)

Cognition Network Technology for Fully Automatic 3D Segmentation of Lymph Nodes in CT Data

Pages 1365-1367

Schmidt, G. (et al.)

Classification of pathological human brain lesions using Magnetic Resonance Spectroscopy at 3T

Pages 1368-1370

Dimou, I. N. (et al.)

A Comparison between the Proliferation Rate of SAOS-2 Human Osteoblasts and BMSCs (Bone Marrow Stromal Cells) Using Mathematical Models

Pages 1371-1374

Prè, D. (et al.)

Coherence analysis of frontal midline theta rhythm in EEG during 3-D maze task

Pages 1375-1376

Tanaka, K. (et al.)

Modeling biological systems in Laplace Domain for Synthetic Biology Design

Pages 1377-1380

Poh, C. L. (et al.)

Non-rigid Registration Techniques and Applications in High-Precision Radiotherapy

Pages 1381-1384

Hoogeman, M. S. (et al.)

Application of Multivariate Analysis to Detect Significant Change in MEG or EEG of Individual Subjects

Pages 1385-1388

Nemoto, Iku

Osteoarthritic cancellous bone seems to orientate its structure to compensate for tissue degeneration

Pages 1389-1391

Öhman, C. (et al.)

Methodology for Automatic Classification of Adventitious Lung Sounds

Pages 1392-1395

Riella, R. J. (et al.)

A Novel Approach to the Correlation of Fluid Dynamics and Thromboembolism Associated with Cardiovascular Prosthetic Devices

Pages 1396-1399

Cooper, B. T. (et al.)

Digital Auscultation and Processing of Abdominal Sounds

Pages 1400-1402

Delfini, A. T. (et al.)

Model-Based Method and Instrumentation for Noninvasive Identification of Local Ischemic Lesions in the Heart

Pages 1403-1406

Tysler, M. (et al.)

Non-invasive assessment of pressure generated by respiratory muscles using the Kalman filter

Pages 1407-1410

Zhao, Z. (et al.)

A Method for Quantifying Sleep Eye Movements That Reflects Medication Effects

Pages 1411-1414

Shokrollahi, P. (et al.)

Optical Alveolar Elastometry: On the Optical Determination of Lung Tissue Properties

Pages 1415-1418

Schwenninger, D. (et al.)

Influence of ischemia on left ventricular depolarization in isolated rabbit hearts perfused according to Langendorff

Pages 1419-1422

Kolářová, J. (et al.)

Preprocessing for Spectral Analysis of Electrogastrogram

Pages 1423-1426

Komorowski, D. (et al.)

Experimental simulation and computational modeling of the contact between femoral and tibial components in total knee arthroplasty

Pages 1427-1430

Gruionu, L. G. (et al.)

Registration of Cardiac CT Data with Coronary Angiograms Using Digitally Reconstructed Radiographs

Pages 1431-1434

Drechsler, Klaus (et al.)

Automated Epileptic Seizure Type Classification through Quantitative Movement Analysis

Pages 1435-1438

Cunha, J. P. Silva (et al.)

Analysis of Biomechanical Interactions of Water with Mb and RNase Proteins through Thermostatistical Methods

Pages 1439-1442

Rozo, E. E (et al.)

Microscopic Analysis of Bone in Growing Rats under the Influence of Vitamin K2 and Mechanical Loading

Pages 1443-1444

Matsumoto, T. (et al.)

Varicose Coiling, Hemodynamic Consequense of Pulsatile Arterio Venous Shunt Flow on the Endothelium Studied by Scanning Electron Microscopy(SEM)

Pages 1445-1447

Schalin, L. (et al.)

Development of a Flow Phantom to Verify the Evaluation of Cerebral Blood Flow by ICG-Fluorescence Video Analysis

Pages 1448-1451

Weichelt, C. (et al.)

Automatic Registration of DCE-MRI Prostate Images for Follow-Up Comparison

Pages 1452-1455

Straaten, D. (et al.)

Evaluation of basic techniques for Seizure identification

Pages 1456-1459

Chulek, Marcelo José

Programmable Test Bench for Hemodynamic Studies

Pages 1460-1463

Pereira, H. C. (et al.)

A Screening method to detect atrial fibrillation with Symbolic Dynamics

Pages 1464-1467

Lentz, N. (et al.)

A Wavelet Based Detection of Abnormal Intra-QRS Potentials

Pages 1468-1470

Sekora, J. (et al.)

Magnetic Particle Imaging – Challenges and Promises of a New Modality

Pages 1471-1474

Buzug, T. M. (et al.)

Dose calculation optimization in intracranial stereotactic radiotherapy using implicit surface modeling

Pages 1475-1477

Kilindris, T. (et al.)

Three Dimensional Poroelastic Simulation of Brain Edema: Initial Studies on Intracranial Pressure

Pages 1478-1481

Li, X. G. (et al.)

GATE Mammogram Simulation of NCAT Breast Phantom

Pages 1482-1485

Duarte, Isabel Catarina (et al.)

Interactive Visualization of Ultrasound Image Volumes for Oncologic Diagnostics

Pages 1486-1489

Overhoff, H. M. (et al.)

Different Arterial Occlusion Protocols on the Radial Strain of Arterial Wall

Pages 1490-1493

Rafati, M. (et al.)

Computer-Aided Analysis of Arterial Wall Architecture

Pages 1494-1497

Horny, L. (et al.)

Metabonomics Based on Pattern Recognition Methods in 1H in vivo MRS in Differentiation Metabolic Profiles of Multiple Sclerosis Subtypes

Pages 1498-1501

Boguszewicz, Ł (et al.)

Triaxial Mechanomyography of the Biceps Brachii Muscle during Sustained Submaximal Isometric Contractions

Pages 1502-1505

Nogueira-Neto, Guilherme N. (et al.)

Analysis of the Relation between Complexity and Multifractality in Cardiac Interbeat Intervals Time Series

Pages 1506-1509

Diosdado, A. Muñoz

Specification and simplified analyzing data from MS/MS spectrometry

Pages 1510-1512

Valla, M. (et al.)

Determination of the Young's Modulus of Callus by Comparing Finite Element Simulations with Experiments

Pages 1513-1515

Besdo, S. (et al.)

Software for Simulating and Studying Cardiac Activation

Pages 1516-1519

Jiménez, Z. Cebrián (et al.)

Micro Array Images Segmentation Using a Novel Approach

Pages 1520-1523

Fard, Pooria Jafari Moghadam (et al.)

Identifying Mathematical Models of the Mechanically Ventilated Lung Using Equation Discovery

Pages 1524-1527

Ganzert, Steven (et al.)

Hybrid Elastic Model for Volumetric Deformation in Multi-modal Virtual Reality Simulation

Pages 1528-1531

Cho, Jaehwan (et al.)

Neural Network as a Tool for Medical Signals Filtering, Diagnosis Aid, Therapy Assistance and Forecasting Improving

Pages 1532-1534

Tadeusiewicz, R.

The Effects of Different Antiembolic Agents on the Crystallinity of Fractured Bones during the Healing Period

Pages 1535-1537

Tunc, B. (et al.)

Thrombosis Engineering in Intracranial Aneurysms Using a Lattice Boltzmann Numerical Method

Pages 1538-1541

Ouared, R. (et al.)

Self-Organizing Maps for Categorical Data: Application to an ISO 9000 Accreditation Assessment

Pages 1542-1545

Costa, J. C. G. D. (et al.)

A multi-scale comparison of texture descriptors extracted from the Wavelet and Curvelet domains for small bowel tumor detection in Capsule Endoscopy exams

Pages 1546-1549

Barbosa, D. (et al.)

Evaluation of an Integrated Tool for Automated Visualization of Subdural Electrodes

Pages 1550-1553

Kuß, J. (et al.)

Tissue strain from Tissue Velocity Imaging (TVI) during sub-maximal isotonic muscle contractions

Pages 1554-1556

Lindberg, F. (et al.)

An overview on data formats for biomedical signals

Pages 1557-1560

Schlögl, A.

Ballistocardiographic Spectrum Studies with a Tilt Table

Pages 1561-1564

Alametsä, J. (et al.)

Comparison between ultrasonic muscle strain and electromyography during an isometric ramp contraction

Pages 1565-1567

Granåsen, G. (et al.)

FE Simulation of Total Knee Endoprosthesis Loading during Stance

Pages 1568-1571

Zach, L. (et al.)

Fluid-Mechanics Simulations of Ventricular Function under LVAD Support

Pages 1572-1575

McCormick, M. (et al.)

A Simulation of the Surface EMG for Analysis of Muscle Activity during Whole Body Vibratory Stimulation

Pages 1576-1579

Fratini, A. (et al.)

Autoregressive and Cepstral Analysis of Electromyogram in Rapid Movement Sleep

Pages 1580-1583

Shokrollahi, M. (et al.)

Structural and Hemodynamical analysis of Aortic Aneurysms from Computerized Tomography Angiography data

Pages 1584-1587

Gasser, T. C. (et al.)

Transfer Function Estimation of the Right Ventricle of Canine Heart

Pages 1588-1591

Shokrollahi, E. (et al.)

CT-based patient individual anatomical modeling of the lung and its impact on thoracic surgery

Pages 1592-1595

Stoecker, C. (et al.)

Analyzing of Cladosporium as a Biomaterial Sample by Semi-dynamic Video Microscopy under Biaxial Stretch

Pages 1596-1599

Schließmann, S. J. (et al.)

Forward Modeling of Uterine EMG and MMG Contractions

Pages 1600-1603

Rosa, P. S. (et al.)

Aortic blood flow characteristics of different extracorporeal circulation techniques during cardiac surgery - a computational fluid dynamics study

Pages 1604-1607

Assmann, A. (et al.)

Cerebral Aneurysm Hemodynamics and a Length of Parent Vessel

Pages 1608-1611

Poethke, J. (et al.)

Biological Tissue Remodeling Using Poroelastic Gurson's Model

Pages 1612-1615

Argento, G. (et al.)

Multimodal visualization of craniofacial tumors of large dimensions

Pages 1616-1619

Kober, C. (et al.)

Development of an Experimental Setup to Investigate the Effect of Skull Discontinuities on the EEG

Pages 1620-1623

Lau, S. (et al.)

Feedback-Feedforward Model of the Cold Face Test Response

Pages 1624-1627

Kana, M. (et al.)

Reliability and Robustness in Image Based Surgical Planning

Pages 1628-1631

Zidowitz, S. (et al.)

High Precision Radiotherapy and Image Guided Procedures - Demands on Standards, Interoperability and Workflow Integration

Pages 1632-1634

Röhner, F.

Augmented Reality Systems for Medical Interventions: Current Limits

Pages 1635-1638

Nicolau, S. A. (et al.)

Simulation of the effect of conductivity changes due to tumors, ischemia and edema in the human brain on the EEG

Pages 1639-1642

Jochmann, T. (et al.)

Dynamic Electrical Impedance Tomography Image Reconstruction of Neonate Lung Function based on Linear Kalman Filter techniques

Pages 1643-1645

El Dib, Hussein (et al.)

First steps in 4D-visualization of human foot during ankle joint flexion under strong muscles' tension based on MRI

Pages 1646-1648

Kober, C. (et al.)

Feasibility Study of B-Spline Deformable Registration between CT and MRI Atlas for Trigeminal Neuralgia Application to Radiosurgery

Pages 1649-1652

Peroni, M. (et al.)

PPG Signal Processing for Pulse Delay Computing by Using Adaptive Comb Filter

Pages 1653-1656

Pilt, K. (et al.)

Intra-subject Variability of Fatigue Estimation Based on Driving Variables

Pages 1657-1660

Golz, M. (et al.)

Development of New Cluster Descriptors for Image Analysis of Poincaré Plots

Pages 1661-1664

Duong, Ngoc Doan (et al.)

In-Vitro Investigation of three-dimensional Carotid Artery Haemodynamics by Tomographic Particle Image Velocimetry

Pages 1665-1668

Buchmann, N. A. (et al.)

Measurement Comparison about Lumbar Lordosis : Radiography and 3D Motion Capture

Pages 1669-1671

Hwang, S. H. (et al.)

Simulation on the dynamics of Neural states transition

Pages 1672-1673

Perea-Olmos, G. (et al.)

Simulation of the Different Respiratory Mechanics Effect upon the Efficiency of Artificial Lung Ventilation Using Mathematical Model of the Respiratory System

Pages 1674-1676

Rozanek, M. (et al.)

Study of the gastric motility using bio-conductivity

Pages 1677-1679

Giouvanoudi, A. C. (et al.)

Evaluating the Effects of Border Zone Approximations with Subject Specific Ischemia Models

Pages 1680-1683

Swenson, D. J. (et al.)

Numerical Simulation of Lipoprotein Concentration Polarization in Bifurcation Artery

Pages 1684-1687

Wang, G. X. (et al.)

Medial Axis Detection from Dental Micro-CT Records

Pages 1688-1691

Benyó, Balázs (et al.)

Registration of a Cardiac Motion Model to Video for Augmented Reality Image Guidance of Coronary Artery Bypass

Pages 1692-1694

Figl, Michael (et al.)

QRS slopes for ischemia monitoring in PCI recordings

Pages 1695-1698

Romero, D. (et al.)

Arterial-pulsation Driven Flow in Syringomyelia – A Lumped-parameter Model

Pages 1699-1702

Elliott, N. S. J. (et al.)

A Study on Comparison PPG Variability with Heart Rate Variability in the Sitting Position During Paced Respiration

Pages 1703-1705

Lee, C. K (et al.)

Incorporating Craniofacial Anthropometry into Realistically-Shaped Head Models

Pages 1706-1709

Wendel, K. (et al.)

Development of a Scanning Needle Microscopy for an Elasticity Distribution Imaging of Rat Liver Cirrhosis

Pages 1710-1711

Murayama, Y. (et al.)

Post-Meal Hyperglycemia Induced Oxidative Stress Impairs Cardiac/Vascular Function by Increasing Myocardial Energy Demand in Non-Hypertensive People with Type 2 Diabetes – Assessed by Tissue Doppler and Wave Intensity

Pages 1712-1715

Bibra, H. (et al.)

Parameter Estimation of a 3D Cardiac Electrophysiology Model Including the Restitution Curve Using Optical and MR Data

Pages 1716-1719

Relan, J. (et al.)

Modeling the Influence of the Hippocampal Comparator Function on Selective Attention According to Stimulus–Novelty

Pages 1720-1723

Haab, Lars (et al.)

Global Field Power and Averaging in Measuring Somatosensory Evoked Potentials under Anesthesia

Pages 1724-1727

Joutsen, A. (et al.)

Ultrafast Detection of Chirp- and Click-Evoked Auditory Brainstem Responses

Pages 1728-1731

Corona-Strauss, F. I. (et al.)

A study on the EEG phase reset analysis by an inverse transform method

Pages 1732-1735

Low, Yin Fen (et al.)

Obtaining Molecular Interference Functions of X-Ray Coherent Scattering for Breast Tissues by Combination of Simulation and Experimental Methods

Pages 1736-1739

Chaparian, A. (et al.)

An Investigation of Transcranial Magnetic Stimulation Effects in Auditory Attention

Pages 1740-1743

Harris, Arief R. (et al.)

Noninvasive Evaluation of the Inertia Force of Late Systolic Aortic Flow

Pages 1744-1747

Ohte, Nobuyuki (et al.)

Extraction of Feature Information in EEG Signal by Virtual EEG Instrument with the Functions of Time-Frequency Analysis

Pages 1748-1751

Ji, Z. (et al.)

Non-invasive Intracranial Pressure Measurement using Transcranial Doppler Sonography and Support Vector Machines

Pages 1752-1755

Golzan, S. Mojtaba (et al.)

LDA-Based Vapor Recognition Using Image-Formed Array Sensor Response for Portable Electronic Nose

Pages 1756-1759

Yang, Y. (et al.)

Computer Model Optimization of Cardiac Resynchronization Therapy Using Body Surface Potential Map

Pages 1760-1763

Miri, R. (et al.)

Landmark Location in X-Ray Images Using Active Appearance Models

Pages 1764-1767

Long, M. (et al.)

Application of a LMD Based Segmentation Method to Retinal Image Segmentation

Pages 1768-1771

Kuleschow, A. (et al.)

Automatic Detection of Myocardial Ischemia Using Adaptive Optimal Kernel Time Frequency Analysis of HRV and KNN Classifier

Pages 1772-1775

Zakeri, A. (et al.)

Image Guided Brachytherapy – Interventional Radiation Therapy: Demands from Physician Point of View

Pages 1776-1778

Strnad, V.

Behavior of Linear Ligament Biostructure under Action of Different External Forces of Constant Intensity

Pages 1779-1782

Janjić, N. J. (et al.)

Parallel Implementation of Temporal Decorrelation Independent Component Analysis

Pages 1783-1785

Sander, T. H.

Sound Wave-Induced Differentially Expression Genes in Dendrobium Candidium

Pages 1786-1788

Wang, B. C. (et al.)

Clone-SA8, Regulated in Expression by Sound Wave Stimulation in Dendrobium Candidium

Pages 1789-1791

Wang, B. C. (et al.)

Changes of Regional Activation to a Spatial Cognition Task with Aging: An fMRI Study

Pages 1792-1795

Lee, S. J. (et al.)

CellML Implementation of a Numerical Model for the Cardiovascular System under VAD Support

Pages 1796-1799

Shi, Y. (et al.)

DLC-Coated CoCrMo Steel for Use in Medical Implants – Wear and Corrosion Resistance Influence of Different Surface Finishing Techniques

Pages 1800-1803

Holeczek, H. (et al.)

Development of a System for Capturing Sleep Predictor Signals during Wakefulness

Pages 1804-1807

Fujita, E. (et al.)

Speed Effect on Lower Extremity Biomechanics during Shuttle Run

Pages 1808-1810

Lu, S. C. (et al.)

Detection of the Third Heart Sound Using Hilbert-Huang Transform

Pages 1811-1813

Tseng, Y. L. (et al.)

Medical Image Processing Competition in Japan

Pages 1814-1817

Shimizu, A. (et al.)

Development of Computer-Aided Diagnostic System for Peritoneal Dialysis: NAVI LightTM

Pages 1818-1821

Hamada, H. (et al.)

Phenomenological Model of the Cardiac Propagation Proccess

Pages 1822-1825

Sal, L. Gonzalez (et al.)

On-Line Mouth Shape Recognition System

Pages 1826-1829

Chen, S. C. (et al.)

In Silico oncology: a top-down multiscale simulator of cancer dynamics. Studying the effect of symmetric stem cell division on the cellular constitution of a tumour

Pages 1830-1833

Stamatakos, G. S. (et al.)

Derivation of High-Resolution Pulmonary Ventilation Using Local Volume Change in Four-Dimensional CT Data

Pages 1834-1837

Zhang, G. G. (et al.)

Detection and Classification of Suspicious Areas in Autofluorescence Bronchoscopy

Pages 1838-1841

Bountris, P. (et al.)

Calculation of absorbed dose factors for Re-186 in radiation synovectomy using Monte Carlo simulation with Geant4

Pages 1842-1845

Lagares, L. C. (et al.)

Autonomic heart rate control by multifractal tools

Pages 1846-1849

Makowiec, D. (et al.)

Quantitative Evaluation of ECG Changes Reflecting Heart Activity Control during Postural Changes

Pages 1850-1853

Krisciukaitis, A. (et al.)

Generic Visibility Simulation for Designing Optical Tracker in Image-Guided Surgery

Pages 1854-1856

Liu, W. (et al.)

Numerical simulation for synchronization of excitatory action between beating cells

Pages 1857-1860

Hamada, H. (et al.)

Patient Evaluation of a Mirrored Display for Viewing of Co-located Virtual Arms

Pages 1861-1864

Eng, Kynan (et al.)

Some Reasons to Build a New Laser Doppler Flowmeter to Monitor Microvascular Blood Flow

Pages 1865-1868

Figueiras, E. (et al.)

Development of an algorithm for reducing scatter distribution in fluorescence reflectance images using Wiener filter in Wavelet domain

Pages 1869-1872

Najafzadeh, E. B. (et al.)

Automatic Finite Element Mesh Generation and Correction from 3D Image Data

Pages 1873-1876

Bardyn, T. (et al.)

Automatic Multi-modal Image Segmentation for Applications in Cardiac Computational Physiology

Pages 1877-1877

Ecabert, O. (et al.)

A spatially adaptive active contour method for improving semi-automatic medical image annotation

Pages 1878-1881

Farmaki, C. (et al.)

Measurement and Evaluation of QT Interval Prolongation Based on Simulated Electrocardiogram Using Continuous Wavelet Transform

Pages 1882-1885

Zhou, Xiaolin (et al.)

Fractal Dimension Analysis of Magnetic Resonance Image in Patients with Alzheimer's Disease

Pages 1886-1888

Wang, Lei (et al.)

Evaluation of Parallel FFT Implementations on GPU and Multi-core PCs for Magnetic Induction Tomography

Pages 1889-1892

Maimaitijiang, Y. (et al.)

Comparison of Breast Density Assessments Based on Interactive Thresholding and Automated Fast Fuzzy c-means Clustering in Three-Dimensional MR Imaging

Pages 1893-1896

Ertas, G. (et al.)

On the Evaluation of Coronary Artery Centerline Extraction Algorithms

Pages 1897-1900

Schaap, M. (et al.)

Analysis of Stochastic Properties in Medical Images

Pages 1901-1904

Hetzheim, Hartwig (et al.)

Multi-body-Simulation in the Frame of Computer-Assisted Planning of Navigated Correction Osteotomies

Pages 1905-1907

Belei, P. (et al.)

Study of Correlation between Hippocampus's Texture and Morphological Features in Alzheimer's Disease Patients Based on MR Image

Pages 1908-1911

Jiang, Guilian (et al.)

Wave Intensity Has Clinical Usefulness in Evaluating Exercise Capacity in Heart Disease Patients

Pages 1912-1915

Takaya, Yoichi (et al.)

Optimization of Recursive Algorithms for Respiratory Mechanics Monitoring during Artificial Ventilation

Pages 1916-1919

Polak, Adam G.

Contra Cancrum: Segmentation of Different Tissue Types in Lung Tumors from PET/CT Follow-Up Scans

Pages 1920-1923

Opfer, Roland (et al.)

Registration of 3D Pre-interventional to 2D Intra-interventional Medical Images

Pages 1924-1927

Markelj, P. (et al.)

An Arrhythmia Classification Method Based on Selected Features of Heart Rate Variability Signal and Support Vector Machine-Based Classifier

Pages 1928-1931

Yaghouby, F. (et al.)

Quantification of Actin Filament Organization by Estimating Graph Structures in Confocal Microscopic Images

Pages 1932-1935

Birkholz, H. (et al.)

Cytometric Distributions and Wavelet Spectra of Immunofluorescence Noise in Medical Diagnostics

Pages 1936-1939

Galich, N. E.

Constrained RLTV Deblurring for Confocal Microscopy

Pages 1940-1943

Remmele, Steffen (et al.)

Laser Doppler flowmetry: multifractal spectra of signals recorded in hand of young healthy subjects before and after local heating

Pages 1944-1947

Buard, B. (et al.)

euHeart and Atrial Fibrillation Modeling, Personalization and Planning of Ablation

Pages 1948-1948

Dössel, O. (et al.)

Automatic System for the Analysis and the Discrimination of Breast Nodules in Ultrasound Imaging

Pages 1949-1952

Favilli, L. (et al.)

New technique of characteristic impedance determination within the arterial system: Part I

Pages 1953-1956

Abdessalem, K. B. (et al.)

Microscopic tumor growth module for ContraCancrum project

Pages 1957-1960

Bálek, M. (et al.)

Computation of the Distribution of Monocyte Deposition in Abdominal Aortic Aneurysm Disease

Pages 1961-1964

Hardman, D. (et al.)

Isopotential ECG Imaging Correctly Identified Endocardial Ectopic Activation Site in the Case of Arrhythmia from Right Ventricular Outflow Tract

Pages 1965-1968

Š ovíček, P. (et al.)

Assessment of Baroreflex Using Cross-Correlation Function in Diabetic Autonomic Neuropathy

Pages 1969-1972

Liau, B. Y. (et al.)

Computationally Designed Interleukin-Like Peptide as a Candidate for Cancer Treatment

Pages 1973-1976

Pirogova, E. (et al.)

Role of Complexity of Visual System in Recording of Visual Impulses under Anaesthesia

Pages 1977-1979

Shushtarian, M. M. (et al.)

Hidden Markov Models for Classification of Heart Rate Variability in RR Time Series

Pages 1980-1983

Lowitz, Torsten (et al.)

A Lumped-Parameter Model of Mitral Valve Blood Flow for Assessment of Diastolic Left Ventricular Filling

Pages 1984-1987

Waite, Lee (et al.)

Improvement of SNR by Equilibrating Power-Line Noise Amplitude and Its Application to Capacitive ECG Measurement

Pages 1988-1991

Mikami, Y. (et al.)

Study of the Skin Conductance Response during the Valsalva Manoeuvre Applied to Autonomic Neuropathy Detection in Diabetic Patients

Pages 1992-1995

Farina, P. V. Rivera (et al.)

Bandwidth Extension Method for Capacitive ECG Sensing Using a Two-Stage Analog Forward Filter and a Single-Stage Digital Inverse Filter

Pages 1996-1999

Kowada, D. (et al.)

Automatic Segmentation of Arteries in Multi-stain Histology Images

Pages 2000-2003

Taixé, L. Leal (et al.)

4D Cardiac Segmentation of the Epicardium and Left Ventricle

Pages 2004-2007

Moll, G. Pons (et al.)

Time-Variant Phase-Locking Properties of EEG/MEG Oscillations during Photic Driving

Pages 2008-2011

Wacker, M. (et al.)

The EEG Correlates of the Allocentric and the Egocentric Spatial Reference Frames Processing

Pages 2012-2015

Vavrečka, Michal (et al.)

Estimation of Betamethasone Release Profiles from an in Situ Forming System Based on the Biodegradable Polymer Using Artificial Neural Networks

Pages 2016-2019

Amiri, M. (et al.)

Optically Isolated Current Source

Pages 2020-2023

Borges, E. (et al.)

Modelling of Irregular Breast Lesions

Pages 2024-2027

Hintsala, H. (et al.)

Time-Varying Multivariate Correlation Analysis of EEG during Low Dose Propofol Anesthesia

Pages 2028-2031

Georgiadis, S. D. (et al.)

Defined Mass Transport in Monolayer Cell Cultures of Hepatocytes

Pages 2032-2034

Timmel, T. (et al.)

Examination of Both Sympathetic and Parasympathetic Influence for Normogastric Rhythm Extracted from Elecrogastrographic (EGG) Signal

Pages 2035-2037

Tkacz, E. J. (et al.)

A Consistent Model for Cardiac Deformation Estimation under Abnormal Ventricular Muscle Conditions

Pages 2038-2041

Baghaie, Ahmad. R. (et al.)

Baseline Removal from Near Infrared Spectroscopy Measurements for Lactate Concentration Estimation

Pages 2042-2045

Lipponen, J. A. (et al.)

Research on Glioma's MR Image Segmentation

Pages 2046-2049

Zhen, Zhou (et al.)

kV Beam Model for Flat Panel Imaging System with Bow Tie Filter

Pages 2050-2053

Blessing, M. (et al.)

Normalization of Pulse Oximetry Signals for Sleep Apnea Screening

Pages 2054-2057

Eilers, S. (et al.)

Texture Research on MRI in Patients with Multiple Sclerosis Based on Synthesized Gray Level Co-occurrence Matrix

Pages 2058-2061

Weifang, Liu (et al.)

Slow Stimulus Artifact Removal through Peak-Valley Detection of Neuronal Signals Recorded from Somatosensory Cortex by High Resolution Brain-Chip Interface

Pages 2062-2065

Mahmud, Mufti (et al.)

Parallel Implementation for Cone Beam Based 3D Computed Tomography (CT) Medical Image Reconstruction on Multi-core Processors

Pages 2066-2069

Chu, Chang-Yuan (et al.)

Computerized Detection of Metastatic Brain Tumors on Contrast-Enhanced 3D MR Images by Using a Selective Enhancement Filter

Pages 2070-2072

Sugimoto, Takahiro (et al.)

DiVesselSim: CT-Angiography Simulator of Diseased Blood Vessel

Pages 2073-2076

González, S. (et al.)

The Contribution of Core Muscle Fibers to the Surface Depolarization Signals on Cable-Like Cardiac Tissue Preparations - A Computer Simulation Study

Pages 2077-2080

Campos, F. O. (et al.)

A Two Dimensional Model of Coupled Electromechanics in Cardiac Tissue

Pages 2081-2084

Rocha, B. M. (et al.)

Assessing the Discriminatory Power of Noninvasive Quantification of Myocardial End-Diastolic Wall Stress

Pages 2085-2088

Moladoust, H. (et al.)

Numerical Modeling of Turbulent Airflow and Particle Deposition in a Bifurcating Airway Model

Pages 2089-2092

Radhakrishnan, H. (et al.)

Effect of Skin and Subcutaneous Tissue on X-Ray Strain Measurement of Ti Implant

Pages 2093-2094

Fujisaki, K. (et al.)

Microvascular Cell Depletion Model

Pages 2095-2098

Bressloff, N. W. (et al.)

Electrostimulation of Bone Defects in Total Hip Revision in Triple Layered Domains

Pages 2099-2102

Potratz, C. (et al.)

Head Motion Therapy after Subarachnoid Hemorrhage: Preliminary Results of an in Vitro Study in a Basal Cistern Model

Pages 2103-2106

Kertzscher, U. (et al.)

Development of Non-Restrictive Body Movement Measurement Method during Sleep for Children Using Difference Images

Pages 2107-2110

Okada, Shima (et al.)

Numerical Modelling of Artificial Bone Material Using Crushable Foam Plasticity

Pages 2111-2112

Souffrant, R. (et al.)

Illustration of Vascular Structures for Augmented Reality in Liver Surgery

Pages 2113-2116

Hansen, C. (et al.)

Error Reduction in 3D Gaze Point Estimation for Advanced Medical Annotations

Pages 2117-2119

Kuroda, Yoshihiro (et al.)

Hardware-in-the-Loop-Simulator for Testing of Knee Endoprostheses

Pages 2120-2123

Souffrant, R. (et al.)

Clinically Oriented Translational Cancer Multilevel Modeling: The ContraCancrum Project

Pages 2124-2127

Marias, K. (et al.)

Evaluation and Comparison of Force Terms for the Estimation of Lung Motion by Non-linear Registration of 4D-CT Image Data

Pages 2128-2131

Schmidt-Richberg, A. (et al.)

FIVIS – A Bicycle Simulation System

Pages 2132-2135

Herpers, R. (et al.)

Assessing Time- and Phase-Locked Changes in the EEG during Sensory Stimulation by Means of Spectral Techniques

Pages 2136-2139

Sá, Antonio Mauricio F. L. Miranda (et al.)

A Data-Driven fMRI Analysis Method Using Connected Components and K-Means Algorithm

Pages 2140-2143

Lee, S. (et al.)

A Cell-Based Approach in Dynamic QT-Correction

Pages 2144-2146

Baas, T. (et al.)

Mathematical Modeling of the Push-Pull Effect: Effect of Acceleration Profiles

Pages 2147-2150

Liu, Yang (et al.)

Acquisition of Parameters for Noninvasive Continuous Blood Pressure Estimation – Review of the Literature and Clinical Trial

Pages 2151-2154

Douniama, C. (et al.)

Using Frequency Analysis of Vibration for Detection of Epileptic Seizure

Pages 2155-2157

Vasickova, Z. (et al.)

Movement Related Evoked Potentials in Parkinson's Disease Patients and Healthy Controls

Pages 2158-2161

Sefer, A. B. (et al.)

Investigation on the Distribution and Expression of Caveolin-1 in Endothelial Cells under Disturbed Shear Stress by Vertical-Step Flow Chamber

Pages 2162-2165

Cai, Shaoxi (et al.)

4D Motion Modeling: Estimation of Respiratory Motion for Radiation Therapy

Pages 2166-2169

Ehrhardt, J. (et al.)

Association Analysis of Biosignals Using Self Organizing Maps

Pages 2170-2173

Al-Rawi, M. S. (et al.)

Respiratory Motion Influence on ECG-Gated SPET: A Simulation Study

Pages 2174-2177

Bitarafan-Rajabi, Ahmad (et al.)

An Experimental and Numerical Program to Study the Properties of Thin Biological Membranes and Water Filling Process

Pages 2178-2180

Elkut, F. (et al.)

Application of a Probabilistic Statistical Shape Model to Automatic Segmentation

Pages 2181-2184

Hufnagel, H. (et al.)

An Image Based Approach for in vivo Evaluation of the Brain-Skull Relative Displacement and Brain Deformation in Quasi-Static Conditions

Pages 2185-2188

Asiminei, A. G. (et al.)

Automated Diagnosis of Barrett's Esophagus with Endoscopic Images

Pages 2189-2192

Rajan, P. (et al.)

Statistical Evoked Potential Detection with Number of Degrees of Freedom Estimated from EEG Autocorrelation Function

Pages 2193-2196

Cagy, Maurício (et al.)

EEG Evaluation Method Using Nonlinear Modeling

Pages 2197-2200

Akutagawa, M. (et al.)

Evaluation of Image Registration Using a Mass-Spring Model of the Breast

Pages 2201-2204

Boehler, T. (et al.)

A Hemodynamic Analysis of an Intra-Aorta Pump

Pages 2205-2206

Chang, Y. (et al.)

Cardiac Modelling for Pathophysiology Research and Clinical Applications. The Need for an Automated Pipeline

Pages 2207-2210

Sebastian, R. (et al.)

Modeling the Action Potential in Mouse Sinoatrial Node Myocytes

Pages 2211-2214

Campos, F. O. (et al.)

Improvements in Processing of Neonatal Sleep Electroencephalographic Recordings

Pages 2215-2218

Djordjevic, V. (et al.)

Coherence and Phase Relationship Analysis of the Two Main Frequency Components of EHG, as Observed by Complex Wavelet Transform

Pages 2219-2222

Hassan, M. (et al.)

Mechanical Behavior of Isolated Intervertebral Disc

Pages 2223-2226

Lemos, F. F. (et al.)

4D Lung Reconstruction with Phase Optimization

Pages 2227-2230

Lyksborg, Mark (et al.)

Finding Hip Forces in Healthy and Hip Replacement Subjects Using Musculo-Skeletal Modeling

Pages 2231-2233

O'Reilly, D. S. (et al.)

MBS Model for the Estimation of Forces and Torques in the Human Lumbar Spine

Pages 2234-2237

Juchem, S. (et al.)

Landmark Constrained Non-rigid Image Registration with Anisotropic Tolerances

Pages 2238-2241

Lange, T. (et al.)

Retrieval of New Characteristic Features for Description of Cartilage Tissue Properties Using Blunt Impact Testing Approach

Pages 2242-2245

Varga, F. (et al.)

Insight into the Structure-Function Relationship of the Bone Lamellar Unit through Finite Element Modelling Based on High-Frequency SAM Data

Pages 2246-2249

Raum, K. (et al.)

Magnetic Induction Tomography Measurement System Based on a Fixed Point DSP Module

Pages 2250-2253

Wee, H. C. (et al.)

Multi Criteria Evaluation of Sleep and Anesthesia by Neural Networks, Fuzzy Rules, Evolutionary Algorithms and Support Vector Machines

Pages 2254-2255

Baumgart-Schmitt, R. (et al.)

Experimental Measurement of the Impingement Induced Strain Distribution at the Acetabular Implant-Bone Interface

Pages 2256-2256

Voigt, C. (et al.)

ECG Beat Classification Using Feature Extraction from Wavelet Packets of R Wave Window

Pages 2257-2260

Huptych, Michal (et al.)

Feature Selection Based on Time-Frequency Analysis in SVM Classifier with Rules Extraction Stage

Pages 2261-2264

Kostka, P. S. (et al.)

Interactive Catalogue of Models in Biomedical Engineering

Pages 2265-2268

Eck, V. (et al.)

One Decade of Biomedical Problems Using ICA: A Full Comparative Study

Pages 2269-2272

Albera, L. (et al.)

The Anatomical Evaluation of the Dental Arches Using Cone Beam Computed Tomography – A Pilot Investigation of the Availability of Bone for Placement of Mini-implants in Class I Patients

Pages 2273-2275

Pan, Feng (et al.)

A Method for 3D Motion Correction of Nuclear Medicine Planar Imaging Data

Pages 2276-2279

Caramelo, F. J. (et al.)

Registration of Planar Scintigraphy Data onto Video Images Obtained at Different Perspectives

Pages 2280-2283

Caramelo, F. J. (et al.)

Predicting Accident Probability from Frequency of Microsleep Events

Pages 2284-2286

Sirois, B. (et al.)

Evaluation of Numerical Methods and Computational Techniques for Solving Cardiac Cell Models

Pages 2287-2290

Campos, F. O. (et al.)

Influence of Coil Packing Rate and Configuration on Intracranial Aneurysm Hemodynamics

Pages 2291-2294

Morales, Hernán G. (et al.)

Pitch/Airway-Response and Cepstral Analysis of Snore Sounds for the Non-Contact Screening of Sleep Apnea

Pages 2295-2298

Karunajeewa, A. S. (et al.)

Tactile Sensor for Robotic Applications

Pages 2299-2302

Golpaygani, Ali Tavakoli (et al.)

Analysis of Internal Stress Relief Achieved by Functional Electrical Stimulation Application for Pressure Ulcer Prevention

Pages 2303-2306

Lim, Dohyung (et al.)

Atlas Guided Identification of Multiple Abdominal Organs in Small Animal PET

Pages 2307-2310

Song, SooMin (et al.)

Effect of Background Sound and Impact of Snore Episode Length Normalization on Snore-Based Apnea Diagnosis

Pages 2311-2314

Silva, Shaminda (et al.)

Simulating In-Vivo Knee Kinetics and Kinematics of Tibio-Femoral Articulation with a Subject-Specific Finite Element Model

Pages 2315-2318

Shim, V. B. (et al.)

Development of a Panic Disorder Portable System for Physiological Signal Acquisition, Analysis, and Transmission

Pages 2319-2322

Chen, C. S. (et al.)

Clinical Application of CAMC - Long Bone X-Ray Image Stitching

Pages 2323-2325

Heining, S. M. (et al.)

Efficient Hybrid Registration Method Using a Shell Volume for PET and High Resolution MR Brain Image Fusion

Pages 2326-2329

Lee, Ho (et al.)

Unfolding for Color Volume Datasets Based on Segmented Contours

Pages 2330-2332

Kang, Yihwa (et al.)

Dimensionality Reduction Based Classification of Proton Magnetic Resonance in vivo Spectra from the Normal Human Brain

Pages 2333-2336

Polnik, A. (et al.)

Single-cell real-time imaging of flow-induced hemolysis using high-speed microfluidic technology

Pages 2337-2340

Yagi, T. (et al.)

Artificial Neural Network Analysis in the Evaluation of Ear Canal and Tympanic Membrane Properties from Acoustic Reflectometry Data

Pages 2341-2344

Hannula, M. (et al.)

Relationship between Physiological Responses and Feelings Change Induced by Mental Workload

Pages 2345-2348

Soga, C. (et al.)

Sophisticated Surgical Skull Base Therapy - A Multidisciplinary Challenge

Pages 2349-2349

Zimmerer, S. (et al.)

Three-Dimensional Visualization in Plastic and Reconstructive Surgery after Oncologic Procedures/Interventions

Pages 2350-2350

Kovacs, L. (et al.)
Buy this book
eBook $469.00

price for USA in USD

ISBN 978-3-642-03882-2
Digitally watermarked, DRM-free
Included format: PDF
ebooks can be used on all reading devices
Immediate eBook download after purchase

Softcover $599.99

price for USA in USD

ISBN 978-3-642-03881-5
Free shipping for individuals worldwide
Institutional customers should get in touch with their account manager
Online orders shipping within 2-3 days.
Services for this Book
Recommended for you
Bibliographic Information
Book Title

World Congress on Medical Physics and Biomedical Engineering September 7 - 12, 2009 Munich, Germany

Book Subtitle

Vol. 25/IV Image Processing, Biosignal Processing, Modelling and Simulation, Biomechanics

Editors

Olaf Dössel
Wolfgang C. Schlegel

Series Title

Series Volume

25/4

Copyright

2010

Publisher

Springer-Verlag Berlin Heidelberg

Copyright Holder

Springer-Verlag Berlin Heidelberg

eBook ISBN

978-3-642-03882-2

DOI

10.1007/978-3-642-03882-2

Softcover ISBN

978-3-642-03881-5

Series ISSN

1680-0737

Edition Number

1

Number of Pages

XLVII, 2365

Number of Illustrations

2371 b/w illustrations

Topics