IFMBE Proceedings
Free Preview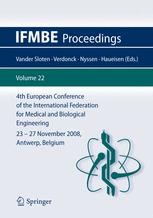 4th European Conference of the International Federation for Medical and Biological Engineering 23 - 27 November 2008, Antwerp, Belgium
Editors: van der Sloten, J., Verdonck, P., Nyssen, M., Haueisen, J. (Eds.)
Free Preview
Buy this book
eBook $549.00

price for USA in USD

ISBN 978-3-540-89208-3
Digitally watermarked, DRM-free
Included format: PDF
ebooks can be used on all reading devices
Immediate eBook download after purchase

Softcover $699.99

price for USA in USD

ISBN 978-3-540-89207-6
Free shipping for individuals worldwide
Institutional customers should get in touch with their account manager
This title is currently reprinting. You can pre-order your copy now.
The 4th European Congress of the International Federation for Medical and Biological Federation was held in Antwerp, November 2008.

The scientific discussion on the conference and in this conference proceedings include the following issues:

Signal & Image Processing
ICT
Clinical Engineering and Applications
Biomechanics and Fluid Biomechanics
Biomaterials and Tissue Repair
Innovations and Nanotechnology
Modeling and Simulation
Education and Professional
Table of contents (666 chapters)

Risk Stratification in Ischemic Heart Failure Patients with Linear and Nonlinear Methods of Heart Rate Variability Analysis

Pages 1-4

Voss, Prof. Dr.-Ing. Andreas (et al.)

Biomagnetic risk stratification by QRS fragmentation in patients with Implanted Cardioverter Defibrillators

Pages 5-7

Goernig, M. (et al.)

Beating Rate Variability Studies with Human Embryonic Stem Cell Derived Cardiomyocytes

Pages 8-11

Kapucu, F. E. (et al.)

The method of assessment of chosen hemodynamic and electrophysiologic parameters in the healthy human subject circulation

Pages 12-13

Peczalski, K. (et al.)

2D Isochronal Correlation Method to Detect Pacing Capture during Ventricular Fibrillation

Pages 14-17

Ibáñez-Català, Xavier (et al.)

Chaotic Phase Space Differential (CPSD) Algorithm for Real-Time Detection of VF, VT, and PVC ECG Signals

Pages 18-21

Liu, Chien-Sheng (et al.)

Supervised ECG Delineation Using the Wavelet Transform and Hidden Markov Models

Pages 22-25

Lannoy, G. (et al.)

Validating the Reliability of Five Ventricular Fibrillation Detecting Algorithms

Pages 26-29

Ismail, A. H. (et al.)

Novel multichannel capacitive ECG-System for cardiac diagnostics beyond the standard-lead system

Pages 30-33

Oehler, Martin (et al.)

On Independent Component Analysis based on Spatial, Temporal and Spatio-temporal information in biomedical signals

Pages 34-37

James, C. J.

Extracting Event-Related Field Components Through Space-Time ICA: a Study of MEG Recordings from Children with ADHD and Controls

Pages 38-42

Demanuele, C. (et al.)

Gender differences in the control of the upper body accelerations during level walking

Pages 43-46

Mazzà, C. (et al.)

Heart rate variability analysis during bicycle ergometer exercise

Pages 47-50

Censi, Federica (et al.)

Color cues in Human Motion Analysis

Pages 51-54

Skelin, Ana Kuzmanić (et al.)

Transforming retinal velocity into 3D motor coordinates for pursuit eye movements

Pages 55-58

Blohm, Gunnar (et al.)

Effectiveness of deep brain stimulation in subthalamic nucleus in Parkinson's disease — a somatotopic organisation

Pages 59-62

Heida, T. (et al.)

The Median Point DTW Template to Classify Upper Limb Gestures at Different Speeds

Pages 63-66

Muscillo, R. (et al.)

2D Markerless Gait Analysis

Pages 67-71

Goffredo, Michela (et al.)

Tremor control during movement of the upper limb using artificial neural networks

Pages 72-75

Severini, G. (et al.)

Low-cost, Automated Assessment of Sit-To-Stand Movement in "Natural" Environments

Pages 76-79

Allin, Sonya (et al.)

Human Body Motions Classification

Pages 80-84

Havlik, Jan (et al.)

Parametric Representation of Hand Movement in Parkinson's Disease

Pages 85-88

Krupicka, Mgr. Radim (et al.)

A wireless integrated system to evaluate efficiency indexes in real time during cycling

Pages 89-92

Bibbo, D. (et al.)

Contactless head posture measurement

Pages 93-96

Janda, Mgr. Pavel (et al.)

Specialized glasses — projection displays for neurology investigation

Pages 97-101

Charfreitag, Jaroslav (et al.)

Digital Wireless Craniocorpography with Sidelong Scanning by TV Fisheye Camera

Pages 102-105

Hozman, Jiri (et al.)

Calibration of a measurement system for the evaluation of efficiency indexes in bicycle training

Pages 106-109

Conforto, S. (et al.)

Preliminary study on a remote system for diagnostic-therapeutic postural measurements

Pages 110-113

Sciuto, S. A. (et al.)

Software Assistance for Planning of RF-Ablation and Oncological Resection in Liver Surgery

Pages 114-117

Zidowitz, Dr. Stephan (et al.)

Ultrasound Navigated RFA of Liver Tumors

Pages 118-120

Arnold, S. (et al.)

LapAssistent — a laparoscopic liver surgery assistance system

Pages 121-125

Martens, Volker (et al.)

The observation of human joint movement

Pages 126-129

Cappozzo, Aurelio

Estimation of speed distribution of particles moving in an optically turbid multiple scattering medium by decomposition of laser-Doppler spectrum

Pages 130-132

Wojtkiewicz, Stanislaw (et al.)

A Novel Multivariate Analysis Method with Noise Reduction

Pages 133-137

Chang, Shu-Hao (et al.)

Iterative improvement of lineshape estimation

Pages 138-141

Osorio Garcia, M. I. (et al.)

An Investigation of the use of a High Resolution ADC as a "Digital Biopotential Amplifier"

Pages 142-147

Berry, Damon (et al.)

A portable data acquisition system for the measurement of impact attenuation material properties

Pages 148-151

Eager, David (et al.)

Assessing Driver's Hypovigilance from Biosignals

Pages 152-155

Sommer, David (et al.)

Analyzing an sEMG signal using wavelets

Pages 156-159

Bastiaensen, Y. (et al.)

Role of Myelin in Synchronization and Rhythmicity of Visual Impulses

Pages 160-162

Shushtarian, Seyed Masoud

Analyzing Magnetic Resonance Spectroscopic Signals with Macromolecular Contamination by the Morlet Wavelet

Pages 163-166

Suvichakorn, A. (et al.)

Robust and Adaptive Filtering of Multivariate Online-Monitoring Time Series

Pages 167-170

Borowski, M. (et al.)

A novel synchronization measure for epileptic seizure detection based on Fourier series expansions

Pages 171-175

Perko, H. (et al.)

Investigating the Relationship between Breath Acoustics and FEV1 During Histamine Challenge

Pages 176-179

Chah, Ehsan (et al.)

Spatio-Temporal Solutions in Inverse Electrocardiography

Pages 180-183

Onal, Murat (et al.)

Genetic Algorithm Based Feature Selection Applied on Predicting Microsleep from Speech

Pages 184-187

Krajewski, J (et al.)

Automated detection of tonic seizures using 3-D accelerometry

Pages 188-191

Nijsen, Tamara M. E. (et al.)

A Classification Attempt of COPD, ALI-ARDS and Normal Lungs of ventilated Patients through Compliance and Resistance over Time Waveform Discrimination

Pages 192-195

Tzavaras, A. (et al.)

Modified Matching Pursuit algorithm for application in sleep screening

Pages 196-199

Sommermeyer, D. (et al.)

Wireless capsule endoscopic frame classification scheme based on higher order statistics of multi-scale texture descriptors

Pages 200-203

Barbosa, D. (et al.)

One-class support vector machine for joint variable selection and detection of postural balance degradation

Pages 204-207

Amoud, H. (et al.)

The influence of treatment on linear and non-linear parameters of autonomic regulation in patients with acute schizophrenia

Pages 208-211

Schulz, S. (et al.)

Intrinsic Mode Entropy for postural steadiness analysis

Pages 212-215

Amoud, H. (et al.)

Influence of different representations of the oscillometric index on automatic determination of the systolic and diastolic blood pressures

Pages 216-220

Jazbinsek, Vojko (et al.)

Laser Doppler flowmetry signals: pointwise Hölder exponents of experimental signals from young healthy subjects and numerically simulated data

Pages 221-225

Buard, Benjamin (et al.)

Exploring a physiological environment learning tool for encouraging continued deep relaxation

Pages 226-229

Condron, J. (et al.)

Characterization of a bimodal electrocutaneous stimulation device

Pages 230-234

Steenbergen, Ir. P. (et al.)

Identification of the electrohysterographic volume conductor by high-density electrodes

Pages 235-238

Rabotti, Chiara (et al.)

Signal Separation in the Frequency Domain for Quantitative Ultrasound Measurements of Bone

Pages 239-242

Dencks, S. (et al.)

Consecutive Detection of Extreme Central Fatigue

Pages 243-246

Sommer, David (et al.)

Detection of Obstructive Sleep Apnea by Empirical Mode Decomposition on Tachogram

Pages 247-251

Mijović, Bogdan (et al.)

Empirical mode decomposition. Spectral properties in normal and pathological voices

Pages 252-255

Torres, M. E. (et al.)

Global and local inhomogeneity indices of lung ventilation based on electrical impedance tomography

Pages 256-259

Zhao, Zhanqi (et al.)

Analysis of Intracardiac ECG Measured in the Coronary Sinus

Pages 260-263

Schilling, Christopher (et al.)

Rapid wheezing detection algorithm for real-time asthma diagnosis and personal health care

Pages 264-267

Yu, Chun (et al.)

Lung sound analysis to monitor lung recruitment

Pages 268-271

Möller, Prof. Dr. Knut (et al.)

Dual Kalman Filter based State-Parameter Estimation in Linear Lung Models

Pages 272-275

Saatci, Esra (et al.)

Beat Pressure and Comparing it with Ascending Aorta Pressure in Normal and Abnormal Conditions

Pages 276-285

Ghasmelizadeh, O. (et al.)

Comparison of Ultrasonic Measurement and Numerical Simulation Results of the Flow through Vertebral Arteries

Pages 286-292

Obidowski, Damian (et al.)

The Influence of Wall Deformation on Transmural Flow in Thoracic Aorta: Three-Dimensional Simulations

Pages 293-297

Dabagh, Mahsa (et al.)

Non-invasive Vascular Ultrasound Strain Imaging: Different Arteries, Different Approaches

Pages 298-302

Hansen, H. H. G. (et al.)

Photoplethysmogram Signal Conditioning by Monitoring of Oxygen Saturation and Diagnostic of Cardiovascular Diseases

Pages 303-306

Abdallah, Omar (et al.)

Choice of coordinate system for left ventricular FE-mesh generation

Pages 307-310

Choi, Hon Fai (et al.)

Fetal ECG Extraction Using Multi-Layer Perceptron Neural Networks with Bayesian Approach

Pages 311-317

Golzan, S. Mojtaba (et al.)

Feature Selection for Brain-Computer Interface

Pages 318-321

Dias, N. S. (et al.)

Nature Inspired Concepts in Long-Term Electrocardiogram Clustering

Pages 322-325

Bursa, Miroslav (et al.)

Evaluation of the MU Firing Strategies from Spectral Shape Analysis of sEMG Data

Pages 326-329

Abi Hayla, M. (et al.)

Physiological Monitoring of Human Cognitive Processes

Pages 330-334

Vavrinsky, Erik (et al.)

Is Detection of Different Anesthetic Levels Related to Nonlinearity of the Electroencephalogram?

Pages 335-339

Jordan, Denis (et al.)

Combining HR-MAS and

Pages 340-343

Croitor Sava, A. (et al.)

Detection of ectopic beats in single channel electrocardiograms

Pages 344-347

Hekler, Achim (et al.)

Application of Sequential Recognition of Patient Intent to the Bio-Prosthesis Hand Control — Experimental Investigations of Algorithms

Pages 348-352

Wolczowski, A. (et al.)

EEG Coherence as Measure of Depressive Disorder

Pages 353-355

Suhhova, Anna (et al.)

Spectral Analysis of Overnight Pulse Oximetry Recordings in Sleep Studies

Pages 356-359

Schultheiß, Birgit (et al.)

Changes in connectivity patterns in the kainate model of epilepsy

Pages 360-363

Mierlo, Pieter (et al.)

Detection of Foveation Windows and Analysis of Foveation Sequences in Congenital Nystagmus

Pages 364-367

Pasquariello, Giulio (et al.)

Relationship between Eye Movement and Facilitation of Perceptual Filling-in

Pages 368-371

Yokota, M. (et al.)

Modeling the macromolecular background in Nuclear Magnetic Resonance spectroscopic signals

Pages 372-376

Sima, D. M. (et al.)

Real-time BSPM processing system

Pages 377-380

Muzik, Jan (et al.)

Review on biostatistical results associated with the application of signal-processingbased scores for acute myocardial infarction (AMI) clinics

Pages 381-384

Amorim, S. A. F. (et al.)

A Principal Component Regression Approach for Estimation of Ventricular Repolarization Characteristics

Pages 385-388

Lipponen, Jukka A. (et al.)

Diagnosis of Ischemic Heart Disease with Cardiogoniometry — Linear discriminant analysis versus Support Vector Machines

Pages 389-392

Seeck, A. (et al.)

Enhancement of a QRS detection algorithm based on the first derivative, using techniques of a QRS detector algorithm based on non-linear transformations

Pages 393-396

Vidal, C. (et al.)

Using the wavelet packet transform in automatic sleep analysis

Pages 397-401

Ahmed, Beena (et al.)

Proposal of Feature Extraction from Wavelet Packets Decomposition of QRS Complex for Normal and Ventricular ECG Beats Classification

Pages 402-405

Huptych, Michal (et al.)

Biomedical Image Segmentation Based on Morphological Spectra

Pages 406-409

Kulikowski, Juliusz (et al.)

Magnetic Resonance Imaging in Inhomogeneous Magnetic Fields with Noisy Signal

Pages 410-413

Arpınar, V. Emre (et al.)

Combining EEG signals and MRI images for brain mapping using interpolation techniques; a comparative study

Pages 414-420

Pooryaghooti, M. H. (et al.)

Detection of Basal Nuclei on Magnetic Resonance Images using Support Vector Machines

Pages 421-424

Villegas, Ricardo (et al.)

Analysis of digital radiographic equipments with development of specific phantoms and software

Pages 425-428

Mayo Nogueira, Patricia (et al.)

Nonlinear Diffusion Filtering of Single-Trial Matrix Representations of Auditory Brainstem Responses

Pages 429-432

Mustaffa, I. (et al.)

A Multi-component similarity measure for improved robustness of non-rigid registration of combined FDG PET-CT head and neck images

Pages 433-435

Papastavrou, Y. (et al.)

Deconvolution of freehand 3d ultrasound data using improved reconstruction techniques in consideration of ultrasound point spread functions

Pages 436-439

Hewener, H. J. (et al.)

Modeling of ultrasound propagation through contrast agents

Pages 440-443

Grootens, J. J. F. A. H. (et al.)

Evaluation of Simplex Codes for Photoacoustic Coded Excitation

Pages 444-447

Mienkina, Martin P. (et al.)

Developing a high-resolution photoacoustic microscopy platform

Pages 448-451

Bost, W. (et al.)

Investigation of changes in acoustic properties resulting from contrast material in through-transmission ultrasonic imaging

Pages 452-455

Rothstein, T. (et al.)

Transcranial sonography as early indicator for genetic Parkinson's disease

Pages 456-459

Kier, Christian (et al.)

Comparison of Imaging Modalities for Quantification of Cyanoacrylate Microbubble Concentration

Pages 460-463

Siepmann, Monica (et al.)

Ranking of color space components for detection of blood vessels in eye fundus images

Pages 464-467

Patasius, Martynas (et al.)

Detection of the Optic Disc in Images of the Retina Using Gabor Filters and Phase Portrait Analysis

Pages 468-471

Rangayyan, Rangaraj M. (et al.)

A Markov Random Field Approach to Outline Lesions in Fundus Images

Pages 472-475

Grisan, E. (et al.)

Realtime Temperature Control towards Gentle Photocoagulation of the Retina

Pages 476-479

Brinkmann, Dr. Ralf (et al.)

Estimation of Real-Time Red Blood Cell Velocity in Conjunctival Vessels using a Modified Dynamic-Time-Warping Approach

Pages 480-483

Grisan, E. (et al.)

Functional Optical Imaging of a tissue based on Diffuse Reflectance with Fibre Spectrometer

Pages 484-487

Prince, Shanthi (et al.)

Elimination of clavicle shadows to help automatic lung nodule detection on chest radiographs

Pages 488-491

Simkó, G. (et al.)

A Novel Approach for Reducing Dental Filling Artifact in CT-Based Attenuation Correction of PET Data

Pages 492-495

Abdoli, M. (et al.)

Comparative Assessment of Different Energy Mapping Approaches in CT Based Attenuation Correction: a Patient Study

Pages 496-499

Shirmohammad, M. (et al.)

Optimization of Yttrium-90 Bremsstrahlung Imaging with Monte Carlo Simulations

Pages 500-504

Rault, E. (et al.)

Sinogram-Based Motion Detection in Transmission Computed Tomography

Pages 505-508

Ens, S. (et al.)

A Comparison of MTT Calculation Techniques in MRI Brain Perfusion Imaging

Pages 509-512

Ruminski, Jacek

Reduction of Intravenous Contrast Related Artifacts in CT-Based Attenuation Corrected PET Images

Pages 513-516

Ay, Mohammad Reza (et al.)

Detection of characteristic texture parameters in breast MRI

Pages 517-521

Holli, Kirsi (et al.)

Numerical evaluation and comparison of instantaneous anatomical knee joint axes and orthotic joint axes using MRI data under weight-bearing condition

Pages 522-525

Niesche, Annegret (et al.)

A new method for quantitative evaluation of target volume variations in radiotherapy planning

Pages 526-529

Moreno, Francisco Gayá (et al.)

Computer Aided Monitoring of Bone Quality and New Bone Formation upon Distractive Maxillary Expansion based on Pre- and Post-Surgical CT-Data

Pages 530-532

Kober, C. (et al.)

Automatic Landmark Detection on Epicondyles of Distal Femur in X-Ray Images

Pages 533-536

Heidari, B. (et al.)

A multichannel system for real-time optoacoustics and its suitability for molecular imaging

Pages 537-540

Fournelle, M. (et al.)

An Automated System for Full Angle Spatial Compounding in Ultrasound Breast Imaging

Pages 541-545

Hansen, Christian (et al.)

AM-FM Representations for the Characterization of Carotid Plaque Ultrasound Images

Pages 546-549

Christodoulou, Christodoulos I. (et al.)

Segmentation of 3D Echocardiographic Images using Deformable Simplex Meshes and Adaptive Filtering

Pages 550-554

Nillesen, M. M. (et al.)

Geometric regularization improves 2D myocardial motion estimates in the mouse: an in-silico study

Pages 555-558

Kremer, F. (et al.)

Experimental setup with dual chamber cardiac phantom for ultrasonic elastography

Pages 559-562

Lesniak-Plewinska, Beata (et al.)

Phase-resolved Doppler Fourier Domain Optical Coherence Tomography in the

Pages 563-566

Walther, J. (et al.)

Pseudo Automatic camera extrinsic estimation using 3D Hough Transform

Pages 567-570

Belmans, Wouter (et al.)

A novel intrinsically calibrated method to measure intracellular Ca

Pages 571-574

Opitz, Norbert (et al.)

An Efficient Airway Tree Segmentation Method Robust to Leakage Based on Shape Feature Optimization

Pages 575-578

Youefi Rizi, F. (et al.)

Vessel tree extraction: Combination of a region competition based active contour model with a tubular active contour model

Pages 579-583

Shang, Yanfeng (et al.)

Graph-based Tracking Method for Aortic Thrombus Segmentation

Pages 584-587

Egger, J. (et al.)

Fully automatic assessment of carotid artery curvature and diameter with non-invasive ultrasound

Pages 588-591

Rossi, Alessandro C. (et al.)

Liver and Lesion Segmentation Algorithm for Contrast Enhanced CT Images

Pages 592-595

Markova, Aneta (et al.)

Anatomical Models for Computer Assisted Surgery Using Support Vector Machine

Pages 596-599

Bosnjak Seminario, Antonio (et al.)

MRI-based 3D-Modelling of Gleno-humeral Joint Deformities for Functional Surgical Planning

Pages 600-603

Hares, Ghaith (et al.)

Extending Mammographic Microcalcification Detection Method to Cluster Characterization

Pages 604-607

Pataki, B. (et al.)

Medical feature matching and model extraction from MRI/CT based on the Invariant Generalized Hough/Radon Transform

Pages 608-612

Hlindzich, D. (et al.)

Image Segmentation of Cell Nuclei based on Classification in the Color Space

Pages 613-616

Wittenberg, Thomas (et al.)

Volume Estimation of Pathology Zones in 3D Medical Images

Pages 617-620

Krechetova, Katrina, PhD (et al.)

Estimation of blurring of optic nerve disc margin

Pages 621-624

Patašius, Martynas (et al.)

Robust Data Driven Modeling of Time Intensity Curves

Pages 625-628

Maciak, A. (et al.)

An optimization framework for classifier learning from image data for computer-assisted diagnosis

Pages 629-632

Mennicke, J. (et al.)

Classification of alveolar microscopy videos with respect to alveolar stability

Pages 633-636

Schwenninger, David, MSc. (et al.)

Automated Detection of Cell Nuclei in PAP stained cervical smear images using Fuzzy Clustering

Pages 637-641

Plissiti, M. E. (et al.)

Analysis of Capsule Endoscopy Images Related to Gastric Ulcer Using Bidimensional Empirical Mode Decomposition

Pages 642-645

Tsiligiri, Alexandra (et al.)

Motion compensated iterative reconstruction of a cardiac region of interest for CT

Pages 646-650

Isola, A. A. (et al.)

An Image Inpainting Based Surrogate Data Strategy for Metal Artifact Reduction in CT Images

Pages 651-654

Oehler, May (et al.)

Rodent Imaging with Helical μCBCT

Pages 655-659

Soimu, Delia (et al.)

Microcalcification Detection using Digital Tomosynthesis, Dual Energy Mammography and Cone Beam Computed Tomography: A Comparative Study

Pages 660-663

Kamarianakis, Zacharias (et al.)

Non-Minimum Phase Iterative Deconvolution of Ultrasound Images

Pages 664-668

Testoni, N. (et al.)

Dynamic Visualization of the Human Orbit for Functional Diagnostics in Ophthalmology, Cranio-maxillofacial Surgery, and Neurosurgery

Pages 669-672

Kober, C. (et al.)

A Communication Term for the Combined Registration and Segmentation

Pages 673-675

Ens, Konstantin (et al.)

Elastic Registration of Optical Images showing Heart Muscle Contraction

Pages 676-679

Janich, M. (et al.)

Automation of the preoperative image processing steps for ultrasound based navigation

Pages 680-683

Dekomien, Claudia (et al.)

Elastic Registration of Functional MRI Data to Sensorimotor Cortex

Pages 684-688

Ball, Tonio (et al.)

Enhanced Visualization of Ultrasound Volumes for Diagnostic and Therapeutic Purposes

Pages 689-692

Jan, Ute (et al.)

Compensation of Cardiac Motion in Angiographic Sequences for the Assessment of Myocardial Perfusion

Pages 693-696

Erbacher, M. (et al.)

3D Cardiac Strain Imaging using a Novel Tracking Method

Pages 697-700

Lopata, R. G. P. (et al.)

SWI Brain Vessel Change Coincident with fMRI Activation

Pages 701-704

Secca, Mario Forjaz (et al.)

A Subspace Wiener Filtering Approach for Extracting Task-Related Brain Activity from Multi-Echo fMRI Data

Pages 705-708

Hesse, C. W. (et al.)

An Elasticity Penalty: Mixing FEM and Nonrigid Registration

Pages 709-712

Loeckx, Dirk (et al.)

Evaluation of the biodistribution of In-111 labeled cationic Liposome in mice using multipinhole SPECT Technique

Pages 713-715

Viehoever, S. O. (et al.)

Multimodal Medical Case Retrieval using Dezert-Smarandache Theory with A Priori Knowledge

Pages 716-719

Quellec, Gwénolé (et al.)

Noise properties of the 3-electrode skin admittance measuring circuit

Pages 720-722

Grimnes, S. (et al.)

Thermal Imaging of Skin Temperature Distribution During and After Cooling: In-Vitro Experiments

Pages 723-727

Kaczmarek, Mariusz (et al.)

Magnetic Resonance Electrical Impedance Tomography For Anisotropic Conductivity Imaging

Pages 728-731

Değirmenci, Evren (et al.)

Electro-Magnetic Impedance Tomography — a sensitivity analysis

Pages 732-735

Janczulewicz, Agnieszka (et al.)

A feasibility study on the delectability of Edema using Magnetic Induction Tomography using an Analytical Model

Pages 736-739

Dekdouk, B. (et al.)

Ventilatory Pattern monitoring by Electrical Impedance Tomography (EIT) in Chronic Obstructive Pulmonary Disease (COPD) patients

Pages 740-743

Ordaz, José Marco Balleza (et al.)

A Magnetic Induction Tomography system with sub-millidegree phase noise and high long-term phase stability

Pages 744-747

Wee, H. C. (et al.)

A method for increasing the phase-measurement stability of Magnetic Induction Tomography systems

Pages 748-751

Watson, S. (et al.)

Reduction of low-frequency noise in magnetic induction tomography systems

Pages 752-755

Scharfetter, Hermann (et al.)

Regional Image Reconstruction with Optimum Currents for MREIT — Evaluation on Shepp-Logan Conductivity Phantom

Pages 756-759

Eyüboğlu, B. Murat (et al.)

A Breast Surface Estimation Algorithm for UWB Microwave Imaging

Pages 760-763

Helbig, M. (et al.)

Automatic Lung Segmentation of Helical-CT Scans in Experimental Induced Lung Injury

Pages 764-767

Cuevas, L. M. (et al.)

Identification of coronary collaterals in imaging cryomicrotome datasets

Pages 768-770

Wijngaard, J. P. H. M. (et al.)

Improved regional myocardial perfusion measurement by means of an imaging cryomicrotome

Pages 771-774

Horssen, Pepijn, MSc (et al.)

Dose Distribution in Pediatric CT Head Examination: Phantom Study

Pages 775-779

Gotanda, Rumi (et al.)

Measurement of Half-Value Layer for QA and QC: Simple Method Using Radiochromic Film Density

Pages 780-783

Gotanda, Tatsuhiro (et al.)

Towards automatic detection of movement during sleep in pediatric patients with epilepsy by means of video recordings and the optical flow algorithm

Pages 784-789

Cuppens, K. (et al.)

Accuracy improvement of nuclear position extraction from hepatic histopathologic images

Pages 790-794

Takahashi, M. (et al.)

Extraction of fibers and nuclei of hepatic histopathologic specimen stained with silver and HE

Pages 795-798

Kitani, T. (et al.)

Alignment Pixel-to-Pixel for Mammography Obtained by Dual Energy

Pages 799-802

Costa, I. T. (et al.)

Reconstruction of phase images for GRAPPA accelerated Magnetic Resonance Imaging

Pages 803-806

Ros, Christian (et al.)

Probabilistic Assignment of Brain Responses to the Human Amygdala and its Subregions using High Resolution Functional MRI

Pages 807-810

Mutschler, Isabella (et al.)

Velocity Analysis by Using Doppler Fourier Domain Optical Coherence Tomography with Variable Reference Length

Pages 811-815

Hammer, D. (et al.)

Transverse and oblique motion effects in Fourier Domain Optical Coherence Tomography

Pages 816-820

Walther, J. (et al.)

Enhancement of alveolar videos using scattered light for illumination

Pages 821-824

Schwenninger, David, MSc. (et al.)

Applications of Microwave Radiometry in Diagnostic Suspicion of Mammary Pathology

Pages 825-828

Mustata, Livia (et al.)

Performance of Semiconductor Gamma-Camera System with CdZnTe Detector

Pages 829-831

Ogawa, K. (et al.)

Ultra-high Resolution SPECT with CdTe Detectors

Pages 832-835

Ohmura, Naoka (et al.)

SPECT imaging with a semiconductor detector and a diverging collimator

Pages 836-839

Fukizawa, Mizuho (et al.)

Sonographic analysis of hyoid bone movement during swallowing

Pages 840-842

Yabunaka, Koichi (et al.)

Computer-aided ultrasound diagnosis of hepatic steatosis

Pages 843-847

Weijers, Gert (et al.)

In vivo determination of the human crystalline lens shape with clinically established measurement methods

Pages 848-851

Martin, Priv. Doz. Dr.-Ing. Heiner (et al.)

Continuous wave Doppler ultrasound measurement of micro-vibrations induced by a focused acoustic radiation force

Pages 852-855

Pavan, Theo Zeferino (et al.)

Estimation of Carotid Stiffness Using Ultrasonic Dynamic Images for Evaluating the Degree of Arteriosclerosis

Pages 856-860

Yokota, Y. (et al.)

CT-MAR Reconstruction Using Non-Uniform Fourier Transform

Pages 861-865

Kratz, Bärbel (et al.)

Personalized Ambient Monitoring: Accelerometry for Activity Level Classification

Pages 866-870

Amor, J. D. (et al.)

Engineering for Health in OP 2000

Pages 871-874

Graschew, Georgi (et al.)

Wireless microsensors system for monitoring breathing activity

Pages 875-879

André, N. (et al.)

Identity Management to Support Access Control in E-Health Systems

Pages 880-886

Chen, Xu (et al.)

Building Trust on Body Sensor Network Signals

Pages 887-890

Giani, Annarita (et al.)

Effects of UV Radiation on the Airborne Particles in the Operating Room

Pages 891-894

Ülgen, Yekta (et al.)

Soluble Gas Tight Capsules for use in Surgical Quality Testing

Pages 895-898

Vorstius, J. B. (et al.)

Optimization of Ultrasonic Tool Performance in Surgery

Pages 899-902

Qiu, Yongqiang (et al.)

A parallel kinematic mechanism for highly flexible laparoscopic instruments

Pages 903-906

Röse, Andreas (et al.)

A Smart Ultrasonic Cutting System for Surgery

Pages 907-910

Thampy, Anila (et al.)

Simultaneous Stereo-Optical Navigation of Medical Instruments for Brachytherapy

Pages 911-913

Berthold, Karsten (et al.)

The impact of electrosurgical heat on optical force feedback sensors

Pages 914-917

Heijmans, J. A. C. (et al.)

Classification and Data Mining for Hysteroscopy Imaging in Gynaecology

Pages 918-922

Neofytou, Marios (et al.)

Video-endoscopic image analysis for 3D reconstruction of the surgical scene

Pages 923-926

Cano González, Alicia M. (et al.)

Development of graphical user interface to control remote probe by reflecting contact force on body surface for tele-echography system

Pages 927-931

Masuda, Kohji (et al.)

An endoscopic laser navigation system for computer assisted surgery

Pages 932-935

Kosmecki, Bartosz (et al.)

Comparison of optical CT imaging versus NMR imaging for nPAG gel dosimetry

Pages 936-939

Vandecasteele, J. (et al.)

Application of a surgical navigation system for zygoma implant surgery

Pages 940-943

Chen, Xiaojun (et al.)

Individual bone implant modeling using planned resection lines for facial and cranial tumor resection

Pages 944-947

Rose, A. (et al.)

A feasibility study on chronic wounds of laser Doppler perfusion imaging during Topical Negative Pressure therapy

Pages 948-951

Aarnink, Saskia (et al.)

Automated Inspection System of Stent

Pages 952-957

Ibraheem, Issa (et al.)

An intrahepatic electromagnetic localizer

Pages 958-961

Maestle, R. (et al.)

Computerized Interpretation of Cardiotocographs Using Kubli Score

Pages 962-965

Krupa, Niranjana (et al.)

Unrotating images in laparoscopy with an application for 30° laparoscopes

Pages 966-969

Moll, Markus (et al.)

Teleimage: An Integrated Approach for Secure and Web-based Exchange of Medical Images and Reports

Pages 970-973

Kurmann, T. (et al.)

The Degree of Privacy in Web-based Electronic Health Records

Pages 974-977

Slamanig, D. (et al.)

Electronic physiotherapy registry: towards structured physiotherapy records

Pages 978-981

Buyl, Ronald (et al.)

A Low Power Wireless Personal Area Network for Telemedicine

Pages 982-985

Rotariu, Cristian (et al.)

Towards an e-Learning and Telemedicine Network for Better Quality of Patient Care

Pages 986-993

Lanza, Vincenzo (et al.)

Electronic Report Generation Web Service evaluated within a Telemedicine System

Pages 994-997

Martínez-Sarriegui, I. (et al.)

Efficient database and web service design for confidential patient data in the TEMONICS project

Pages 998-1001

Meier, H. (et al.)

TELEMON — A Complex System for Real Time Telemonitoring of Chronic Patients and Elderly People

Pages 1002-1005

Costin, Hariton (et al.)

Mobile Devices for e-Services in Home Care

Pages 1006-1009

Aubrecht, P. (et al.)

Personalised Ambient Monitoring (PAM) of the mentally ill

Pages 1010-1013

James, C. J. (et al.)

Method for the detection of life-threatening conditions in unconscious casualties

Pages 1014-1017

Jaeger, Marc (et al.)

A Population Prospect for Future Health Care Models based on a System Dynamics Model

Pages 1018-1021

Schröttner, Dr. Jörg (et al.)

Kubios HRV — A Software for Advanced Heart Rate Variability Analysis

Pages 1022-1025

Tarvainen, Mika P. (et al.)

Implementation of an Open Telenephrology Platform to Support Home Monitoring

Pages 1026-1029

Seoane, Fernando (et al.)

An analysis of PLC noise level for risk management of medical use RFID system

Pages 1030-1033

Hosaka, R.

Intelligent Synchronized Magnifying Glasses for Assisting Reading of Temporal Mammograms

Pages 1034-1037

Temmermans, F. (et al.)

A platform for physiological signals including an intelligent stethoscope

Pages 1038-1041

Rattfalt, L. (et al.)

Energy requirements of mobile phones and sensor technologies in mobile health applications

Pages 1042-1045

Kreuzer, Johannes (et al.)

Approach to Quantitative Detection of CD146 with a Label-free Protein Biosensor Based on Imaging Ellipsometry

Pages 1046-1049

Niu, Yu (et al.)

A Compact Imaging Ellipsometer for Label-free Biosensor

Pages 1050-1052

Luo, Yidan (et al.)

Towards Forehead Reflectance Photoplethysmography to Aid Delivery Room Resuscitation in Newborns

Pages 1053-1056

Grubb, M. R. (et al.)

Low-cost miniaturized UV photosensor for direct measurement of DNA concentration within a closed tube container

Pages 1057-1061

Bulteel, O. (et al.)

Comparative Assessment of Rotating Slat and Parallel Hole Collimator Performance in GE DST-Xli Gamma Camera: A Monte Carlo Study

Pages 1062-1065

Dehestani, N. (et al.)

Essential Design Considerations for Wireless Multi-Channel Photoplethysmography System

Pages 1066-1069

Kadhim, A. Y. (et al.)

Contact-less human vital sign monitoring with a 12 channel synchronous parallel processing magnetic impedance measurement system

Pages 1070-1073

Liebold, Falk (et al.)

An CMT reconstruction algorithm for detection of objects buried in a half-space

Pages 1074-1077

Janczulewicz, Agnieszka (et al.)

The concept of transfer impedance in bioimpedance measurements

Pages 1078-1079

Martinsen, Ørjan G. (et al.)

Evaluation of an automated PEEP controller in mechanical ventilation support

Pages 1080-1083

Arntz, Johannes (et al.)

Fast Electrical Impedance Spectroscopy for Moving Tissue Characterization Using Bilateral QuasiLogarithmic Multisine Bursts Signals

Pages 1084-1087

Sanchez, B. (et al.)

Assessment of Breathing Parameters during Running with a Wearable Bioimpedance Device

Pages 1088-1091

Seppä, Ville-Pekka (et al.)

QCM Sensor Frequency Responses and MAC Values Comparison of Different Anesthetics used in Inhalation Anesthesia

Pages 1092-1095

Saraoğlu, Hamdi Melih (et al.)

Online-Classification of Capnographic Curves Using Artificial Neural Networks

Pages 1096-1099

Bleil, Marcus (et al.)

Evaluation of Conventional and Non-Conventional Pulse Oximeter

Pages 1100-1103

Haleem, M. A. (et al.)

Volumetric Registration Method in Lung Tumour Discrimination

Pages 1104-1107

Cancela, João (et al.)

Towards an ARM based low cost and mobile biomedical device test bed for improved multi-channel pulmonary diagnosis

Pages 1108-1112

Çatmakaş, Z. (et al.)

An evaluation of end-tidal CO

Pages 1113-1116

Jensen, Marie Christin (et al.)

Development of automatic respiration monitoring for home-care patients of respiratory diseases with therapeutic aids

Pages 1117-1120

Okubo, Masahiko (et al.)

Computer-Assisted Decision Support in the Sleep Apnea-Hypopnea Syndrome

Pages 1121-1124

Álvarez-Estévez, D. (et al.)

A new calibration method with support vector machines for pulse oximetry

Pages 1125-1127

Ogawa, M. (et al.)

Hardware-in-the-Loop Testing for closed-loop Brain Stimulators

Pages 1128-1132

Vogt, Simon M. (et al.)

A Virtual Instrument for Bio-impedance Measurement in Oral Cavity

Pages 1133-1136

Kaštelan, M. (et al.)

Magnetic Marker Monitoring Using a Permanent Magnetic Sphere Oriented by a Rotating Magnetic Field

Pages 1137-1140

Andrä, Wilfried (et al.)

An Improved Local Pressurization-Cuff Technique for Non-invasive Digital Arterial Pressure by the Volume-Compensation Method: Its Performance and Evaluation of Accuracy

Pages 1141-1144

Ikarashi, A. (et al.)

A Novel Electrophysiological Measurement System to Study Rapidly Paced Animal Hearts

Pages 1145-1148

Arnold, Robert (et al.)

Measurements of pressure distribution by the tongue of infants on an artificial nipple

Pages 1149-1152

Niikawa, Takuya (et al.)

A novel multielectrode for epicardial recording with temperature control based in Peltier cells

Pages 1153-1157

Guill Ibáñez, Antonio (et al.)

Arterial Blood Flow Sensor

Pages 1158-1162

Zikich, D. (et al.)

In-vivo measurements of heart ischemia using transoesophageal electrical impedance

Pages 1163-1166

Rosell-Ferrer, Javier (et al.)

Photoplethysmographic Augmentation Index as a Non Invasive Indicator for Vascular Assessments

Pages 1167-1170

Gonzalez, R. (et al.)

Thermoelectrical Stimulator for Patients' Quantitative Sensory Testing

Pages 1171-1175

Hozman, Jiri (et al.)

Transoesophageal Electronic Bioimpedance device for the study of post-transplant heart rejection

Pages 1176-1179

Giovinazzo, G. (et al.)

Bio-compatible Insulated Substrate Impedance Transducers

Pages 1180-1183

Pampin, R. S. (et al.)

Macroconduction and microconduction during rapid pacing measured with cardiac near field technique

Pages 1184-1187

Hofer, Ernst (et al.)

An Efficient Piecewise Modeling of ECG Signals Based on Critical Samples Using Hermitian Basis Functions

Pages 1188-1191

Abdoli, M. (et al.)

Can orthogonal leads be derived from the standard electrocardiogram during atrial fibrillation?

Pages 1192-1195

Guillem Sánchez, María de la Salud (et al.)

Abdominal Signal Processing: fetal ECG extraction by combining ESC and ICA methods

Pages 1196-1199

Ţarălungă, D. (et al.)

Use of Activation Time Based Kalman Filtering in Inverse Problem of Electrocardiography

Pages 1200-1203

Aydın, Ümit (et al.)

Comparison of Different Structures of Silver Yarn Electrodes for Mobile Monitoring

Pages 1204-1207

Cömert, Alper (et al.)

FPGA based two-channel ECG sensor node for wearable applications

Pages 1208-1211

Mihel, J. (et al.)

Emission Modelling for Supervised ECG Segmentation using Finite Differences

Pages 1212-1216

Frénay, B. (et al.)

Towards a capacitively coupled electrocardiography system for car seat integration

Pages 1217-1221

Chamadiya, Bhavin (et al.)

A mobile ECG monitoring system with context collection

Pages 1222-1225

Li, J. P. (et al.)

Identification of Signal Components in Multi-Channel EEG Signals via Closed-Form PARAFAC Analysis and Appropriate Preprocessing

Pages 1226-1230

Jannek, Dr. Dunja (et al.)

Analysis of Epileptic EEG Signals by Means of Empirical Mode Decomposition and Time-Varying Two-Sided Autoregressive modelling

Pages 1231-1235

Kacha, A. (et al.)

Neuroscience125 and Nonlinear Dynamics

Pages 1236-1240

Klonowski, W.

On Modelling User's EEG Response During a Human-Computer Interaction: A Mirror Neuron System-Based Approach

Pages 1241-1245

Petrantonakis, P. C. (et al.)

Microneedle array electrode for human EEG recording

Pages 1246-1249

Luttge, Regina (et al.)

Generating Brain-maps with ICA Source Estimates from Hybrid Optimizer Using Spectral Screened EEG Data

Pages 1250-1254

George, S. Thomas (et al.)

An Approximated Solution to the Inverse Problem of EEG

Pages 1255-1258

Ibáñez-Català, X. (et al.)

The Removal Of Ocular Artifacts From EEG Signals: A Comparison of Performances For Different Methods

Pages 1259-1263

Klados, Manousos A. (et al.)

Characteristic features of the EEG patterns during anaesthesia evoked by fluorinated inhalation anaesthetics

Pages 1264-1267

Olejarczyk, E. (et al.)

Effects of propofol anesthesia on nonlinear properties of EEG: Time-lag and embedding dimension

Pages 1268-1271

Roca González, Joaquín (et al.)

Effects of propofol anesthesia on nonlinear properties of EEG: Lyapunov exponents and short-term predictability

Pages 1272-1275

Roca González, Joaquín (et al.)

Imaging Magnetoencephalographic Independent Component Scalp Distributions using a Subspace Correlation Approach

Pages 1276-1280

Hesse, C. W.

Performance of ICA for MEG data generated from subspaces with dependent sources

Pages 1281-1285

Kohl, Florian (et al.)

A robust independent component analysis algorithm for removing ballistocardiogram artifacts from EEG and fMRI recordings

Pages 1286-1289

Franchin, Tiziana (et al.)

Monitoring of Musical 'Motion' in EEG Using Bispectral Analysis: A Mirror Neurons-based Approach

Pages 1290-1293

Hadjidimitriou, S. K. (et al.)

The somatosensory evoked response detection using coherence and different stimulation frequencies

Pages 1294-1297

Melges, Danilo Barbosa (et al.)

Reduction of alpha distortion in event related potentials

Pages 1298-1301

Vanderperren, K. (et al.)

Measurement of high frequency EEG signals with very low noise amplifiers: Brain oscillations above 600 Hz measured non-invasively

Pages 1302-1304

Scheer, H. J. (et al.)

Comparison of spontaneous and event related measures in the electroencephalogram

Pages 1305-1308

Schier, Mark

Detection of Evoked Responses in EEG using Computational Intelligence Tools

Pages 1309-1312

Souza, Ana Paula (et al.)

Influence of Branching and Tapering on Intracoronary Pressure and Flow Velocity: Comparison of Axial Measurement Location

Pages 1313-1316

Nolte, Froukje, MSc (et al.)

An active intravascular MR-probe using a miniature optical modulator

Pages 1317-1320

Fandrey, Stephan (et al.)

Circle Maps Analysis implemented on an intelligent, miniaturized and wireless communicating sensor enabling online cardiac arrhythmia classification

Pages 1321-1324

Schiek, M. (et al.)

An m-health system for continuous monitoring of children with suspected cardiac arrhythmias

Pages 1325-1328

Kyriacou, Efthyvoulos (et al.)

IR-thermal monitoring of cardiosurgery interventions

Pages 1329-1333

Nowakowski, Antoni (et al.)

Monitoring Fluid Shifts During Haemodialysis Using Local Tissue Bioimpedance Measurement

Pages 1334-1338

Al-Surkhi, Dr. Omar. I., PhD (et al.)

Effect of a Sauna Bath and Smoking on a BCG, Carotid and Ankle Pulse Signal in Sitting Position

Pages 1339-1348

Alametsä, J. (et al.)

Identifying Patients Suffering From Atrial Fibrillation During Atrial Fibrillation and Non-Atrial Fibrillation Episodes

Pages 1349-1352

Kikillus, Nicole (et al.)

The Fetal Heart Rate Variability due to vibro-acustic stimulation: a complexity analysis

Pages 1353-1356

Ferrario, Manuela (et al.)

Normalization of the standard deviation and spectral indices of RR time series for comparison among situations with different mean heart rate

Pages 1357-1361

García-González, M. A. (et al.)

Is the Ventricular Response during Atrial Fibrillation Certainly Random?

Pages 1362-1365

Climent, Andreu M. (et al.)

Influence of Mental Stress on Heart Rate and Heart Rate Variability

Pages 1366-1369

Taelman, Joachim (et al.)

Anaesthesia with Propofol Reduces Ventricular Rhythm Variability during Atrial Fibrillation

Pages 1370-1373

Cervigón Abad, Raquel (et al.)

An algorithm for FHR extraction from FHS signals

Pages 1374-1377

Cesarelli, Mario (et al.)

Fetal ECG Extraction Using Multi-Layer Perceptron Neural Networks with Bayesian Approach

Pages 1378-1385

Golzan, S. Mojtaba (et al.)

Analysis of fetal movement based on magnetocardiographically determined fetal actograms and fetal heart rate accelerations

Pages 1386-1389

Leeuwen, Peter (et al.)

Identification of fetal auditory evoked cortical responses using a denoising method based on periodic component analysis

Pages 1390-1393

Moraru, Liviu (et al.)

Development of neckband mounted active bio-electrodes for non-restraint lead method of ECG R wave

Pages 1394-1397

Mizuno, A. (et al.)

Simultaneous registration of uterine contractions and fetal heart rate using magnetomyography and magnetocardiography

Pages 1398-1401

Leeuwen, Peter (et al.)

Comparison of reference subtraction methods for DC-MEG applications

Pages 1402-1405

Müller, Wolfgang (et al.)

Reproducibility of Evaluation on Cardiac Autonomic Nervous System Activity through Tone-Entropy Analysis in Young Subjects

Pages 1406-1409

Nakamura, Hideo (et al.)

On-line optimization of drug delivery: An adaptive extremum seeking approach

Pages 1410-1413

Dochain, D. (et al.)

Multi-level Mathematical Model of Rheological Study of Pathogenic Microorganisms Suspended in Water

Pages 1414-1417

Evgeny, Taran (et al.)

Numerical simulation of radial oscillations of individual and multiple microbubbles with elastic layers

Pages 1418-1421

Overhoff, Heinrich Martin (et al.)

Monitoring of Insonicated Microbubble Behavior and their Effect on Sonoporation Supported Chemotherapy of Fibrosarcoma Cells

Pages 1422-1425

Hensel, Karin (et al.)

Efficient Transmembrane Segment Prediction in Transmembrane Proteins Using Wavelet-Based Energy Criteria

Pages 1426-1429

Kitsas, I. K. (et al.)

Towards User-friendly Interfacing of Biomedical Applications with the Grid: A Paradigm with SVM Optimization for Gene Prediction

Pages 1430-1433

Vegoudakis, K. I. (et al.)

Pico-Injector for the Discrete Chemical Stimulation of Individual Cells with a High Temporal and Spatial Resolution

Pages 1434-1437

Steigert, Juergen (et al.)

A Novel Approach in Melanoma Identification

Pages 1438-1441

Oprea, A. E. (et al.)

3D cephalometry: a new approach for landmark identification and image orientation

Pages 1442-1445

Sofie, Cauter (et al.)

Methods for determining the blood flow velocity in cerebral vessels using intraoperative Indocyanine Green fluorescence video angiography

Pages 1446-1449

Cimalla, Peter (et al.)

Detection of Epileptic Seizures Through Audio Classification

Pages 1450-1454

Bruijne, G. R. (et al.)

Automated Diagnosis of Early Alzheimer's disease using Fuzzy Neural Network

Pages 1455-1458

S, Mahesh Anand (et al.)

Dual camera based eye gaze tracking system

Pages 1459-1462

Kocejko, Tomasz (et al.)

Modeling of tooth's structure based on CT and μCT data — comparative study

Pages 1463-1466

Szczepan, Piszczatowski (et al.)

Measurement of the short-term viscoelastic properties of the periodontal ligament using stress relaxation

Pages 1467-1470

Tohill, R. (et al.)

Study of Electromyographic Signals During Chewing Process In Patients with Fixed Partial Denture

Pages 1471-1474

Kara, S. (et al.)

Variation of Power Spectral Density and Energy in Electromyogram of Jaw-Closing Muscles in Children with Class II Malocclusion

Pages 1475-1478

Kara, S. (et al.)

A high-resolution Schottky CdTe detector based spectrometric determination method of the kilovoltage applied to dental X-ray tubes

Pages 1479-1483

Spyropoulos, Professor Basile (et al.)

Analytical approach to determine the rotational freedom of dental implant-abutment connections

Pages 1484-1487

Kraft, S. (et al.)

Physiologically inspired coding strategies for cochlear implants

Pages 1488-1491

Bahmer, A. (et al.)

Application of Otoplastics to Increase the Reproducibility of OAE-analyses

Pages 1492-1495

Schmidt, Tobias (et al.)

Applicability of function-based analysis in retrospective data analysis of noise-induced hearing loss in the Finnish Defence Forces

Pages 1496-1499

Hannula, Manne (et al.)

3D Tele-Medical Speech Therapy using Time-of-Flight Technology

Pages 1500-1503

Stürmer, M. (et al.)

Augmented control of hands free voice prostheses

Pages 1504-1507

Madden, Brian (et al.)

EMD-KURTOSIS: A New Classification Domain for Automated Greek Sign Language Gesture Recognition

Pages 1508-1512

Kosmidou, V. E. (et al.)

Differentiation between Brain Metastasis and Glioblastoma using MRI and two-dimensional Turbo Spectroscopic Imaging data

Pages 1513-1516

Laudadio, Teresa (et al.)

A high performance bidirectional micropump utilizing advanced low voltage piezo multilayer actuator technology for a novel artificial sphincter system

Pages 1517-1520

Lemke, Thomas (et al.)

The method of assessment of chosen hemodynamic and electrophysiologic parameters in the healthy human subject circulation

Pages 1521-1523

Peczalski, Kazimierz (et al.)

Tissue Recognition for Pressure Ulcer Evaluation

Pages 1524-1527

Mesa, H. (et al.)

A System Ergonomic Analysis Approach for Potential Critical Incidents in Medical Treatment Processes

Pages 1528-1531

Fuchs, Daniela (et al.)

Determination of the Mechanical Leg Axis Using a Force-Torque Sensor

Pages 1532-1535

Elfring, Robert (et al.)

Automatic Discrimination of Duodenum in Wireless Capsule Video Endoscopy

Pages 1536-1539

Igual, L. (et al.)

Ontology-based Computer-Aided Decision System: a new architecture and application concerning the musculoskeletal system of the lower limbs

Pages 1540-1543

Dao, T. T. (et al.)

Multi- tactile sensor concept for the autonomous navigation in human blood vessels

Pages 1544-1547

Keißner, A. (et al.)

Studies on Viscosity, pH and Temperature of High Concentration Barium Sulfate in Mass Screening for Gastric Cancer — Particle size distribution —

Pages 1548-1551

Yamamoto, Kenyu (et al.)

Blood pressure response to LBNP load in various types of examinations

Pages 1552-1555

Jan, Hanousek (et al.)

Study on the measurement of ejection fraction (EF) using left ventriculogram

Pages 1556-1560

Kuwano, Tadao (et al.)

Exposure Dose in Gastric Cancer Mass Screening using High Concentration Barium Sulfate — Comparison with Moderate Concentration Barium Sulfate —

Pages 1561-1564

Yamamoto, Kenyu (et al.)

Simulation and Experimental Study of an Ellipsoidal Cavity Reflector as part of a Focused Passive Brain Imaging System

Pages 1565-1569

Karathanasis, K. T. (et al.)

The Impact of Model-based Therapeutics on Glucose Control in an Intensive Care Unit

Pages 1570-1573

Hann, Christopher E. (et al.)

A comparison of gesture and speech control in intraoperative-near environment

Pages 1574-1576

Rose, A. (et al.)

Incident Investigation in the Healthcare System: a Comparative Analysis Derived from the Chemical Industries

Pages 1577-1580

Morita, Plinio Pelegrini (et al.)

Health Technology Management: Medical Equipment Classification

Pages 1581-1584

Oshiyama, Natália Ferreira (et al.)

Quality Assurance and Control of Clinical Engineering Activities

Pages 1585-1588

Tarawneh, Walid Salameh (et al.)

Active path selection of fluid microcapsules by acoustic radiation force in the artificial blood vessel

Pages 1589-1593

Muramatsu, Yusuke (et al.)

Fatigue Testing of Polyimide-Based Micro Implants

Pages 1594-1597

Kisban, Sebastian (et al.)

T2 weighted liver Magnetic Resonance imaging using functional residual capacity breath-hold with multi breath-hold

Pages 1598-1602

Tabuchi, Akihiko (et al.)

The usefulness of film reading to detect cancer by untrained radiographer in X-ray examination of the stomach

Pages 1603-1606

Yatake, Hidetoshi (et al.)

A novel method for automatic evaluation of the effective dynamic range of medical ultrasound scanners

Pages 1607-1611

Scorza, A.

On the development of a powered prosthesis for transtibial amputees

Pages 1612-1615

Versluys, Rino (et al.)

Patient-Driven Cooperative Gait Training with the Rehabilitation Robot Lokomat

Pages 1616-1619

Duschau-Wicke, Alexander (et al.)

Improving Speech Understanding in Noise for Users of Bone Anchored Hearing Aids (BAHA)

Pages 1620-1623

Pfiffner, F. (et al.)

AERBUS: Enhanced perception of the environment for visually impaired people

Pages 1624-1627

Möller, Prof. Dr. Knut (et al.)

Selective stimulation of the vagus nerve in a man

Pages 1628-1631

Pečlin, Polona, MD (et al.)

Improved Wearable Monitoring System for Posture Changes and Walking Speed and its Application to Supporting Physical Therapist in Rehabilitation

Pages 1632-1635

Motoi, K. (et al.)

Arterial Elasticity Measurements with Ankle Pulse Width Velocity and Ballistocardiography

Pages 1636-1641

Alametsä, J. (et al.)

A bioimpedance measurement device for sensing force and position in neuroprosthetic systems

Pages 1642-1645

Nahrstaedt, Holger (et al.)

Unraveling of an original mechanism of hypometria in human using a new myohaptic device — The Wristalyzer

Pages 1646-1649

Mario, Manto (et al.)

The "Highly Versatile Single Port System" for laparoscopic surgery: Introduction and first clinical application

Pages 1650-1654

Can, S. (et al.)

A Locomotive System Mimicking Pedal Locomotion of Snails for the Capsule Endoscope

Pages 1655-1659

Hosokawa, Daisuke (et al.)

A Novel Laparoscopic Instrument with Multiple Degrees of Freedom and Intuitive Control

Pages 1660-1663

Schlaak, Prof. Dr.-Ing. H. F. (et al.)

A Modified Zwicky's Morphological Analysis: Application to the design of a robotic laparoscope

Pages 1664-1667

Villegas Medina, G. (et al.)

Position Control of Piezoelectric Motors for a Dexterous Laparoscopic Instrument

Pages 1668-1671

Wohlleber, Cédric (et al.)

A system to provide different view fields to both eyes of human respectively

Pages 1672-1675

Mizuno, Fumio (et al.)

Knowledge-based OR table positioning assistant for orthopedic surgery

Pages 1676-1678

Lauer, Wolfgang (et al.)

Bone mounted hexapod robot for outpatient distraction osteogenesis

Pages 1679-1682

Wendlandt, Robert (et al.)

Synergistic CT based tele-manipulator for needle placement in spine procedures

Pages 1683-1686

Cunha-Cruz, V. C. V. S. (et al.)

Design Results of an Upper Extremity Exoskeleton

Pages 1687-1690

Moubarak, S. (et al.)

The development of endoscopic surgery for a training simulator

Pages 1691-1694

Yoneyama, S. (et al.)

Haptic Aided Roboting for Heart Surgeons

Pages 1695-1696

Braun, Dr. med. M. Sc. Eva U. (et al.)

Laparoscope Sizing Approach Based on the Virtual Exploration of the liver's Surface

Pages 1697-1700

Villegas Medina, G. (et al.)

Probabilistic Forecasts of Epileptic Seizures and Evaluation by the Brier Score

Pages 1701-1705

Jachan, M. (et al.)

A Long-Term Monitor Including Activity Classification for Motor Assessment in Parkinson's Disease Patients

Pages 1706-1709

Klerk, D. G. M. (et al.)

iNODE: intelligent Network Operating Device for Neurological and Neurophysiological Research

Pages 1710-1713

Schlösser, Mario (et al.)

Distributed Intelligent Sensor Network for Neurological Rehabilitation Research

Pages 1714-1717

Ying, Hong (et al.)

Online Laser Doppler Measurements of Myocardial Perfusion

Pages 1718-1721

Fors, C. (et al.)

A Clinically Validated Patient Monitoring System

Pages 1722-1725

Ridolfi, Andrea (et al.)

Process Mapping, a key milestone in Engineering for Health

Pages 1726-1729

Amorosi, Eng. Francesco, Ph.D.

Allocation of Medical Equipment Costs to Medical Procedures

Pages 1730-1733

Nascimento, Leonardo Novaes (et al.)

Supporting Clinical Information Management by NFC Technology

Pages 1734-1737

Bravo, J. (et al.)

Towards Noninvasive Monitoring of Total Hemoglobin Concentration and Fractional Oxygen Saturation Based on Earlobe Pulse Oximetry

Pages 1738-1742

Abdallah, Omar (et al.)

Visual Transformation of the EEG in the Intensive Care

Pages 1743-1746

Putten, Michel J. A. M.

Development of a mobile toilet system servicing elderly on call

Pages 1747-1749

Ueno, Sozo (et al.)

Optimal Electrode Configurations for Impedance Pneumography during Sports Activities

Pages 1750-1753

Lahtinen, Otto (et al.)

Improving model-based cardiac diagnosis with an ECG

Pages 1754-1757

Hann, C. E. (et al.)

Electronic Monitoring of Head Position after Vitrectomy

Pages 1758-1761

Cizek, Martin (et al.)

Investigation of Heart Rate Variability after Cardiopulmonary Resuscitation and Subsequent Hypothermia

Pages 1762-1764

Hopfe, J. (et al.)

Development of Non-restrained Sleep-Monitoring Method by Using Difference Image Processing

Pages 1765-1768

Okada, Shima (et al.)

Hard- and software-configurable system for preoperative planning and intraoperative navigation of minimally invasive interventions

Pages 1769-1772

Jan, Ute (et al.)

Laser Treatment of Radiation Injuries of Skin and Underskin Tissues

Pages 1773-1776

Ovsyannikov, Victor Andreevich (et al.)

A Validated Skeleton-based Finite Element Mesh for Parametric Analysis of Trabecular Bone Competence

Pages 1777-1780

Vanderoost, Jef (et al.)

A Mechanical Instrument to Evaluate Posture of the Spinal Column in Pregnant Women

Pages 1781-1784

Secca, Mario Forjaz (et al.)

Hardware-in-the-Loop-Simulator for Testing of Total Hip Endoprostheses

Pages 1785-1788

Kähler, Michael (et al.)

Experimental and numerical analysis of patello-femoral contact mechanics in TKA

Pages 1789-1793

Innocenti, B. (et al.)

Microstructural quality of vertebral trabecular bone can be assessed from ultrasonic wave propagation

Pages 1794-1797

Goossens, Liesbet (et al.)

Contact pressure distribution in postmortem human knee during dynamic flexion-extension movement

Pages 1798-1802

Quintelier, Jan (et al.)

Predictive Mathematical Models based on Data Mining Methods of the Pathologies of the Lower Limbs

Pages 1803-1807

Dao, T. T. (et al.)

Periprosthetic Fields and Currents of an Electrostimulative Acetabular Revision System

Pages 1808-1811

Potratz, Carsten (et al.)

Modeling of the children's hip joint in diagnostics of bone deformation in cerebral palsy

Pages 1812-1815

Szczepan, Piszczatowski (et al.)

Signal processing concepts for optimal myoelectric sensor placement in a modular hybrid FES orthosis

Pages 1816-1819

Schill, Oliver (et al.)

Invention of slight lower limbs' stretching and walking orthosis

Pages 1820-1824

Yamamoto, Kouji L. (et al.)

A proof-of-concept exoskeleton for robot-assisted rehabilitation of gait

Pages 1825-1829

Beyl, Pieter (et al.)

Physiologic Approach for Control of Hand Prostheses

Pages 1830-1834

Somerlik, K. H. (et al.)

Accelerometer based measurement of body movement for communication, play, and creative expression

Pages 1835-1838

Nolan, Mark (et al.)

Wheelchair Direction Control by Acquiring Vocal Cords Vibration with Multivariate Analysis

Pages 1839-1842

Hsu, Chia-Hua (et al.)

Evaluation of Trajectory Applied to Collaborative Rehabilitation For a Wheelchair Driving Simulator

Pages 1843-1846

Randria, I. (et al.)

A New Concept of an Electrostimulative Acetabular Revision System with Patient Individual Additional Fixation

Pages 1847-1850

Kluess, Dipl.-Ing. Daniel (et al.)

Effect of splinting in a fixed partial denture on bone remodeling using FEM

Pages 1851-1855

El-Wakad, M. T.

Finite element study of load transfer in a splinted fixed partial denture

Pages 1856-1861

Bendjaballah, Dr M Z

Electric Stimulation and Pudendal Evoked Potential Recordings for Management of Stress Incontinence in Women

Pages 1862-1866

Koutsojannis, Constantinos M.

An in-vitro study of human knee kinematics: natural vs. replaced joint

Pages 1867-1870

Innocenti, Bernardo (et al.)

An EMG control system of ultrasonic motors using PSoC microcomputer

Pages 1871-1874

Yano, Yorihiko (et al.)

Visualization and modeling of flow in the embryonic heart

Pages 1875-1878

Maes, F. (et al.)

An Innovative Design of a Blood Pump Actuator Device using an Artificial Left Ventricular Muscle

Pages 1879-1882

Smissen Benjamin, B. (et al.)

Artificial heart constructed as a kinetic calotte-pendulum-transmission

Pages 1883-1884

Vielberg, H. A., M. D.

Estimation of cardiac contractility during rotary blood pump support using an index derived from left ventricular pressure

Pages 1885-1888

Naiyanetr, Phornphop (et al.)

Impact of imaging modality for analysis of a cerebral aneurysm: comparison between CT, MRI and 3DRA

Pages 1889-1893

Poethke, J. (et al.)

Computational modeling of cerebral aneurysm formation — framework for modeling the interaction between fluid dynamics, signal transduction pathways and arterial wall mechanics

Pages 1894-1898

Schmid, Holger (et al.)

Circumferential variations in passive and active mechanical properties of healthy and aneurysmal ascending aorta

Pages 1899-1902

Tremblay, D. (et al.)

Arterial Remodeling in Response to Increased Blood Flow Using a Constituent-Based Model

Pages 1903-1905

Tsamis, Alkiviadis (et al.)

Research of Ride Comfort for Tilting Train Simulator Using ECG

Pages 1906-1909

Lee, Youngbum (et al.)

Strain energy function for arterial walls based on limiting fiber extensibility

Pages 1910-1913

Horny, L. (et al.)

Carotid plaque and its effect on ultrasound carotid distension measurements

Pages 1914-1917

Schryver, Thomas (et al.)

Relation Between Left Ventricular Relaxation Rate and Arterial Loading

Pages 1918-1921

Claessens, Tom (et al.)

Impact of aortic valve stenosis on left coronary artery flow: An

Pages 1922-1925

Gaillard, Emmanuel (et al.)

Pulsatile Blood Flow Simulations in Aortic Arch: Effects of Blood Pressure and the Geometry of Arch on Wall Shear Stress

Pages 1926-1929

Vasava, P. (et al.)

Linking an Artery to the Circulation: Introducing a Quasi-Simultaneous Coupling Approach for Partitioned Systems in Hemodynamics

Pages 1930-1934

Rozema, G. (et al.)

Mechanical Properties of Arteries with Aging and its Noninvasive Estimation Method

Pages 1935-1938

Nogata, Fumio (et al.)

Accuracy Close to the Wall of Immersed Boundary Methods

Pages 1939-1942

Pourquie, M.

A modified Mass-Spring system for myocardial mechanics modeling

Pages 1943-1946

Jarrousse, O. (et al.)

The Significance of Flow Unsteadiness on the Near-Wall Flow of a Stented Artery

Pages 1947-1950

Mejia, Juan (et al.)

A mechanical study of patient-specific cerebral aneurysm models: a correlation between stress and geometrical index

Pages 1951-1954

Valencia, Alvaro (et al.)

Simulation of wall shear stress-driven in-stent restenosis

Pages 1955-1958

Santis, G. (et al.)

Microfluidic Modeling of Circulating Leukocyte Deformation

Pages 1959-1962

Gabriele, S. (et al.)

Image-based Blood Flow Simulation in the Retinal Circulation

Pages 1963-1966

Liu, Dan (et al.)

Finite Element Modeling of LDL Transport in Carotid Artery Bifurcations

Pages 1967-1971

Sakellarios, A. I. (et al.)

Micro-PIV as a research tool for in vivo studies of vascular remodeling

Pages 1972-1974

Poelma, C. (et al.)

Numerical simulation and Experimental Validation in an Exact Aortic Arch Aneurysm Model

Pages 1975-1979

Seshadhri, S. (et al.)

The 3D Flow Analysis in Ruptured Cerebral Aneurysm

Pages 1980-1986

Li, M. L. (et al.)

Sensor placement with a telescoping compliant mechanism

Pages 1987-1989

Griebel, Stefan (et al.)

The Cement-Bone Interface: Is It Susceptible To Damage Adaptive Remodeling?

Pages 1990-1993

Lennon, A. B. (et al.)

Wall shear stress in the mouse aortic arch : Does size matter?

Pages 1994-1998

Trachet, Bram (et al.)

The Role of Arterial Wall Deformation on the Shear Stress over the Cardiovascular Smooth Muscle Cells: Computations in Two-Dimensional Geometry

Pages 1999-2002

Dabagh, Mahsa (et al.)

Adapting a Mass-Spring system to energy density function describing myocardial mechanics

Pages 2003-2006

Fritz, Thomas (et al.)

Fabrication of thin and flexible PDMS membranes for biomechanical test applications

Pages 2007-2010

Armbruster, Caroline (et al.)

Dual-Camera Spherical Indentation System for Examining the Mechanical Characteristics of Hydrogels

Pages 2011-2014

Ahearne, M. (et al.)

Morphological and Functional Flow-Induced Response of Endothelial Cells and Adhesive properties of Leukocytes in 3D Stenotic Models

Pages 2015-2018

Rouleau, L. (et al.)

Development of an experimental device for the application of static and dynamic tensile strain on cells

Pages 2019-2022

Reimann, Dr.rer.nat. Dipl.-Ing. (FH) S. (et al.)

Dynamic Videomicroscopy reveals correspondence between mechanical characteristics of lung tissue and local morphology on alveolar scale

Pages 2023-2026

Schumann, Stefan (et al.)

Differences in form stability between human non-tumorous alveolar epithelial cells type 2 and alveolar carcinoma cells under biaxial stretching

Pages 2027-2030

Schließmann, Stephan J. (et al.)

Simulation of tissue differentiation in a mechanically loaded bone regeneration chamber

Pages 2031-2034

Khayyeri, Hanifeh (et al.)

Three-dimensional Imaging of subpleural Alveoli by Fourier Domain Optical Coherence Tomography

Pages 2035-2039

Meissner, S. (et al.)

The role of ventilation frequency in airway reopening

Pages 2040-2044

Bauer, K. (et al.)

Cardiogenic oscillations reflect the compliance of the respiratory system

Pages 2045-2048

Wahl, Alexander (et al.)

On the separate determination of lung mechanics in in- and expiration

Pages 2049-2052

Möller, Prof. Dr. Knut (et al.)

Novel artificial lung model for respiration measurement and demonstration

Pages 2053-2056

Stiglbrunner, K. (et al.)

Measurement of tidal volumes in case of high frequency oscillation ventilation

Pages 2057-2060

Wurm, M. (et al.)

Effect of Viscoelastic Constraints to Kinematic Parameters during Human Gait

Pages 2061-2064

Miyoshi, T., PhD (et al.)

Muscle electrical activity during force modulation exercise

Pages 2065-2068

Mischi, M. (et al.)

Correspondence between Muscle Motion and EMG Activity during Whole Body Vibration

Pages 2069-2072

Fratini, Antonio (et al.)

Study and implementation of a wireless accelerometer network for gait analysis

Pages 2073-2076

Stamatakis, J. (et al.)

Sensitivity of posturography to elimination of visual feedback

Pages 2077-2080

Schnupp, Thomas (et al.)

Impact analysis of shoes using the structural intensity technique

Pages 2081-2084

Cui, F. (et al.)

Comparing the Biomechanics of Crouch Gait in Children with Cerebral Palsy to that of Age-Matched Controls and Young Healthy Adults

Pages 2085-2088

Karim, Md. Z. (et al.)

Power spectral distribution analysis for detection of freezing of gait in patients with Parkinson's disease

Pages 2089-2092

Zabaleta, H. (et al.)

Predictive control continues after collision in self-induced impulsive loading: preliminary study

Pages 2093-2096

Bleyenheuft, Y. (et al.)

Does slippage influence the EEG response to load force variations during object manipulation?

Pages 2097-2100

André, T. (et al.)

Visuomotor velocity transformations for visually guided manual tracking

Pages 2101-2104

Leclercq, Guillaume (et al.)

Towards a High Performance Expert System for Gait Analysis

Pages 2105-2108

Medved, V. (et al.)

Feed forward compensation of hyper gravity in vertical pointing movements

Pages 2109-2112

Crevecoeur, Frédéric (et al.)

Changes of muscle fiber length

Pages 2113-2115

Sasagawa, N, MSC (et al.)

Effect of the pull-down force magnitude on the external work during running in weightlessness on a treadmill

Pages 2116-2119

Gosseye, T. P. (et al.)

Objective analysis of lower limb movements of infants for diagnostic purposes: calculation of the knee joint center

Pages 2120-2123

Karch, Dominik (et al.)

Fall prevention by vibration stimuli to planta pedis

Pages 2124-2127

Yoshida, Masaki, PhD (et al.)

Different Contraction Pattern of Lower Leg Muscle Fiber between Swaying and Tiptoe Standing in Human Upright Posture

Pages 2128-2132

Yamamoto, S. (et al.)

Influence of visual information on optimal obstacle crossing

Pages 2133-2137

Rodrigues, S. T. (et al.)

Significance of the body-weight's ratio of caregiver and receiver in the training process of care-giving motion

Pages 2138-2141

Koshino, Yaemi (et al.)

Biological motion input to the oculomotor system

Pages 2142-2145

Coppe, Sébastien (et al.)

Compensation for smooth eye and head movements by gaze saccades during head-unrestrained tracking

Pages 2146-2149

Daye, Pierre (et al.)

Diagnostics of Human Body Stem Motor Functions by Systematic Provocation Method

Pages 2150-2152

Witte, Prof. Dr. Hartmut (et al.)

Cross education after power training

Pages 2153-2156

Mastalerz, Andrzej (et al.)

Development of a Sit-to-Stand Assistance System

Pages 2157-2160

Tomuro, Kosuke (et al.)

Laser generated scaffolds for regeneration of the auditory nerve and facial nerve

Pages 2161-2164

Hohenhoff, Dipl.-Ing. Gerrit, M.Sc. (et al.)

Experimental setup for high mechanical strain induction to cell loaded metallic biomaterials

Pages 2165-2168

Habijan, Tim (et al.)

Stent Design for Gastrointestinal Leakage

Pages 2169-2172

Rothwell, R. A. (et al.)

Textile blood vessels coated with DLC

Pages 2173-2174

Jelinek, M. (et al.)

Finite-element-analysis and in vitro study of bioabsorbable polymer stent designs

Pages 2175-2178

Schultze, Christine (et al.)

Influence of crystallinity on bio- physical properties of hydroxyapatite films

Pages 2179-2181

Jelinek, M. (et al.)

Novel, Biocompatible and Photo Crosslinkable Polymeric Networks based on Unsaturated Polyesters: Optimization of the Network Properties

Pages 2182-2185

Mohtaram, N. K. (et al.)

The Use of Fibrin as an Autologous Scaffold Material for Cardiovascular Tissue Engineering Applications: From

Pages 2186-2189

Flanagan, T. C. (et al.)

Continuous oxygen consumption estimation method for animal cell bioreactors based on a low-cost control of the medium dissolved oxygen concentration

Pages 2190-2194

Fontova, A. (et al.)

Capillary network formation during tissue differentiation. A mechano-biological model

Pages 2195-2199

Checa, Sara (et al.)

Formed 3D Bio-Scaffolds via Rapid Prototyping Technology

Pages 2200-2204

Maher, P. S. (et al.)

Design and Construction of a System for the Application of Variable Pressure to Tissue Engineered Blood Vessels

Pages 2205-2208

Diamantouros, Stefanos E. (et al.)

Remedi: A Research Consortium Applying Engineering Strategies to Establish Regenerative Medicine as a New Industry

Pages 2209-2212

Mather, Melissa L (et al.)

A Biodegradable Balloon-expandable Stent for Interventional Applications in the Peripheral Vasculature — In vitro Feasibility

Pages 2213-2215

Grabow, Dr.-Ing. Niels (et al.)

A membrane-based voice-producing element for female laryngectomized patients

Pages 2216-2219

Tack, J. W. (et al.)

Fully implantable alloplastic urinary bladder

Pages 2220-2222

Roth, Matthias (et al.)

Physical and dynamic models of the eye for tonometry applications

Pages 2223-2227

Matthias, Hien (et al.)

Temperature dependence of water absorption for wavelengths at 1920 nm and 1940 nm

Pages 2228-2229

Theisen-Kunde, Dirk (et al.)

Manufacturing of bone substitute implants using Selective Laser Melting

Pages 2230-2234

Hoeges, Simon (et al.)

Development of Drug-Eluting Stents on the Basis of Genistein and Poly(L-lactide)

Pages 2235-2239

Sternberg, Katrin (et al.)

Coating homogeneity in the manufacture of Drug-Eluting Stents

Pages 2240-2243

Gocke, Christian (et al.)

Characterization of textile conductors for Bioimpedance Spectroscopy

Pages 2244-2247

Beckmann, Lisa (et al.)

Analysis of mechanical properties of liver tissue as a design criterion for the development of a haptic laparoscopic tool

Pages 2248-2251

Kassner, Sebastian (et al.)

Registered Microhardness of human teeth parts and dental filling composites

Pages 2252-2254

Schmitt, Lena (et al.)

Quantitative High Speed Video Analysis of Biopolymer Encapsulated Cells while Capsule Formation

Pages 2255-2258

Meiser, I. (et al.)

Chemical modification of polymeric implant surfaces for local drug delivery

Pages 2259-2262

Teske, Michael (et al.)

Synthesis of Hydrolytically Stable Monomers for Dental Adhesives

Pages 2263-2264

Moszner, N. (et al.)

Time and pH dependence of adsorption of chlorhexidine on anatase and rutile titanium dioxide

Pages 2265-2268

Hu, Yanqing (et al.)

Local drug delivery from hydroxyapatite ceramic fibres

Pages 2269-2272

Ravelingien, Matthieu (et al.)

Considerations in the development of novel functional monomers for dental resin composites

Pages 2273-2276

Buruiana, T. (et al.)

Development of a Production Process for Stem Cell Based Cell Therapeutic Implants Using Disposable Bioreactor Systems

Pages 2277-2280

Weber, C. (et al.)

Using MEA system in verifying the functionality of retinal pigment epithelium cells differentiated from human embryonic stem cells

Pages 2281-2284

Nöjd, Niina (et al.)

Tubular scaffold design of polylactide acid for nerve tissue engineering: In — vitro

Pages 2285-2287

Khorasani, M. T. (et al.)

Finite Element Analysis of Bone Remodeling after Hip Resurfacing Arthroplasty

Pages 2288-2291

Behrens, Bernd-Arno (et al.)

Systems in Foil — Opening new Perspectives in Medical Technology

Pages 2292-2295

Wieringa, F. P. (et al.)

Silicon Surface Modification with Supported Phospholipids Bilayer for Biosensor based on Imaging Ellipsometry

Pages 2296-2299

Chen, Y. Y. (et al.)

Monitoring Biomolecular Interaction with 1-D Plasmonic Nanostructure by Using Dark Field Microscopy

Pages 2300-2303

Lu, Hui-Hisn (et al.)

Development of iron oxide nanoparticles for hyperthermia and drug targeting

Pages 2304-2308

Zeisberger, M. (et al.)

Optimization of magnetic drug targeting by mathematical modeling and simulation of magnetic fields

Pages 2309-2312

Slabu, I. (et al.)

A Spectrometer for Magnetic Particle Imaging

Pages 2313-2316

Biederer, S. (et al.)

AC susceptometry and magnetorelaxometry for magnetic nanoparticle based biomolecule detection

Pages 2317-2321

Eberbeck, D. (et al.)

Breath Synchronous Magnetic Drug Targeting in the Lungs

Pages 2322-2325

Dahmani, Ch. (et al.)

Quantification of magnetic nanoparticle concentration in pig lung tissue after magnetic aerosol drug targeting by magnetorelaxometry

Pages 2326-2329

Wiekhorst, Frank (et al.)

Optical fiber sensors for medical applications — Practical engineering considerations

Pages 2330-2334

Heijmans, J. A. C. (et al.)

Drug delivery by nanoparticles — facing the obstacles

Pages 2335-2338

Löbler, Marian (et al.)

Suitability of Nanoparticles for Stent Application

Pages 2339-2342

Luderer, Frank (et al.)

Preparation and Characterization of Dextran-Covered Fe

Pages 2343-2346

Lüdtke-Buzug, Kerstin (et al.)

Localization of a magnetic nanoparticle spot from features of the magnetic field pattern and comparison to a magnetic dipole fit

Pages 2347-2351

Wiekhorst, Frank (et al.)

Intraoral Drug Delivery Microsystem

Pages 2352-2355

Schumacher, Axel (et al.)

A miniaturized pressure independent drug delivery system for metronomic cancer therapy

Pages 2356-2359

Goldschmidtböing, Frank (et al.)

An Efficient Low-voltage Micropump For An Implantable Sphincter System

Pages 2360-2363

Biancuzzi, Giovanni (et al.)

Integration of microneedle-arrays and micro pumps in disposable and cheap drug delivery devices

Pages 2364-2367

Vosseler, Michael (et al.)

Adjustable Diffusion Barrier for Controlled Drug Release in Spastic and Pain Therapy

Pages 2368-2371

Herrlich, Simon (et al.)

A Prototype of Miniaturized SPR Sensing System based on Polymer Light-Emitting Diode

Pages 2372-2374

Fang, Yueh-Yuan (et al.)

Micromanufactured electrodes for cortical field potential recording: in vivo study

Pages 2375-2378

Cordeiro, J. G. (et al.)

A Binder-less Glucose Fuel Cell with Improved Chemical Stability Intended as Power Supply for Medical Implants

Pages 2379-2383

Kerzenmacher, Sven (et al.)

Bio-Microsystem for Cell Cultivation and Manipulation and its Peripherals

Pages 2384-2387

Fröber, Dipl.-Ing. Ulrike (et al.)

Electrode Localization in a Self-organizing Network for Electrophysiological Diagnostics

Pages 2388-2391

Schaefer, Michael (et al.)

A Novel Interconnection Technology for Laser-Structured Platinum Silicone Electrode Arrays

Pages 2392-2395

Guenther, Thomas (et al.)

Fluid characterization by interdigitated electrodes sensors

Pages 2396-2399

Druart, Sylvain (et al.)

Non-contact Micromanipulation System with Computer Vision

Pages 2400-2404

Tanaka, Yoshio (et al.)

Progress in the Development of the Artificial Accommodation System

Pages 2405-2408

Nagel, Jörg A. (et al.)

Coating of neural microelectrodes with intrinsically conducting polymers as a means to improve their electrochemical properties

Pages 2409-2412

Poppendieck, Wigand (et al.)

MEMS-Technology for Large-Scale, Multichannel ECoG-Electrode Array Manufacturing

Pages 2413-2416

Rubehn, Birthe (et al.)

Integration of Recording channel for the Evoked Compound Action Potential in an Implantable Neurostimulator

Pages 2417-2420

Doguet, Pascal (et al.)

Planar 2D-Array Neural Probe for Deep Brain Stimulation and Recording (DBSR)

Pages 2421-2425

Musa, Silke (et al.)

Robust microprobe systems for simultaneous neural recording and drug delivery

Pages 2426-2430

Spieth, Sven (et al.)

Integration of Microfluidic Channels into Laser-Fabricated Neural Electrode Arrays

Pages 2431-2434

Fiedler, Eva (et al.)

Why are penetrating electrodes for the cochlear nucleus not significantly superior to superficial implants?

Pages 2435-2438

Rosahl, Steffen K., M.D. (et al.)

Deposition Parameters Determining Insulation Resistance and Crystallinity of Parylene C in Neural Implant Encapsulation

Pages 2439-2442

Hassler, Christina (et al.)

Electric Field Distribution for the Characterization of Planar and Recessed Electrodes

Pages 2443-2446

Krueger, T. B. (et al.)

A Telemetry Platform for Implantable Devices Providing Inductive Energy Supply and a Bi-Directional Data Link

Pages 2447-2450

Jeschke, Christoph (et al.)

The Influence of Inter-Crystal Scattering on Detection Efficiency of Dedicated Breast Gamma Camera: A Monte Carlo Study

Pages 2451-2454

Rasouli, M. (et al.)

An Optimised 3D Breast Phantom for X-Ray Breast Imaging Techniques

Pages 2455-2458

Bliznakova, Kristina (et al.)

Random walk simulation of R2-dispersion in foam microstructures

Pages 2459-2463

Baete, S. H. (et al.)

Imaging haemorrhagic cerebral stroke by frequency-difference magnetic induction tomography: numerical modelling

Pages 2464-2467

Zolgharni, Massoud (et al.)

A novel simulation environment for testing experimental and established ultrasonic blood flow imaging techniques

Pages 2468-2471

Swillens, Abigail (et al.)

Several Optimization Methods to Optimize the Spacing Between the Elements of Ultrasound linear Phased Array to Produce a Radiation Pattern with Minimum Side Lobes Level (SSL), Null Placement Control and Treating Cancer Tumors in Biological Media

Pages 2472-2478

Taiel, Mazhar B. (et al.)

Monte Carlo Assessment of Geometric, Scatter and Septal Penetration Components in DST-XLi HEGP Collimator

Pages 2479-2482

Shafaei, M. (et al.)

Simulation of Ultrasound Parameter Distribution Influence in Ultrasonic Computed Tomography

Pages 2483-2486

Roleček, Jiří (et al.)

Monte Carlo based calculation of patient exposure in X-ray CT-examinations

Pages 2487-2490

Schmidt, Ralph (et al.)

Heat transfer analysis software adapted to skin burn depth simulations

Pages 2491-2494

Bajorek, M. K. (et al.)

Changes in the length of the sacrospinous and sacrotuberous ligaments induced by Salter osteotomy: a computer simulation

Pages 2495-2498

Bartels, Ward (et al.)

Virtual Stenting for Carotid Stenosis with Elastic Artery Wall Modeling

Pages 2499-2502

Egger, J. (et al.)

Contact Configuration and Energy Consumption in Spinal Cord Stimulation

Pages 2503-2506

Vos, C. C. (et al.)

Adaption of Mathematical Ion Channel Models to measured data using the Particle Swarm Optimization

Pages 2507-2510

Seemann, Dr. Gunnar (et al.)

Localization of the Origin of Ventricular Premature Beats by Reconstruction of Electrical Sources Using Spatio-Temporal MAP-based Regularization

Pages 2511-2514

Jiang, Yuan (et al.)

System Identification of Neonatal Incubator based on Adaptive ARMAX Technique

Pages 2515-2519

Abbas, Abbas K. (et al.)

A Convolution-based Methodology to Simulate Cardiac Ultrasound Data Sets: Integration of Realistic Beam Profiles

Pages 2520-2523

Gao, Hang (et al.)

There is more than biphasic truncated exponential in defibrillation

Pages 2524-2527

Schönegg, M. (et al.)

Optimization of image quality and patient dose in paediatric radiology using Monte Carlo modeling

Pages 2528-2531

Penchev, P. (et al.)

Evaluation of Induced Current Densities and SAR in the Human Body by Strong Magnetic Fields around 100 kHz

Pages 2532-2535

Bohnert, Julia (et al.)

Pressure waveform estimation in the common carotid artery Different methods in comparison

Pages 2536-2539

Zaccari, Irene (et al.)

Parameter estimation of recruitment models in mechanical ventilation

Pages 2540-2543

Möller, Prof. Dr. Knut (et al.)

Time and Memory Efficient Implementation of the Cardiac Bidomain Equations

Pages 2544-2546

Karl, Meike (et al.)

A generic model of overall heart geometry for model based studies of electrical, mechanical, and ion-kinetics aspects of the heart

Pages 2548-2551

Linnenbank, André C. (et al.)

Nonlinear Finite Element Analysis of Balloon Sinuplasty

Pages 2552-2555

Cui, F. (et al.)

A mathematical speedup prediction model for parallel vs. sequential programs

Pages 2556-2559

Overhoff, Heinrich Martin (et al.)

Model-Based Method of Non-Invasive Reconstruction of Ectopic Focus Locations in the Left Ventricle

Pages 2560-2563

Farina, Dr. Dmytro (et al.)

Engineering Support in Surgical Strategy for Ventriculoplasty

Pages 2564-2567

Shiraishi, Yasuyuki (et al.)

Simulation-based femoro-popliteal bypass surgery

Pages 2568-2570

Willemet, M. (et al.)

An applicability of Impedance Technique in evaluation of cardiac resynchronization therapy

Pages 2571-2574

Lewandowska, Magdalena (et al.)

Porcine model for CPR artifact generation in ECG signals

Pages 2575-2578

Mendez, A. C. (et al.)

Design and Assessment of Fuzzy Rules by Multi Criteria Optimization to Classify Anaesthetic Stages

Pages 2579-2582

Baumgart-Schmitt, R. (et al.)

Impact of the hERG Channel Mutation N588K on the Electrical Properties of the Human Atrium

Pages 2583-2586

Carrillo, Paola (et al.)

The Effect of Laser Characteristics in the Generation and Propagation of Laser Generated Guided Waves in Layered-skin Model

Pages 2587-2591

L'Etang, Adèle (et al.)

A Mesh-Based Model for Prediction of Initial Tooth Movement

Pages 2593-2595

Bondt, Kris (et al.)

Recipe Suggestion System

Pages 2596-2599

Morita, Satoshi (et al.)

An Object-oriented Model of the Cardiovascular System with a Focus on Physiological Control Loops

Pages 2600-2603

Brunberg, Dipl.-Ing. Anja, M.S. (et al.)

Computer Simulations of a Blood Flow Behavior in Simplified Stenotic Artery Subjected to Strong Non-Uniform Magnetic Fields

Pages 2604-2608

Kenjeres, Dr. Sasa (et al.)

A Multiphysics Model for Studying the Influence of Pulse Repetition Frequency on Tissue Heating During Electrochemotherapy

Pages 2609-2613

LackoviĆ, Igor (et al.)

Transient Simulation of the Blood Flow in the thoracic Aorta based on MRI-Data by Fluid-Structure-Interaction

Pages 2614-2618

Bongert, Dipl.-Ing. Markus (et al.)

Micro-gripping of Small Scale Tissues

Pages 2619-2622

Mackay, R. E. (et al.)

Optimizing drug delivery using non-uniform magnetic fields: a numerical study

Pages 2623-2627

Haverkort, J. W. (et al.)

A real bicycle simulator in a virtual reality environment: the FIVIS project

Pages 2628-2631

Schulzyk, Oliver (et al.)

Influence of body worn wireless mobile devices on implanted cardiac pacemakers

Pages 2632-2635

Seitz, Sebastian (et al.)

Co-simulation approach for the design of MRI RF coils and its application to local SAR distribution

Pages 2636-2639

Smajic-Peimann, Sylvia (et al.)

Effect Of Prism Induced Heterophoria On Binocular Visual Evoked Potential

Pages 2640-2643

Shushtarian, S. M. (et al.)

Experimental and Numerical Flow Modeling towards Refinement of Three-dimensional Echocardiography for Heart Valve Leakage Quantification

Pages 2644-2647

Ransbeeck, Peter (et al.)

A Model for the Regulation of the Ca

Pages 2648-2650

Dabu, Cristina Maria

Mathematical modeling of fracture healing: coupling between mechanics, angiogenesis and osteogenesis

Pages 2651-2654

Geris, Liesbet (et al.)

Numerical Study of Effects of Bladder Filling on Prostate Positioning In Radiotherapy

Pages 2655-2658

Krywonos, J. (et al.)

Time course of electrical and diffusional parameters during and after electroporation

Pages 2659-2663

Miklavcic, D. (et al.)

Multivariate Calibration Models to Estimate Non-invasively Blood Glucose Levels Based on A Novel Optical Technique Named Pulse Glucometry

Pages 2664-2667

Yamakoshi, Yasuhiro (et al.)

Functional analysis of Normal and CSNB

Pages 2668-2671

Barraco, R. (et al.)

Temperature distribution assessment during radiofrequency ablation

Pages 2672-2676

Tatoń, G. (et al.)

Numerical Modeling of Perfusion Flow in Irregular Scaffolds

Pages 2677-2680

Ransbeeck, P. (et al.)

Return Time of Heart Dynamics

Pages 2681-2685

Ariaei, F. (et al.)

How to shift the human sleep-wake cycle: a simulation study incorporating monochromatic blue light

Pages 2686-2690

Heinze, C. (et al.)

Benchmarking Different Models describing Sinus Node Heterogeneity

Pages 2691-2694

Wilhelms, Mathias (et al.)

A Computational Modeling Study of the Effects of Acoustic Trauma on the Dorsal Cochlear Nucleus

Pages 2695-2698

Zheng, X. (et al.)

It Takes Two to Tango: Regulation of Sarcoplasmic Reticulum Calcium ATPase by CaMK and PKA in a Mouse Cardiac Myocyte

Pages 2699-2702

Koivumäki, Jussi (et al.)

Reconstruction of Ectopic Foci Using the Critical Point Theory

Pages 2703-2706

Reimund, Verena (et al.)

An Non-traditional Career Evolution: Replacing the Leaders

Pages 2707-2713

Marinescu, Professor Gabriela, Ph. D.

The role of biomedical engineers in systems / synthetic biology

Pages 2714-2717

Crowe, J. A.

Cooperative Education Program in Medical Equipment Technology Education

Pages 2718-2721

Alhamwi, Ahmad (et al.)

Sustainable System Understanding & Empathic Product Design — A Custom-Built Qualification Concept for Biomedical Engineers

Pages 2722-2725

Marsolek, Dr.-Ing. Ingo (et al.)

By legislation driven BME curriculum at VSB TU Ostrava

Pages 2726-2729

Cernohorsky, Jindrich (et al.)

Assistive Technologies: New Challenges for Education

Pages 2730-2733

Klima, Milos (et al.)

B-AEHS: a formal model for Adaptive Educational Hypermedia System in a Biomedical Project Evaluation

Pages 2734-2737

Almeida, Maria Aparecida Fernandes (et al.)

EVICAB - Biomedical Engineering Program on the Internet including Video Files for iPod

Pages 2738-2741

Malmivuo, Jaakko (et al.)

Current Status of Biomedical Engineering Education Programs in Austria

Pages 2742-2745

Schröttner, Dr. Jörg

BME master studies as project-oriented learning at CTU Prague

Pages 2746-2748

Rogalewicz, Vladimír (et al.)

Dual Education in Biomedical Engineering at Berufsakademie Sachsen

Pages 2749-2752

Schmitt, Thomas (et al.)

Assessing the educational status of clinicians concerning mechanical ventilation

Pages 2753-2756

Gottlieb, Dominik (et al.)

TheraGnosos: an Interactive Blended Learning, Simulation and Training System for Biomedical Engineering University Courses

Pages 2757-2759

Morgenstern, PD Dr.-Ing. Ute (et al.)

Biomedical Engineering Education: New Curricula, New Experience

Pages 2760-2763

Lhotska, Lenka

Using Open Structure Database for Teaching Designing Health Information System

Pages 2764-2767

Patasiene, Irena (et al.)

Curriculum of Bachelor Studies - Biomedical Technician at the Czech Technical University

Pages 2768-2771

Charfreitag, Jaroslav (et al.)

Design and Development of Virtual Scenes using 3D models for Computer-Assisted Learning

Pages 2772-2775

Colmenares, Laybet (et al.)

Time and Memory Efficient Implementation of the Cardiac Bidomain Equations

Pages e1-e1
Buy this book
eBook $549.00

price for USA in USD

ISBN 978-3-540-89208-3
Digitally watermarked, DRM-free
Included format: PDF
ebooks can be used on all reading devices
Immediate eBook download after purchase

Softcover $699.99

price for USA in USD

ISBN 978-3-540-89207-6
Free shipping for individuals worldwide
Institutional customers should get in touch with their account manager
This title is currently reprinting. You can pre-order your copy now.
Services for this Book
Recommended for you
Bibliographic Information
Book Title

4th European Conference of the International Federation for Medical and Biological Engineering 23 - 27 November 2008, Antwerp, Belgium

Editors

Jos van der Sloten
Pascal Verdonck
Marc Nyssen
Jens Haueisen

Series Title

Series Volume

22

Copyright

2009

Publisher

Springer-Verlag Berlin Heidelberg

Copyright Holder

Springer-Verlag Berlin Heidelberg

eBook ISBN

978-3-540-89208-3

DOI

10.1007/978-3-540-89208-3

Softcover ISBN

978-3-540-89207-6

Series ISSN

1680-0737

Edition Number

1

Number of Pages

CXLIV, 2808

Topics