Mindfulness in Behavioral Health
Free Preview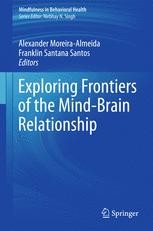 Exploring Frontiers of the Mind-Brain Relationship
Editors: Moreira-Almeida, Alexander, Santana Santos, Franklin (Eds.)
Free Preview
Reviews recent research findings from neuroscience and neurotechnology
Examines the relationship between mind and brain through both scientific and philosophical perspectives
Provides a unique window through which researchers can glimpse the intricate workings of the human brain
Explores the scientific advances – and limitations – that currently exist in understanding the human mind
Addresses controversial and challenging topics about the mind-brain problem often neglected in academic debates
Provides an excellent opportunity to gain a more precise and comprehensive understanding of the human mind
see more benefits
Buy this book
eBook $84.99

price for USA in USD

ISBN 978-1-4614-0647-1
Digitally watermarked, DRM-free
Included format: EPUB, PDF
ebooks can be used on all reading devices
Immediate eBook download after purchase

Hardcover $159.99

price for USA in USD

ISBN 978-1-4614-0646-4
Free shipping for individuals worldwide
Institutional customers should get in touch with their account manager
Usually ready to be dispatched within 3 to 5 business days, if in stock

Softcover $109.99

price for USA in USD

ISBN 978-1-4614-6020-6
Free shipping for individuals worldwide
Institutional customers should get in touch with their account manager
Usually ready to be dispatched within 3 to 5 business days, if in stock
The conscious mind defines human existence. Many consider the brain as a computer, and they attempt to explain consciousness as emerging at a critical, but unspecified, threshold level of complex computation among neurons. The brain-as-computer model, however, fails to account for phenomenal experience and portrays consciousness as an impotent, after-the-fact epiphenomenon lacking causal power. And the brain-as-computer concept precludes even the remotest possibility of spirituality. As described throughout the history of humankind, seemingly spiritual mental phenomena including transcendent states, near-death and out-of-body experiences, and past-life memories have in recent years been well documented and treated scientifically. In addition, the brain-as-computer approach has been challenged by advocates of quantum brain biology, who are possibly able to explain, scientifically, nonlocal, seemingly spiritual mental states.

Exploring Frontiers of the Mind-Brain Relationship argues against the purely physical analysis of consciousness and for a balanced psychobiological approach. This thought-provoking volume bridges philosophy of mind with science of mind to look empirically at transcendent phenomena, such as mystic states, near-death experiences and past-life memories, that have confounded scientists for decades. Representing disciplines ranging from philosophy and history to neuroimaging and physics, and boasting a panel of expert scientists and physicians, including Andrew Newberg, Peter Fenwick, Stuart Hameroff, Mario Beauregard, Deepak Chopra, and Chris Clarke the book rigorously follows several lines of inquiry into mind-brain controversies, challenging readers to form their own conclusions—or reconsider previous ones.

Key coverage includes:

Objections to reductionistic materialism from the philosophical and the scientific tradition.
Phenomena and the mind-brain problem.
The neurobiological correlates of meditation and mindfulness.
The quantum soul, a view from physics.
Clinical implications of end-of-life experiences.
Mediumistic experience and the mind-brain relationship.

Exploring Frontiers of the Mind-Brain Relationship is essential reading for researchers and clinicians across many disciplines, including cognitive psychology, personality and social psychology, the neurosciences, neuropsychiatry, palliative care, philosophy, and quantum physics.

"This book … brings together some precious observations about the fundamental mystery of the nature of consciousness … It raises many questions that serve to invite each of us to be more aware of the uncertainty of our preconceptions about consciousness … This book on the frontiers of mind-body relationships is a scholarly embodiment of creative and open-minded science."

C. Robert Cloninger, MD
Wallace Renard Professor of Psychiatry, Genetics, and Psychology,
Washington University School of Medicine
St. Louis MO

Alexander Moreira-Almeida, M.D., Ph.D., was trained in psychiatry and cognitive-behavioral therapy at Institute of Psychiatry of the University of São Paulo, Brazil, where he also obtained his Ph.D. in Health Sciences investigating the mental health of Spiritist mediums. Formerly a postdoctoral fellow in religion and health at Duke University, he is now Professor of Psychiatry at the Federal University of Juiz de Fora School of Medicine and Founder and Director of the Research Center in Spirituality and Health, Brazil (www.ufjf.br/nupes-eng). His main research interest involves empirical studies of spiritual experiences as well as the methodology and epistemology of this research field. His publications are available at www.hoje.org.br/elsh.

Franklin Santana Santos, M.D., Ph.D., was trained in geriatrics at Clinical Hospital of the University of São Paulo, Brazil, where he also obtained his PhD in Health Sciences investigating delirium in elderly patients. Formerly a postdoctoral fellow in cognitive disturbances at Karolinska Institute (Sweden), he is now Professor of post-graduate program of University of São Paulo School of Medicine and collaborator researcher of Laboratory of Neuroscience (LIM-27) at Institute of Psychiatry of the University of São Paulo, Brazil. He is a leader in the studies in issues related to death, dying and Palliative Care in Brazil. His main research interest involves cognitive disturbances, thanatology, palliative care and medical education, topics about he has published several articles and books.

"Exploring Frontiers of the Mind-Brain Relationship is an important contribution. It provides a balance of the purely physical analyses of consciousness with the psychobiological. In this way, it attempts to bridge mind philosophy with science. It empirically examines transcendent phenomena, such as mystical altered states, near-death experiences, end-of-life, mediumistic experiences, and past-life memories. Consequently, this book's 12 chapters confront the hard scientific dilemmas, and its cast of scientists should be commended."

Vernon M. Neppe
Pacific Neuropsychiatric Institute
Journal of Parapsychology
Vol. 77, no. 1., Spring 2013

---

"Alexander Moreira-Almeida and Franklin Santana Santos have edited an excellent volume of essays, all written from a nonphysicalist perspective. Two major strengths of the book are: (1) the inclusion of parapsychology as a science particularly suited to work on the mind–body problem; and (2) recognizing the contribution of spiritual experiences, including experiences near death, to the mind–body problem. Such approaches are too often ignored by 'mainstream' philosophy and science."

Michael Potts
Methodist University
Fayetteville, NC, U.S.A.
Journal of the Society for Psychical Research
Vol. 77.1, No. 910

---

"The chapters are well written, clear and concise, with accessible language for the general public. Although they can be read individually, the different chapters have been integrated to allow the reader to follow the argumentation, leading them to the main point of the book which is a critique of the use of a purely reductionist and materialistic view to understand certain experiences of the human mind... I congratulate the editors and authors for this work and recommend this book not only to those interested in this topic, but also to those who want to have a broader view on a variety of human experiences and their implications for clinical practice."

Homero Vallada
Associate Professor Department of Psychiatry University of Sao Paulo Medical School (FMUSP), Sao Paulo, SP, Brazil
Revista de Psiquiatria Clínica
Rev. psiquiatr. clín. vol.40 no.2 São Paulo  2013

---

"This book is recommended as a 'must read' - not just because its editors represent the scientific, scholastic and spiritual traditions of Brazil... but because its content summarises a raging controversy in this field and helps the reader to cross boundaries... The Editors have done a good job in throwing down the gauntlet to the materialist researchers."

John Cox
Psyche and Spirit
Vol 2. Issue 1. February 2013

---

"This is an unusually good post-conference book and would be an excellent way into the relevant concepts and literature. An underlying theme is that a reductionist, materialist approach is inadequate to explain certain experiences – mind is more than a product or epiphenomenon of the brain. Most scientists adopt a materialist view or so-called 'promissory materialism' (that this belief will be scientifically demonstrated in the future), but we are reminded here that science should not be conflated with materialism."

Roger Farmer
The British Journal of Psychiatry
February 2013 202:159
---

"This is an excellent series of discussions, heavily referenced from relevant research publications, considering diverse views of the relationships between mind and brain. It includes sections on  hilosophy and History; Physics; Functional Neuroimaging; and Human Experiences.

The strengths of this book are in its careful dissection of dualistic theories of consciousness, demonstrating their limitations and deficiencies and in its consideration of consciousness transcending the physical body. The well argued and well referenced analyses of  eductionistic theories of mind-brain relationships would be helpful to anyone seriously asking questions about whether mind is anything  more than a manifestation of the brain."

International Journal of Healing and Caring
September, 2012, Volume 12, No. 3
Daniel J. Benor, MD, ABIHMEditor-in-Chief

---

"The book's theme is widely interesting. Hardly anyone in contact with the human mind won't be interested in the mind-brain relationship. Whether a lay person, a practitioner or researcher, or out of mere curiosity, that person will certainly be drawn to the book. It is an invitation to satisfy our curiosity about the mysteries of the human mind."

Revista Brasileira de Psiquiatria
Official Journal of the Brazilian Psychiatric Association
Volume 34, Number 3, August/2012

---

"Although dogmatic materialism is the monarch of contemporary Western philosophy and science, contributors to this splendid book remind me of the brash lad in the classic fable who shouted, "But the emperor has no clothes!" Some readers will agree with this observation while others will find it an outrageous heresy. But as they wend their way through each articulately stated and meticulously argued chapter, they will never succumb to boredom. It is the type of book that will haunt its readers long after the last chapter is read."

Stanley Krippner, Ph.D.
Professor of Psychology, Saybrook University
Co-editor,  Debating Psychic Experience: Human Potential or Human Delusion?  

----

"This is really a thorough and up-to-date study of so-called anomalous spiritual phenomena. Instead of reducing these phenomena into exceptions to the general rule, the authors do not hesitate to widen the frame of interpretation. As is argued against a naïve epistemological stance, their open-minded inquiry is really a challenge and the authors managed to give us a fruitful perspective on their scholarly and multidisciplinary well documented efforts. I recommend this book to all psychiatrists, as well as professionals in theology and psychology of religion."



Peter J. Verhagen, M.D.
Psychiatrist
Chair of the World Psychiatric Association Section on Religion, Spirituality and Psychiatry

----

"It has become almost of a mantra in recent years to repeat that consciousness and mind are caused by brain processes and that it is only a matter of time before the neurosciences reveal all there is to know about them. As this important book shows, the fact that we now know a lot more about brain correlates of mental processes has not changed a number of awkward problems for a purely materialistic account of the mind, including how to solve the hard problem of consciousness and explain ordinary processes such as memory or less ordinary processes such as apparent psi phenomena. The contributors to this volume cover the essential areas in this discussion (philosophy, history, contemporary neuroscience, physics, and various anomalous experiences) and provide a cogent and scientifically based discussion that evidences that mind-brain relationships are far from definitely "explained" or obvious as a number of materialist authors have opined recently."

Etzel Cardeña, Ph.D.
Thorsen Professor, Lund University, Sweden
Co-editor of Altering Consciousness: A Multidisciplinary Perspective and Varieties of Anomalous Experience.
Table of contents (12 chapters)

Materialism's Eternal Return: Recurrent Patterns of Materialistic Explanations of Mental Phenomena

Pages 3-15

The Major Objections from Reductive Materialism Against Belief in the Existence of Cartesian Mind–Body Dualism

Pages 17-33

Psychic Phenomena and the Mind–Body Problem: Historical Notes on a Neglected Conceptual Tradition

Pages 35-51

No-Collapse Physics and Consciousness

Pages 55-78

The "Quantum Soul": A Scientific Hypothesis

Pages 79-93
Buy this book
eBook $84.99

price for USA in USD

ISBN 978-1-4614-0647-1
Digitally watermarked, DRM-free
Included format: EPUB, PDF
ebooks can be used on all reading devices
Immediate eBook download after purchase

Hardcover $159.99

price for USA in USD

ISBN 978-1-4614-0646-4
Free shipping for individuals worldwide
Institutional customers should get in touch with their account manager
Usually ready to be dispatched within 3 to 5 business days, if in stock

Softcover $109.99

price for USA in USD

ISBN 978-1-4614-6020-6
Free shipping for individuals worldwide
Institutional customers should get in touch with their account manager
Usually ready to be dispatched within 3 to 5 business days, if in stock
Services for this Book
Bibliographic Information
Book Title

Exploring Frontiers of the Mind-Brain Relationship

Editors

Alexander Moreira-Almeida
Franklin Santana Santos

Series Title

Copyright

2012

Publisher

Springer-Verlag New York

Copyright Holder

Springer Science+Business Media, LLC

eBook ISBN

978-1-4614-0647-1

DOI

10.1007/978-1-4614-0647-1

Hardcover ISBN

978-1-4614-0646-4

Softcover ISBN

978-1-4614-6020-6

Series ISSN

2195-9579

Edition Number

1

Number of Pages

XXIX, 243

Number of Illustrations

30 b/w illustrations, 5 illustrations in colour

Topics