Spectroscopic Data of Steroid Glycosides
Free Preview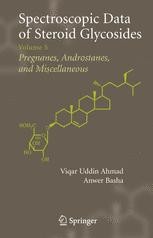 Spectroscopic Data of Steroid Glycosides
Volume 5
Editors: Ahmad, Viqar Uddin, Basha, Anwer (Eds.)
Free Preview
This is Volume Five
Compiles spectroscopic, physical and biological activity data of over 3500 steroid glycosides
The first work of its kind in the field of steroid glycosides
Includes data from Chinese publications which are generally not available in Western countries
see more benefits
Buy this book
eBook $389.00

price for USA in USD

ISBN 978-0-387-39578-4
Digitally watermarked, DRM-free
Included format: PDF
ebooks can be used on all reading devices
Immediate eBook download after purchase

Hardcover $499.99

price for USA in USD

ISBN 978-0-387-31164-7
Free shipping for individuals worldwide
Institutional customers should get in touch with their account manager
Usually ready to be dispatched within 3 to 5 business days, if in stock

Softcover $499.99

price for USA in USD

ISBN 978-1-4419-2170-3
Free shipping for individuals worldwide
Institutional customers should get in touch with their account manager
Usually ready to be dispatched within 3 to 5 business days, if in stock
Spectroscopic Data of Steroid Glycosides

Dr. Viqar Uddin Ahmad, HEJ Research Institute of Chemistry, University of Karachi, Karachi, Pakistan

Dr. Anwer Basha, Abbott Laboratories , Abbott Park, Illinois, USA

Spectroscopic Data of Steroid Glycosides serves as an essential reference guide containing spectroscopic, physical and biological activity data of over 3500 steroid glycosides, offering the structures and the data of the naturally occurring glycosides of steroids. All compounds are arranged according to the structure of the aglycone, and, in its own class, according to the increasing molecular weight, making Spectroscopic Data of Steroid Glycosides extremely useful for the structure elucidation of new natural products, particularly glycosides.

Spectroscopic Data of Steroid Glycosides offers a practical desk reference for all scientists and students interested in steroid glycosides and their biological and medicinal importance.

The following data of the steroid glycosides, as available in published literature, are included:

Name of the compound

Chemical name of compound and its structure

Source, name of the genus, species, authors, family of the biological source from which the glycoside has been isolated.

Melting point

Specific rotation

Molecule weight

Molecular formula

UV spectral data : maxima, e or log e , solvent

IR peaks in cm-1 with medium in which the spectrum was taken e.g. KBr, nujol, etc

Proton magnetic resonance (PMR) chemical shifts, multiplicity of the peaks, coupling constants with assignments

13
C-NMR (CMR) chemical shifts with assignments

Mass spectral data with the technique used (e.g. Electron Impact (E.I.), Fast Atom Bombardment (FAB), positive ion or negative ion mode or any other technique

CD or ORD data

Biological Activity

Full reference from which data have been taken

Professor Viqar Uddin Ahmad has been associated with the HEJ Research Institute of Chemistry since its establishment in 1967. Prof. Viqar's currents interests are on isolation and structure elucidation of new natural products. Some of them have interesting biological activities. For example: VArious eudesmane sesquiterpenes which showed antibacterial activity against Escherichia coli, Klebsiella ozaenoe, K. pneumonieae, Proteus vulgaris, Shigella boddi, Staphylococcus aureus, S. pyogenes andB. anthracis; some triterpenoidal and steroidal saponins exhibited toxicity in Brine Shrimp Lethality bioassay and antibacterial activity against Pseudomonas pseudomaliae, Co-rynebactterium xerosis etc. One of the saponins isolated from a Trukish plant manifested hypotensive activity in anaesthetized rat.

Prof. Viqar Uddin Ahmad availed a Fulbright Fellowship of nine months in 1993. during his stay at Cornell University, Itacha, USA. Prof. Viqar Uddin Ahmad worked on the twelve step total synthesis of and alkaloid isolated from an insect. Prof. Viqar also dilivered lecturers in the chemistry departments of Central Michighan University, Michighan, Georgia Tech, Atlanta, georgia, State University, Atlanta, Georgia and Cornell University, Ithaca.
Table of contents (623 chapters)

Holacurtine

Pages 2785-2785

Holocurtinol

Pages 2786-2786

4′-O-Acetylpregnedioside A

Pages 2787-2787

3′-O-Acetylpregnedioside A

Pages 2787-2788

4′-O-Acetylpregnedioside B

Pages 2788-2788

Lobophytum Glycoside 1

Pages 2789-2789

Holantosine A

Pages 2790-2790

Holantosine C

Pages 2791-2791

Holantosine E

Pages 2792-2792

Periplocoside L

Pages 2793-2793

Carumbelloside Ii

Pages 2794-2794

Centaurea Moschata Saponin 1

Pages 2795-2795

Cordyline Stricta Saponin 8

Pages 2796-2796

Rubus Amabilis Saponin 1

Pages 2797-2797

Balanites Aegyptiaca Saponin 1

Pages 2798-2798

Hapaioside

Pages 2798-2799

Eunicea Laciniata Glycoside 1

Pages 2799-2800

Muricea Glycoside 2

Pages 2800-2801

Amaloside D

Pages 2801-2801

Digifolein

Pages 2802-2802

Digitalonin

Pages 2803-2803

Lanafolein

Pages 2803-2804

Amaloside C

Pages 2804-2804

Cynanformoside C

Pages 2805-2805

Marsdenia Formosana Saponin MF-C

Pages 2806-2806

Nerium Indicum Saponin 2

Pages 2806-2807

Cynanformoside A

Pages 2807-2807

Marsdenia Formosana Saponin MF-D

Pages 2808-2808

Sioraside

Pages 2808-2809

Verrucoside

Pages 2809-2810

Digipronin

Pages 2810-2810

Basikoside B

Pages 2811-2811

Cynanchum Caudatum Saponin 1

Pages 2812-2812

Metaplexis Japonica Saponin 1

Pages 2812-2813

Cynanformoside B

Pages 2813-2813

Forbeside E 3

Pages 2814-2814

Forbeside E 1

Pages 2815-2815

Periplocoside M

Pages 2816-2816

Forbeside E 2

Pages 2817-2817

Heminin(E)

Pages 2818-2818

Sansevieria Trifasciata Saponin 15

Pages 2819-2819

Basikoside C

Pages 2820-2820

Nerium Odorum Saponin 5

Pages 2821-2821

Spongiopregnoloside A

Pages 2822-2822

Spongiopregnoloside B

Pages 2823-2823

Teikaside A-Ia

Pages 2824-2824

Muricin-1

Pages 2826-2826

Dregoside A

Pages 2827-2827

Marsdenia Formosana Saponin MF-A

Pages 2828-2828

Denicunine

Pages 2829-2829

Teikaside A-Ib

Pages 2830-2830

Deniculatin

Pages 2831-2831

Biondianoside C

Pages 2832-2832

Periplocoside O

Pages 2833-2833

Hemidescine

Pages 2834-2834

Cynaphylloside A

Pages 2835-2835

Teikaside AL-Ic

Pages 2836-2836

Caratuberside A2

Pages 2837-2837

Gymnepregoside I′

Pages 2838-2838

Caratuberside A

Pages 2839-2839

Russelioside A

Pages 2840-2840

Russelioside C

Pages 2841-2841

Carumbelloside I

Pages 2842-2842

Muricin-2

Pages 2843-2843

Muricin-3

Pages 2844-2844

Caratuberside B

Pages 2845-2845

Nerium Indicum Saponin 1

Pages 2846-2846

Cariensisode

Pages 2847-2847

Tenacissoside F

Pages 2849-2849

Cynanchum Caudatum Saponin 8

Pages 2850-2850

Cynanchum Caudatum Saponin 9

Pages 2851-2851

Gongronema Latifolium Glycoside 1

Pages 2853-2853

Gymnepregoside G′

Pages 2854-2854

Biondianoside E

Pages 2855-2855

Teikaside C-O

Pages 2857-2857

Marsformsadin 3-O-β-D-Cymaropyranoside

Pages 2858-2858

Cheliferoside L1

Pages 2859-2859

Dioscorea Tenuipes Glycoside U

Pages 2860-2860

Gongronema Latifolium Glycoside 2

Pages 2861-2861

Forbeside E

Pages 2862-2862

Muricin-4

Pages 2863-2863

Metaplexis Japonica Saponin 2

Pages 2865-2865

Carthamus Tinctorius Saponin 1

Pages 2866-2867

Gongronema Latifolium Glycoside 3

Pages 2867-2868

Gongronema Latifolium Glycoside 4

Pages 2868-2868

Hemoside A

Pages 2870-2870

Pallidine

Pages 2871-2871

Sansevieria Trifasciata Saponin 16

Pages 2872-2873

Deacetylmarsformoside

Pages 2873-2874

Purpronin

Pages 2874-2874

Basikoside D

Pages 2875-2875

Digipurpurin

Pages 2876-2876

Caralluma Retrospiciens Saponin 1

Pages 2877-2877

Leptadenia Hastata Saponin 1

Pages 2878-2878

Cynanchum Caudatum Saponin 27

Pages 2879-2879

Hypoglaucin H, Paris Polyphylla Saponin P-d

Pages 2880-2881

Sansevieria Trifasciata Saponin 13

Pages 2881-2882

Dioscorea Tenuipes Glycoside S

Pages 2882-2883

Gymnepregoside H′

Pages 2883-2883

Cynanchum Caudatum Saponin 28

Pages 2884-2884

Dracaenoside C

Pages 2885-2885

Pregnadienolone 3-O-β-Gracillimatriose

Pages 2886-2886

Tribulus Cistoides Saponin 16

Pages 2887-2888

Teikaside A-IIc

Pages 2888-2888

Brevinine

Pages 2889-2889

Balagyptin

Pages 2890-2890

Moschatine

Pages 2891-2891

Tenacissimoside A, Tenacissoside G

Pages 2892-2892

Marsformoside

Pages 2893-2893

Tenacissimoside C, Tenacissoside H

Pages 2894-2894

Penicilloside A

Pages 2895-2895

Mandevilla Pentlandiana Saponin 1

Pages 2896-2896

Asclepias Incarnata Saponin 66

Pages 2897-2897

Dioscorea Futschauensis Saponin 3

Pages 2898-2898

Cynafoside C′

Pages 2900-2900

Leptadenia Hastata Saponin 2

Pages 2901-2901

Teikaside A-IIa

Pages 2902-2902

Teikaside A-IIb

Pages 2903-2903

Dioscorea Futschauensis Saponin 2

Pages 2904-2904

Spongiopregnoloside D

Pages 2905-2905

Dracaenoside D

Pages 2906-2906

Leptaculatin

Pages 2907-2908

Periploca Sepium Glycoside K

Pages 2908-2908

Plocoside A

Pages 2909-2909

Biondianoside D

Pages 2910-2910

Nerium Odorum Saponin 4

Pages 2911-2911

Sansevieria Trifasciata Saponin 14

Pages 2912-2912

Dracaenoside A

Pages 2913-2913

Tenacissimoside B, Tenacissoside I

Pages 2914-2914

Cynaphylloside B

Pages 2915-2915

Cynanchum Caudatum Saponin 4

Pages 2916-2916

Cynanchum Caudatum Saponin 5

Pages 2917-2917

Cynanchum Caudatum Saponin 6

Pages 2918-2918

Cynanchum Caudatum Saponin 7

Pages 2919-2919

Dregeoside D

Pages 2920-2920

Teikaside BL-Ic

Pages 2921-2921

Wilfoside C 3N

Pages 2922-2922

Dregeoside H

Pages 2923-2923

Teikaside AL-IId

Pages 2924-2924

Caratuberside E

Pages 2925-2925

Carumbelloside III

Pages 2926-2927

Medidesmine

Pages 2927-2928

Periploca Sepium Saponin S-10

Pages 2928-2929

Russelioside B

Pages 2929-2929

Russelioside D

Pages 2930-2930

Caratuberoside C

Pages 2931-2931

Caratuberoside D

Pages 2932-2932

Metaplexis Japonica Saponin 12

Pages 2933-2933

Dregeoside B′

Pages 2934-2934

Metaplexis Japonica Saponin 3

Pages 2935-2935

Asclepias Incarnata Saponin 31

Pages 2936-2936

Sinomarinoside D

Pages 2937-2937

Stavaroside H

Pages 2938-2938

Sinomarinoside A

Pages 2939-2939

Dracaenoside B

Pages 2940-2940

Dresioside I

Pages 2941-2941

Marsdekoiside D

Pages 2942-2942

Digacetinin

Pages 2943-2943

Asclepias Incarnata Saponin 65

Pages 2944-2944

Metaplexis Japonica Saponin 4

Pages 2945-2945

Metaplexis Japonica Saponin 13

Pages 2946-2946

Taiwanoside A

Pages 2948-2948

Esculentin

Pages 2949-2949

Hosta Plantaginea Saponin 1

Pages 2950-2951

Leptadenia Hastata Saponin 18

Pages 2952-2952

Metaplexis Japonica Saponin 5

Pages 2953-2953

Desmisine

Pages 2954-2955

Neomarinoside

Pages 2956-2957

Pallidinine

Pages 2957-2958

Hancoside A

Pages 2958-2959

Dregeoside K

Pages 2959-2960

Asclepias Fruticosa Saponin 1

Pages 2961-2962

Asclepias Fruticosa Saponin 22

Pages 2962-2963

Asclepias Incarnata Saponin 33

Pages 2964-2964

Asclepias Incarnata Saponin 34

Pages 2965-2965

Condurangoside A

Pages 2966-2967

Calotroposide G

Pages 2967-2968

Namonin F

Pages 2968-2969

Cynanchum Caudatum Saponin 39

Pages 2969-2970

Cynanchum Caudatum Saponin 42

Pages 2970-2970

Bouceroside - ADC

Pages 2971-2972

Bouceroside - ADO

Pages 2972-2973

Leptadenia Hastata Saponin 3

Pages 2973-2974

Bouceroside - ANC

Pages 2974-2975

Bouceroside - ANO

Pages 2976-2976

Cynanchoside C

Pages 2977-2977

Cynanchoside C

Pages 2978-2978

Cynanchum Caudatum Saponin 15

Pages 2979-2979

Cynanchum Caudatum Saponin 29

Pages 2980-2980

Cynanchum Caudatum Saponin 38

Pages 2981-2981

Sinomarinoside E

Pages 2982-2982

Telosmoside A

Pages 2984-2984

Asclepias Fruticosa Saponin 2

Pages 2985-2986

Asclepias Fruticosa Saponin 3

Pages 2986-2987

Asclepias Fruticosa Saponin 23

Pages 2987-2988

Asclepias Incarnata Saponin 47

Pages 2988-2989

Asclepias Incarnata Saponin 48

Pages 2989-2990

Indicusin

Pages 2990-2991

Stavaroside F

Pages 2992-2992

Sinomarinoside C

Pages 2993-2994

Asclepias Incarnata Saponin 38

Pages 2994-2994

Asclepias Incarnata Saponin 40

Pages 2995-2995

Stavaroside G

Pages 2996-2996

Cynafoside G

Pages 2997-2998

Cynanchum Caudatum Saponin 13

Pages 2998-2999

Folotsoside A

Pages 2999-3000

Leptadenia Hastata Saponin 19

Pages 3000-3001

Sarcovimiside A

Pages 3002-3003

Baseonemoside C

Pages 3003-3003

Marsdekoiside C

Pages 3004-3004

Cynanchum Caudatum Saponin 40

Pages 3005-3005

Cynanchum Caudatum Saponin 14

Pages 3006-3006

Penicilloside F

Pages 3007-3008

Penicilloside G

Pages 3008-3009

Dregeoside

Pages 3009-3010

Periplocoside C

Pages 3010-3011

Cynanchum Caudatum Saponin 16

Pages 3011-3012

CYnanchum Caudatum Saponin 30

Pages 3012-3013

Otophylloside B

Pages 3013-3014

Carumbelloside IV

Pages 3014-3015

Asclepias Tuberosa Saponin 4

Pages 3015-3016

Cynanchum Caudatum Saponin 11

Pages 3016-3017

Telosmoside A

Pages 3017-3018

Asclepias Fruticosa Saponin 4

Pages 3018-3019

Asclepias Fruticosa Saponin 24

Pages 3019-3020

Asclepias Fruticosa Saponin 25

Pages 3021-3022

Asclepias Fruticosa Saponin 26

Pages 3022-3023

Asclepias Incarnata Saponin 60

Pages 3023-3023

Asclepias Incarnata Saponin 61

Pages 3024-3024

Croton Ruizianus Saponin 2

Pages 3025-3026

Reticulin

Pages 3026-3027

Asclepias Incarnata Saponin 53

Pages 3028-3028

Asclepias Incarnata Saponin 54

Pages 3029-3029

Abutiloside O

Pages 3030-3031

Plocinine

Pages 3032-3033

Cynafoside E

Pages 3033-3034

Asclepias Tuberosa Saponin 14

Pages 3034-3035

Baseonemoside A

Pages 3035-3036

Spongiopregnoloside C

Pages 3036-3037

Tacca Chantrieri Saponin 9

Pages 3038-3038

Otophylloside A

Pages 3040-3040

Stavaroside E

Pages 3041-3041

Marsdekoiside B

Pages 3042-3042

Allium Tuberosum Saponin 6

Pages 3043-3043

Drebyssoside 1

Pages 3044-3044

Drebyssoside 2, Dregeoside A

Pages 3045-3045

Asclepias Tuberosa Saponin 13

Pages 3046-3046

Dregeoside G

Pages 3047-3047

Marstomentoside M

Pages 3048-3048

Asclepias Incarnata Saponin 35

Pages 3049-3049

Asclepias Incarnata Saponin 67

Pages 3050-3050

Cynaphylloside E

Pages 3051-3051

Telosmoside A

Pages 3052-3052

Asclepias Incarnata Saponin 3

Pages 3053-3053

Asclepias Incarnata Saponin 4

Pages 3054-3054

Taiwanoside E

Pages 3055-3055

Bouceroside — BDC

Pages 3056-3056

Bouceroside - BDO

Pages 3057-3058

Cynafoside D′

Pages 3058-3059

Cynanchum Caudatum Saponin 12, Leptadenia Hastata Saponin 4

Pages 3059-3060

Teikaside A

Pages 3060-3061

Teikaside A-IIIb

Pages 3061-3062

Teikaside A-IIIc

Pages 3062-3063

Teikaside A-IIId

Pages 3063-3063

Asclepias Incarnata Saponin 1

Pages 3064-3064

Bouceroside - BNC

Pages 3065-3066

Bouceroside - BNO

Pages 3066-3067

Dregeoside C

Pages 3067-3068

Lasianthoside-A

Pages 3068-3069

Stavaroside D

Pages 3069-3070

Asclepias Incarnata Saponin 49

Pages 3071-3071

Drebyssoside 3

Pages 3072-3072

Metaplexis Japonica Saponin 6

Pages 3073-3073

Mucronatoside A

Pages 3074-3075

Tenacissoside A

Pages 3075-3076

Cynaphylloside D

Pages 3076-3077

Asclepias Incarnata Saponin 64

Pages 3077-3078

Cynanchum Caudatum Saponin 10

Pages 3078-3079

Hoyacarnoside A

Pages 3079-3080

Mucronatoside B

Pages 3080-3081

Wilfoside M 1N

Pages 3081-3082

Asclepias Incarnata Saponin 32

Pages 3083-3083

Penicilloside B

Pages 3084-3084

Cynaphylloside C

Pages 3085-3085

Cynanchum Caudatum Saponin 2

Pages 3086-3087

Cynanchum Caudatum Saponin 3

Pages 3087-3088

Dregeoside D

Pages 3088-3089

Asclepias Incarnata Saponin 5

Pages 3089-3089

Asclepias Incarnata Saponin 6

Pages 3090-3090

Condurangoside B

Pages 3091-3091

Marstomentoside E

Pages 3092-3092

Sinomarinoside B

Pages 3093-3093

Condurangoside C

Pages 3095-3096

Marsdekoiside A

Pages 3097-3097

Marsdekoiside E

Pages 3098-3098

Volubiloside B

Pages 3099-3100

Tacca Chantrieri Saponin 10

Pages 3100-3101

Lasianthoside-B

Pages 3101-3102

Metaplexis Japonica Saponin 16

Pages 3102-3103

Asclepias Incarnata Saponin 62

Pages 3103-3104

Metaplexis Japonica Saponin 15

Pages 3104-3105

Asclepias Incarnata Saponin 52

Pages 3105-3105

Asclepias Incarnata Saponin 8

Pages 3106-3106

Hoyacarnoside F

Pages 3107-3107

Teikaside C-IIc

Pages 3108-3108

Stavaroside C

Pages 3109-3109

Gymnepregoside F

Pages 3110-3110

Hoyacarnoside B

Pages 3111-3111

Volubiloside C

Pages 3112-3113

Hemoside C

Pages 3113-3114

Volubiloside A

Pages 3114-3115

Metaplexis Japonica Saponin 7

Pages 3115-3116

Metaplexis Japonica Saponin 14

Pages 3117-3118

Metaplexis Japonica Saponin 17

Pages 3118-3119

Caratuberside F

Pages 3119-3120

Taiwanoside B

Pages 3120-3121

Condurangoglycoside A

Pages 3121-3122

Teikaside C-IIa

Pages 3122-3123

Teikaside C-IIb

Pages 3123-3124

Condurangoglycoside C

Pages 3124-3125

Stephanoside D

Pages 3125-3126

Gymnepregoside G

Pages 3127-3127

Gymnepregoside H

Pages 3128-3128

Hoyacarnoside G

Pages 3129-3130

Asclepias Incarnata Saponin 70

Pages 3130-3131

Stavaroside B

Pages 3131-3132

Tenacissoside B

Pages 3132-3133

Marstenacisside B

Pages 3133-3134

Asclepias Incarnata Saponin 27

Pages 3135-3136

Tenacissoside D

Pages 3136-3137

Thevetia Nerifolia Saponin 13

Pages 3137-3138

Asclepias Incarnata Saponin 87

Pages 3138-3139

Cynauricuoside B, Taiwanoside C

Pages 3139-3140

Dregealin

Pages 3140-3141

Condurangoglycoside E

Pages 3141-3142

Lanceolin

Pages 3143-3143

Asclepias Incarnata Saponin 2

Pages 3144-3144

Penicilloside D

Pages 3145-3146

Asclepias Incarnata Saponin 37

Pages 3146-3147

Stephanoside B

Pages 3147-3148

Stephanoside C

Pages 3148-3149

Stephanoside E

Pages 3149-3150

Bouceroside — CNC

Pages 3151-3152

Bouceroside — CNO

Pages 3152-3153

Asclepias Incarnata Saponin 71

Pages 3154-3154

Stavaroside A

Pages 3155-3156

Tenacissoside C

Pages 3156-3157

Asclepias Incarnata Saponin 51

Pages 3157-3158

Penicilloside E

Pages 3158-3159

Tenacissoside E

Pages 3160-3161

Asclepias Incarnata Saponin 39

Pages 3161-3162

Sarcovimiside B

Pages 3162-3163

Wilfoside W 3N

Pages 3163-3164

Carumbelloside V

Pages 3164-3165

Asclepias Incarnata Saponin 26

Pages 3166-3166

Asclepias Incarnata Saponin 36

Pages 3167-3167

Hemoside B

Pages 3168-3169

Araujia Sericifera Glycoside 12

Pages 3169-3170

Asclepias Incarnata Saponin 88

Pages 3170-3170

Asclepias Incarnata Saponin 29

Pages 3171-3171

Hoyacarnoside D

Pages 3172-3172

Caretroside A

Pages 3173-3174

Penicilloside C

Pages 3174-3175

Asclepias Incarnata Saponin 28

Pages 3175-3176

Asclepias Incarnata Saponin 50

Pages 3177-3177

Asclepias Incarnata Saponin 84

Pages 3178-3179

Stephanoside K

Pages 3179-3180

Stephanoside M

Pages 3180-3181

Dregeoside K

Pages 3181-3182

Hoyacarnoside P

Pages 3183-3183

Asclepias Incarnata Saponin 69

Pages 3184-3184

Calotroposide F

Pages 3185-3186

Cynanchum Caudatum Saponin 33

Pages 3186-3187

Cynanchum Caudatum Saponin 48

Pages 3187-3188

Cynanchum Caudatum Saponin 52

Pages 3188-3189

Leptadenia Hastata Saponin 5

Pages 3189-3190

Cynanchum Caudatum Saponin 41

Pages 3190-3191

Cynanchum Caudatum Saponin 43

Pages 3191-3192

Cynanchum Caudatum Saponin 44

Pages 3192-3193

Cynanchum Caudatum Saponin 45

Pages 3193-3194

Cynanchum Caudatum Saponin 17

Pages 3194-3195

Cynanchum Caudatum Saponin 19

Pages 3195-3196

Cynanchum Caudatum Saponin 31

Pages 3197-3198

Cynanchum Caudatum Saponin 47

Pages 3198-3199

Cynanchum Caudatum Saponin 51

Pages 3199-3200

Cynanchum Caudatum Saponin 55

Pages 3200-3201

Marstomentoside C

Pages 3201-3202

Wilfoside C 2N

Pages 3202-3203

Araujia Sericifera Glycoside 13

Pages 3204-3204

Asclepias Incarnata Saponin 76

Pages 3205-3206

Asclepias Incarnata Saponin 82

Pages 3206-3207

Telosmoside A

Pages 3207-3208

Hoyacarnoside I

Pages 3208-3209

Asclepias Incarnata Saponin 77

Pages 3209-3210

Hoyacarnoside S

Pages 3210-3211

Araujia Sericifera Glycoside 1

Pages 3211-3212

Araujia Sericifera Glycoside 10

Pages 3212-3213

Asclepias Incarnata Saponin 89

Pages 3214-3214

Calotroposide E

Pages 3215-3216

Cynafoside F

Pages 3216-3217

Cynanchum Caudatum Saponin 34

Pages 3217-3218

Wilfoside D 1N

Pages 3219-3220

Asclepias Incarnata Saponin 41

Pages 3220-3221

Asclepias Incarnata Saponin 42

Pages 3221-3222

Condurangoside A

Pages 3222-3223

Cynanchum Caudatum Saponin 49

Pages 3223-3224

Cynanchum Caudatum Saponin 53

Pages 3224-3225

Araujia Sericifera Glycoside 11

Pages 3225-3226

Dioscoreside D

Pages 3226-3227

Hypoglaucin G

Pages 3227-3228

Tacca Chantrieri Saponin 2

Pages 3229-3230

Cynanchum Caudatum Saponin 54

Pages 3230-3231

Hemoside D

Pages 3231-3232

Periplocoside B

Pages 3232-3233

Stephanoside G

Pages 3233-3234

Stephanoside H

Pages 3234-3236

Araujia Sericifera Glycoside 6

Pages 3236-3237

Cynanchum Caudatum Saponin 18

Pages 3237-3238

Cynanchum Caudatum Saponin 20

Pages 3238-3239

Cynanchum Caudatum Saponin 32

Pages 3239-3240

Cynanchum Caudatum Saponin 35

Pages 3240-3241

Wilfoside C IN

Pages 3242-3243

Metaplexis Japonica Saponin 20

Pages 3243-3244

Cynanchoside D

Pages 3244-3245

Asclepias Incarnata Saponin 83

Pages 3245-3246

Asclepias Tuberosa Saponin 5

Pages 3246-3247

Asclepias Incarnata Saponin 10

Pages 3248-3248

Asclepias Incarnata Saponin 11

Pages 3249-3249

Cynauriculoside B

Pages 3250-3251

Taiwanoside D

Pages 3251-3252

Baseonemoside B

Pages 3252-3253

Telosmoside A

Pages 3254-3255

Asclepias Incarnata Saponin 55

Pages 3255-3256

Asclepias Incarnata Saponin 56

Pages 3256-3256

Hoyacarnoside J

Pages 3257-3258

Araujia Sericifera Glycoside 2

Pages 3258-3259

Araujia Sericifera Glycoside 3

Pages 3259-3260

Araujia Sericifera Glycoside 23

Pages 3260-3261

Araujia Sericifera Glycoside 14

Pages 3261-3262

Leptadenia Hastata Saponin 23

Pages 3262-3263

Asclepias Incarnata Saponin 45

Pages 3264-3264

Asclepias Incarnata Saponin 46

Pages 3265-3266

Araujia Sericifera Glycoside 8

Pages 3266-3267

Leptadenia Hastata Saponin 24

Pages 3267-3268

Dregeoside B

Pages 3268-3269

Dioscoreside A

Pages 3270-3271

Dioscoreside B

Pages 3271-3273

Stephanoside L

Pages 3273-3274

Stephanoside N

Pages 3274-3275

Araujia Sericifera Glycoside 7

Pages 3276-3276

Dregeoside A

Pages 3277-3278

Asclepias Incarnata Saponin 20

Pages 3278-3278

Asclepias Incarnata Saponin 21

Pages 3279-3280

Dregeoside G

Pages 3280-3281

Metaplexis Japonica Saponin 21

Pages 3281-3282

Cynanchum Caudatum Saponin 59

Pages 3282-3283

Cynauriculoside A

Pages 3284-3285

Wilfoside C 3G

Pages 3285-3286

Asclepias Incarnata Saponin 86

Pages 3286-3287

Wilfoside K 1N

Pages 3287-3288

Asclepias Incarnata Saponin 14

Pages 3289-3290

Asclepias Incarnata Saponin 15

Pages 3290-3291

Metaplexis Japonica Saponin 10

Pages 3291-3292

Orthenine

Pages 3292-3293

Croton Ruizianus Saponin 1

Pages 3295-3296

Telosmoside A

Pages 3296-3297

Araujia Sericifera Glycoside 15

Pages 3298-3299

Araujia Sericifera Glycoside 17

Pages 3299-3300

Araujia Sericifera Glycoside 22

Pages 3300-3301

Cynafoside B

Pages 3301-3302

Asclepias Tuberosa Saponin 15

Pages 3302-3304

Hoyacarnoside L

Pages 3304-3305

Asclepias Incarnata Saponin 22

Pages 3305-3306

Metaplexis Japonica Saponin 22

Pages 3306-3307

Dregeoside A

Pages 3307-3308

Araujia Sericifera Glycoside 5

Pages 3308-3309

Stephanoside Q

Pages 3309-3310

Dregeoside A

Pages 3310-3311

Marstomentoside N

Pages 3312-3313

Asclepias Incarnata Saponin 43

Pages 3313-3314

Araujia Sericifera Glycoside 9

Pages 3314-3315

Leptadenia Hastata Saponin 6

Pages 3316-3317

Stephanoside I

Pages 3317-3318

Stephanoside J

Pages 3318-3320

Cynaphylloside G

Pages 3320-3321

Telosmoside A

Pages 3321-3322

Asclepias Incarnata Saponin 63

Pages 3322-3323

Extensumside B

Pages 3323-3324

Cynafoside A

Pages 3325-3326

Periploca Sepium Saponin S-5

Pages 3326-3326

Cestrum Nocturnum Saponin 9

Pages 3327-3328

Asclepias Incarnata Saponin 12

Pages 3328-3329

Metaplexis Japonica Saponin 8

Pages 3329-3330

Metaplexis Japonica Saponin 11

Pages 3330-3331

Stavaroside K

Pages 3332-3333

Asclepias Incarnata Saponin 57

Pages 3333-3334

Marstomentoside J

Pages 3335-3336

Hoyacarnoside N

Pages 3336-3337

Cynaphylloside F

Pages 3337-3338

Hoyacarnoside C

Pages 3338-3339

Asclepias Incarnata Saponin 44

Pages 3340-3340

Araujia Sericifera Glycoside 19

Pages 3341-3342

Gymnepregoside C

Pages 3342-3343

Gymnepregoside D

Pages 3343-3344

Marstomentoside B

Pages 3344-3345

Marstomentoside R, Alpinoside B

Pages 3346-3347

Condurangoside B

Pages 3347-3348

Leptadenia Hastata Saponin 34

Pages 3348-3349

Marstomentoside F

Pages 3349-3350

Marstomentoside S

Pages 3351-3351

Plocoside B

Pages 3352-3352

Condurangoside C

Pages 3353-3354

Gymnemaroside A

Pages 3354-3355

Marsdeoreophiside B

Pages 3355-3356

Marstenacisside A

Pages 3357-3358

Metaplexis Japonica Saponin 18

Pages 3358-3359

Metaplexis Japonica Saponin 19

Pages 3360-3361

Metaplexis Japonica Saponin 23

Pages 3361-3362

Asclepias Incarnata Saponin 13

Pages 3362-3363

Metaplexis Japonica Saponin 9

Pages 3363-3364

Teikaside C-IIIa

Pages 3364-3365

Asclepias Incarnata Saponin 59

Pages 3365-3366

Asclepias Incarnata Saponin 9

Pages 3366-3367

Condurangoside D

Pages 3367-3368

Hoyacarnoside H

Pages 3369-3370

Stavaroside J

Pages 3370-3371

Hoyacarnoside R

Pages 3371-3373

Oreaster Reticulatus Saponin 2

Pages 3373-3374

Cestrum Nocturnum Saponin 12

Pages 3374-3375

Condurngoglycoside E

Pages 3375-3376

Leptadenia Hastata Saponin 9

Pages 3376-3377

Dregeoside C

Pages 3378-3379

Condurangoglycoside A

Pages 3379-3380

Periploca Sepium Saponin S-6, Saponin H

Pages 3380-3381

Stephanoside A

Pages 3382-3383

Condurangoglycoside C

Pages 3383-3384

Asclepias Incarnata Saponin 74

Pages 3384-3385

Marstenacisside C

Pages 3385-3386

Condurangoglycoside E

Pages 3386-3387

Asclepias Incarnata Saponin 7

Pages 3388-3389

Condurangoglycoside D

Pages 3389-3390

Periploca Sepium Saponin S-4a

Pages 3390-3391

Periploca Sepium Saponin S-4b

Pages 3391-3392

Acanthaster Planci Saponin

Pages 3392-3394

Bouceroside AI

Pages 3394-3395

Bouceroside BI

Pages 3395-3396

Asclepias Incarnata Saponin 30

Pages 3397-3397

Wilfoside W 1N

Pages 3398-3399

Bouceroside A II

Pages 3399-3400

Bouceroside BII

Pages 3400-3401

Asclepias Incarnata Saponin 80

Pages 3402-3402

Stavaroside I

Pages 3403-3404

Leptadenia Hastata Saponin 16

Pages 3404-3405

Leptadenia Hastata Saponin 31

Pages 3405-3406

Asclepias Incarnata Saponin 75

Pages 3407-3408

Leptadenia Hastata Saponin 12

Pages 3408-3409

Leptadenia Hastata Saponin 26

Pages 3409-3410

Asclepias Incarnata Saponin 58

Pages 3411-3412

Pectinioside D

Pages 3412-3413

Leptadenia Hastata Saponin 8

Pages 3413-3414

Leptadenia Hastata Saponin 21

Pages 3414-3415

Sarcovimiside C

Pages 3416-3417

Stephanoside O

Pages 3417-3419

Asclepias Incarnata Saponin 85

Pages 3419-3420

Araujia Sericifera Glycoside 4

Pages 3420-3421

Calotroposide A

Pages 3422-3423

Calotroposide D

Pages 3423-3425

Asclepias Incarnata Saponin 68

Pages 3425-3426

Asclepias Incarnata Saponin 81

Pages 3426-3427

Cynanchum Caudatum Saponin 46

Pages 3428-3429

Cynanchum Caudatum Saponin 50

Pages 3429-3430

Cynanchum Caudatum Saponin 21

Pages 3430-3431

Cynanchum Caudatum Saponin 23

Pages 3432-3433

Cynanchum Caudatum Saponin 25

Pages 3433-3434

Cynanchum Caudatum Saponin 36

Pages 3435-3436

Araujia Sericifera Glycoside 18

Pages 3436-3437

Wilfoside F 1N

Pages 3437-3438

Telosmoside A

Pages 3439-3440

Periplocoside J

Pages 3440-3441

Asclepias Incarnata Saponin 91

Pages 3441-3442

Gymnepregoside A

Pages 3443-3444

Telosmoside A

Pages 3444-3446

Hoyacarnoside E

Pages 3446-3447

Calotroposide B

Pages 3447-3449

Calotroposide C

Pages 3449-3450

Asclepias Fruticosa Saponin 10

Pages 3450-3452

Asclepias Fruticosa Saponin 11

Pages 3452-3453

Asclepias Incarnata Saponin 72

Pages 3453-3454

Hoyacarnoside Q

Pages 3455-3456

Asclepias Incarnata Saponin 73

Pages 3456-3457

Leptadenia Hastata Saponin 7

Pages 3457-3458

Leptadenia Hastata Saponin 20

Pages 3458-3459

Dioscorea Cayenensis Saponin 1

Pages 3460-3461

Leptadenia Hastata Saponin 22

Pages 3461-3462

Stephanoside F

Pages 3462-3464

Cynanchum Caudatum Saponin 22

Pages 3464-3465

Cynanchum Caudatum Saponin 24

Pages 3465-3467

Cynanchum Caudatum Saponin 26

Pages 3467-3468

Cynanchum Caudatum Saponin 37

Pages 3468-3469

Cynanchum Caudatum Saponin 60

Pages 3470-3471

Cynanchum Caudatum Saponin 63

Pages 3471-3472

Sibiricoside D

Pages 3473-3473

Marstomentoside D

Pages 3474-3475

Marstomentoside T

Pages 3475-3476

Asclepias Tuberosa Saponin 6

Pages 3477-3478

Auriculoside B

Pages 3478-3479

Wilfoside C 2G

Pages 3479-3480
Buy this book
eBook $389.00

price for USA in USD

ISBN 978-0-387-39578-4
Digitally watermarked, DRM-free
Included format: PDF
ebooks can be used on all reading devices
Immediate eBook download after purchase

Hardcover $499.99

price for USA in USD

ISBN 978-0-387-31164-7
Free shipping for individuals worldwide
Institutional customers should get in touch with their account manager
Usually ready to be dispatched within 3 to 5 business days, if in stock

Softcover $499.99

price for USA in USD

ISBN 978-1-4419-2170-3
Free shipping for individuals worldwide
Institutional customers should get in touch with their account manager
Usually ready to be dispatched within 3 to 5 business days, if in stock
Services for this Book
Bibliographic Information
Book Title

Spectroscopic Data of Steroid Glycosides

Book Subtitle

Volume 5

Editors

Viqar Uddin Ahmad
Anwer Basha

Copyright

2006

Publisher

Springer-Verlag New York

Copyright Holder

Springer-Verlag New York

eBook ISBN

978-0-387-39578-4

DOI

10.1007/978-0-387-39578-4

Hardcover ISBN

978-0-387-31164-7

Softcover ISBN

978-1-4419-2170-3

Edition Number

1

Number of Pages

X, 696

Number of Illustrations

623 b/w illustrations

Topics