Springer launches new journal Reviews of Modern Plasma Physics
Articles to cover fundamental and applied aspects of plasma physics
Heidelberg | New York, 30 November 2016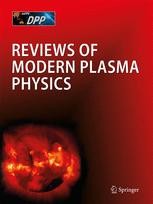 Starting in 2017, Springer will publish the journal Reviews of Modern Plasma Physics (RMPP), the official journal of the Division of Plasma Physics at the Association of Asia-Pacific Physical Societies (AAPPS-DPP). Available exclusively online, articles will be published on a continuous basis with full citation information on link.springer.com before being bundled into one electronic issue per year.
Reviews of Modern Plasma Physics aims to be a leading journal in its field. It will provide cutting-edge reviews and tutorials by renowned researchers in all fields of plasma physics including fundamental and applied physics relevant to natural and laboratory plasmas. The articles published in this new journal will not only be characterized by their excellent quality, but also their high readability, providing authoritative material for graduate students and young researchers who are less familiar with the fields covered.
Mitsuru Kikuchi, Chair of the AAPPS-DPP, said, "I am pleased to launch this official AAPPS-DPP journal, Reviews of Modern Plasma Physics, with Springer Nature, a leading global publisher. It will certainly benefit physics communities, including plasma physics researchers working in fields such as space, solar, and astro plasmas; laser plasmas; low temperature plasmas; and magnetic and inertial fusion applications."
Akiyuki Tokuno, Publishing Editor at Springer, said, "It is a great pleasure to publish this new review journal in collaboration with the AAPPS-DPP as part of the Springer portfolio. With the support of the chairman and the editorial board, RMPP will provide reviews by leading plasma physics researchers and Chandrasekhar prize laureates. It will be highly beneficial to readers in the field of plasma sciences."
Since its foundation in 1990, The Association of Asia Pacific Physical Societies (www.aapps.org) encompasses the physical societies and institutes in the region and consolidates the sense of a physics community in the Asia Pacific region. The association is an umbrella organization which is devoted to the joint promotion of research, teaching and regional collaboration in physics. RMPP will be the official journal of the Division of Plasma Physics (http://aappsdpp.org/AAPPSDPPF/) under the AAPPS.
Springer is part of Springer Nature, a leading global research, educational and professional publisher, home to an array of respected and trusted brands providing quality content through a range of innovative products and services. Springer Nature is the world's largest academic book publisher, publisher of the world's most influential journals and a pioneer in the field of open research. The company numbers almost 13,000 staff in over 50 countries. Springer Nature was formed in 2015 through the merger of Nature Publishing Group, Palgrave Macmillan, Macmillan Education and Springer Science+Business Media. Visit www.springernature.com and follow @SpringerNature.