Springer and the Society for Occupational Health Psychology launch new journal
Occupational Health Science will focus on research related to worker safety, health and well-being
London | Heidelberg, 3 May 2016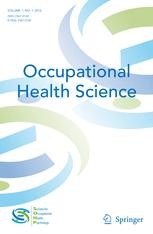 Springer and the Society for Occupational Health Psychology (SOHP) are launching a new multidisciplinary journal called Occupational Health Science on the broad field of occupational health psychology and well-being. The journal offers an international perspective, a translational/evidence-based practice focus and a flexible approach that allows for both theory-based and descriptive articles. Available in print and electronic editions, the first issue will be published in 2017, with the first articles being accepted for online publication in 2016.
Dr. Lisa Kath, President of the Society for Occupational Health Psychology, said, "SOHP is so pleased to be partnering with Springer for the launch of this journal, which will fill an important niche for multidisciplinary work in occupational health. We envision Occupational Health Science becoming an important platform for researchers and practitioners to learn more about different approaches to understanding and tackling the important challenges facing workers worldwide."
Occupational Health Science is peer-reviewed and dedicated to publishing leading-edge research on behavioral, social and psychological aspects of occupational health. The journal will publish papers that represent important contributions to understanding the phenomena related to worker safety, health and well-being. It will publish articles of interest to academics as well as practitioners in the fields of applied psychology, public health, industrial hygiene, occupational medicine, nursing, occupational safety, epidemiology, ergonomics, human resource management, organizational behavior and economics. The editor-in-chief is Robert Sinclair, Professor of Industrial and Organizational Psychology at Clemson University, USA.
"I am delighted and honored to have the opportunity to serve as the founding editor-in-chief for Occupational Health Science," said Professor Sinclair. "Work-related hazards continue to present important threats to mental and physical health for workers around the world. Scientific research in many disciplines plays an important role in helping to identify and find solutions to these threats. My strong editorial team and I look forward to establishing Occupational Health Science as a leading journal in this field."
Stefan Einarson, Publishing Editor Social Sciences at Springer, said, "We are delighted to work together with SOHP on this exciting new journal. In this partnership, we are committed to delivering high-impact research to an international audience."
The Society for Occupational Health Psychology (www.sohp-online.org) is a non-profit organization dedicated to the generation, dissemination and application of scientific knowledge to improve worker health and well-being. To achieve these goals, SOHP seeks to promote psychological research on significant theoretical and practical questions related to occupational health, encourage the application of findings from psychological research to workplace health concerns, and improve education and training related to occupational health psychology.
Springer is part of Springer Nature, a leading global research, educational and professional publisher, home to an array of respected and trusted brands providing quality content through a range of innovative products and services. Springer Nature is the world's largest academic book publisher, publisher of the world's most influential journals and a pioneer in the field of open research. The company numbers almost 13,000 staff in over 50 countries. Springer Nature was formed in 2015 through the merger of Nature Publishing Group, Palgrave Macmillan, Macmillan Education and Springer Science+Business Media. Visit www.springernature.com and follow @SpringerNature.
Joan Robinson | Springer Nature | Communications

tel +49 6221 487 8130 | joan.robinson@springer.com