European Geriatric Medicine journal now published by Springer
Springer is the new publisher of the official journal of the European Geriatric Medicine Society
Heidelberg | Brussels, 1 March 2018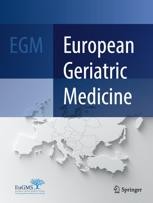 A major journal focusing on scientific and clinical research in all aspects of geriatric medicine has now become part of the extensive medicine and public health portfolio at Springer. European Geriatric Medicine was launched in 2010 and was previously published by Elsevier. The journal quickly grew to become a major publication hub for research in the field. Since the beginning of 2018, this subscription journal with open access options has been published by Springer.
In six issues per year, articles published in the journal encompass all major areas promoted through the European Geriatric Medicine Society (EuGMS). These include acute or sub-acute care, rehabilitation, nursing homes, primary care, fall clinics, ambulatory assessment and dementia, as well as functionality in old age, comprehensive geriatric assessment, geriatric syndromes, geriatric education, old age psychiatry, models of geriatric care in health services and quality assurance.
The journal is led by editor-in-chief Alfonso J. Cruz-Jentoft of the Hospital Universitario Ramón y Cajal in Madrid in Spain, together with renowned international associate editors and editorial board members.
Finbarr Martin, president of the EuGMS and geriatrician from the UK said: "We are delighted to collaborate with Springer in this new opportunity to take our journal, European Geriatric Medicine, to the next stage of its development. The World Health Assembly in 2016 highlighted the need for a radical change to health care systems and interventions to meet the exciting challenges presented by global ageing. Europe has played a leading role in geriatric medicine and now, with the reach of this international journal, we have a vibrant platform to promote the new knowledge and understanding which is needed worldwide for the 21st century."
Carlotta d'Imporzano, executive editor of clinical medicine journals at Springer said: "We are thrilled with this new partnership with the EuGMS, which further strengthens our commitment to our society partners. Springer will offer its expertise and global reach to the journal to maximise the visibility and impact of its contents, but we will also offer a people-centred personal approach to ensure that authors, highly regarded editorial board members and society partners receive the support and attention they deserve."

About


Springer is a leading global scientific, technical and medical portfolio, providing researchers in academia, scientific institutions and corporate R&D departments with quality content through innovative information, products and services. Springer has one of the strongest STM and HSS eBook collections and archives, as well as a comprehensive range of hybrid and open access journals. Springer is part of Springer Nature, a global publisher that serves and supports the research community. Springer Nature aims to advance discovery by publishing robust and insightful science, supporting the development of new areas of research and making ideas and knowledge accessible around the world.

As part of Springer Nature, Springer sits alongside other trusted brands like Nature Research, BioMed Central and Palgrave Macmillan. Visit http://www.springer.com and follow @SpringerNature
Elizabeth Hawkins | Springer Nature | Communications
tel +49 6221 487 8130 | elizabeth.hawkins@springernature.com