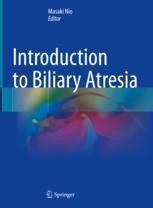 Introduction to Biliary Atresia
Editors: Nio, Masaki (Ed.)
Describes all aspects of biliary atresia.
Discusses support systems for patients and their families provided by multi-disciplinary medical teams, local communities and the government.
Highlights the benefits of the laparoscopic Kasai procedure
Explores the latest early diagnosis and screening methods, such as a stool color card system, which are gradually being introduced throughout the world.
おすすめポイントをすべて見る
書籍の購入
イーブック ¥19,447

価格の適用国: Japan (日本円価格は個人のお客様のみ有効) (小計)

イーブック版は、まもなく発売予定です。
予定日: July 20, 2021
ISBN 978-981-16-2160-4
ウォーターマーク付、 DRMフリー
ファイル形式:
ebooks can be used on all reading devices

ハードカバー ¥24,309

価格の適用国: Japan (日本円価格は個人のお客様のみ有効) (小計)

予定日: July 20, 2021
ISBN 978-981-16-2159-8
Free shipping for individuals worldwide
Institutional customers should get in touch with their account manager
This book offers a comprehensive overview of the latest standard medical procedures and surgical techniques for biliary atresia (BA), as well as the perioperative care, long-term follow-up and transitions. Experts on pediatrics in such fields as hepatology, surgery, pathology, and liver transplantation present their research findings and analyses of this rare and intractable disease of unknown etiology. In Japan, shared experience and sound understanding based on conferences and guidelines have led to standardization of management and clinical care and, as a result, better outcomes.

Providing insights into improving surgical outcomes, and including special chapters focusing on social support systems for patients and families as well as recent advances in early diagnosis, this book a valuable resource for medical professionals around the globe who are involved in treating biliary atresia. It is especially useful for pediatric hepatologists, pediatric surgeons and transplant surgeons.

Masaki Nio, M.D., Ph.D., ACSF

Masaki Nio is Professor and Chief of Pediatric Surgery at Tohoku University Graduate School of Medicine and Director of Pediatric Medical Center of Tohoku University Hospital. In 1981, he completed a M.D. course at Tohoku University School of Medicine. In 1983, he joined the Second Department of Surgery, Tohoku University Hospital, which Professor Morio Kasai presided over from 1963 to 1986. In 1987, he completed a Ph.D. course in Pediatric Surgery at Tohoku University Graduate School of Medicine. From 1991 to 1993, he worked as a research fellow in Children's Hospital of Los Angeles, USA. He served as the President of Japanese Society of Pediatric Surgeons, a Board Member of Japan Surgical Society, a Board Member of Pacific Association of Pediatric Surgeons, the Chairman of Japanese Biliary Atresia Society, and so on. He has been a secretary general of Japanese Biliary Atresia Society since 2008.
書籍の購入
イーブック ¥19,447

価格の適用国: Japan (日本円価格は個人のお客様のみ有効) (小計)

イーブック版は、まもなく発売予定です。
予定日: July 20, 2021
ISBN 978-981-16-2160-4
ウォーターマーク付、 DRMフリー
ファイル形式:
ebooks can be used on all reading devices

ハードカバー ¥24,309

価格の適用国: Japan (日本円価格は個人のお客様のみ有効) (小計)

予定日: July 20, 2021
ISBN 978-981-16-2159-8
Free shipping for individuals worldwide
Institutional customers should get in touch with their account manager
この書籍のサービス情報
あなたへのおすすめ
書誌情報
Book Title

Introduction to Biliary Atresia

Editors

Copyright

2021

Publisher

Springer Singapore

Copyright Holder

The Editor(s) (if applicable) and The Author(s), under exclusive license to Springer Nature Singapore Pte Ltd.

イーブック ISBN

978-981-16-2160-4

DOI

10.1007/978-981-16-2160-4

ハードカバー ISBN

978-981-16-2159-8

Edition Number

1

Number of Pages

X, 406

Number of Illustrations

39 b/w illustrations, 142 illustrations in colour

Topics