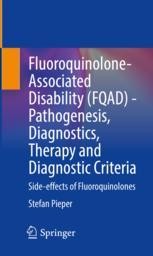 Fluoroquinolone-Associated Disability (FQAD) - Pathogenesis, Diagnostics, Therapy and Diagnostic Criteria
Side-effects of Fluoroquinolones
Authors: Pieper, Stefan
Provides accessible overview of the complex side-effects of Fluoroquinolones
Deals comprehensively with diagnostics and treatment of FQAD
Carves a new path in the debate on diagnostic criteria for FQAD
Provides readers with an up-to-date and synoptical review of treatment options for FQAD patients
おすすめポイントをすべて見る
書籍の購入
イーブック ¥8,579

価格の適用国: Japan (日本円価格は個人のお客様のみ有効) (小計)

イーブック版は、まもなく発売予定です。
予定日: June 23, 2021
ISBN 978-3-030-74173-0
ウォーターマーク付、 DRMフリー
ファイル形式:
ebooks can be used on all reading devices

ソフトカバー ¥10,724

価格の適用国: Japan (日本円価格は個人のお客様のみ有効) (小計)

予定日: June 23, 2021
ISBN 978-3-030-74172-3
Free shipping for individuals worldwide
Institutional customers should get in touch with their account manager

In this book, Stefan Pieper supports doctors and therapists in easily diagnosing FQAD and in better and more adequately dealing with FQAD patients.
Fluoroquinolones, as one of the most common and effective groups of antibiotics, are known to have a distinct spectrum of side effects. These adverse effects are rare in percentage terms, but frequent in absolute numbers due to the enormous quantities of prescriptions. Because they are usually quite severe and wide-ranging, they tend to run like a syndrome and have been classified by the FDA as a separate condition, the FQAD, because of their frequency, severity and risk of disability.
This book presents for the first time a comprehensive description and classification of the clinical picture and a proposal for a clinical diagnostic tool based on diagnostic criteria.




Dr. med. Stefan Pieper has been working in a practice for integrative medicine with a focus on mitochondrial medicine, acupuncture, nutrition and homeopathy for 25 years. During his time at the clinic, he worked for many years in internal medicine, anaesthesia and neonatal intensive care units. He is a paramedic and holds a British Diploma in Anaesthesia.

Dr. Pieper developed a diagnostic tool for the reliable detection of FQAD and he is one of the most experienced therapists in this field. With over 500 FQAD patients treated, he has an exceptionally high level of expertise.

Currently he is working together with the Centrum für Herz-, Kreislauf- und Gefäßmedizin, University of Berlin, Charité, on a study regarding the use of Fluoroquinolones and the risk of aortic aneurysm and dissection.
書籍の購入
イーブック ¥8,579

価格の適用国: Japan (日本円価格は個人のお客様のみ有効) (小計)

イーブック版は、まもなく発売予定です。
予定日: June 23, 2021
ISBN 978-3-030-74173-0
ウォーターマーク付、 DRMフリー
ファイル形式:
ebooks can be used on all reading devices

ソフトカバー ¥10,724

価格の適用国: Japan (日本円価格は個人のお客様のみ有効) (小計)

予定日: June 23, 2021
ISBN 978-3-030-74172-3
Free shipping for individuals worldwide
Institutional customers should get in touch with their account manager
この書籍のサービス情報
あなたへのおすすめ
書誌情報
Book Title

Fluoroquinolone-Associated Disability (FQAD) - Pathogenesis, Diagnostics, Therapy and Diagnostic Criteria

Book Subtitle

Side-effects of Fluoroquinolones

Authors

Copyright

2021

Publisher

Springer International Publishing

Copyright Holder

The Editor(s) (if applicable) and The Author(s), under exclusive license to Springer Nature Switzerland AG

イーブック ISBN

978-3-030-74173-0

DOI

10.1007/978-3-030-74173-0

ソフトカバー ISBN

978-3-030-74172-3

Edition Number

1

Number of Pages

X, 72

Number of Illustrations

2 b/w illustrations

Topics