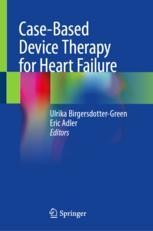 Case-Based Device Therapy for Heart Failure
Editors: Birgersdotter-Green, Ulrika, Adler, Eric (Eds.)
Covers a range of devices with applications for heart failure function, including those that monitor hemodynamics, rhythm management and mechanical circulatory support
Focuses on cutting edge device based therapeutic approaches to heart failure and cardiogenic shock
Details the subject from a multi-disciplinary perspective including those of cardiologists, electrophysiologists and cardiac surgeons
おすすめポイントをすべて見る
書籍の購入
イーブック ¥14,871

価格の適用国: Japan (日本円価格は個人のお客様のみ有効) (小計)

イーブック版は、まもなく発売予定です。
予定日: July 4, 2021
ISBN 978-3-030-70038-6
ウォーターマーク付、 DRMフリー
ファイル形式:
ebooks can be used on all reading devices

ハードカバー ¥18,589

価格の適用国: Japan (日本円価格は個人のお客様のみ有効) (小計)

予定日: July 4, 2021
ISBN 978-3-030-70037-9
Free shipping for individuals worldwide
Institutional customers should get in touch with their account manager
This book provides a comprehensive practical guide to the plethora of devices that have been developed to support the failing heart. It features easy to follow clinically relevant guidance on mechanical devices used for improving cardiac electrical conduction and cardiac output. Chapters cover indications and implant considerations for the implantable cardioverter defibrillator and cardiac resynchronization therapy devices and hemodynamic monitoring in the intensive care unit.
Case-Based Device Therapy for Heart Failure describes how to properly use a range of available devices to treat heart failure. Thanks to its multidisciplinary authorship, it is a valuable resource for practising and trainee heart failure cardiologists, electrophysiologists and cardiac surgeons.

Ulrika Birgersdotter-Green, MD, is a board-certified cardiologist who specializes in diagnosing and treating heart rhythm disorders. She directs the Pacemaker and ICD (Implantable Cardioverter Defibrillator) Service at UC San Diego Health and leads one of the largest lead extraction programs in the Western United States. Dr. Birgersdotter-Green's research interests include the mechanisms of arrhythmias, cardiac resynchronization therapy and developing new methods and indications for cardiac device implantation as well as lead extractions. She is actively involved in large clinical trials evaluating biventricular pacing therapy for heart failure management, new cardiac device technology and publishes regularly in electrophysiology journals. She has also co- authored several major consensus documents involving cardiac device guidelines and serves on the editorial review board for several prominent medical journals, including Heart Rhythm and the Journal of the American Journal of Cardiology. She completed fellowships in cardiology and cardiac electrophysiology at UC San Diego School of Medicine. She completed a fellowship in clinical pharmacology, as well as her internal medicine residency at Vanderbilt University Medical Center in Nashville. She earned her medical degree from the Karolinska Institute in Stockholm, Sweden and is a member of the American Heart Association, the American College of Physicians, European Heart Rhythm Association and a fellow of the Heart Rhythm Society.

Dr. Adler went to Medical school at Boston University, where he was awarded a Sarnoff Research Fellowship in Cardiovascular Disease. He completed his Residency in Internal Medicine at the University of Washington and a Fellowship at the Mount Sinai School of Medicine. He is currently a Clinical Professor of medicine at UCSD, where he is the Medical Director of the Cardiac Transplant Program and the heart failure fellowship's founding director. While at UCSD, he has been awarded both the resident and fellowship teaching awards and the Daniel O'Connor Translational Research Award. He is a former associate editor of the Journal of the American College of Cardiology and currently an associate editor at Circulation Heart Failure. Dr. Adler's clinical interests are focused on the care of patients with advanced heart failure, mechanical circulatory support, and cardiac transplantation. Over the last 15 years, he has participated in seminal phase 1-4 studies of new heart failure therapies. He has been a pioneer in the use of Palliative Care to treat patients with cardiovascular disease, a topic in which he helped write the American Heart Associate Guidelines. Additionally, his laboratory performs research on the use of stem cells and gene therapy to study and treat cardiomyopathy.

書籍の購入
イーブック ¥14,871

価格の適用国: Japan (日本円価格は個人のお客様のみ有効) (小計)

イーブック版は、まもなく発売予定です。
予定日: July 4, 2021
ISBN 978-3-030-70038-6
ウォーターマーク付、 DRMフリー
ファイル形式:
ebooks can be used on all reading devices

ハードカバー ¥18,589

価格の適用国: Japan (日本円価格は個人のお客様のみ有効) (小計)

予定日: July 4, 2021
ISBN 978-3-030-70037-9
Free shipping for individuals worldwide
Institutional customers should get in touch with their account manager
この書籍のサービス情報
あなたへのおすすめ
書誌情報
Book Title

Case-Based Device Therapy for Heart Failure

Editors

Ulrika Birgersdotter-Green
Eric Adler

Copyright

2021

Publisher

Springer International Publishing

Copyright Holder

Springer Nature Switzerland AG

イーブック ISBN

978-3-030-70038-6

DOI

10.1007/978-3-030-70038-6

ハードカバー ISBN

978-3-030-70037-9

Edition Number

1

Number of Pages

VII, 344

Number of Illustrations

27 b/w illustrations, 84 illustrations in colour

Topics