Perspectives in Nursing Management and Care for Older Adults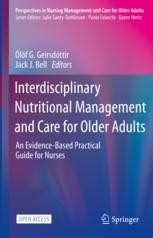 Open Access This content is freely available online to anyone, anywhere at any time.
Multidisciplinary Nutritional Management and Care for Older Adults: an Evidence-Based Practical Guide for Nurses
Editors: Geirsdóttir, Ólöf Guðný, Bell, Jack (Eds.)
Published in Open Access
Aims of supporting nurses to co-design, manage and deliver multidisciplinary nutritional care for older adults with emphasises on orthogeriatrics
Written by internationally recognised authors, champions of co-designed, multidisciplinary nutrition care, across broad professional experiences and settings
Provides the rationale and practical examples of how to work with older adults to deliver patient focused, high value, evidence-based care
Provides comprehensive curriculum for nutrition education programmes targeting health professionals working with older adults across diverse settings globally
Offers practical examples of opportunities for nursing leadership to multidisciplinary coordination
おすすめポイントをすべて見る
書籍の購入
イーブック

ISBN 978-3-030-63892-4
The ebook is not yet available online.

ハードカバー ¥7,149

価格の適用国: Japan (日本円価格は個人のお客様のみ有効) (小計)
This open access book aims to primarily support nurses as leaders and champions of multimodal, multidisciplinary nutrition care for older adults. A structured approach to fundamentals of nutrition care across multidisciplinary settings is combined with additional short chapters about special topics in geriatric nutrition. The book is designed to provide highly accessible information on evidence-based management and care for older adults, with a focus on practical guidance and advice across acute, rehabilitation, and primary and secondary malnutrition prevention settings.

The cost of malnutrition in England alone has been estimated to be £19.6 billion per year, or more than 15% of the total public expenditure on health and social care. About half of this is expenditure is attributable to older people (>65 years). The importance and benefit of specialised nutrition care, delivered by experts in field, is well established for those with complex nutrition care needs. However, despite the substantial impact of malnutrition on patient and healthcare outcomes, specialised management of this condition is often under-resourced, overlooked and under-prioritised by both older adults and their treating teams.

As an alternative, timely, efficient, and effective supportive nutrition care opportunities may be appropriately implemented by nurses and non-specialist multidisciplinary healthcare team members, working together with nutrition specialists and the older adults they care for. Practical, low-risk opportunities should be considered across nutrition screening, assessment and intervention domains for many patients with, or at risk of malnutrition. Whilst a variety of team members may contribute to supportive nutrition care, the nursing profession provide a clear focal point. Nurses across diverse settings provide the backbone for multidisciplinary teamwork and essential patient care. The nursing profession should consequently be considered best placed to deliver multidisciplinary, multimodal nutrition care, wherever specialist nutrition care referrals are unlikely to add value or are simply not available. As such, the book is a valuable resource for all healthcare providers dedicated to working with older patients to improve nutrition care.

Dr Ólöf Guðný Geirsdóttir. Dr Geirsdóttir has developed a strong interdisciplinary research focused on gerontological research in several core areas, including nutritional status, physical function, physical activity and active ageing. Dr Geirsdóttir has background broad experience as a clinical nutritionist at several units at the National University of Iceland. She has contributed to clinical guidelines for patient care, a handbook of food and nutrition for older people, and guidelines in prevention of falls for the Landspítali University Hospital. Dr Geirsdóttir led the work, with the Director of Health, on the Icelandic nutritional recommendations (2018) for older adults and healthy and a nutritional recommendation for sick and frail older people. Recent research works have focussed on associations between nutrition and physical activity among community-dwelling older adults, the nutritional status of sick and frail older adults and how to improve outcomes with nutritional care. In addition to contributing to clinical care and peer reviewed international literature, Dr Geirsdóttir advocates for multidisciplinary nutrition care education across administrative, academic leadership, and educational positions promoting ageing research, for example as the Secretary General of the 25th Nordic Congress of Gerontology.


Dr Jack Bell is a conjoint Principal Research Fellow and Advanced Accredited Practicing Dietitian at The University of Queensland and The Prince Charles Hospital, and is longstanding member of the Queensland Clinical Senate. He has over 20 years' clinical experience working with older adults and teams to deliver multidisciplinary nutritional care across a variety of settings. Dr Bell is a strong advocate for engaging patients in co-design and shared decision making, and clinicians as co-researchers. As a clinical academic and implementation practitioner, Dr Bell works with patients and diverse players the development, implementation, and evaluation of new models of care directing how malnutrition should be managed in diverse, contemporary settings both in Australia and internationally. Published works are challenging international norms and perceptions regarding how malnutrition care is provided in hospitals, have highlighted the need to adopt systematized, multidisciplinary nutrition care across the continuum to improve outcomes for older adults and those who care for them.
書籍の購入
イーブック

ISBN 978-3-030-63892-4
The ebook is not yet available online.

ハードカバー ¥7,149

価格の適用国: Japan (日本円価格は個人のお客様のみ有効) (小計)
この書籍のサービス情報
あなたへのおすすめ
書誌情報
Book Title

Multidisciplinary Nutritional Management and Care for Older Adults: an Evidence-Based Practical Guide for Nurses

Editors

Ólöf Guðný Geirsdóttir
Jack Bell

Series Title

Copyright

2021

Publisher

Springer International Publishing

Copyright Holder

The Editor(s) (if applicable) and The Author(s)

イーブック ISBN

978-3-030-63892-4

ハードカバー ISBN

978-3-030-63891-7

Series ISSN

2522-8838

Edition Number

1

Number of Illustrations

22 b/w illustrations, 10 illustrations in colour

Topics