Best-Paper Award for Analytical Sciences
The paper for this distinction is selected from "Hot Articles" appearing in each year, and is determined by the editorial board members. Since "Hot Articles" are nominated from among "Original Papers, Rapid Communications, Notes, Advancements in Instrumentation", and Reviews, the best paper deserves a prestigious award from among all of the papers published during the year.
Best Paper Award in 2021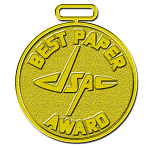 Selective Trapping and Retrieval of Single Cells Using Microwell Array Devices Combined with Dielectrophoresis
Misaki HATA, Masato SUZUKI, and Tomoyuki YASUKAWA
Analytical Sciences, 2021, 37(6), 803.
https://link.springer.com/article/10.2116/analsci.21C002
See here for the Best-Paper Awards from previous years
Working on a manuscript?
Avoid the most common mistakes and prepare your manuscript for journal editors.
Learn more