New Editor-in-Chief
We are pleased to announce that Longqin Hu, Ph.D. is the new Editor-in-Chief of Medicinal Chemistry Research, commencing January 1st, 2020.
Meet the new Editor-in-Chief
Longqin Hu
Ernest Mario School of Pharmacy, Rutgers University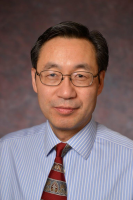 Dr. Longqin Hu is a Professor of Medicinal Chemistry and currently serves as the Chair of the Department of Medicinal Chemistry at Ernest Mario School of Pharmacy, Rutgers University. He previously served as an Associate Editor-in-Chief for Acta Pharmaceutica Sinica B. Dr. Hu is excited to bring his research, scientific background and editor experience to advance Medicinal Chemistry Research.
Born in China, Dr. Hu received his Bachelor's degree in Pharmacy in 1984 and a Master's degree in Medicinal Chemistry in 1987 from the Second Military Medical University in Shanghai. From 1988 to 1993, he studied for his Ph.D. degree in Medicinal Chemistry at the University of Kansas. After completing postdoctoral training in Biochemistry at the University of Delaware as an NIH NRSA postdoctoral fellow, Dr. Hu started his academic career in 1996 as a tenure-track Assistant Professor of Medicinal Chemistry at the University of Oklahoma and moved to Rutgers University in 1999. He rose through the ranks and was promoted to full Professor in 2009 and started serving as the Department Chair in 2017. He has been a member of the Cancer Institute of New Jersey since 2001. Dr. Hu's research interests are in the general area of synthetic medicinal chemistry and bioorganic chemistry, specifically in the design of anticancer prodrugs for site-specific activation in tumor tissues, the design of small molecule inhibitors of protein-protein interactions, the discovery of crystallization inhibitors for stone diseases, and the development of organic synthetic methodology. Further information on Dr. Hu and his research can be found on his Rutgers University website.
Working on a manuscript?
Avoid the most common mistakes and prepare your manuscript for journal editors.
Learn more