A Conversation with the Editors
Editors-in-Chief, Marco Lübbecke (left) and Panos Pardalos (right), share their insights on the inception of the journal and its unique positioning in the OR community.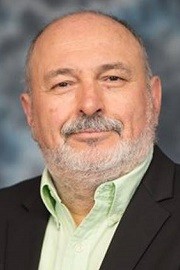 Why another journal in the field of OR and Optimization?
ML: The ways we publish and what we consider a research contribution are evolving quickly: We provide tools to ease the application of OR, blog about our failures or our projects, reach out to non-experts. We share data and code, participate in challenges, and produce educational videos. These contributions are very valuable, but scattered all over the Internet. Will we find them in 20 years? We would like to give some of these formats a permanent home.
PP: The journal should reflect the interdisciplinary nature of recent research. As an example, today's grand challenging problems in medicine, agriculture, cyber-security, and energy need scientists from many disciplines to solve them. In addition, new tools, like block-chain, augmented intelligence, machine learning, and quantum computing are used to solve complex problems. The journal provides a platform for making these resources available to a broad range of researchers and practitioners.
What are some of the emerging issues you wish to explore?
ML: We face global challenges like the climate crisis, and many questions arise about how to make best use of scarce resources -- an area in which OR is particularly strong. Creating eco-friendly mobility is just one example. Many pressing societal questions deal with distributing and accessing resources, too, and it is exciting to see how OR can help here. Due to its generality of models and methods, we are optimistic that OR adapts to many of these "emerging" situations, and, of course, we would love to read about this in the OR Forum.
PP: We should make an effort to attract papers on epidemiology, spreading of diseases, and health care, in general. At the moment there is huge funding in these areas and there is a lot of interest from the public! In the near future we should have special issues on quantum optimization, OR in agriculture and food supply chains, smart manufacturing, artificial intelligence and optimization, and expert systems and OR.
The journal is described as being "of, by, and for" the community... tell us more about what this means.
ML: Ideally, when you read through an issue of the OR Forum, you know "what is going on" in OR, where colleagues see a promising research direction, what the next generation is up to, which new applications have been solved, what software is useful, who wrote an interesting book, etc. All this is collected by members of the community and shared in the hope that it is useful and interesting.
PP: The journal aims to be the Forum for the OR community. That is why we are particularly interested in diverse article types, including "Discussions," Opinions" and "Letters to the Editors," in order to generate dialogue among members of the community.
What are the most original features of the journal, especially in terms of thematic collections and article types?
ML & PP: We particularly invite OR contributions that are beyond the classical research article. These could be reports about failed experiments, perspectives for the field, descriptions of research software, blogs about successful OR applications directed to the general public, etc. The only criterion is that the piece should have a lasting value for the research community. A plus is certainly the publication speed: an accepted piece is produced in final form and put online just a few weeks later. This way we can circulate peer-reviewed material in short cycles. We would like to combine the innovation and speed of various formats with the longevity and archival value of a journal.
How can people get involved?
ML & PP: Number one is obvious: contribute your wORks! However, as we've noted, the field and publication culture are evolving, and many people have more ideas than just a handful of editors. We are happy about suggestions for new formats, new ways to present, new ways to evaluate research, new ways of working with dynamic content. And if you are willing to take responsibility for your new idea, you can join the team e.g., in an editorial role. We encourage all members of the community, from students to well-known experts, to contribute to and support the journal.