Quality in Pathology: Topical Collection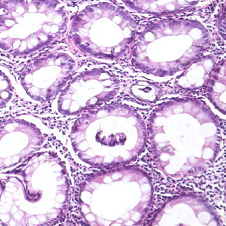 We need to better understand what we mean by "quality" in pathology and guidance on how to have efficient quality systems with as little bureaucracy as possible. How do we improve the reliability of our testing, the quality of grading, and classification where relevant? What is already good and what needs improvement? The Quality in Pathology topical collection aims to provide a forum for such articles and also opinion papers.
Only through high-quality diagnoses and effective demonstration to the patient can we maintain a high level of trust in pathology. Without trust in our profession, we will not survive.
Click Here to view the complete set of articles published within the Quality in Pathology collection.
Excerpts from van Krieken JHJM (2017) Quality in pathology. Virchows Arch 471(3):311–312.
Cover image from Kamarádová K, Vošmiková H & Rozkošová K, et al (2019) Non-conventional mucosal lesions (serrated epithelial change, villous hypermucinous change) are frequent in patients with inflammatory bowel disease—results of molecular and immunohistochemical single institutional study. Virchows Archiv.