Ambio - 50 Years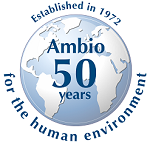 The journal Ambio – A Journal of the Human Environment will commemorate 50 years of publication all through 2021.
Read more about how we intend to celebrate Ambio 50 in this Editorial Ambio – The first 50 years by the Editor-in-Chief Bo Söderström, and the historical overview The environment as seen through the life of a journal: Ambio 1972–2022 written by Sverker Sörlin, professor in environmental history.
Find out more about Ambio's 50th Anniversary Collection of Thematic Articles
ENJOY WATCHING AMBIO'S ANNIVERSARY VIDEOS:
Introducing Ambio's 50th Anniversary by Bo Söderström
Ambio 50 years - Environmental pressures (ozone, acidification, contaminants, eutrophication) by Michael Tedengren
Ambio 50 years - Solutions-oriented research by Erik Andersson
Ambio 50 years - Global change by Angela Wulff
Ambio 50 years - Land use change by Angelina Sanderson Bellamy
Ambio 50 years - Ambio and Springer Nature

Working on a manuscript?
Avoid the most common mistakes and prepare your manuscript for journal editors.
Learn more