Special Issues
Each year Ambio publishes between two and four special issues on topical research themes. Articles published in special issues are widely appreciated by our readership and belong to the most highly cited papers in Ambio. The highest level of editorial support will be given to these high-priority articles throughout the review and publication processes.
We strongly encourage research groups to submit thematic proposals for future special issues in Ambio. Proposals are welcome at any time, but twice a year – 1 April and 1 October – the editors will evaluate all proposals based on scientific soundness and interest to our readership. If you are interested in publishing a special issue in Ambio, please submit:
• a general introduction to the topic and why it is important,
• clearly stated research questions,
• a description of the implementation,
• specific outcomes/benefits to the readership and potential spin-offs,
• a tentative list of article titles including author names (also include abstracts if available),
• project group members,
• name or names of potential independent guest editor(s)
• time table including your desired month of publication,
• statement of risk/backup if things do not go as planned.
This proposal should be sent to the editor-in-chief Bo Söderström (bo.soderstrom@kva.se). Please plan 12–18 months ahead due to the intense competition for publication space in Ambio. The guest editor must be approved by the Editor-in-Chief, who also takes all final publication decisions.
Forthcoming Special Issues
International Conference on Mercury as a Global Pollutant – November 2022
A Sea of Connections – October 2022
Shifts in Urban Ecology: From Science to Social Project – January 2023
Do the SDGs facilitate the management of risks and wicked problems regarding sustainability? – February 2023
Frozen Infrastructures in Changing Climatic Conditions – May 2023
Integrating carbon sequestration and biodiversity impacts in forested ecosystems – August 2023
Published in 2022
Special issue: Changing Arctic Ocean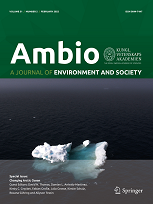 Published in 2021
Special Issue: Global forest environmental frontiers
Special Issue: Siberian environmental change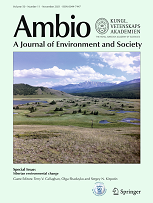 Planning and governing nature-based solutions in river landscapes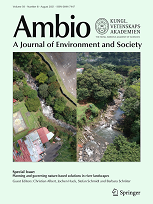 Published in 2020
Social dimensions of a forest-based bioeconomy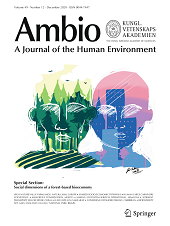 Environmental effects of a green bio-economy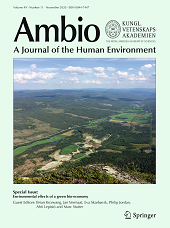 Terrestrial biodiversity in a rapidly changing Arctic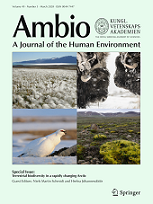 Published in 2019
Sustainable ecosystem governance under changing climate and land use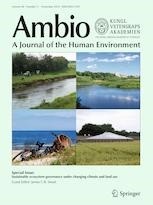 Urban transformative capacity: From concept to practice
Lead in Hunting Ammunition: Persistent Problems and Solutions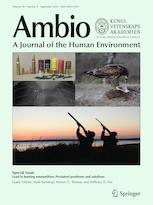 Published in 2018
Handling the phosphorus paradox in agriculture and natural ecosystems: Scarcity, necessity, and burden of P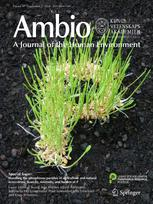 Integrating Mercury Research and Policy in a Changing World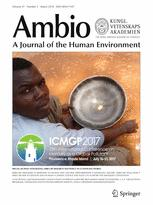 The North Water: Interdisciplinary studies of a High Arctic polynya under transformation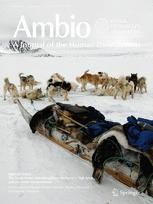 Published in 2017
Synthesis of the Greenland Ecosystem Monitoring Programme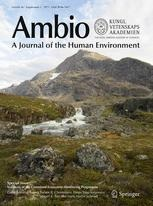 Goose management: From local to flyway scale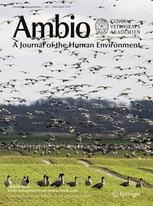 Arctic Climate Change, Economy and Society (ACCESS)