Editor-in-Chief Highlights: September 2020
Find Dr. Golubnitschaja's Editor-in-Chief Highlights from our September 2020 issue (Vol 11, Issue 3) below. You can access the complete issue here.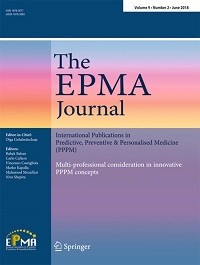 COVID-19 what have we learned? The rise of social machines and connected devices in pandemic management following the concepts of predictive, preventive and personalized medicine
Petar Radanliev et al.
Differences in cohort study data affect external validation of artificial intelligence models for predictive diagnostics of dementia - lessons for translation into clinical practice
Colin Birkenbihl et al.
Flavonoids against the Warburg phenotype—concepts of predictive, preventive and personalised medicine to cut the Gordian knot of cancer cell metabolism
Marek Samec et al.
Prostate cancer management: long-term beliefs, epidemic developments in the early twenty-first century and 3PM dimensional solutions
Radek Kucera et al.
Optimal multiparametric set-up modelled for best survival outcomes in palliative treatment of liver malignancies: unsupervised machine learning and 3 PM recommendations
Elisha Goldstein et al​​​​​​​.