JHEP Event & Reception at ICTP Trieste on Friday, May 13, 2022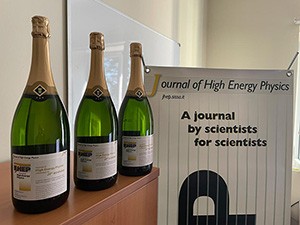 On Friday, May 13th – the last day of the Spring School on Superstring Theory and Related Topics at the International Centre for Theoretical Physics (ICTP) in Trieste – the afternoon was dedicated to JHEP:
SISSA Director Andrea Romanino presented an overview of 25 years of JHEP at SISSA, which was complemented by Christian Caron looking back on 12 years of the Springer/JHEP collaboration and especially the negotiation, implementation and continuation of SCOAP3 open access funding.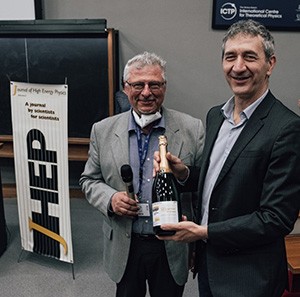 Christian Caron and Andrea Romanino (Photo: Lisa Zillio)
The students Lucía Magalí Cabrera (Instituto Balseiro, Argentina), Jyotirmoy Mukherjee (Indian Institute of Science) and Leonardo Nicolás Sanhueza Mardones (Universidad de Concepción, Chile) were each awarded a book voucher from Springer.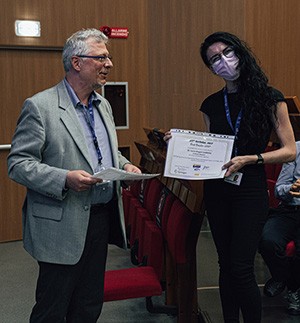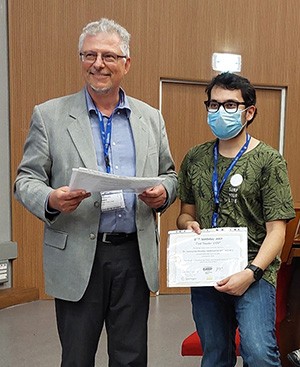 Lucía Magalí Cabrera and Leonardo Nicolás Sanhueza Mardones receiving their book voucher awards - Photos: Lisa Zillio (left), Sabine Lehr (right)
JHEP Editor Matthias Gaberdiel from the ETH Zürich Switzerland spoke about the role of JHEP editors – all experts in the areas covered by JHEP – who take full responsibility for the peer-reviewing including the final decision to accept or reject an article.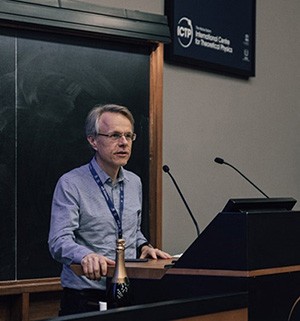 Matthias Gaberdiel (Photo: Lisa Zillio)
Maria Teresa Leo from the JHEP Editorial & Production Office described in some detail JHEP's running operation and the general flow of an article in the editorial process.

JHEP Team (from left to right: Maria Teresa Leo, Marco Mizzaro, Cristian Zoicas, Cristiana Prever, Valentina Mengarelli, Federica Princi, Aldo Rampioni, Beantrice Biggio, Caterina Massa, Giulia Cassano, Gabriella Furlan, Matthias Gaberdiel, Christian Caron, Andrea Romanino, Sabine Lehr) - Photo: Lisa Zillio
Lastly, the students had the chance to ask questions about the journal in particular and related scientific publishing in general.
Following the presentations, the JHEP Birthday Aperitivo was served at the Adriaco Yacht Club at the Trieste marina.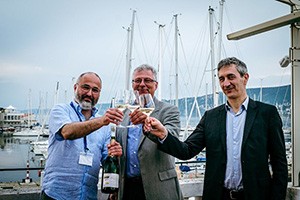 Aldo Rampioni (CEO, SISSA Medialab), Christian Caron, Andrea Romanino (Photo: Lisa Zillio)
Working on a manuscript?
Avoid the most common mistakes and prepare your manuscript for journal editors.
Learn more