Society Updates
SGIM Forum is the official newsletter of the Society of General Internal Medicine!

SGIM Forum offers articles, essays, thought pieces and editorials that reflect on health care trends, report on Society activities, and explore important issues for general internists in U.S. healthcare and globally.
Transforming Values in Action: April 20-23, 2021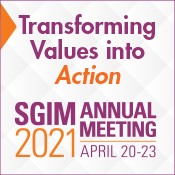 The 2021 SGIM Annual Meeting will transcend the boundaries of physical space to bring you a vital and energizing virtual learning experience. Connect with your colleagues and share new knowledge through live scientific Q&A sessions, interactive mentoring panels, and virtual networking opportunities from the comfort of your home or institution. The 2021 SGIM Annual Meeting offers incredible value and superior educational content presented by leading experts in clinical practice, medical education and research.