Research Highlight: Identifying Shocked Feldspar on Mars Using Perseverance Spectroscopic Instruments
July 2022
The journal Earth, Moon, and Planets recently published the following excellent paper by Dr. S. Shkolyar (NASA Goddard Space Flight Center):
"Identifying Shocked Feldspar on Mars Using Perseverance Spectroscopic Instruments: Implications for Geochronology Studies on Returned Samples"
https://link.springer.com/article/10.1007/s11038-022-09546-6
Mars exploration is at the core of the journal's scope, and we are proud to highlight this excellent contribution. The paper will be freely available for a period of 2 months.
In addition, please out check the "Behind the Paper" blog post by the paper's authors at the Nature Portfolio Astronomy Community, highlighting the researchers' journey from conception to publication:
https://astronomycommunity.nature.com/posts/how-does-shock-impact-nasa-s-mars-rover-s-selection-of-optimal-samples-for-return-to-earth?channel_id=behind-the-paper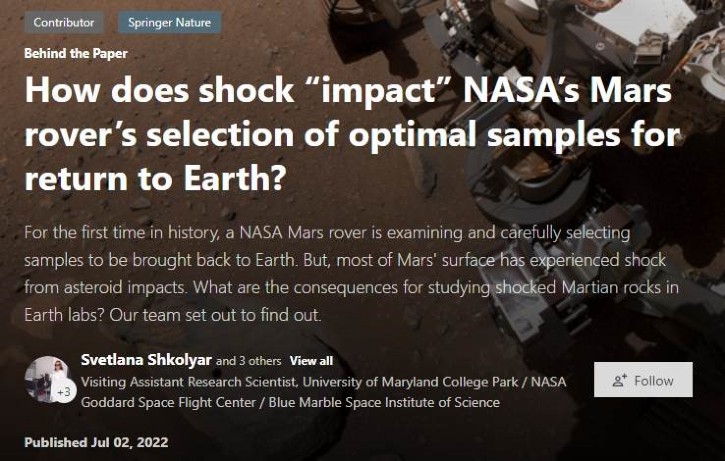 Working on a manuscript?
Avoid the most common mistakes and prepare your manuscript for journal editors.
Learn more