The Robert W. Cahn Prize
The Cahn Prize has been named in honor of the Journal's founding editor, the late Professor Robert Wolfgang Cahn.

Each month the Editors select a paper published in that month's issues via a rigorous nomination and voting procedure. The winning paper is selected from the twelve finalists by a separate panel of distinguished materials scientists.

The authors of the winning paper receive an award of $5,000.
For more information, and to see the current finalists for 2020, click here!
The 2019 Cahn Prize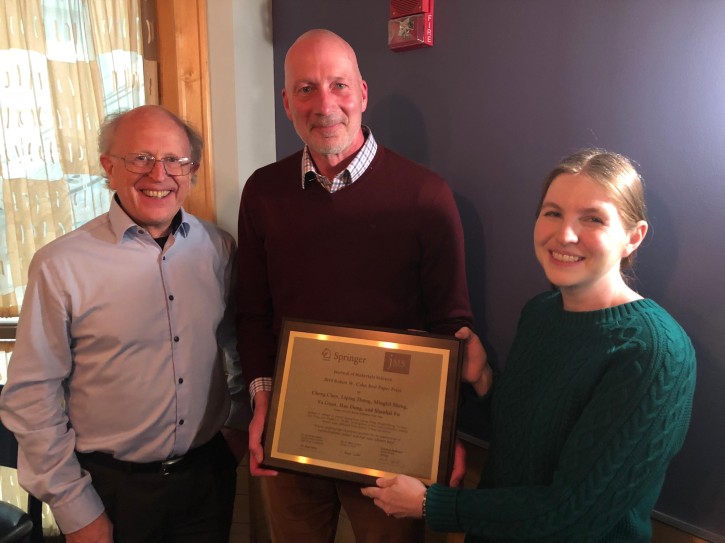 Pictured left to right: Editor-in-Chief C. Barry Carter, Deputy Editor-in-Chief M. Grant Norton, Publishing Editor Sara Kate Heukerott
The Winner of the 2019 Robert W. Cahn Prize for Journal of Materials Science is "Robust raspberry-like all-polymer particles for the construction of superhydrophobic surface with high water adhesive force" by Cheng Chen, Liping Zhang, Mingfei Sheng, Yu Guan, Hao Dong, and Shaohai Fu.
For 2019's Finalists and more information, click here!
Previous Cahn Prize Winners and Finalists
The 2011 Sapphire Prize
The 2011 Sapphire Prize commemorated the Journal's 45th Anniversary, and was later adapted into the annual Cahn Prize.
You can see the 2011 Sapphire Prize Finalists and winner here.