Special Call for Papers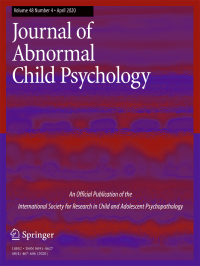 Journal of Abnormal Child Psychology Special Issue
Transdiagnostic Implications of Parental Socialization of Child and Adolescent Emotional Development
EXTENDED Manuscript Submission Deadline: June 15, 2020
The Journal of Abnormal Child Psychology invites manuscripts for a special issue on "Transdiagnostic Implications of Parental Socialization of Child and Adolescent Emotional Development" to be edited by Erica D. Musser, PhD (Florida International University), Julia McQuade, PhD (Amherst College), and Rosanna Breaux, PhD (Virginia Tech).
The editors invite high quality studies on relevant topics including (but not limited to):
The role of emotion socialization in the development of psychopathology
The role of emotion socialization in the development of emotion regulation (e.g., psychophysiological, observational, informant-report)
Parent- or child-level factors that modify the association between emotion socialization and youth outcomes
Effects of interventions targeting emotion socialization on parent and child outcomes
We particularly encourage submissions that use a range of cutting-edge methodologies to assess parent emotion socialization and transdiagnostic outcomes. Manuscripts utilizing multiple methods and/or spanning multiple levels of analysis and/or utilizing longitudinal methods are particularly encouraged.
Interested authors should submit manuscripts using standard submission guidelines for JACP: https://www.springer.com/journal/10802/submission-guidelines. All manuscripts should be submitted through Editorial Manager: https://www.editorialmanager.com/jacp/default.aspx. When submitting, authors should indicate that this paper is intended for the special issue on Parent Emotion Socialization by choosing this option on the "manuscript type" drop-down menu and noting this in the submitted cover letter. The paper will then be assigned to Drs. Musser, McQuade, and/or Breaux for handling.