Welcome to Hydrobiologia's cover gallery
2021
Volume 848 Issue 9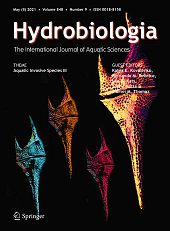 Cover illustration Electromicrography (SEM), of the harmful invasive worldwide spread dinoflagellate Ceratium furcoides (Dorsal view in 1.55kx of magnification, using ZEISS, AURIGA 45–38). The photographed specimens were sampled in Santa Branca Reservoir, an oligotrophic freshwater source in São Paulo, Brazil, taken during the Research & Development Program of Light Energy Company Project in July 2011. Photograph by Sara Teixeira de Macedo (Universidade Federal do Rio de Janeiro) and Rafael Lacerda Macêdo, funding by Christina W.C. Branco and image design by Karen Costa (NEL, Universidade Federal do Estado do Rio de Janeiro, Brazil) (Hydrobiologia 848(9): 2105–2117).
Volume 848 Issue 8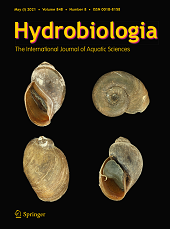 Cover illustration Four intermediate host snail species of the parasitic disease schistosomiasis (from left to right and top to bottom: Bulinus globosus, Biomphalaria pfeifferi, Bulinus truncatus, and Bulinus tropicus). Despite their importance as a disease vector, little ecological data is available on these snails. However, this data can assist in the design of effective snail control measures that are a vital part in the integrated strategy for schistosomiasis control, and in the assessment of schistosomiasis risk under changing climatic conditions. Photograph by Ruben Schols (Royal Museum for Central Africa, Tervuren, Belgium; https://www.africamuseum.be/nl/staff/1591) (Hydrobiologia 848(8): 1773–1793).
Volume 848 Issue 7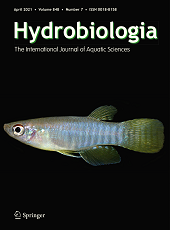 Cover illustration Male of the banded killifish, Aplocheilichthys spilauchen, imported from the mangroves and brackish waters of Nigeria. The bright red dorsal region of eye, the bars along the flank and the banded anal, dorsal and caudal fins are key traits for the identification of males and in distinguishing A. spilauchen from other procatopodids. Photograph by Peter Venstermans (a Belgium-based aquarist) (Hydrobiologia 848(7): 1433–1453).
Volume 848, Issue 6

Cover illustration American Toad, Anaxyrus americanus, male calling at a spring chorus in a wetland on Otterbein University campus in Westerville Ohio, USA. Photograph by Sarah S. Bouchard (Hydrobiologia 848(6): 1219–1230).
Volume 848, Issue 5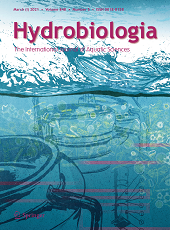 Cover illustration Illustrated is a section of 'Sea Soup' – an award-winning science-art quadtych made by Scott Luís Masson in collaboration with Russell Arnott as part of the University of Bath's Visions of Science art prize. The illustration depicts the mesocosm facilities at Umeå Marine Science Centre together with a community of phytoplankton species found in the Gulf of Bothnia. The different sized waves represent various levels of turbulence intensities. Scott Luís Masson is a UK-based illustrator who frequently explores the marine environment throughout his work (www.slmillustration.com). (Hydrobiologia 848(5): 961–991).
Volume 848, Issue 4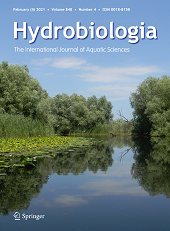 Cover illustration Specific wetland ecosystem at the secondary channel to the Roşu-Puiu lake complex, Danube Delta Biosphere Reserve, Romania. Photograph taken during the CyanoArchive Project sampling trip in July 2013, by Maria Iasmina Moza (Hydrobiologia 848(4): 753–771).
Volume 848, Issue 3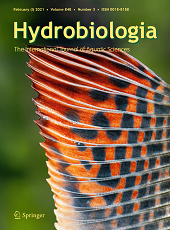 Cover illustration Dorsal fin of a European grayling (Thymallus thymallus), where the monogenean parasite Gyrodactylus thymalli likes to attach itself. Photograph taken during field work at Lake Mjøsa, Norway, by Ruben Alexander Pettersen (Hydrobiologia 848(3): 547–561).
Volume 848, Issue 2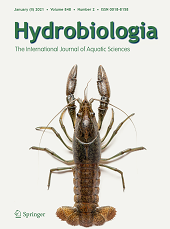 Cover illustration The marbled crayfish Procambarus virginalis is the only known parthenogenetic freshwater crayfish. It was detected in 1995 in the German aquarium trade and is now widespread among aquarists. It is also used as a research model in many laboratories. Releases have led to the establishment of wild populations in 18 countries in Europe, Africa and Asia. Due to parthenogenetic reproduction, it was suggested to establish this species in aquaculture. However, because of relatively small body size, conservation concerns resulting from high invasiveness, and economic reasons the marbled crayfish is considered unsuitable for aquaculture. Photograph by Chris Lukhaup (Hydrobiologia 848(2): 285–298).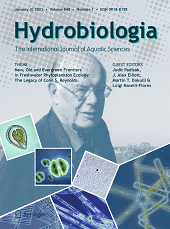 Cover illustration Artwork by Magalí Izaguirre. Algal pictures taken by Rossella Barone (Staurastrum); Gábor Borics (Cosmarium); Martin Dokulil (Surirella peisonis Pantocsek); and Nico Salmaso (Tabellaria, Fragilaria, Mougeotia). Colin Reynolds' photograph was made available by Jean Reynolds and scanned by Stephen Maberly from the analogue picture.
2020
Cover illustration Fisherman Ilkka Tonteri unloads cyprinid fish caught with a seine from Lake Vesijärvi, Finland, close to the site of the Lahti Lakes 2018 symposium. Management fishing is employed in Lake Vesijärvi to control cyprinid populations, remove nutrients and suppress internal phosphorus loading, thereby supporting the productivity of valuable fish stocks. The average catch target is 20 kg/ha/year. Since 1987, more than 4.5 million kilograms of cyprinid biomass have been removed from Lake Vesijärvi, corresponding to more than 34 tonnes of phosphorus. The food industry uses the catch to produce fish mass as a raw material for fish steaks and canned roach. Smaller fish are used to produce biogas and compost in the Lahti area. Photograph by Juha-Pekka Huotari (City of Lahti, Finland).
Volume 847, Issue 20

Cover illustration Shallow tropical floodplain lake with a direct and short connection with the Paraná River (Brazil). Photograph by Sidinei M. Thomaz (UEM/PEA/Nupélia, Maringá, PR, Brazil).
Volume 847, Issue 19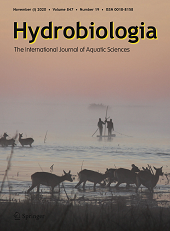 Cover illustration Macrophyte and Black Lechwe antelope (Kobus leche) interaction at the Lukulu River within the Bangweulu Swamps of Northern Zambia. Photograph by M. Celeste Franceschini (Hydrobiologia 847(19): 3931–3950).
Volume 847, Issue 18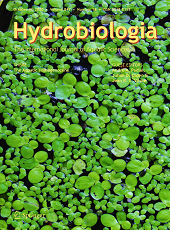 Cover illustration Lemna minor and Spirodela polyrhiza are growing on the surface of one of the study lakes included in temporal lake data of aquatic macrophytes from the 1940s to the 2010s from southern Finland. This data was used in a study that focused on the issue of functional homogenisation and differentiation by examining functional features of vascular aquatic macrophytes. Findings revealed that functional homogenisation has not occurred across these boreal lakes, ranging from small oligotrophic forest lakes to larger lakes affected by human impacts. Even though there were no signs of functional homogenisation or differentiation, changes in the environment have affected functional community composition and changes in functional richness to some extent. Photograph by Marja Lindholm (Hydrobiologia 847(18): 3811–3827).
Volume 847, Issue 17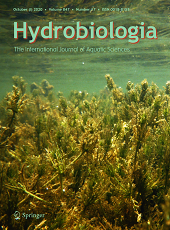 Cover illustration Charophytes (submerged macrophytes) can form dense meadows in freshwater ecosystems that structure the whole community through trophic and non-trophic interactions (e.g. allelopathy against primary producers, refuge for zooplankton or vital support for periphyton). Furthermore, these organisms are very vulnerable to environmental changes. These facts place them in a central position regarding the structure and function of freshwater ecosystems facing current global change. The underwater photograph shows a dense charophytes meadow of the species Chara hispida L. from an interdunal pond on the Mediterranean coast near Valencia (Spain) in spring, when these organisms are at their growth peak. Photograph by Eric Puche (Hydrobiologia 847(17): 3549–3569).
Volume 847, Issue 16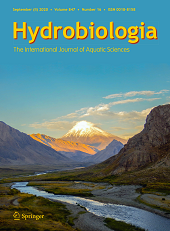 Cover illustration A landscape of Damavand Volcano and Lar River main stream in Gozal Valley, Lar National Park, Iran. Mount Damavand (5610 m above sea level, an Iranian National heritage site), a majestic stratovolcano is the highest peak in the Middle East and the second-highest volcano in Asia. The Lar River (55 km length) and its tributaries are the best habitat for Salmo caspius, in the southern Caspian Sea basin. The river drains into Lar reservoir from where the tail water flows toward the Caspian Sea. The national park (30,000 ha) is a stunning combination of unique natural sights and an incredibly rich ecosystem that hosts other important flora and fauna. Photograph by Seyedeh Narjes Tabatabaei (Hydrobiologia 847(16): 3339–3353).
Cover illustration The rare Blind Cave Eel Ophisternon candidum is restricted to only a few sites in northern Western Australia's arid zone and lives entirely in aquatic subterranean habitats. Its bizarre appearance with no eyes or skin pigment reflect a life in total darkness. This cryptic species is very difficult to sample using traditional sampling methods but environmental DNA (eDNA) approaches offer a promising method to indirectly detect where it occurs and allows for conservation planning. Photograph by Mark Allen & Glenn Moore (Western Australian Museum) (Hydrobiologia 847(15): 3201–3211).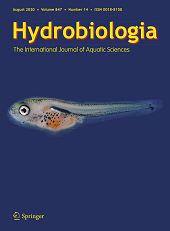 Volume 847, Issue 14
Cover illustration Burbot (Lota lota) exhibit a circumpolar distribution and is a high trophic level predator in all aquatic systems where found. A gadiform peripheral freshwater species, these fish hatch at around 3mm and then passively drift and feed on small zooplankton for much of their early life. The ten week old larvae pictured was propagated from wild Lake Superior (Michigan) spawners to compare morphology to similarly propagated larvae from the Kootenai River, Idaho, USA. Differences in growth patterns and developmental morphology were present between the populations. These differences are likely driven by spatial separation and source environments, and warrant further consideration for the conservation of this species. Photograph by Thornton A. Ritz (Hydrobiologia 847(14): 2981–2998).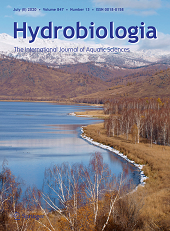 Volume 847, Issue 13
Cover illustration Lake Markakol is located in Eastern Kazakhstan in the southern Altai mountains at an altitude of 1449 m above sea level. It is the largest lake of the entire Altai mountain system having an area of 455 km2. The lake is fed by 50 tributaries, and has one outflow, the Kaldzhir River. This golden autumn image is from the North-Eastern end of the lake with the Samovar mountain in the background. October brings a thin edge of ice and snow along the lake's shores. The lake lies almost entirely in a 100,000-hectare nature preserve known for its picturesque scenery and highly diverse fauna and flora. Photograph by Mirgaliy Baimukanov (Hydrobiologia 847(13): 2823–2844).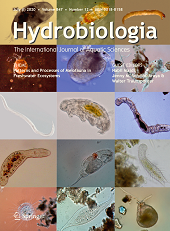 Volume 847, Issue 12
Cover illustration The following fifteen taxa are displayed from top to bottom, left to right: Ostracoda (Afon Gam, Wales, UK); Copepoda (Acanthocyclops sp.) Huicha River, Chiloé, Chile; Chironomidae (Glyptotendipes pallens Meigen) City Mills River and Lea Navigation, London, UK; Hydrachnidia (Sperchon violaceus Walter) Adur River, UK; Cladocera (Alona sp.) Regents Canal, London, UK; Harpacticoida [A. (Delachauxiella) wiesseri Löffler] and Bdelloidea [Dissotrocha macrostyla (Ehrenberg)] both Huicha River, Chiloé, Chile; Nematoda (Mononchus niddensis Skwarra) Lake Schöhsee, Plön, North Germany (Photograph courtesy of W. Traunspurger); Tardigrada (Macrobiotus sp.) Afon Mynach, Wales, UK; Aelosomatidae [Aelosoma hemprichi (Ehrenberg)] Lone Oak stream, UK; Microturbellaria (Stenostomum grabbskogense Luther), Huicha River, Chiloé, Chile; Rotifera (Cephalodella intuta Myers) Huicha River, Chiloé, Chile; Gastrotricha (Chaetonotus similis Zelinka) Lake Pratignano, Italy (Photograph courtesy of M. Balsamo); Heliozoa (Actinosphaerium nucleofilum Barrett) Calle-Calle River, Chile; Ciliophora (Amphileptus pleurosigma (Stokes) Foissner) Calle Calle River, Chile; Testacea (Lesquereusia spiralis (Ehrenberg)) Huicha River, Chiloé. Photographs courtesy of P.E. Schmid and J.M. Schmid-Araya (except where indicated otherwise).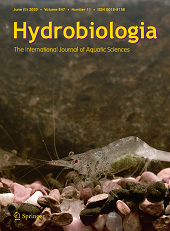 Volume 847, Issue 11
Cover illustration Paratya australiensis Kemp 1917 is the most common freshwater shrimp found in streams of eastern Australia. This female has a brood of eggs held under her abdomen. Stable isotope analyses indicates that they predominately derive their energy (carbon) from instream sources, regardless of variations in adjacent land use. Photograph by Simon Hartley (School of Environment, Science and Engineering, Southern Cross University, Lismore, Australia) (Hydrobiologia 847(11): 2377–2392).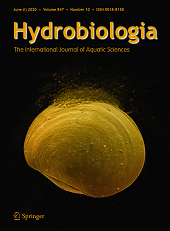 Volume 847, Issue 10
Cover illustration Straight-hinged veliger of the golden mussel (Limnoperna fortunei) on a carbon substrate under Scanning Electron Microscopy (SEM), digitally coloured. SEM Magnification: 3.10kx, HV: 10kV, WD: 17.02mm. Equipment: Vega 3 Tescan. Image courtesy of Arthur Corrêa de Almeida*, Anna Carolina Paganini Guañabens* & Gabriela Rabelo Andrade* (*2014, Bioengineering Centre of Invasive Species (CBEIH), Brazil – www.cbeih.org) (Hydrobiologia 847(10): 2193–2202).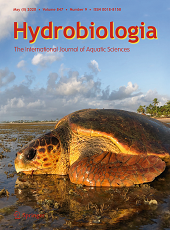 Volume 847, Issue 9
Cover illustration Skull ontogenetic variation of the coastal developmental stage of the loggerhead turtle (Caretta caretta) in the South Western Atlantic ocean. Photograph by Pedro Luz (Bird and Mammal Evolution, Systematics and Ecology Lab, Universidade Federal do Rio Grande do Sul, Brazil) (Hydrobiologia 847(9): 1999–2019).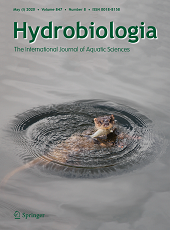 Volume 847, Issue 8
Cover illustration Juvenile Eurasian otter (Lutra lutra) with a goldfish prey at Cecebre reservoir (NW Spain). Otters showed marked diet seasonality. They hunted mainly for fish in autumn-winter, when the amount of water stored in the reservoir reached its annual minimum, but fish abundance was highest. They shifted to hunt mainly for crayfish in spring-summer when water level was highest, fish abundance was lowest and crayfish were not hibernating. Otters also shifted from eating mainly goldfish in autumn to eating mainly nases in winter, due to the cumulative predation of large rafts of great cormorants on goldfish during autumn, and also because goldfish reduced their biological activity with the lower water temperatures of the winter. Photograph by Alejandro Martínez-Abraín (Hydrobiologia 847(8): 1803–1816).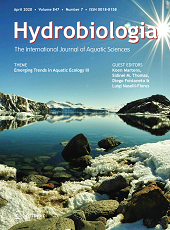 Volume 847, Issue 7
Cover illustration Antarctica is considered to be a sentinel of climate change. This image depicts the coastal site of Tethys Bay, where the study by Piazza et al. (this issue) was performed. The site was photographed in mid-January, when open water conditions occur at sea and just a few scattered fragments of pack ice are still present. The annual duration of open water condition in Antarctic coastal areas might increase in the near future and there is an urgent need for long term monitoring programs that may help in documenting changes. Photograph by Stefano Schiaparelli (© PNRA) (Hydrobiologia 847(7): 1753–1771).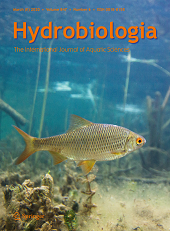 Volume 847, Issue 6
Cover illustration The roach (Rutilus rutilus L.) is a common European cyprinid which responds to predation threat by size-dependent presence in particular habitats. Because females are usually larger than males they can occupy risky open water habitat at a higher frequency than smaller males. This size-specific response to predation risk coupled with sexual size dimorphism leads to the sexual segregation of roach with dominance of females over males in open water habitat. Photograph by Rostislav Štefánek (Uherské Hradiště, Czechia, www.zezivotaryb.cz) (Hydrobiologia 847(6): 1439–1451).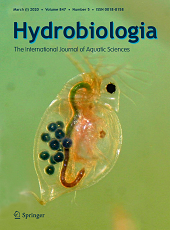 Volume 847, Issue 5
Cover illustration Parthenogenetic female of Daphnia magna with asexual eggs, a zooplankton species that inhabit the Doñana temporary ponds (SW Spain). These temporary ponds are characterized by wide interannual variation in the filling season, which in turn, conditions the environmental characteristics that trigger egg hatching after pond filling, and the composition of the zooplankton communities. Photograph by Alexandre Portheault (Solignac, France; e-mail: aportheault@hotmail.com) (Hydrobiologia 847(5): 1195–1205).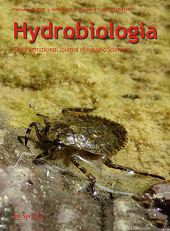 Volume 847, Issue 4
Cover illustration The giant water bug Abedus herberti Hidalgo 1935 is an agile, sit and wait predator in perennial montane streams of the southwestern USA and northern Mexico. A. herberti adults are top predators in fishless streams preying on a variety of organisms. Stable isotopes suggest their prey are derived mainly from terrestrial sources of carbon. Photograph by Emily Hartfield Kirk (Hydrobiologia 847(4): 983–997).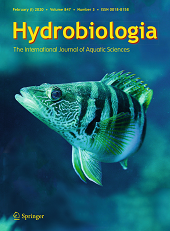 Volume 847, Issue 3
Cover illustration Serranus scriba (the painted comber) at Cabo de Palos-Islas Hormigas Marine Reserve, Spain. This species is a typical mesopredator found until 150m deep in subtropical rocky reefs habitats and Posidonia meadows at the Mediterranean, Black Sea and Eastern Atlantic Ocean. They primarily feed on crustacean and small fish as well as on other combers such as S. cabrilla, but they avoid competition by partitioning their habitat by occupying different depth strata. On the other hand, an overlapping habitat distribution with a common top predator species, Epinephelus marginatus, cause a mediated top-down control of S. scriba populations when top predators are at high densities, such as inside marine protected areas. Photograph by Carlos Werner Hackradt (Hydrobiologia 847(3): 757–770).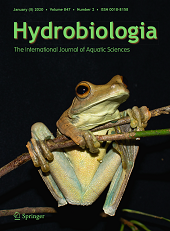 Volume 847, Issue 2
Cover illustration This anuran is a 117 mm male of Boana boans, a species that belong to the group of gladiator tree frogs. The specimen is perched on the branch of a Pouteria sp. tree at the end of the rainy season. Males of this species have the habit of vocalizing at night on branches along rivers and streams, and after the amplexus, females descend to the ground and spawn in sand basins previously built by males. Photograph by Rainiellen Carpanedo (undergraduate student in Forestry Engineering, Universidade Federal de Mato Grosso, Sinop, Mato Grosso, Brazil) (Hydrobiologia 847(2): 321–330).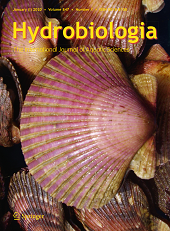 Volume 847, Issue 1
Cover illustration Peruvian scallop (Argopecten purpuratus) or Concha de abanico (in Spanish) from natural banks of Lobos de Tierra island, Peru. Photograph by Jaime Mendo (Hydrobiologia 847(1): 11–26).
2019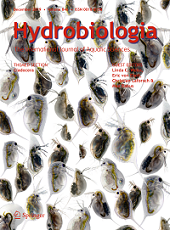 Volume 846
Cover illustration Many species of the genus Daphnia display inducible morphological defences. In the presence of predators, one genotype can express adaptive phenotypes reducing the predation risk. D. cucullata develops helmets and D. pulex neck teeth in the presence of the phantom midge larvae Chaoborus spec. D. Lumholtzi develop elongated head and tail spines in the presence of the three-spined stickleback Gasterosteus aculeates. D. Longicephala defends the heteropteran backswimmer Notonecta glauca by developing enlarged crests. D. barbata can even display two different adaptive phenotypes in form of alternative head morphologies defending either N. glauca or the tadpole shrimp Triops spec. Photograph by Linda C. Weiss.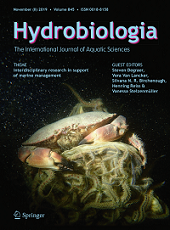 Volume 845
Cover illustration Edible crab (Cancer pagurus) on European flat oyster (Ostrea edulis) with below common brittle stars (Ophiothrix fragilis) at approximately 15 m deep near Wemeldinge, Eastern Scheldt, The Netherlands. Photograph by Jos Meulendijks (Graphics Designer & Underwater Photographer, Best, The Netherlands https://nl.linkedin.com/in/jos-meulendijks-850542b3).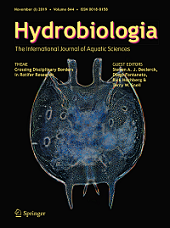 Volume 844
Cover illustration Platyias quadricornis (Ehrenberg, 1832) is a common ploimid rotifer found in limnetic habitats across the globe. This female was photographed by Adán Jiménez Nigó using a Nikon Eclipse E600 at the Laboratorio de Zoología Acuática, Edificio UMF Universidad Nacional Autónoma de México, Campus Iztacala/FES Iztacala, Los Reyes Tlalnepantla, México.
Volume 843
Cover illustration Massive Corbicula beds found on muddy substrate at the eastern shore of ancient Lake Lanao (Mindanao, Philippines) at ca. 2 m water depth. Photograph by Björn Stelbrink (Hydrobiologia, 843, pp. 31–49).839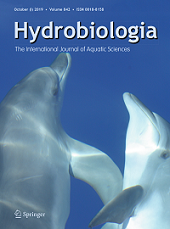 Volume 842
Cover illustration Two bottlenose dolphins (Tursiops truncatus) swimming at the bow of the research ship, Andratx, SW of Mallorca, Balearic Islands. Photograph by José M. Brotons (Hydrobiologia 842, pp. 233–247).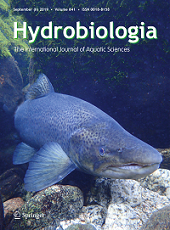 Volume 841
Cover illustration Anadromous brown trout (Salmo trutta) in the river Uskedalselva in Western Norway. The species depends on gravel substrate to reproduce. The article by Pulg et al. in this issue focusses on the influence of spawning gravel availability on the abundance of juvenile trout in rivers. Photograph by Ulrich Pulg (Hydrobiologia, 841, pp. 13–29).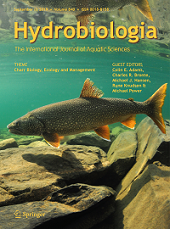 Volume 840
Cover illustration A Lake Charr pictured in a clear lake in the Northwest Territories of Canada. Photograph by Paul Vecsei. Paul is a fisheries biologist with the Department of Fisheries and Oceans Canada. He also specialises in freshwater underwater photography of northern fishes.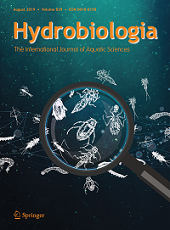 Cover illustration Assessing the ecological status of rivers: usefulness of combined biomarker and macroinvertebrate community-based approaches. Image design by Pedro Teixeira (freelance designer) and Carolina Rodrigues (Hydrobiologia, 839, pp. 1–24).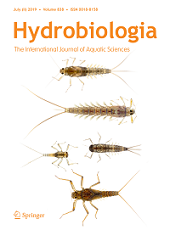 Cover illustration Representative mayflies (Andesiops peruvianus, Mayobaetis sp. Andesiops sp.1, Baetodes sp.1. Baetodes sp. 2) from Andean-Amazon streams of the Napo River Basin, Ecuador. Photographs by José Vieira (Laboratory Aquatic Ecology, Universidad San Francisco de Quito, USFQ, Ecuador) (Hydrobiologia 838, pp. 13–28).
Cover illustration Elephants enjoying a mud shower in Mandavu Pound, Hwange National Park, Zimbabwe. While walking in the water, they stir together sediment and water with their trunk to suck runny mud and spray themselves. Doing so, they resuspend sediments and, possibly, foul water with their urine and faeces. Phototograph by Florence D. Hulot (Hydrobiologia, 837, pp.161–175).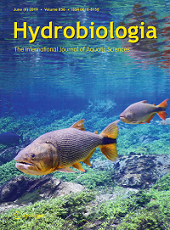 Cover illustration Salminus brasiliensis at the bottom of the Olho d'Água karst river in the Bodoquena Plateau, Brazil. Photograph by José Sabino (Projeto Peixes de Bonito, Universidade Anhanguera – Uniderp, Campo Grande, MS, Brazil) (Hydrobiologia, 836, pp. 21–34).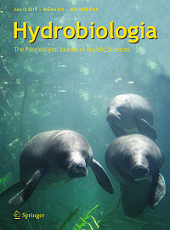 Cover illustration Amazonian manatees (Trichechus inunguis) in the rehabilitation tanks of the National Research Institute of the Amazon, after an ornamentation, simulating the natural environment, for a documentary made by NHK (Japan's national public broadcasting organization). Photograph by José Anselmo d'Affonseca Neto (Veterinarian at the Aquatic Mammals Laboratory [MLA] of the National Institute of Amazonian Research [INPA]) (Hydrobiologia, 835, pp. 1–19).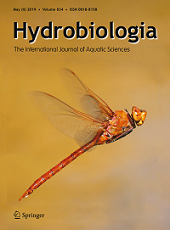 Cover illustration Male Anax speratus (Odonata: Aeshnidae) mate-guarding during oviposition, Rondegat River, Western Cape Province, South Africa. One of the many dragonfly taxa encountered during our five-year study published in this issue, monitoring for non-target effects of rotenone on aquatic invertebrates coupled with the removal of non-native fish from the Rondegat River. Photograph by Terence A. Bellingan (South African Institute for Aquatic Biodiversity, Grahamstown, South Africa) (Hydrobiologia, 834, pp. 1–11).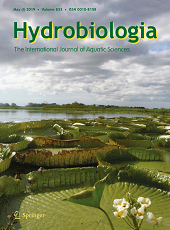 Cover illustration Victoria cruziana in a shallow lake of the lower Paraná River Floodplain in Argentina. It is called 'Irupé' that means dish that carries the water. Victoria cruziana is a floating, fixed, aquatic plant with giant leaves and spectacular flowers. This plant is typical of shallow lakes in our study area. Photograph by Maira P. Gayol (Hydrobiologia, 833, pp. 9–24).
Cover illustration Depicted is a male of Tropheops tropheops from Makokola Reef at the southern tip of Lake Malawi in Malawi in nuptial colors. Tropheops is a species-rich and ecologically diverse cichlid genus endemic to Lake Malawi. Tropheops are characterized by their blunt, usually steeply descending snout and a slightly subterminal narrow mouth, which they use to feed on algae attached to rocks. The males are quite colorful and a considerable degree of geographic color variation is present. By comparing levels of morphological disparity between Tropheops and the highly specialized and species poor genus Labeotropheus, Albertson & Pauers (on pages 153–174 of this issue) provide insights into the relationship between ecology, morphological variability and evolvability. Photograph by Wolfgang Gessl (www.pisces.at; Institute of Biology, University of Graz, Austria).
Cover illustration Prymnesium parvum Carter in Lake Biviere di Gela (Sicily, Italy). The cells are swimming across leaf debris. Photograph by Rossella Barone (University of Palermo, STEBICEF, Italy) (Hydrobiologia 831, pp. 33–41).
Cover illustration Common pochard Aythya ferina are rapidly declining globally, partly due to human induced water quality change at breeding habitats. Lake restoration at two southern Danish lakes improved water clarity and submerged macrophyte cover, increasing nesting pochard by 4 to 6 fold. Breeding pochard numbers were related to submerged macrophyte cover and water turbidity, confirming eutrophication contributes to their decline, but confirms the benefits of lake restoration as a means of re-establishing nesting pochard and other biodiversity features locally. The cover photograph shows a female common pochard at Siemień ponds, Poland, 28 May 2016 taken by Damian Kwasek (Hydrobiologia 830, pp. 33–44).
Cover illustration Pink Flamingo (Phoenicopterus ruber ruber L.) in the Celestun Biosphere Reserve, Yucatan, Mexico. These birds feed on Artemia salina (L.) and breed in this hypersaline estuary. The photograph was taken by S. Nandini during the mid-conference excursion of the IX International Symposium on Shallow Lakes held in Merida, Mexico, 19–24 February 2017. (Hydrobiologia 829, pp. 1–4).
Cover illustration Didymosphenia geminata mats in the South Fork Holston River, Tennessee USA. Mats are up to 5 cm thick and cover approximately 80–90% of the stream bottom. The mats are mainly composed of non-living filaments (white areas) used to attach cells to the substrate, with living D. geminata cells on the perimeter (brown areas). Photograph by Justin Murdock (Tennessee Technological University). (Hydrobiologia 828, pp. 147–164).
Cover illustration Red-crowned crane (Grus japonensis) is the most famous species living in the coastal reclamation habitat. It is the second rarest of the 15 crane species in the world and the IUCN Red List designated it as 'endangered' in 2013. Photograph taken in Yancheng City, Jiangsu Province, China, by Yongxiang Han (Hydrobiologia 827, pp. 21–29).
Cover illustration Ringed Kingfisher–Megaceryle torquata (Linnaeus, 1766)–is one of the six species of Kingfisher from the New World and is the largest Kingfisher of South America (40–42 cm / 300–340 g). The main realm of this monogamous and abundant bird is the mighty wetlands of the Amazon. They are territorial and mainly piscivorous, and with their stout and compact body they plunge from an overhanging bough to catch fishes of 2–20 cm in length. They excavate their nest in a burrow in the earth making a tunnel near 1.5 cm length with a chamber at the end. The clutch size can be 4–8 nestlings and only once a year. Water pollution of various sources has been the main threat causing local extinction of this wonderful bird in the Amazon region. Photograph by Renato Cintra (Hydrobiologia 826, pp. 43–65).