Welcome to Hydrobiologia's cover gallery
2020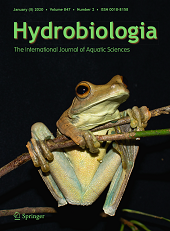 Volume 847, Issue 2
Cover illustration This anuran is a 117 mm male of Boana boans, a species that belong to the group of gladiator tree frogs. The specimen is perched on the branch of a Pouteria sp. tree at the end of the rainy season. Males of this species have the habit of vocalizing at night on branches along rivers and streams, and after the amplexus, females descend to the ground and spawn in sand basins previously built by males. Photograph by Rainiellen Carpanedo (undergraduate student in Forestry Engineering, Universidade Federal de Mato Grosso, Sinop, Mato Grosso, Brazil) (Hydrobiologia 847(2): 321–330).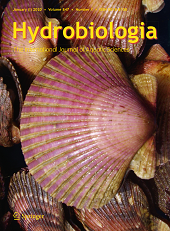 Volume 847, Issue 1
Cover illustration Peruvian scallop (Argopecten purpuratus) or Concha de abanico (in Spanish) from natural banks of Lobos de Tierra island, Peru. Photograph by Jaime Mendo (Hydrobiologia 847(1): 11–26).
2019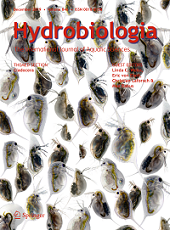 Volume 846
Cover illustration Many species of the genus Daphnia display inducible morphological defences. In the presence of predators, one genotype can express adaptive phenotypes reducing the predation risk. D. cucullata develops helmets and D. pulex neck teeth in the presence of the phantom midge larvae Chaoborus spec. D. Lumholtzi develop elongated head and tail spines in the presence of the three-spined stickleback Gasterosteus aculeates. D. Longicephala defends the heteropteran backswimmer Notonecta glauca by developing enlarged crests. D. barbata can even display two different adaptive phenotypes in form of alternative head morphologies defending either N. glauca or the tadpole shrimp Triops spec. Photograph by Linda C. Weiss.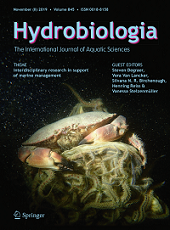 Volume 845
Cover illustration Edible crab (Cancer pagurus) on European flat oyster (Ostrea edulis) with below common brittle stars (Ophiothrix fragilis) at approximately 15 m deep near Wemeldinge, Eastern Scheldt, The Netherlands. Photograph by Jos Meulendijks (Graphics Designer & Underwater Photographer, Best, The Netherlands https://nl.linkedin.com/in/jos-meulendijks-850542b3).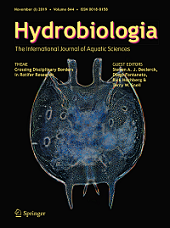 Volume 844
Cover illustration: Platyias quadricornis (Ehrenberg, 1832) is a common ploimid rotifer found in limnetic habitats across the globe. This female was photographed by Adán Jiménez Nigó using a Nikon Eclipse E600 at the Laboratorio de Zoología Acuática, Edificio UMF Universidad Nacional Autónoma de México, Campus Iztacala/FES Iztacala, Los Reyes Tlalnepantla, México.
Volume 843
Cover illustration Massive Corbicula beds found on muddy substrate at the eastern shore of ancient Lake Lanao (Mindanao, Philippines) at ca. 2 m water depth. Photograph by Björn Stelbrink (Hydrobiologia, 843, pp. 31–49).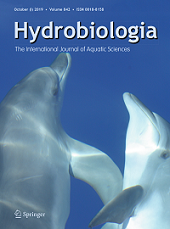 Volume 842
Cover illustration Two bottlenose dolphins (Tursiops truncatus) swimming at the bow of the research ship, Andratx, SW of Mallorca, Balearic Islands. Photograph by José M. Brotons (Hydrobiologia 842, pp. 233–247).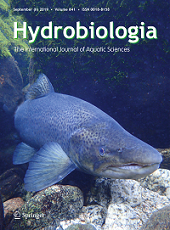 Volume 841
Cover illustration Anadromous brown trout (Salmo trutta) in the river Uskedalselva in Western Norway. The species depends on gravel substrate to reproduce. The article by Pulg et al. in this issue focusses on the influence of spawning gravel availability on the abundance of juvenile trout in rivers. Photograph by Ulrich Pulg (Hydrobiologia, 841, pp. 13–29).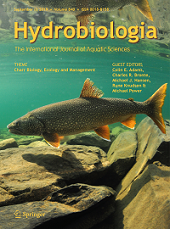 Volume 840
Cover illustration A Lake Charr pictured in a clear lake in the Northwest Territories of Canada. Photograph by Paul Vecsei. Paul is a fisheries biologist with the Department of Fisheries and Oceans Canada. He also specialises in freshwater underwater photography of northern fishes.