Welcome to Hydrobiologia's cover gallery
2020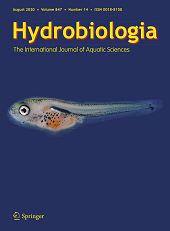 Volume 847, Issue 14
Cover illustration Burbot (Lota lota) exhibit a circumpolar distribution and is a high trophic level predator in all aquatic systems where found. A gadiform peripheral freshwater species, these fish hatch at around 3mm and then passively drift and feed on small zooplankton for much of their early life. The ten week old larvae pictured was propagated from wild Lake Superior (Michigan) spawners to compare morphology to similarly propagated larvae from the Kootenai River, Idaho, USA. Differences in growth patterns and developmental morphology were present between the populations. These differences are likely driven by spatial separation and source environments, and warrant further consideration for the conservation of this species. Photograph by Thornton A. Ritz (Hydrobiologia 847(14): 2981–2998).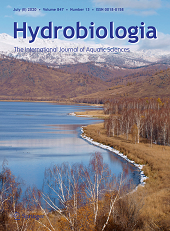 Volume 847, Issue 13
Cover illustration Lake Markakol is located in Eastern Kazakhstan in the southern Altai mountains at an altitude of 1449 m above sea level. It is the largest lake of the entire Altai mountain system having an area of 455 km2. The lake is fed by 50 tributaries, and has one outflow, the Kaldzhir River. This golden autumn image is from the North-Eastern end of the lake with the Samovar mountain in the background. October brings a thin edge of ice and snow along the lake's shores. The lake lies almost entirely in a 100,000-hectare nature preserve known for its picturesque scenery and highly diverse fauna and flora. Photograph by Mirgaliy Baimukanov (Hydrobiologia 847(13): 2823–2844).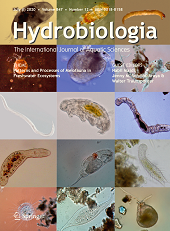 Volume 847, Issue 12
Cover illustration The following fifteen taxa are displayed from top to bottom, left to right: Ostracoda (Afon Gam, Wales, UK); Copepoda (Acanthocyclops sp.) Huicha River, Chiloé, Chile; Chironomidae (Glyptotendipes pallens Meigen) City Mills River and Lea Navigation, London, UK; Hydrachnidia (Sperchon violaceus Walter) Adur River, UK; Cladocera (Alona sp.) Regents Canal, London, UK; Harpacticoida [A. (Delachauxiella) wiesseri Löffler] and Bdelloidea [Dissotrocha macrostyla (Ehrenberg)] both Huicha River, Chiloé, Chile; Nematoda (Mononchus niddensis Skwarra) Lake Schöhsee, Plön, North Germany (Photograph courtesy of W. Traunspurger); Tardigrada (Macrobiotus sp.) Afon Mynach, Wales, UK; Aelosomatidae [Aelosoma hemprichi (Ehrenberg)] Lone Oak stream, UK; Microturbellaria (Stenostomum grabbskogense Luther), Huicha River, Chiloé, Chile; Rotifera (Cephalodella intuta Myers) Huicha River, Chiloé, Chile; Gastrotricha (Chaetonotus similis Zelinka) Lake Pratignano, Italy (Photograph courtesy of M. Balsamo); Heliozoa (Actinosphaerium nucleofilum Barrett) Calle-Calle River, Chile; Ciliophora (Amphileptus pleurosigma (Stokes) Foissner) Calle Calle River, Chile; Testacea (Lesquereusia spiralis (Ehrenberg)) Huicha River, Chiloé. Photographs courtesy of P.E. Schmid and J.M. Schmid-Araya (except where indicated otherwise).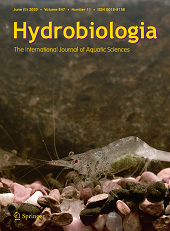 Volume 847, Issue 11
Cover illustration Paratya australiensis Kemp 1917 is the most common freshwater shrimp found in streams of eastern Australia. This female has a brood of eggs held under her abdomen. Stable isotope analyses indicates that they predominately derive their energy (carbon) from instream sources, regardless of variations in adjacent land use. Photograph by Simon Hartley (School of Environment, Science and Engineering, Southern Cross University, Lismore, Australia) (Hydrobiologia 847(11): 2377–2392).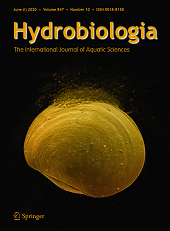 Volume 847, Issue 10
Cover illustration Straight-hinged veliger of the golden mussel (Limnoperna fortunei) on a carbon substrate under Scanning Electron Microscopy (SEM), digitally coloured. SEM Magnification: 3.10kx, HV: 10kV, WD: 17.02mm. Equipment: Vega 3 Tescan. Image courtesy of Arthur Corrêa de Almeida*, Anna Carolina Paganini Guañabens* & Gabriela Rabelo Andrade* (*2014, Bioengineering Centre of Invasive Species (CBEIH), Brazil – www.cbeih.org) (Hydrobiologia 847(10): 2193–2202).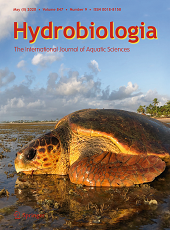 Volume 847, Issue 9
Cover illustration Skull ontogenetic variation of the coastal developmental stage of the loggerhead turtle (Caretta caretta) in the South Western Atlantic ocean. Photograph by Pedro Luz (Bird and Mammal Evolution, Systematics and Ecology Lab, Universidade Federal do Rio Grande do Sul, Brazil) (Hydrobiologia 847(9): 1999–2019).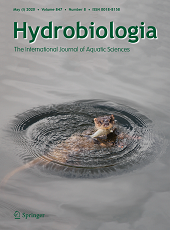 Volume 847, Issue 8
Cover illustration Juvenile Eurasian otter (Lutra lutra) with a goldfish prey at Cecebre reservoir (NW Spain). Otters showed marked diet seasonality. They hunted mainly for fish in autumn-winter, when the amount of water stored in the reservoir reached its annual minimum, but fish abundance was highest. They shifted to hunt mainly for crayfish in spring-summer when water level was highest, fish abundance was lowest and crayfish were not hibernating. Otters also shifted from eating mainly goldfish in autumn to eating mainly nases in winter, due to the cumulative predation of large rafts of great cormorants on goldfish during autumn, and also because goldfish reduced their biological activity with the lower water temperatures of the winter. Photograph by Alejandro Martínez-Abraín (Hydrobiologia 847(8): 1803–1816).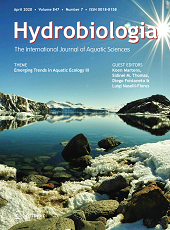 Volume 847, Issue 7
Cover illustration Antarctica is considered to be a sentinel of climate change. This image depicts the coastal site of Tethys Bay, where the study by Piazza et al. (this issue) was performed. The site was photographed in mid-January, when open water conditions occur at sea and just a few scattered fragments of pack ice are still present. The annual duration of open water condition in Antarctic coastal areas might increase in the near future and there is an urgent need for long term monitoring programs that may help in documenting changes. Photograph by Stefano Schiaparelli (© PNRA) (Hydrobiologia 847(7): 1753–1771).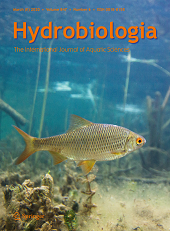 Volume 847, Issue 6
Cover illustration The roach (Rutilus rutilus L.) is a common European cyprinid which responds to predation threat by size-dependent presence in particular habitats. Because females are usually larger than males they can occupy risky open water habitat at a higher frequency than smaller males. This size-specific response to predation risk coupled with sexual size dimorphism leads to the sexual segregation of roach with dominance of females over males in open water habitat. Photograph by Rostislav Štefánek (Uherské Hradiště, Czechia, www.zezivotaryb.cz) (Hydrobiologia 847(6): 1439–1451).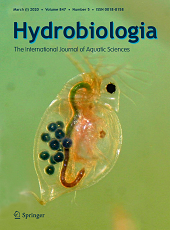 Volume 847, Issue 5
Cover illustration Parthenogenetic female of Daphnia magna with asexual eggs, a zooplankton species that inhabit the Doñana temporary ponds (SW Spain). These temporary ponds are characterized by wide interannual variation in the filling season, which in turn, conditions the environmental characteristics that trigger egg hatching after pond filling, and the composition of the zooplankton communities. Photograph by Alexandre Portheault (Solignac, France; e-mail: aportheault@hotmail.com) (Hydrobiologia 847(5): 1195–1205).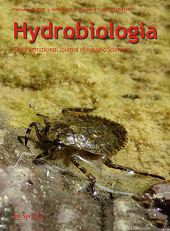 Volume 847, Issue 4
Cover illustration The giant water bug Abedus herberti Hidalgo 1935 is an agile, sit and wait predator in perennial montane streams of the southwestern USA and northern Mexico. A. herberti adults are top predators in fishless streams preying on a variety of organisms. Stable isotopes suggest their prey are derived mainly from terrestrial sources of carbon. Photograph by Emily Hartfield Kirk (Hydrobiologia 847(4): 983–997).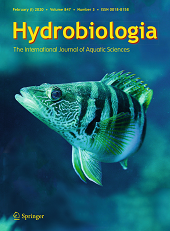 Volume 847, Issue 3
Cover illustration Serranus scriba (the painted comber) at Cabo de Palos-Islas Hormigas Marine Reserve, Spain. This species is a typical mesopredator found until 150m deep in subtropical rocky reefs habitats and Posidonia meadows at the Mediterranean, Black Sea and Eastern Atlantic Ocean. They primarily feed on crustacean and small fish as well as on other combers such as S. cabrilla, but they avoid competition by partitioning their habitat by occupying different depth strata. On the other hand, an overlapping habitat distribution with a common top predator species, Epinephelus marginatus, cause a mediated top-down control of S. scriba populations when top predators are at high densities, such as inside marine protected areas. Photograph by Carlos Werner Hackradt (Hydrobiologia 847(3): 757–770).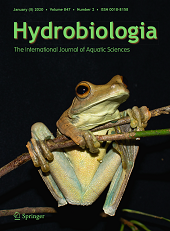 Volume 847, Issue 2
Cover illustration This anuran is a 117 mm male of Boana boans, a species that belong to the group of gladiator tree frogs. The specimen is perched on the branch of a Pouteria sp. tree at the end of the rainy season. Males of this species have the habit of vocalizing at night on branches along rivers and streams, and after the amplexus, females descend to the ground and spawn in sand basins previously built by males. Photograph by Rainiellen Carpanedo (undergraduate student in Forestry Engineering, Universidade Federal de Mato Grosso, Sinop, Mato Grosso, Brazil) (Hydrobiologia 847(2): 321–330).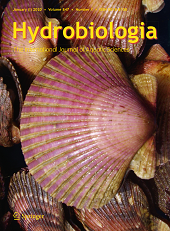 Volume 847, Issue 1
Cover illustration Peruvian scallop (Argopecten purpuratus) or Concha de abanico (in Spanish) from natural banks of Lobos de Tierra island, Peru. Photograph by Jaime Mendo (Hydrobiologia 847(1): 11–26).
2019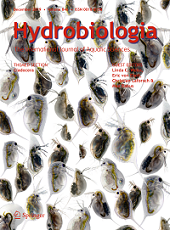 Volume 846
Cover illustration Many species of the genus Daphnia display inducible morphological defences. In the presence of predators, one genotype can express adaptive phenotypes reducing the predation risk. D. cucullata develops helmets and D. pulex neck teeth in the presence of the phantom midge larvae Chaoborus spec. D. Lumholtzi develop elongated head and tail spines in the presence of the three-spined stickleback Gasterosteus aculeates. D. Longicephala defends the heteropteran backswimmer Notonecta glauca by developing enlarged crests. D. barbata can even display two different adaptive phenotypes in form of alternative head morphologies defending either N. glauca or the tadpole shrimp Triops spec. Photograph by Linda C. Weiss.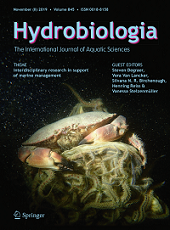 Volume 845
Cover illustration Edible crab (Cancer pagurus) on European flat oyster (Ostrea edulis) with below common brittle stars (Ophiothrix fragilis) at approximately 15 m deep near Wemeldinge, Eastern Scheldt, The Netherlands. Photograph by Jos Meulendijks (Graphics Designer & Underwater Photographer, Best, The Netherlands https://nl.linkedin.com/in/jos-meulendijks-850542b3).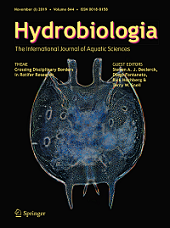 Volume 844
Cover illustration Platyias quadricornis (Ehrenberg, 1832) is a common ploimid rotifer found in limnetic habitats across the globe. This female was photographed by Adán Jiménez Nigó using a Nikon Eclipse E600 at the Laboratorio de Zoología Acuática, Edificio UMF Universidad Nacional Autónoma de México, Campus Iztacala/FES Iztacala, Los Reyes Tlalnepantla, México.
Volume 843
Cover illustration Massive Corbicula beds found on muddy substrate at the eastern shore of ancient Lake Lanao (Mindanao, Philippines) at ca. 2 m water depth. Photograph by Björn Stelbrink (Hydrobiologia, 843, pp. 31–49).839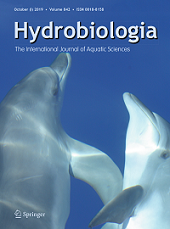 Volume 842
Cover illustration Two bottlenose dolphins (Tursiops truncatus) swimming at the bow of the research ship, Andratx, SW of Mallorca, Balearic Islands. Photograph by José M. Brotons (Hydrobiologia 842, pp. 233–247).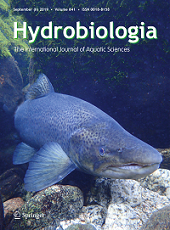 Volume 841
Cover illustration Anadromous brown trout (Salmo trutta) in the river Uskedalselva in Western Norway. The species depends on gravel substrate to reproduce. The article by Pulg et al. in this issue focusses on the influence of spawning gravel availability on the abundance of juvenile trout in rivers. Photograph by Ulrich Pulg (Hydrobiologia, 841, pp. 13–29).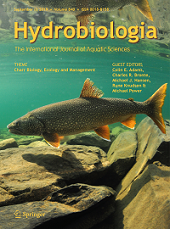 Volume 840
Cover illustration A Lake Charr pictured in a clear lake in the Northwest Territories of Canada. Photograph by Paul Vecsei. Paul is a fisheries biologist with the Department of Fisheries and Oceans Canada. He also specialises in freshwater underwater photography of northern fishes.