Call for Papers : Material cycles in construction works
Dear all related colleagues of Journal of Material Cycles and Waste Management (JMCWM)
The Journal of Material Cycles and Waste Management (Five year IF 2.900), which is the peer-reviewed journal of the Japan Society of Material Cycles and Waste Management (JSMCWM) and the Korea Society of Waste Management (KSWM), is currently running a Special Issue entitled "Material cycles in construction works". Prof. Takeshi Katsumi, Prof. Takashi, Yamamoto, Prof. Toru Inui and Prof. Seiji Hashimoto are serving as responsible editors for this issue. We expect you could make an excellent contribution based on your expertise and recent achievements in following areas;
[1] Innovative reuse and recycle of construction wastes and excavated soils
[2] Innovative recycle of municipal and industrial wastes in construction works
[3] Testing methods and frameworks to evaluate environmental suitability and durability of recycled materials
[4] Treatment of waste materials with cement, concrete and soil improvement technologies
[5] Contribution to reduction in CO2 emission and material consumption in construction industry
This Special Issue will explore the contributions of construction industry to solutions and prescriptions for technical, political, and environmental problems of material cycles and waste management. We are interested in filed studies, laboratory studies and practical implementation, in the form of Original articles, Notes, and Regional case studies. All manuscripts for the JMCWM special issue of "Material cycles in construction works" will be subject to follow standard rules and review process for peer reviewed papers; including the review of each manuscript by at least two international experts. The deadline for paper submission is August 15, 2021. The accepted papers will be published at the end of March or May, 2022 (Volume 24).
There will be no page charge for authors in this Special Issue. Color illustrations will be accepted; however the author will be expected to make a contribution to the extra cost. Instruction for Authors is available at JMCWM site on Springer Link. You find the other information for submitting and publication.
https://www.springer.com/journal/10163
We encourage authors to send a tentative title and short abstract to the Editor (Prof. Toru Inui, inui@civil.eng.osaka-u.ac.jp) in advance, if possible by June 30, 2021.
Please submit your manuscript using the online system, Editorial Manager (EM):
https://www.editorialmanager.com/jmcw/
Your specification to submit for the Special Issue of the "Material cycles in construction works" should be appreciated. Please mention thereon in space of Author Comments, as shown in the figure.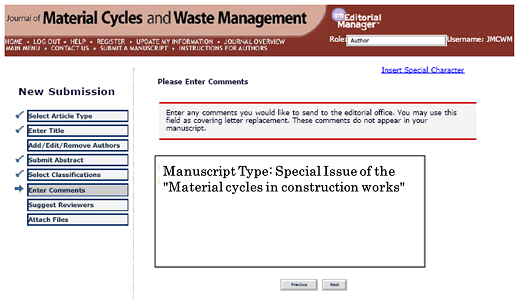 We are looking forward to receiving your manuscripts.
Best regards,
Special Editors for the "Material cycles in construction works", the special issue of JMCWM
Prof. Takeshi Katsumi
Prof. Takashi Yamamoto
Prof. Toru Inui
Prof. Seiji Hashimoto
Working on a manuscript?
Avoid the most common mistakes and prepare your manuscript for journal editors.
Learn more