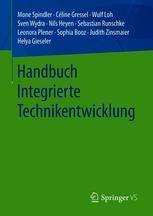 Open Access This content is freely available online to anyone, anywhere at any time.
Handbuch Integrierte Technikentwicklung
Authors: Spindler, M., Gressel, C., Loh, W., Wydra, S., Heyen, N., Runschke, S., Plener, L., Booz, S., Zinsmaier, J., Gieseler, H.
Wege zu einer interdisziplinären Technikentwicklung und den ethischen, rechtlichen, sozialen und wirtschaftlichen Fragen
Theoretische Aufbereitung wie praktische Anleitung für interdisziplinäre Projektteams
Open access verfügbares Handbuch
see more benefits
Buy this book
eBook

ISBN 978-3-658-31679-2
The ebook is not yet available online.

Hardcover 51,99 €

price for Italia (gross)

Atteso per: 31 marzo 2022
ISBN 978-3-658-31678-5
Free shipping for individuals worldwide <
Institutional customers should get in touch with their account manager
Dieses open access verfügbare Handbuch geht den zahlreichen ethischen, rechtlichen, sozialen und wirtschaftlichen nach, die die neuen Techniken wie Pflegeroboter, digitale Mobilitätssysteme oder Smart-Home-Anwendungen aufwerfen. Gerade im Forschungsfeld Mensch-Technik-Interaktion wird daher immer häufiger der Einbezug dieser Aspekte schon in der Phase der Technikentwicklung gefordert. Wie die Integration dieser Perspektiven in der alltäglichen Arbeit von Technikentwicklungsprojekten konkret umgesetzt werden kann, ist allerdings alles andere als klar. Eine wichtige Voraussetzung hierfür ist, dass die Projektteams neben Technikentwickler*innen je nach ihren spezifischen thematischen Erfordernissen auch Vertreter*innen aus den Bereichen Ethik, Sozialwissenschaft, Recht und Ökonomie umfassen. Ein interdisziplinäres Team garantiert jedoch noch nicht, dass der Einbezug ethischer, sozialer, rechtlicher und wirtschaftlicher Aspekte in die Technikentwicklung gelingt. Häufig fehlen den Projektteams methodische Konzepte, um typische Aufgaben und Herausforderungen dieser speziellen interdisziplinären Zusammenarbeit proaktiv gestalten zu können. Das Handbuch zeigt daher Wege auf, wie eine solche interdisziplinäre Technikentwicklung gelingen kann, und zwar fachwissenschaftlich und methodisch fundiert, als selbstreflexiver Prozess im Projektteam und mit realistisch eingeplantem und effektiv genutztem Arbeitsaufwand. Dabei ist nicht das Ziel, dass ethische, soziale, rechtliche und wirtschaftliche Aspekte in allen Projekten immer maximal einbezogen werden müssen. Es bietet vielmehr Hilfestellung, wie man begründet entscheiden kann, welche Aspekte wie weitreichend einbezogen werden sollten und welche aber auch nicht.

Dr. Mone Spindler, Judith Zinsmaier, Dr. Sophie Booz und Dr, Wulf Loh arbeiten am Internationalen Zentrum für Ethik in den Wissenschaften und dem Institut für Ethik und Geschichte der Medizin der Eberhard Karls Universität Tübingen.
Helya Giesler, Leonora Plener und Sebastian Runschke arbeiten am Forschungszentrum Technikrecht e.V., Humboldt Universität Berlin.
Dr. Sven Wyndra und Dr. Nils Heyen sind am Fraunhofer-Institut für System- und Innovationsforschung (ISI), Karlsruhe, tätig.
Buy this book
eBook

ISBN 978-3-658-31679-2
The ebook is not yet available online.

Hardcover 51,99 €

price for Italia (gross)

Atteso per: 31 marzo 2022
ISBN 978-3-658-31678-5
Free shipping for individuals worldwide <
Institutional customers should get in touch with their account manager
Services for this Book
Recommended for you
Bibliographic Information
Book Title

Handbuch Integrierte Technikentwicklung

Authors

Mone Spindler
Céline Gressel
Wulf Loh
Sven Wydra
Nils Heyen
Sebastian Runschke
Leonora Plener
Sophia Booz
Judith Zinsmaier
Helya Gieseler

Copyright

2022

Publisher

VS Verlag für Sozialwissenschaften

Copyright Holder

The Authors

eBook ISBN

978-3-658-31679-2

Hardcover ISBN

978-3-658-31678-5

Edition Number

1

Topics