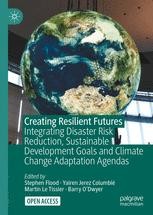 Open Access This content is freely available online to anyone, anywhere at any time.
Creating Resilient Futures
Integrating Disaster Risk Reduction, Sustainable Development Goals and Climate Change Adaptation Agendas
Editors: Flood, S., Jerez Columbié, Y., Le Tissier, M., O'Dwyer, B. (Eds.)
Examines a coherence building opportunity between Climate Change Adaptation, the Sustainable Development Goals and Disaster Risk Reduction agendas.
Considers opportunities to address global challenges in the context of developing resilience as an integrated development continuum instead of through independent and siloed agendas.
Show all benefits
Buy this book
eBook

ISBN 978-3-030-80791-7
The ebook is not yet available online.

Hardcover 49,99 €

price for India (gross)

Due: November 20, 2021
ISBN 978-3-030-80790-0
Free shipping for individuals worldwide
Institutional customers should get in touch with their account manager

Softcover 39,99 €

price for India (gross)

Due: November 20, 2021
ISBN 978-3-030-80793-1
Free shipping for individuals worldwide
Institutional customers should get in touch with their account manager
This open access edited volume critically examines a coherence building opportunity between Climate Change Adaptation, the Sustainable Development Goals and Disaster Risk Reduction agendas through presenting best practice approaches, and supporting Irish and international case studies. The Covid-19 pandemic has highlighted existing global inequalities and demonstrated the scope and scale of cascading socio-ecological impacts. The impacts of climate change on our global communities will likely dwarf the disruption brought on by the pandemic, and moreover, these impacts will be more diffuse and pervasive over a longer timeframe. This edited volume considers opportunities to address global challenges in the context of developing resilience as an integrated development continuum instead of through independent and siloed agendas.

Stephen Flood has over 12 years' experience in climate change, environmental policy and social science research. His research interests include climate information platforms, serious games, climate adaptation implementation, resilience and systems thinking, coastal management, vulnerability assessment and hazard management. He has worked as a Postdoctoral Fellow at the Climate Change Research Institute at Victoria University of Wellington in New Zealand, as an Environmental Social Science Researcher at Landcare Research also in Wellington (2016 to 2018) and as a Senior Postdoctoral Scientist at the SFI Ireland Centre for Energy, Climate and Marine Research and Innovation (MaREI), at University College Cork. He is currently based at the Irish Climate Analysis and Research Units (ICARUS), Department of Geography, Maynooth University, working on a range of projects focused on various aspects of climate change adaptation and resilience.

Yairen Jerez Columbié is an Assistant Professor in Latin American Studies and Intercultural Communication at Trinity College Dublin, where she investigates cultural exchange, postcolonial ecologies and the sociohistorical and cultural dimensions of environmental challenges. Her work focuses on marginalised knowledge, cultural exchanges, postcolonial socio-ecological systems and ecocritical approaches in Latin America, the Caribbean and the Atlantic World. She has also carried out interdisciplinary work at the SFI Ireland Centre for Energy, Climate and Marine Research and Innovation (MaREI) and lectured at the Department of Spanish Portuguese and Latin American Studies at University College Cork. She is the author of the monograph Essays on Transculturation and Catalan-Cuban Intellectual History (Palgrave Macmillan 2021)

Martin Le Tissier

is the lead PI for the Identifying Interactions for SDG Implementation in Ireland (SDGs4IIII) and Achieving Resilience in the Marine and Coastal Environment of Ireland (BCOMER) projects funded by the EPA based at MaREI. Martin's work has a strong focus on education and professional training with institutional development. He has practical experience to develop capacity building and institutional strategic responses to adaptation to climate change, coastal development, and management, as well as developing and implementing participatory approaches to developing coastal resources and livelihoods. Martin is the author of over 50 peer-reviewed journal articles, book chapters/ editor and consultancy reports.

Barry O'Dwyer

has worked in the area of climate change science, policy and practice for over a decade. Barry is leading the development and delivery of the EPA/DCCAE-funded Climate Ireland Programme, recognised as Ireland's key national resource for climate change adaptation information. Barry also leads the Climate Change Impacts and Adaptation Group at MaREI. Barry acts as principal investigator on a wide range of nationally and internationally funded research projects which address the science of climate change and adaptation with a particular focus on developing fit-for-purpose decision making tools and supports for adaptation planning. Barry has a wide range of experience working with local and sectoral decision makers in Ireland and has supported the development of Local and Sectoral Guidelines for Planning for Climate Change Adaptation.

"The global agreements of Paris, Sendai, and Agenda 2030 have created an opportunity to build coherence between interrelated policy agendas which have the potential to help identify and reduce systemic risks, promote sustainable development, and successfully adapt to the impacts of a changing climate. This excellent text recognises that efforts towards improvingdevelopment outcomes must work in concert with strategies which promote planetary health and support the transition to a sustainable and climate-resilient future. This book provides insights and clear examples of how best to work towards this goal." (Rt Hon Helen Clark, Patron, The Helen Clark Foundation, Auckland, New Zealand)
"Such is the interconnectedness of 'Our Common Home' that we cannot afford the luxury of solving our environmental problems piecemeal. This useful text offers an integrated approach emphasising the unwelcome synergies that multiply risks and how frameworks to address these have developed. The threat multiplier of climate change is carefully used to examine best practice in a series of excellent case studies exploring the three related responses of disaster risk reduction, sustainable development and climate change adaptation." (Emeritus Professor John Sweeney, Irish Climate Analysis and Research UnitS, Department of Geography, Maynooth University, Ireland)
"The global climate change discourse calls for a strategic and systemic coalesce of threemonumental treatises, namely the Paris Agreement, Sendai Framework and the Sustainable Development Goals (SDGs). Given the increasingly complex backdrop of a global pandemic, the impact of climate change is expected to be even more persistent, which calls for a synergy between the cross-cutting agendas of climate change adaptation, disaster risk reduction and sustainable development. The authors have therefore explored the potentials and subsequent challenges of integration of the aforementioned schemas, and conclusively recognized the need for a comprehensive, all-encompassing approaches that take into account dichotomies between diverse socioeconomic contexts." (Prof. Dr. Saleemul Huq, Director, International Centre for Climate Change and Development, Bangladesh)
"There is a lot of talk about the need to integrate the agendas of the big agreements: Paris, Sendai and the SDGs. Most of this stops short at saying how to actually operationalise integration. The authors of this book however provide concrete examples through case studies from Ireland and around the world to help illustrate what it means to think and act simultaneously on development, disasters and climate. They ask how such integration can help achieve social resilience—because without this integration, not only is the chance of success of each of the individual agendas lower, but the prospect of a just and resilient future for everyone is severely diminished." (Dr. Lisa Schipper, Environmental Social Science Research Fellow, Environmental Change Institute, University of Oxford, United Kingdom)
"Actionable insights and case studies come together in this timely and urgently needed collection. The book's linked-up approach helps connect the dots for researchers, policy makers and practitioners interested in delivering outcomes for disaster risk reduction, climate change, and sustainability. There is a small window of opportunity to capitalize on global goodwill, scientific understanding of the problems, and policy momentum. The case studies deliver useful, useable information that can be used to inform solutions to pressing challenges in the Anthropocence, and showcase the value of science in mediating choices, identifying synergies and trade-offs, and highlighting options for better policies for inclusive social development, and resilient livelihoods." (Dr Nicholas Cradock-Henry, Research Priority Area Leader, Social-Ecological Practice, Manaaki Whenua Landcare Research, New Zealand)
"Although discussion on integration across the three global 2015 frameworks is not new, this text offers fresh insight into the challenges and practical solutions to address resilience in a coherent, systematic and non-siloed manner. This book calls for much needed systems thinking and cleverly explores linking the global to the local level. As a practitioner, I welcome the importance of an integrated approach at community level, as distinctions on the ground are typically deemed irrelevant. Bravo—a great read! (Margot Curl, Manager Innovative Engagement and Youth, Red Cross Red Crescent Climate Centre, The Hague, Netherlands)
Buy this book
eBook

ISBN 978-3-030-80791-7
The ebook is not yet available online.

Hardcover 49,99 €

price for India (gross)

Due: November 20, 2021
ISBN 978-3-030-80790-0
Free shipping for individuals worldwide
Institutional customers should get in touch with their account manager

Softcover 39,99 €

price for India (gross)

Due: November 20, 2021
ISBN 978-3-030-80793-1
Free shipping for individuals worldwide
Institutional customers should get in touch with their account manager
Services for this Book
Bibliographic Information
Book Title

Creating Resilient Futures

Book Subtitle

Integrating Disaster Risk Reduction, Sustainable Development Goals and Climate Change Adaptation Agendas

Editors

Stephen Flood
Yairen Jerez Columbié
Martin Le Tissier
Barry O'Dwyer

Copyright

2022

Publisher

Palgrave Macmillan

Copyright Holder

The Editor(s) (if applicable) and The Author(s)

eBook ISBN

978-3-030-80791-7

DOI

10.1007/978-3-030-80791-7

Hardcover ISBN

978-3-030-80790-0

Softcover ISBN

978-3-030-80793-1

Edition Number

1

Number of Pages

VIII, 259

Number of Illustrations

22 b/w illustrations

Topics