IFMBE Proceedings
Free Preview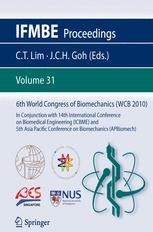 6th World Congress of Biomechanics (WCB 2010), 1 - 6 August 2010, Singapore
In Conjunction with 14th International Conference on Biomedical Engineering (ICBME) & 5th Asia Pacific Conference on Biomechanics (APBiomech)
Editors: Goh Cho Hong, James, Lim, Chwee Teck (Eds.)
Free Preview
Presents the Proceedings of the 6th World Congress on Biomechanics WCB 2010, Singapore
All research papers are double peer reviewed
Show all benefits
Buy this book
eBook 319,93 €

price for Spain (gross)

ISBN 978-3-642-14515-5
Digitally watermarked, DRM-free
Included format: PDF
ebooks can be used on all reading devices
Immediate eBook download after purchase

Softcover 395,19 €

price for Spain (gross)

ISBN 978-3-642-14514-8
Free shipping for individuals worldwide
Institutional customers should get in touch with their account manager
Usually ready to be dispatched within 3 to 5 business days, if in stock
The final prices may differ from the prices shown due to specifics of VAT rules
Biomechanics covers a wide field such as organ mechanics, tissue mechanics, cell mechanics to molecular mechanics. At the 6th World Congress of Biomechanics WCB 2010 in Singapore, authors presented the largest experimental studies, technologies and equipment. Special emphasis was placed on state-of-the-art technology and medical applications. This volume presents the Proceedings of the 6th WCB 2010 which was hold in conjunction with 14th International Conference on Biomedical Engineering (ICBME) & 5th Asia Pacific Conference on Biomechanics (APBiomech). The peer reviewed scientific papers are arranged in the six themes Organ Mechanics, Tissue Mechanics, Cell Mechanics, Molecular Mechanics, Materials, Tools, Devices & Techniques, Special Topics.
Table of contents (425 chapters)

Adjusting Legs for Stable Running in Three Dimensions

Pages 3-6

Peuker, F. (et al.)

Vestibular Research during Spaceflight – The Role of the Gravity Vector

Pages 7-9

Clarke, A. H. (et al.)

Cycling Aerodynamics: Wind Tunnel Testing versus Track Testing

Pages 10-13

Gibertini, G. (et al.)

Biofluidmechanics of Avian Flight: Recent Numerical and Experimental Investigations

Pages 14-17

Ruck, S. (et al.)

Mathematical Model of Blood Flow in Arteries with Porous Effects

Pages 18-21

Kumar, Anil

Computational Studies of the Locomotion of Dolphins and Sharks Using Smoothed Particle Hydrodynamics

Pages 22-25

Cohen, R. C. Z. (et al.)

A Study on the Comparison the Energy Expenditure of Walking and Running Based on Tri-axial Accelerometer and Gas Analyzer

Pages 26-28

Lee, H. Y. (et al.)

Swimming Behavior of the Nematode

Pages 29-32

Sznitman, J. (et al.)

Leg Stiffness from Landing Methods of Hopping

Pages 33-35

Lee, J. J. (et al.)

Ramifications in Plant Stems as Concept Generators for Branched Technical Fiber-Reinforced Composites

Pages 36-39

Masselter, T. (et al.)

Biomimetic Deployable Systems in Architecture

Pages 40-43

Poppinga, S. (et al.)

Fish and Flag – Exploring Fluid-Structure Interaction during Undulatory Swimming in Fish

Pages 44-47

Müller, U. K. (et al.)

Characterization of the Jumping Behavior of Archer Fish,

Pages 48-51

Shih, A. M. (et al.)

Flow Separation Control on a NACA0012 Airfoil via a Porous, Compliant Coating

Pages 52-55

Venkataraman, D. (et al.)

Kinematics of Dragonfly (

Pages 56-59

Chen, Y. H. (et al.)

Effects of Load Carriage on Spinal Motor Control in Schoolchildren

Pages 60-63

Chow, D. H. K. (et al.)

Computational Investigation of Two Interventions for Neck and Upper Extremity Pain in Office Workers

Pages 64-66

Rasmussen, J. (et al.)

Comparison of Changed Gait Pattern between Healthy Young Adults and the Elderly during Level and Uneven Inclined Walking

Pages 67-70

Choi, J. S. (et al.)

Effects of Postures and Wearing Night Vision Goggle on EMG Activities in Upper Neck and Trapezius

Pages 71-74

Tai, Hung-Sheng (et al.)

Changes in Perceived Comfort, Strength and Electromyographic Response in Lower Back, Hip and Leg Muscles during 8-Hour Prolonged Sitting

Pages 75-78

Kong, P. W.

A Study of the Jerk Cost Function for Evaluating Quantitative Driving Performance during Simulated Driving

Pages 79-82

Mun, K. R. (et al.)

Model-Based Investigation of the Roles of Efferent and Afferent Noise in Balance Control in the Postural Control System

Pages 83-86

Qu, Xingda (et al.)

Kinematics of a Standing Passenger Subjected to an Emergency Braking Deceleration Pulse

Pages 87-90

Verriest, J. P. (et al.)

Data Mining for Automatic Communication Behaviors Identification

Pages 91-94

Chen, Y. J. (et al.)

EMG Conduction Model of Individual Muscle Activities in Forearm

Pages 95-98

Tadano, S. (et al.)

Development of an Ergonomic Handle for Laparoscopic Surgery

Pages 99-102

Lam, D. K. H. (et al.)

Continuous Measurement of Worker's Physiological and Biomechanical Information in the Greenhouse

Pages 103-106

Son, H. M. (et al.)

Influence of Plantar Insensitive for Human Gait in Regular and Irregular Terrain

Pages 107-110

Suzuki, Shinichiro (et al.)

Dynamic Modeling and Simulation of the Suspended-Load Backpack to Obtain Optimal Suspension Parameters and Reducing Effect of Ground Reaction Force

Pages 111-114

Putra, Narendra Kurnia (et al.)

Development of a Simple Indicator of Muscle Load of Upper Extremity Teleworkers with Disability

Pages 115-118

Tokarski, T. (et al.)

The Influence of Body Posture on Muscle Fatigue and Reaction Time during Truck Driving

Pages 119-122

Bartuzi, P. (et al.)

The Influence of Mental Workload on Operator's Efficiency and Musculoskeletal Fatigue

Pages 123-126

Grabarek, I. (et al.)

Interplay between Hypoxia and Hydrodynamic Force in Three-Dimensional Cultivation of Articular Cartilage

Pages 127-130

Yang, Y. -H. (et al.)

Effect of Microgroove Depth of a Micro Pattern-Processed Glass Plate on the Tensile Properties of Stem Cell Based Self-Assembled Tissues (scSAT)

Pages 131-134

Sudama, Hiroki (et al.)

Developing Human Umbilical Vein as Living Scaffolds for Vascular Tissue Engineering

Pages 135-138

Hoenicka, M. (et al.)

Storage Effects on the Mechanical and Cellular Performance of Naturally Derived Extracellular Matrix Materials

Pages 139-142

Davis, L. M. (et al.)

Evaluating the Shear Resistance of Human Endothelial Cells under Physiological Conditions for 3D Substrate Materials

Pages 143-146

Meaney, C. L. (et al.)

A Study into the Effects of Temperature on the Performance of Footwear Foams under Quasi-static Compression Loading and Their Hyperfoam Characterization

Pages 147-150

Shariatmadari, Mohammad Reza (et al.)

Shooting Dynamics in Archery

Pages 151-154

Erkek, M. Emre (et al.)

Effects of Backpack Carriage on Gait and Posture-Design Studies

Pages 155-158

Atreya, Sonal (et al.)

The Role of Footwear on Impact Forces and Soft Tissue Vibrations during Active and Passive Landings

Pages 159-162

Fu, W. J. (et al.)

Kinematic Study of Serve Velocity of Hong Kong Elite Tennis Players

Pages 163-166

Wong, F. K. H. (et al.)

Development of a Dynamometer to Measure the Punching Force for Boxers and Its Validation with CT-Based FE Analysis of the Hand-Fist Complex

Pages 167-170

Ghosh, S. (et al.)

Understanding Anterior Cruciate Ligament Injury Due to Drop Landing: Effects of Different Landing Techniques and Muscles' Action at the Knee Joint

Pages 171-173

Mokhtarzadeh, H. (et al.)

Improving Understanding of Human Swimming Using Smoothed Particle Hydrodynamics

Pages 174-177

Cohen, R. C. Z. (et al.)

Gait Symmetry in School-Aged Children and Young Adults Whilst Walking at Slow, Normal and Fast Speeds

Pages 178-181

Lythgo, N. (et al.)

Cervical Dystonia Severity Assessment with 3D Motion Analysis and MRI

Pages 182-185

Lythgo, N. (et al.)

Analysis of Gait in Elderly People with Exercise Habits

Pages 186-189

Takahashi, Kentaro

Is a Pressure Walkway System Able to Highlight a Lameness in Dog?

Pages 190-193

LeQuang, T. (et al.)

Foot Pressure, Ground Reaction Force and 3D Motion Analysis of Golf Swing Applied to Spikeless Golf Shoe Development

Pages 194-197

Murakami, Edwardo A. Y. (et al.)

Lower Limb Muscles SEMG Activity during High-Heeled Latin Dancing

Pages 198-200

Gu, Y. D. (et al.)

Investigating the Effect of Speed on the Moment Acting on the Spine and Muscles Behavior during Loading by Utilizing Motion Analysis System

Pages 201-204

Maab, M. Ghofrani (et al.)

Equestrian Helmet Design: A Computational and Head Impact Biomechanics Simulation Approach

Pages 205-208

Rueda, M. A. Forero (et al.)

Kinematic and Kinetic Comparisons between Two Different Strides on Baseball Pitching for Taiwan College Elite Pitchers

Pages 209-212

Chen, Shu-Wei (et al.)

Upper Extremity Kinematics during Free Throw Shooting of Thai Wheelchair Basketball Players

Pages 213-215

Limroongreungrat, W. (et al.)

The Factor Structure of General Motor Fitness and Karate Specific Biomechanical Tests: Application of Confirmatory Factor Analysis

Pages 216-219

Heazlewood, I. T. (et al.)

Finite Element Study of the Respiratory Flow Patterns with in Human Upper Airways

Pages 220-223

Sarita, (et al.)

Wind Tunnel Tests of Speed-Skier

Pages 224-227

Gibertini, G. (et al.)

Aerodynamic Analysis of a Two-Man Bobsleigh

Pages 228-231

Gibertini, G. (et al.)

Effects of Balance Training Combined with Plyometric Exercise in Postural Control: Application in Individuals with Functional Ankle Instability

Pages 232-235

Huang, P. Y. (et al.)

Modeling Friction to Incorporate Sliding and Stiction: Application to the Contact Phase of Gymnastics Vaulting

Pages 236-239

Jackson, M. I. (et al.)

Using Motion Capture System to Analyze Side Arm Throw Form for Flying Disc Training

Pages 240-242

Takeuchi, Masataka (et al.)

Rapid Identification of Nonlinear Material Parameters of Foams Based on Neural Network

Pages 243-246

Su, X. X. (et al.)

The Static Balance Following Total Hip Arthroplasty

Pages 247-250

Lin, Na-Ling (et al.)

Assessment of Deep Tendon Reflexes by Motion Analysis: A Preliminary Study

Pages 251-253

Tham, L. K. (et al.)

Does 'Optimal' Performance Necessitate Higher Ground Reaction Forces? A Fast Bowling Perspective

Pages 254-257

Worthington, P. J. (et al.)

Dynamic and Static Ability of Balance and Postural Control in Japanese Obese Children

Pages 258-261

Yamamoto, Noriyuki (et al.)

The Influence of Position and Area of Shock Absorbing Material of Shoes on Ground Reaction Force during Walking

Pages 262-265

Koyama, Keiji (et al.)

Temporal Pattern of Distance Control in Golf Putting after Rhythm Training

Pages 266-269

Chan, Chih-Neng (et al.)

A Musculoskeletal Human Gait Model Using the Bond Graph Technique

Pages 270-273

Hernani, R. (et al.)

A Study of the Accuracy of Anticipated Tennis Serve Placement and Cognitive Reaction Time

Pages 274-277

Chang, B. -F. (et al.)

Human's Upper Body Kinematics: State of Art

Pages 278-281

Saadati, H.

Biomechanical Patterns of Starting Technique during Training and Competitive Events for Junior Lugers

Pages 282-285

Fedotova, V. (et al.)

Development of an Energy Storage and Return Knee Brace

Pages 286-289

Cheong, C. H. (et al.)

Corporate Yoga and Its Implications

Pages 290-293

Bhandari, Rudra (et al.)

Mathematical Models of Recyclable Energy Gathered from Three Power Generating Shoes during Walk

Pages 294-296

Hung, Chu-Chih (et al.)

A Three-Dimensional Finite Element Musculoskeletal Model of the Human Foot Complex

Pages 297-300

Qian, Zhi-hui (et al.)

Aging Alters Joint Power Generation across a Range of Gait Speeds in Healthy Elderly

Pages 301-304

Cofré, L. E. (et al.)

The Impact of Fitness Level on Postural Control When Standing on a Perturbed Surface Using an Instrumented Dynamic Platform

Pages 305-308

Gopalai, Alpha Agape (et al.)

Force Steadiness Training Reduces Force Fluctuations during Isometric Plantar Flexion in Young Adults

Pages 309-312

Oshita, Kazushige (et al.)

The Biomechanical Comparison of Functional Insoles

Pages 313-316

Kim, Euihwan (et al.)

The Effects of Schoolbag Style on Muscle Activation in Lower Extremities during Level Walking and Hill Walking in Primary School Students

Pages 317-319

Kuo, C. Y. (et al.)

A Study on Reliability and Objectivity of Qualitative Biomechanical Evaluation of Motor Task (Judo Skill)

Pages 320-323

Shaw, Dhananjoy

Flow Studies in Three Dialysis Catheters in Varied Positions in a Model of the Vena Cava and Atrium Dexter

Pages 327-329

Liepsch, D. (et al.)

Study of Rheological and Electrical Behaviour of RBC Suspensions in Dextran and PEG under Non-steady Flow. Role of RBC Deformability and Morphology

Pages 330-333

Antonova, N. (et al.)

The Role Mechanical Forces Play in Advanced Human Carotid Plaque Progression: New Insights from an

Pages 334-337

Yang, Chun (et al.)

Human Engineering Analysis of Real World Industrial Accidents: Using Plant-Specific Data to Understand Cultural Aspects of Accidents

Pages 338-341

Underwood, R. Conway (et al.)

Automatic Fall Detection Based on Kinematic Characteristics during the Pre-impact Phase of Falls

Pages 342-345

Wu, G. (et al.)

The Effect of Fall Risks on the Kinematics of Head Movement during Functional Balance Tests

Pages 346-349

Wedam, L. (et al.)

Numerical Simulation of Blast-Induced Mild Traumatic Brain Injury

Pages 350-353

Teland, Jan Arild (et al.)

Analysis of Intervertebral Strain Response during Rear Impact Using Head-Neck Finite Element Model

Pages 354-357

Pramudita, J. A. (et al.)

Facet Joint Complex Considerations for Biomechanics of the Lumbar Functional Spinal Unit: An Improved Model Based Method for Investigating Facet Articulation

Pages 358-361

Cheng, B. C. (et al.)

Multi-fluid Poro-Elastic Modelling of the CSF Infusion Test

Pages 362-365

Sobey, I. (et al.)

One-Dimensional Model for Cerebrospinal Fluid Pulse in the Spinal Column

Pages 366-369

Cirovic, S. (et al.)

Convective Gas Transport in the Acinus: Revisiting the Role of Effective Diffusivity

Pages 370-373

Sznitman, J.

Oscillation Amplitude of a Collapsible Tube Near the Boundaries of Oscillatory Control-Space at Reynolds Numbers Characteristic of Larger Airways

Pages 374-377

Tajikawa, T. (et al.)

Experimental Investigation to Ensure a Safety of the Exchange of Extracorporeal-Type Ventricular Assist Devices in Long-Term-Use Patients

Pages 378-381

Tanaka, T. (et al.)

A Comparative Study of the Hemodynamics in Two Types of Grafts of 6 mm versus 6-8 mm as an Upper Arm Straight Graft Hemodialysis Access

Pages 382-385

Sarmast, M. (et al.)

Mathematical Modeling of Two-Dimensional Flow through Patent Ductus Arteriosus in an Adult

Pages 386-389

Setchi, A. T. (et al.)

Distributions of DiI-LDL Wall Concentration and Uptake in Rabbit Aorta

Pages 390-393

Ding, Zufeng (et al.)

Impact of a Concomitant Subaortic Stenosis on the Assessment of the Severity of an Aortic Valve Stenosis: An

Pages 394-397

Gaillard, E. (et al.)

Silicone Vascular Models for Analysis of Carotid Artery Stenting

Pages 398-401

Okamoto, Y. (et al.)

Stromal Derived Factor-1 Is Up-Expressed in Atherosclerosis Lesion Induced by Low Density Lipoprotein Concentration Polarization

Pages 402-405

Wei, D. H. (et al.)

Effect of the Endothelial Glycocalyx Layer on the Transport of LDLs in the Artery

Pages 406-409

Liu, X. (et al.)

Differential Effects of Shear Forces and Pressure on Blood Vessel Metabolism and Function in a Perfusion Model

Pages 410-413

Hoenicka, M. (et al.)

Endothelial Nitric Oxide Concentration and Its Implications in Carotid Artery Atherosclerosis – An Integrated Cell/Haemodynamics Approach

Pages 414-417

Yamamoto, M. (et al.)

Measuring Mouse Abdominal Aorta Dimensions in Vivo: A Comparison between (3D) Ultrasound and Micro-CT

Pages 418-421

Trachet, B. (et al.)

Fluid Structure Interaction of Patient Specific Internal Carotid Aneurysms: A Comparison with Solid Stress Models*

Pages 422-425

Fu, Wenyu (et al.)

Numerical Study of Flow Resistance in Endovascular Stent with Triangular Wire Cross-Section*

Pages 426-429

Yang, Chunyan (et al.)

Synthetic Vascular Ultrasound Imaging through Coupled Fluid-Structure Interaction and Ultrasound Simulations

Pages 430-433

Swillens, A. (et al.)

PDMS Anatomical Realistic Models for Hemodynamic Studies Using Rapid Prototyping Technology

Pages 434-437

Queijo, Luis (et al.)

Visualization of Basic Flow Pattern in a Subarachnoid Hemorrhage Model with PIV-Measurement System

Pages 438-441

Liepsch, D. (et al.)

Correlation between Aortic Flow and Coronary Circulation

Pages 442-445

Akutsu, T. (et al.)

An Anatomical Model of the Cerebral Vasculature and the Autoregulation of Cerebral Blood Flow

Pages 446-449

Lucas, C. (et al.)

General Model for Cortical Capillary Networks and an Investigation on Pertinent Functional Reactivity to the Different Blood Inflows

Pages 450-453

Safaeian, Navid (et al.)

Mathematical Modeling of Blood Circulation in the Liver

Pages 454-457

Siggers, J. H. (et al.)

Magnetic Properties of Human Erythrocytes

Pages 458-460

Al-Karmi, Anan M.

Heart Behavior Simulation on Voxel Based Fluid-Structure Analysis Interacting with Cardiomyocyte Behavior

Pages 461-464

Kumahata, K. (et al.)

Study on Flow Pattern in Stent Neighborhood and Hemodynamics in Cerebral Aneurysm

Pages 465-468

Mori, Futoshi (et al.)

Tangible Modelling of Ventricular Aneurysm

Pages 469-472

Shiraishi, Y. (et al.)

Portal Vein Contribution to the Right and Left Lobes of the Liver Using MRI and CFD

Pages 473-476

George, S. M. (et al.)

Motion Tracking of Left Ventricular Local Myocardium in B-Mode Echocardiogram Using DP-Correlation Method

Pages 477-480

Chao, C. (et al.)

Simultaneous Measurement System for Elastic Biological Wall Motions and Its Inner Flow Motions – Is the Aneurysm for a Disease or for a Self-Defense?

Pages 481-484

Doh, D. H. (et al.)

Cervical Spine Curvature during Simulated Rear Crashes with Energy-Absorbing Seat

Pages 485-488

Ivancic, P. C. (et al.)

Limits of Dynamic Balance Control Derived by Center of Mass Acceleration during Sit-to-Stand Movement

Pages 489-492

Fujimoto, M. (et al.)

Prevalence, Regional Distribution and Risk Factors of Musculoskeletal Disorders in Caregivers of Children with Cerebral Palsy Following Multilevel Surgery

Pages 493-496

Ajeesh, P. S. (et al.)

Brain Injury Prediction for Vulnerable Road Users in Vehicle Accidents Using Mathematical Models

Pages 497-500

Chen, Y. (et al.)

Comparison of Lung Response and Thoracic Injury Metrics

Pages 501-504

Yuen, K. F. (et al.)

Study on the Mechanism of Cerebral Contusion Based on Judicial Autopsy Report

Pages 505-508

Zhang, Y. (et al.)

A Study on Biofidelity of EEVC Adult Headform Impactor Using Human Head FE Model and Real World Injury Data

Pages 509-512

Li, Fan (et al.)

FE Modeling of the Human Neck Responses in Low-Speed Car Collisions

Pages 513-516

Wang, Fang (et al.)

Numerical Modelling of Soft Tissue Injury Due to Impact

Pages 517-520

Chen, Z. W. (et al.)

Numerical Analysis of the Impact between a PTW Rider and a Car in Different Accident Configuration

Pages 521-524

Serre, T. (et al.)

Quantification of Segmental Flexibilities of Juvenile Lumbar Spinal Column Using a Three-Dimensional Finite Element Model (FEM)

Pages 525-528

Jebaseelan, D. Davidson (et al.)

A Methodology to Obtain Kinematic Corridors for Pediatric Occupants in Frontal Impacts

Pages 529-532

Lopez-Valdes, F. J. (et al.)

Effect of the Cord Pretension of the Dynesys Dynamic Stabilization System on the Biomechanics of the Lumbar Spine: A Finite Element Analysis

Pages 533-536

Zhong, Z. C. (et al.)

Changes Following ACL Injury and Reconstruction

Pages 537-540

Zheng, N. (et al.)

Effect of Knee Support on ACL-Deficient Knee Kinematics While Walking

Pages 541-544

Umeno, T. (et al.)

Optical Stress Imaging for Orthopedic Biomechanics – Comparison of Thermoelastic Stress Analysis and Developed Mechanoluminescent Method

Pages 545-548

Hyodo, K. (et al.)

Influence of Mechanical Loads on Degradation of Scaffolds

Pages 549-552

Fan, Yubo (et al.)

The Femur as a Complete Musculo-Skeletal Construct: A Free Boundary Condition Finite Element Approach

Pages 553-556

Phillips, A. T. M.

Development of a Three-Dimensional Musculoskeletal Model for the Hardware-in-the-Loop Joint Simulation

Pages 557-560

Herrmann, S. (et al.)

Integrating in Vivo and in Silico Biodynamic Studies of Cruciate Ligament Injuries

Pages 561-564

Zhang, X. (et al.)

Biomechanical Differences of Coflex-F and Pedicle Screw Fixation in Stabilization of TLIF or ALIF Condition - A Finite Element Study

Pages 565-568

Lo, C. C. (et al.)

Neck Motion Due to the Halo-Vest in Prone and Supine Positions

Pages 569-572

Ivancic, P. C. (et al.)

Characterization of Correction Forces in Spinal Fusion Surgery

Pages 573-576

Muhayudin, Nor Amalina (et al.)

Biomechanical Effect of PEEK Rod vs. Metallic Rod in Spinal Fusion Constructs

Pages 577-579

Moumene, M. (et al.)

A New Combined Optical and Robotic Testing System to Evaluate Multisegmental Spinal Kinematics

Pages 580-583

Schulze, M. (et al.)

Development of 3-D Ultrasound System for Assessment of Adolescent Idiopathic Scoliosis (AIS)

Pages 584-587

Cheung, Chung-Wai James (et al.)

Detailed 3D Muscle Approach for Computing Dynamic Loads on the Lumbar Spine for Implant Design

Pages 588-592

Siefert, A. (et al.)

In vivo

Pages 593-596

Portero, R. (et al.)

The Influence of Screw Positions of Bone Fixation Screws on a TMJ Implant

Pages 597-600

Ramos, A. (et al.)

Finite Element Study on the Stability of Cementless Acetabular Cup

Pages 601-604

Baharuddin, Mohd. Yusof (et al.)

Finite Element Study on the Micromotion of Cementless Total Hip Arthroplasty

Pages 605-607

Baharuddin, Mohd. Yusof (et al.)

Long-Term Reliability Assessment of Ceramic Femoral Head Based on Microfracture Analysis Using Acoustic Emission Technique

Pages 608-611

Yamada, Yukiya (et al.)

Prediction of Subsidence in Impaction Grafting: A Sensitivity Analysis Using the Taguchi Method

Pages 612-615

Ayers, M. P. (et al.)

Unicompartmental Knee Arthroplasty (UKA): Effects of Component Placement on Joint Mechanics Studied with a Mathematical Model

Pages 616-619

Imran, A.

Localization of Uncemented Hip Stem Loosening with a Novel In-vivo Sensor System Based on Vibration Analysis

Pages 620-623

Ruther, C. (et al.)

Preoperative Simulation of the Hip-Stem Osseointegration Based on the Physiological Loading Conditions

Pages 624-627

Sverdlova, N.

3 Dimensional Finite Element Analysis of the Human Wrist Joint without Ligaments under Compressive Loads

Pages 628-631

Javanmardian, A. (et al.)

Upper Limb Dynamics during Manual Wheelchair Propulsion with Different Resistances

Pages 632-635

Hwang, S. H. (et al.)

Pseudo Floating Toe Contacts the Floor with Unstable Standing Posture among Healthy Young

Pages 636-639

Hisari, Ayako (et al.)

Mathematical Modeling and Simulation of Knee Ankle Muscles for Different Locomotion Activities

Pages 640-643

Bhatia, Dinesh (et al.)

Development of a Portable Device for Gait Analysis, and Gait Analysis on Stairs and Uneven Terrain

Pages 644-647

Kitayama, I. (et al.)

Development and Assessment of an EMG-Based Exoskeleton System

Pages 648-650

Lee, M. H. (et al.)

Development of Hybrid Robotic-Assisted Gait Training System with Personalized Adaptive Training Program

Pages 651-654

Hwang, S. J. (et al.)

SSVEP-Based Functional Electrical Stimulation System for Motor Control of Patients with Spinal Cord Injury

Pages 655-658

Sohn, R. H. (et al.)

Simulation of the Effect of Amputation Level on Individual Muscle Forces of Transfemoal Amputees

Pages 659-662

Dabiri, Y. (et al.)

A Computer Simulation of Prosthetic Knee Dynamics

Pages 663-666

Dabiri, Y. (et al.)

Comparison of Single and Double Inverted Pendulum Models in Determining Cerebral Palsy Trunk Muscles in Sitting Position: A Subject Specific Approach

Pages 667-670

Mehdizadeh, S. (et al.)

Optimization of Lever-Driven Wheelchairs

Pages 671-674

Choromanski, W. (et al.)

Analytical Modeling of a Haptic-Robot System Used for Rehabilitation

Pages 675-678

Low, W. K. S. (et al.)

Signal Processing Methods in the Analysis of the Uterine Contractility

Pages 679-682

Kitlas, A. (et al.)

Biomechanics of Birth – The Fallacy of Gentle Birth: Physician Exerted Pressures in Vaginal and Cesarean Delivery

Pages 683-685

Kieweg, S. L. (et al.)

Modeling and Simulation of Human Upper Airway

Pages 686-689

Liu, Zishun (et al.)

Statistical Study of Mechanics of Human Forced Expiratory Wheezes

Pages 690-693

Korenbaum, V. I. (et al.)

Numerical Investigation of the Flow-Induced Deformation in the Human Respiratory Airway

Pages 694-697

Kim, S. (et al.)

In vivo

Pages 698-701

Eom, Jaesung (et al.)

Experimental and Numerical Study on the Nasal Airflows in Post-surgery Models: Simulation of Nasal Surgery

Pages 702-705

Chung, S. K. (et al.)

Modeling of Human Maxillary Sinus Nitric Oxide Transport

Pages 706-709

Hood, C. M. (et al.)

FSI Analysis of the Human Trachea under Impedance-Based Boundary Conditions

Pages 710-713

Malvè, M. (et al.)

Convective Dispersion of an Aerosol Bolus in the Alveolar Region: A Numerical Approach

Pages 714-717

Muller, P. -A. (et al.)

Experimental and Numerical Study on the Airflows in Four Asymmetric Nasal Cavities Due to Deviated Nasal Septum

Pages 718-721

Kim, S. K. (et al.)

Numerical Study of Blood Partial Pressure of the Human Respiratory System

Pages 722-724

Devdatta, (et al.)

Numerical Study of One-Dimensional Model of Blast Wave Propagation through Lungs

Pages 725-728

Saini, Anju (et al.)

Intranasal Transportation Phenomena of Medicinal Droplets

Pages 729-732

Yamamoto, T. (et al.)

Respiratory Impedance Values in Young Asthmatic Children Are Relatively Insensitive to Mead Model Lung Compliance and Chest Wall Compliance Parameters

Pages 733-735

Diong, B. (et al.)

Examination of Extraction with Vortex Regions in Paranasal Sinus of Human Nose

Pages 736-739

Hanida, Sho (et al.)

Mathematical Modeling of Directional Effects of Perfusion on Liver Tissue Temperature of Radio Frequency Ablation

Pages 740-743

Peng, T. (et al.)

Directed Transport in Renal Proximal Tubule Cells

Pages 744-747

Foo, Suan East (et al.)

Comparison of Two Mathematical Models for Hyperthermic Cell Death

Pages 748-751

O'Neill, D. P. (et al.)

The Influence of Cup Inclination Angle and Head Position on the Wear of Metalon-Metal Bearings in Total Hip Replacements

Pages 752-755

Al-Hajjar, M. (et al.)

A Computational Framework to Explore the Role of Pulsatile Haemodynamics on Cerebral Aneurysm Development for Patient-Specific Arterial Geometries

Pages 759-762

Selimovic, Alisa (et al.)

Poroelastic Model of Intraluminal Thrombus in FEA of Aortic Aneurysm

Pages 763-767

Polzer, S. (et al.)

Micro-mechanical Model of Muscle Contraction

Pages 768-771

Marcucci, L. (et al.)

A Novel 3D Strain-Adaptive Continuum Orthotropic Bone Remodelling Algorithm: Prediction of Bone Architecture in the Femur

Pages 772-775

Geraldes, D. M. (et al.)

The Mechanical Properties of Cranial Bone

Pages 776-779

Motherway, Julie A. (et al.)

Residual Stresses at the Cortical Bone of the Rabbit Extremities

Pages 780-783

Yamada, S. (et al.)

Strain Reduction between Cortical Pore Structures Leads to Bone Weakening and Fracture Susceptibility: An Investigation Using Smooth Particle Hydrodynamics

Pages 784-787

Fernandez, J. W. (et al.)

Comparison of the Effect of Different Mechanical Properties on the Stress Analysis of Tibia under Transversal Impact Loading Using Finite Element Method

Pages 788-791

Sepehri, B. (et al.)

Change in the Living Functions of Bone Tissue Caused by Carbon Nanotube Reinforcement

Pages 792-795

Saffar, K. PourAkbar (et al.)

Mechanical Response of Mineral Crystallites as a Tool to Predict Fracture Risks in Bone

Pages 796-799

Giri, B. (et al.)

Prediction of the Elastic Modulus of the Trabecular Bone Based on X-Ray Computed Tomography

Pages 800-803

Madi, K. (et al.)

Influence of the Fixation Length on Micromotion and Migration of Femoral Hip Revision Implants: An Experimental Study

Pages 804-806

Souffrant, R. (et al.)

Response Analysis of Bone Mass of Proximal Femur to Surface Replacement of Hip Joint

Pages 807-810

Vosynek, P. (et al.)

Analysis of the Influence of Lumbosacral Fusion on the Adjacent Moving Segment

Pages 811-814

Návrat, T. (et al.)

Effect of Scaffold Architecture on Tissue Regeneration

Pages 815-818

Chen, Y. H. (et al.)

Deformation and Orientation of HAp Crystals at Osteon-Scale Structure in Bovine Cortical Bone

Pages 819-822

Kodaki, Y. (et al.)

In Vivo Tibial Compressive Stiffness Variations after HR-pQCT Measurements of 60 Days Immobility during the Berlin Bed Rest Study II Using

Pages 823-826

Ritter, Z. (et al.)

Morphometric Analysis of Vertebral Deformities in a Porcine Scoliosis Model

Pages 827-829

Cachon, T. (et al.)

Porcine Scoliosis Model Based on Animal Growth Created with Non Invasive Off-Set Tethering

Pages 830-832

Odent, T. (et al.)

Fabrication and Morphological Characterization of Poly (3Hydroxy Butyrate)/Nano Hydroxyapetite Nanocomposite Scaffold for Bone Tissue Engineering

Pages 833-836

Radmehr, M. (et al.)

Multiscale Modeling of Elastic Properties of Trabecular Bone

Pages 837-840

Hamed, E. (et al.)

Automated, High-Throughput, Multi-scale Assessment of Bone Morphology and Bone Competence

Pages 841-843

Mader, K. (et al.)

The Influence of Some Biomechanical Factors on Endochondral Ossification on Long Bone

Pages 844-847

Guo, T. T. (et al.)

Involvement of CGRP–Positive Nerve Fibers in Consolidation Stage of Distraction Osteogenesis

Pages 848-851

Wang, X. Y. (et al.)

Effect of Laser Acupuncture Therapy on Bone and Articular Cartilage under Simulated Microgravity

Pages 852-855

Wang, Q. (et al.)

Quantitative Measurement of the Bone Density by X-Ray Micro Computed Tomography

Pages 856-859

Binkowski, M. (et al.)

Modeling of Hemodynamics and Mechanical Behavior of Pathologically Tortuous Carotid Arteries

Pages 860-862

Kossovich, L. Y. (et al.)

Analysis of the Effects of Nitric Oxide on Vasomotion

Pages 863-866

Abatay, H. (et al.)

A Second-Order Biomechanical Model of Flow-Mediated Dilation Response in Obese Post-Menopausal Women

Pages 867-870

Nguyen, T. -U. (et al.)

Carotid Wall Motion Analysis Based on B-Mode Ultrasound Images

Pages 871-874

Hopkins, Warren (et al.)

Application of Tensorial Description of the Fibrous Molecules Geometrical Arrangement in Vascular Tissues and Cells

Pages 875-878

Huang, W. (et al.)

Modelling of Damage in Finite Torsion, Extension and Inflation of an Arterial Tissue

Pages 879-882

Tauheed, Firozut (et al.)

A Finite Element Analysis Rupture Index (FEARI) Assessment of Electively Repaired and Symptomatic/Ruptured Abdominal Aortic Aneurysms

Pages 883-886

Doyle, B. J. (et al.)

Morphology Analyses of Human Carotid Plaque in Assessing Fibrous Cap Rupture Risk

Pages 887-890

Choudhury, A. (et al.)

Stress Analysis of Carotid Plaque Based on in Vivo MRI of Acute Symptomatic and Asymptomatic Patients

Pages 891-894

Li, Z. Y. (et al.)

Morphological Analysis of Articular Cartilage Using Multiphoton Microscopy as Input for Constitutive Modeling: Experiment and Mathematical Implementation

Pages 895-898

Pierce, D. M. (et al.)

Effect of Vitamin C on Mechanical Property of the Regenerated-Cartilage Tissue

Pages 899-902

Omata, S. (et al.)

Development and Phantom Test of a Minimized Water-Jet Ultrasound Indentation System for Arthroscopic Measurement of Articular Cartilage Integrity

Pages 903-906

Huang, Y. P. (et al.)

Study on Viscoelastic Behavior of the Synovial Fluid and Soft Tissue under the Impact Load Condition by High Speed Camera

Pages 907-910

Hata, Y. (et al.)

The Role of Subchondral Tissues on Lubrication Properties of Natural Articular Cartilage

Pages 911-914

Yarimitsu, S. (et al.)

Decellularization of Meniscal Tissue Using Ultrasound Chemical Process for Tissue-Engineered Scaffold Applications

Pages 915-918

Azhim, A. (et al.)

Numerical Simulation of Tibia-Femoral Joint Contact Mechanical Character

Pages 919-922

Guo, T. T. (et al.)

Investigating Differences in Water Content across the Tibial Cartilage

Pages 923-925

Yeow, C. H. (et al.)

An Improved Method for the Measurement of Tenocyte Proliferation

Pages 926-929

Way, L. S. (et al.)

Measurement of Stress-Strain Properties of Tendon with Ultrasound Parameters

Pages 930-933

Du, Yi-Chun (et al.)

Decellularization of Living Tissue Using Microwave Chemical Process for Tissue-Engineered Scaffold Applications

Pages 934-937

Azhim, A. (et al.)

Effects of Tears and Repairs on Supraspinatus Strain Measurements

Pages 938-941

Sheng, J. M. (et al.)

Time–Dependent Conditioning Effects Are Important When Evaluating the Gliding Resistance of Flexor Tendon Repairs

Pages 942-945

Zetlitz, E. (et al.)

Determination of Alveolar Bone Quality during Dental Implant Surgery by Means of Compressive Testing

Pages 946-949

Karl, M. (et al.)

Quality of Alveolar Bone – Structure Dependant Material Properties and Design of a Novel Measurement Technique

Pages 950-953

Winter, W. (et al.)

A Finite Element Study of Two Orthodontic Treatment Steps

Pages 954-957

Sansalone, V. (et al.)

A New Designed Customised Facial Cleft Implant Based on Rapid Prototyping Method

Pages 958-960

Marghoub, Arsalan (et al.)

Biomechanical Analysis of Implant Treatment for Fully Edentulous Maxillae with Different Bone Quality

Pages 961-964

Arahira, Takaaki (et al.)

Muscle Elasticity Measurement Using Ultrasound at Isometric Step Contraction

Pages 965-968

Wang, Cong-Zhi (et al.)

Postural Control Analysis during Angular Perturbations of the Support Surface

Pages 969-972

Škorja, G. (et al.)

Mechanical Behaviour of Human Leg Skeletal Muscles for Gait Studies

Pages 973-976

Mathur, Rakesh (et al.)

Description and Outcome of Treatment of a New Triad of Anterolateral Knee Pain and Movement Dysfunction

Pages 977-980

Rameshkumar, R. (et al.)

A State of the Art 3D Model of the Lower Limb: Application to Muscle Force Estimation and Validation

Pages 981-984

Modenese, L. (et al.)

Practical Applications of the Passive Range of Motion on the Paraplegic Rehabilitation

Pages 985-987

Chirazi, M.

The Comparison of Scapular Muscle Strength between Collegiate Pitchers and Tennis Players

Pages 988-991

Chang, B. F. (et al.)

Modelling the Muscle Force–Velocity Relationship for Multiple Joint Movements

Pages 992-995

Sinclair, P. J.

Analgesic and Biomechanical Effects of Intra-Articular Botulinum Toxin Type A in Chronic Knee Osteoarthritis

Pages 996-999

Chou, C. C. (et al.)

Mechanical Properties of Excised Human Skin

Pages 1000-1003

Annaidh, A. Ní (et al.)

Reversible Stress Softening in Rat Oesophagus in Vitro after KCl Activation

Pages 1004-1007

Jiang, Hongbo (et al.)

Role of Descending Inhibition in Transport of Fluid Contents in the Colon

Pages 1008-1011

Sinnott, M. D. (et al.)

The Effects of Low Density Lipoprotein on the Adhesion Force of Endothelial Cells and Extracelluar Matrix

Pages 1012-1015

Ye, L. Q. (et al.)

Low Density Lipoprotein Decrease Adhesion of Vascular Endothelial Cells Exposed to Fluid Shear Stress

Pages 1016-1019

Wei, D. H. (et al.)

Measurement of Reologic Properties of Soft Tissue (Muscle Tissue) by Device Called Myotonometer

Pages 1020-1023

Šifta, Petr (et al.)

An Efficient Heterogeneous Continuum Model to Simulate Active Contraction of Facial Soft Tissue Structures

Pages 1024-1027

Mithraratne, K. (et al.)

Investigate the Use of Membrane-Solid Coupling for Simulating Deformation of Heterogeneous Soft Tissue under Compression

Pages 1028-1031

Hung, A. (et al.)

On the Mullins Effect of Soft-Biological Tissues: A Comparison between Material Models with Experimental Results

Pages 1032-1035

Sarangi, S.

Liver Fibrosis Assessment Using Transient Elastography Guided with Real-Time B-Mode Ultrasound Imaging

Pages 1036-1039

Zheng, Yong-Ping (et al.)

Comparison of Effects of Various Methods of Recovery of Muscle after Applied Exercise

Pages 1040-1043

Nováková, P. (et al.)

Flow Behaviour of Labeled Red Blood Cells in Microchannels: A Confocal Micro-PTV Assessment

Pages 1047-1050

Lima, R.

Fractal and Image Analysis of Cytoskeletal F-Actin Orgnization in Endothelial Cells under Shear Stress and Rho-GDI

Pages 1051-1054

Qi, Ying-Xin (et al.)

Swirling Flow Can Suppress Platelet Adhesion to the Surface of a Sudden Tubular Expansion Tube

Pages 1055-1058

Zhan, F. (et al.)

Numerical Study on Effects of Liposome-Encapsulated Hemoglobin on Blood Flows at Microvascular Bifurcation with Considering Erythrocyte Aggregation

Pages 1059-1062

Hyakutake, T. (et al.)

Wall Shear Stress Distribution Inside Induced Cerebral Aneurysm on Rabbit

Pages 1063-1066

Tanoue, T. (et al.)

Red Blood Cell Dispersion in 100

Pages 1067-1070

Pinho, D. (et al.)

Flow of Physiological Fluids in Microchannels: The Sedimentation Effect

Pages 1071-1074

Garcia, V. (et al.)

Drift and Fluctuating Motion of Artificial Platelet during Adhesion Process Near the Wall

Pages 1075-1078

Tobimatsu, H. (et al.)

Simultaneous Topography and Elasticity Measurement of Live PC-12 Cells by Using Amplitude-Modulation Atomic Force Microscopy

Pages 1079-1082

Liu, M. C. (et al.)

Numerical Simulations of Vesicular Driving Forces Inside Living Cells

Pages 1083-1086

Robert, D. (et al.)

Effect of Cyclic Stretch on the Visco-Elastic Deformation of Endothelial Cells in Micropipette Aspiration Experiment

Pages 1087-1090

Hatami, Javad (et al.)

Strain Magnitude and Strain Rate Influence Stretch-Induced Injury of PC12 Cells

Pages 1091-1094

Nakadate, H. (et al.)

Effect of Extracellular Matrix Stiffness on Ductular Formation of Biliary Epithelial Cells

Pages 1095-1098

Komatsu, Tomoya (et al.)

Receptor-Ligand Bond Spacing and Stresses in Membrane Bulge of Cell Adhesion

Pages 1099-1102

Dong, K. (et al.)

A Study of Mechanical Behavior of Plant Vegetative Tissue

Pages 1103-1105

Singh, Fateh (et al.)

Differential Regulation of P/Q and L-Type Voltage Gated Calcium Channels by Lipid Rafts in PC12 Cells

Pages 1106-1109

Sunitha, S. N. (et al.)

Functional Association of Purinergic P2X4 Receptors with Caveolar Rafts in Undifferentiated PC12 Cells

Pages 1110-1113

Sunitha, S. N. (et al.)

Analysis of Mechanical Behavior of Red Blood Cell Membrane in Pathological Condition

Pages 1114-1116

Demeke, F. (et al.)

A Study of Micro-bubble Enhanced Ultrasound Gene Induction

Pages 1117-1120

Okamoto, A. (et al.)

Determination of Constitutive Properties of Single Cells and Intracellular Structures Using Image- and Model-Based Framework

Pages 1121-1124

Gladilin, E. (et al.)

ERK1/2 Mediates Mechanical Stretch-Induced Proliferation of Bone Marrow-Derived Mesenchymal Stem Cells

Pages 1125-1128

Song, Guanbin (et al.)

Analysis of Subcellular Traction Force in Cells under Uniaxial Stretch for Mechanobiology

Pages 1129-1132

Tsukamoto, A. (et al.)

Microplasmodium Dynamics of

Pages 1133-1136

Bernitt, E. (et al.)

Effects of Dynamic Mechanical Forces on Potential Cell Therapy Products in Cold Transportation

Pages 1137-1140

Nikolaev, N. I. (et al.)

Synergistic Effects of Mechanical Pressure and Estrogen on the Proliferation and Alkaline Phosphatase Activity of Mandibular Condylar Chondrocytes

Pages 1141-1144

Zhang, Min (et al.)

Numerical Modeling of Microvascular Hemodynamics in Plasmodium Falciparum Malaria

Pages 1145-1148

Imai, Y. (et al.)

Synchrotron X-Ray Tomographic Investigation of Internal Structure of Individual Flax Fibres

Pages 1151-1154

Abbey, Brian (et al.)

Red Light Irradiation Promotes Mesenchymal Stem Cell Proliferation and Actives Activation of mTOR in Rat

Pages 1155-1158

Peng, Fei (et al.)

Towards a Multiscale Integrative Model of WSS-Induced Signaling Pathways in Cerebral Aneurysms

Pages 1159-1162

Ho, H. (et al.)

Topo-embryology: DNA Evolution from Ring to String Brings the Multi-cellar System

Pages 1163-1166

Naitoh, K. (et al.)

Wear Behaviour of an Artificial Cartilage Material for Hemiarthroplasty

Pages 1169-1172

Nakashima, Kazuhiro (et al.)

Optimisation of Calcium Phosphate Cements for Bone Augmentation through Vertebroplasty

Pages 1173-1176

Dunne, N. (et al.)

Integration of PDMS and PMMA for Batch Fabrication of Microfluidic Devices

Pages 1177-1180

Tan, His Yin (et al.)

The Effects of Non-Linearities on Wave Propagation and Time-Averaged Flow in Elastic Axi-Symmetric Vessels

Pages 1181-1184

Payne, S. J. (et al.)

Photothermal Therapy of Urothelial Cancer Using Anti-EGFR/au Nanoparticles

Pages 1185-1188

Chen, Chieh-Hsiao (et al.)

Study of the Mechanical Properties of a Novel Unidirectional Porous Hydroxyapatite Implanted in the Femoral Marrow of a Rabbit

Pages 1189-1190

Funayama, T. (et al.)

In Vitro Study: To Investigate the Mechanical and Micro Structural Properties of a New Augmentation of Trabecular Bone-Biological Bone Cement

Pages 1191-1195

Kam, B. H. (et al.)

VEGF-Transfected Human Endothelial Cell Coating on Stents Promotes Re-endothelization and Inhibits In-stent Restenosis

Pages 1196-1199

Wang, G. X. (et al.)

Effect of Micro-arc Oxidation Time on the Ca-P Coating Layer Properties Formed on Commercially Pure Titanium

Pages 1200-1203

Katekaew, P. (et al.)

In vitro

Pages 1204-1207

Reinis, A. (et al.)

Fabrication of Titanium Oxide Nanotube Arrays on Titanium Implants: The Effect of Electrolytes Conditions

Pages 1208-1211

Mingthong, P. (et al.)

Electrospun Chitosan Nanofiber Materials as Burn Dressing

Pages 1212-1214

Kossovich, L. Y. (et al.)

Comparison of Nanofiber and Particle Form of GELATINE/HA Biocomposites

Pages 1215-1217

Hruskova, Daniela (et al.)

Study on Nano-Hydroxyapatite/Silk Fibroin Biomedical Composite under Biomimetic Mineralization

Pages 1218-1221

Zhou, G. (et al.)

Fabrication, Nanomechanical Properties and

Pages 1222-1225

Sun, Tao (et al.)

Fabrication and Property of Degradable Magnesium-Calcium Alloy Composites with Hydroxyapatite

Pages 1226-1229

Murakoshi, Y. (et al.)

Characterization of Compressive Deformation Behavior and Biocompatibility of Bioabsorbable Layered PLLA Scaffolds

Pages 1230-1233

Park, J. E. (et al.)

Effects of Osteoblast-Like Cell Seeding on Mechanical Properties of Porous Composite Scaffolds

Pages 1234-1237

Arahira, Takaaki (et al.)

Mechanical Property of Poly (3-hydroxybutyrate)/Bioglass Nanocomposite Scaffolds for Bone Tissue Engineering

Pages 1238-1241

Hajiali, H. (et al.)

Preparation of Nanoparticles of AB

Pages 1242-1245

Li, Y. L. (et al.)

Shape Memory Characteristics of Gas-Atomized Ti-Ni-Mo Powders

Pages 1246-1249

Kim, Y. W. (et al.)

Shape Memory Foams Produced by Consolidation of Gas-Atomized Ti-Ni Alloy Powders

Pages 1250-1253

Kim, Y. W. (et al.)

Compressive Mechanical Properties, Deformation Mechanism and Bioactivity of Bioactive Ceramics Filled PLLA Composite Scaffolds

Pages 1254-1257

Park, J. E. (et al.)

Analysis of Osteoblastic Cell Adhesion Strength on Temporary Implant Surfaces in Orthopedic Surgery

Pages 1258-1261

Fritsche, A. (et al.)

Change in Blood Vessel Images of the Human Finger Using Near-Infrared Radiation While Compressing the Upper Arm

Pages 1262-1265

Shimawaki, S. (et al.)

Biplanar Radiographic 3D Reconstruction of Vertebrae Using Non-stereo Corresponding Points Based on Epipolar Geometry

Pages 1266-1269

Zhang, J. H. (et al.)

Development of Vision-Based Tactile Sensor for Palpation of Pathological Soft Tissues

Pages 1270-1273

Yeh, Chien-Shien (et al.)

A Low Frequency Ultrasonic Treatment and Monitoring System

Pages 1274-1277

Chou, K. F. (et al.)

Influence of Postures of Hand on Shock Acceleration by Dotting of Finger Braille

Pages 1278-1281

Matsuda, Y. (et al.)

Continuous Intra Ocular Pressure Measurement Sensor for Glaucoma Diagnostic

Pages 1282-1285

Lissorgues, Gaëlle (et al.)

Quantification of Bradykinesia Using Gyro-Sensors during Clinical Motor Examination in Idiopathic Parkinson's Disease Patients

Pages 1286-1287

Kim, J. W. (et al.)

Validation of Knee Joint Models – An In Vivo Study

Pages 1288-1291

Andersen, M. S. (et al.)

PC-Based Electrocardiogram (ECG) Recorder as Internet Home Appliance

Pages 1292-1295

Hasan, Md. Mahmud

Mathematical Modeling with Experimental Verifications of Non-invasive Blood Flow Acquired Using the Method of Magnetic Disturbance

Pages 1296-1299

Phua, Chee Teck (et al.)

Instrumentation to Evaluate and Train Orofacial Structures

Pages 1300-1303

Valentim, A. F. (et al.)

Development of a Magnetic Resonance Compatible Motion Signal Measurement System

Pages 1304-1306

Yang, J. W. (et al.)

Quantification of Clinical Assessment of Parkinsonian Rigidity

Pages 1307-1308

Kwon, Y. R. (et al.)

Stress Measurements of Implanted Ti Plate Covered with Skin Like Materials

Pages 1309-1310

Fujisaki, K. (et al.)

Quantitative Measurements of Blood Vessel of Diabetic Extremity Based on Near-Infrared Image Technique

Pages 1311-1314

Chen, Pei-Jarn (et al.)

Influence of Soft Tissues on Ultrasonic Lamb Waves in Synthesised Soft Tissue-Bone Phantoms

Pages 1315-1318

Chen, J. (et al.)

Estimation of Lower Limb Joint Angles during Walking Using Extended Kalman Filtering

Pages 1319-1322

Young, D. (et al.)

Development of High Intensity Focused Ultrasound (HIFU) Therapy for Lower Extremity Varicose Veins

Pages 1323-1326

Senoo, N. (et al.)

An Efficient Lossless ECG Compression Method Using Delta Coding and Optimal Selective Huffman Coding

Pages 1327-1330

Chang, G. C. (et al.)

Novel Fall Detection Method with a Wearable Hybrid-Type Sensor

Pages 1331-1334

Enomoto, Y. (et al.)

Fall Detection System Using Template Approach

Pages 1335-1338

Endo, H. (et al.)

User Localization Using a Wearable Sensor

Pages 1339-1342

Terada, Shuhei (et al.)

Ambulatory Function Monitor of the Amputees with Their Prosthesis

Pages 1343-1345

Ooi, S. N. (et al.)

Experimental Investigation of Blood Flow in the Vertebral Artery Bifurcation

Pages 1346-1349

Zhu, G. Y. (et al.)

Extraction of Fetal Electrocardiographic Signals Using Neural Network

Pages 1350-1353

Agarwal, Nitin (et al.)

Pulse Wave Transit Time and Its Relationship with Systolic Blood Pressure

Pages 1354-1357

Zakaria, N. A. (et al.)

Relationship Study of Heart Rate and Systolic Blood Pressure for Healthy Peoples

Pages 1358-1361

Mahmood, N. H. (et al.)

Nonlinear Synchronization Analysis of the EEG Signals

Pages 1362-1365

Borowska, M. (et al.)

Simulation of Blood Pressure Wave Propagation in a Vessel by One-Dimensional Model

Pages 1366-1369

Ning, Gangmin (et al.)

Pre-processing of Multi-channel sEMG Signals Based on ICA and Spectral Curve Descriptors

Pages 1370-1373

Lee, W. L. (et al.)

Classification of Electroencephalogram Signals for Human Motor Actions

Pages 1374-1377

Paoliello, D. (et al.)

Application of Gyroscopes in Identifying Gait Symmetry in Walking

Pages 1378-1381

Gouwanda, D. (et al.)

A Novel Design of ECG Electrode Combined with Antenna for ZigBee-Based Wireless Measurement

Pages 1382-1385

Yang, Hung-Chi (et al.)

Low Vision Aid with Image to Text Converter to Enhance Magnified Text Image

Pages 1386-1389

Soedirdjo, Subaryani D. H. (et al.)

Acquisition and Processing of Kinematic Variables for Biomechanical Analysis of Movement

Pages 1390-1392

Peñuela, L. A. (et al.)

A Three-Month Study of Fall and Physical Activity Levels of Intellectual Disability Using a Transfer Belt-Based Motion Recording Sensor

Pages 1393-1396

Cheung, Chung-Wai James (et al.)

Heating Location Control of HIFU Treatment Enhanced with Microbubbles Contrast Agents

Pages 1397-1400

Nishihara, T. (et al.)

Optimizing Filters for Ultraviolet Sterilization System Used in Biological Applications

Pages 1401-1404

Ravichandran, S. (et al.)

Design and Manufacture of Customized Hip Prosthesis Using CT and CAD/CAM

Pages 1405-1408

Pal, Subrata (et al.)

Three-Dimensional Micro Vibration Stage and Its Application to Cell Culture

Pages 1409-1412

Konno, Ken-ichi (et al.)

Piezoelectric Micro Probe Device for Mechanical Stimulation and Its Detection for Living Cells

Pages 1413-1416

Konno, Ken-ichi (et al.)

Design and Characterization of a Signal Conditioning Microchip and Thin-Film Microelectrode Array for High Spatial Resolution Cardiac Mapping

Pages 1417-1420

Dong, Huihang (et al.)

Automated Wireless System for Individuals Requiring Continuous Remote Care

Pages 1421-1423

Osman, M. (et al.)

Ligand Binding Kinetics of Cell Surface Receptors by Microfluidic Displacement

Pages 1424-1427

Ramji, Ramesh (et al.)

Numerical Study of Hemodynamics at Coronary Bifurcation with and without Swirling Flow

Pages 1428-1430

Sun, Anqiang (et al.)

Bioconjugated Quantum Dots: A Multifunctional Nanomaterial for the Early Detection of Cancer

Pages 1431-1434

Srinivasan, Divya (et al.)

Formula for Elastic Radial Stiffness of the Tubular Vascular Stent

Pages 1435-1438

Jie, Yang (et al.)

Studies on the Formulation of Anti-fungal Drugs from Azadirachta Indica Leaves Using Sonication Techniques

Pages 1439-1442

Ravichandran, S. (et al.)

Mechanical Performance Study of Vascular Stent Using Computational Modeling and Simulation

Pages 1443-1446

Cui, F. (et al.)

Effects of Functional Endoscopic Sinus Surgery on Nasal Air Flow - A Computational Fluid Dynamics Study

Pages 1447-1450

Chen, Xiao Bing (et al.)

Analyses of the Shape Deviations of the Contact Cones of the Total Hip Joint Endoprostheses

Pages 1451-1454

Fuis, V. (et al.)

Functionality of a Novel Percutaneous Aortic Valve Stent – A Fracture Mechanics Study

Pages 1455-1458

Kumar, Gideon Praveen (et al.)

Optimization of Muscle Parameters to Predict Ankle Joint Moments

Pages 1459-1462

Son, J. (et al.)

Multi Objective Extraction Optimization of Bioactive Compounds from Gardenia Using Real Coded Genetic Algorithm

Pages 1463-1466

Shashi, (et al.)

In Vivo Measurements of the Mechanical Properties of Human Skin and Muscle by Inverse Finite Element Method Combined with the Indentation Test

Pages 1467-1470

Khaothong, Krisakorn

An Argument for Walking Gait Profile

Pages 1471-1474

Hashim, A. Y. Bani (et al.)

A Study on Blood Flow Characteristics of Hepatic Vein

Pages 1475-1478

Watanabe, K. (et al.)

Description of a Novel Technique for Three-Dimensional Fit Assessment of Dental Restorations

Pages 1479-1482

Holst, S. (et al.)

Computational Model for Radiotherapeutic Response of Metastatic Cervical Lymph Nodes

Pages 1483-1486

Takao, S. (et al.)

FEM Assisted Determination Cranial Implants' Mechanical Strength Properties

Pages 1487-1490

Tsouknidas, A. (et al.)

Numerical Analysis on Angiogenesis in Growing Cancer Using a Particle Model

Pages 1491-1494

Nagayama, K. (et al.)

Computational Fluid Dynamics Model of Bladder-Urethra System for SUI

Pages 1495-1498

Zhang, X. J. (et al.)

Analysis of the Possibilities of Improving the Safety of Children Transported in Passenger Cars in Pivoted Child Seat Systems

Pages 1499-1502

Swietlik, M. (et al.)

A Computational Study on Biomechanical Differences between Cerebral Aneurysm and Normal Cerebral Artery Employing Fluid-Structure Interaction Analysis

Pages 1503-1506

Wang, X. H. (et al.)

Curvedness Study on Atherosclerosis Plaques and Its Implications to Plaque Stress

Pages 1507-1510

Gao, H. (et al.)

Mimicking of the Human Regulatory System by Flow-Dependent Vascular Resistance: A Feasibility Study

Pages 1511-1513

Kaufmann, T. A. S. (et al.)

Cluster-Based Artificial Neural Network on Ultrasonographic Parameters for Fetal Weight Estimation

Pages 1514-1517

Cheng, Yueh-Chin (et al.)

A Biomechanical Computational Study of the Role of Helmet Pads in Mitigating Blast-Induced Traumatic Brain Injury

Pages 1518-1521

Li, Jianzhong (et al.)

Activity Recognition by Detecting Acoustic Events for Eldercare

Pages 1522-1525

Huang, Kun-Yi (et al.)

A Damage Model Based on Micro-structural Approach in Soft Fibered Tissue

Pages 1526-1529

Sáez, P. (et al.)

Numerical Study on the Hemodynamic Performance of a Streamlined Endovascular Stent

Pages 1530-1533

Chen, Z. S. (et al.)

The Page Turner Controlled by BCI

Pages 1534-1537

Chen, Shih-Chung (et al.)

Accuracy of Fiducial Marker Based Multimodal Image Registration in Image Guided Surgery

Pages 1538-1541

Hongwei, Zhang (et al.)

Evaluation of Brain Extracranial-to-Intracranial (EC-IC) Bypass Treatments by Using Computational Hemodynamic Technology

Pages 1542-1545

Sia, Sheau Fung (et al.)

Acetabular Direction and Capacity of Hip Joint Dysplasia in Cerebral Palsy – Counterpoint Option of Morphology Understanding

Pages 1546-1549

Rychlik, M. (et al.)

Development of Three-Dimensional Model of Spine, Using Bi-planar Radiographic Images and Adaptation of Prior CT Data

Pages 1550-1553

Heidari, B. (et al.)

A Retinal Layer Structure Analysis to Measure the Size of Disease Using Layer Boundaries Detection for Optical Coherence Tomography Images

Pages 1554-1557

Kodama, Dai (et al.)

Extraction Method of Retinal Border Lines in Optical Coherence Tomography Image by Using Dynamic Contour Model

Pages 1558-1561

Yamakawa, Ai (et al.)

The Frequency Dependence of the Effect of the Human Body Conductivity in the Radio Imaging Method for Medical Application

Pages 1562-1565

Hieda, I. (et al.)

Characterizing Facial Tissue Sliding Using Ultrasonography

Pages 1566-1569

Wu, T. (et al.)

A Stabilization Technique of Wobbly Images Taken by the Inclined Centrifuge Microscope

Pages 1570-1573

Shirai, A. (et al.)

Tussah Silk Fibroin Excels Silk Fibroin from the Domesticated Silkworm in Supporting the Development of Neurons

Pages 1574-1577

Qu, J. (et al.)

Heartbeat Evoked Potential: A Neural Correlate of Pain Perception?

Pages 1578-1581

Shao, S. (et al.)

Question Intention Analysis and Entropy-Based Paragraph Extraction for Medical Question Answering

Pages 1582-1586

Lu, Wen-Hsiang (et al.)

System of Metabolic Gases Transportation: Simulation and Parameters Estimation by Noninvasive Technique

Pages 1587-1590

Dyachenko, Alexander (et al.)

Computational Model of Blood Flow in the Presence of Atherosclerosis

Pages 1591-1594

Kumar, Anil

A Cross-Format Framework for Consistent Information Integration among Molecular Pathways and Ontologies

Pages 1595-1598

Umeton, R. (et al.)

Visualizing the Precise Motion of Bones around the Knee

Pages 1599-1602

Ohshima, Takako (et al.)

Development of a Physiologically-Based Model for Diisopropylfluorophosphate-Induced Toxicity in Human

Pages 1603-1606

Chen, K. (et al.)

A SVM Model for AAC Based Classification of Class B GPCRs

Pages 1607-1610

Kumari, Tannu (et al.)

Mathematical Modeling of Thawing Problem in Skin and Subcutaneous Tissue

Pages 1611-1614

Kumar, Sushil (et al.)

Reliability of Frequency Domain HRV Analysis

Pages 1615-1618

Dabas, Pawan Kumar (et al.)

A Mechanobiological Model of Implant-Bone Interface Healing and Adaptation in Resurfacing Hip Replacement

Pages 1619-1622

Dickinson, A. S. (et al.)

Development of Retinal Prosthesis Module for Fully Implantable Retinal Prosthesis

Pages 1625-1628

Lee, Kangwook (et al.)

Acoustic Impedance Evaluation of Thermally Denatured and Non-denatured Biological Tissues

Pages 1629-1632

Shishitani, T. (et al.)

Recovery by Salicylate of the Plasma Membrane Expression of Prestin Mutants

Pages 1633-1636

Wada, H. (et al.)

Microfluidic Biological Fuel Cells: Automatic Series-Connection and Relay Systems

Pages 1637-1639

Yoshino, S. (et al.)

Effects of Lamb Wave in Therapeutic Ultrasound Transducer by Vibration Analysis

Pages 1640-1643

Otsu, Kenji (et al.)

Measurement of Histamine Release Change in Living Human Brain Associated with Stress and Circadian Rhythm

Pages 1644-1647

Shibuya, Katsuhiko (et al.)

Quantitative Analysis of Amyloid Beta Deposition in the Brain of Alzheimer's Disease Patients Using PET and [

Pages 1648-1651

Tashiro, M. (et al.)

Effect of Measurement Error on Ultrasonic-Measurement-Integrated Simulation of Blood Flow in an Aortic Aneurysm

Pages 1652-1655

Funamoto, K. (et al.)

Micro- and Nano-topography as Biomechanical Cues for Cornea Regeneration

Pages 1659-1662

Yim, E. K. (et al.)

Mechanical and Morphological Properties of Children and Adults Thigh Muscle with Magnetic Resonance Imaging (MRE) and Ultrasound Techniques

Pages 1663-1666

Bensamoun, S. F. (et al.)

The Anisotropy of Bone Lamellae as a Function of Diverse Fibril Orientation Patterns

Pages 1667-1670

Reisinger, A. G. (et al.)

Deformability Based Cell Margination – A Simple Microfluidic Design for Malarial Infected Red Blood Cell Filtration

Pages 1671-1674

Hou, Han Wei (et al.)

Topological Statistics for Probabilistic Finite Element Simulations

Pages 1675-1678

Pataky, T. C.
Buy this book
eBook 319,93 €

price for Spain (gross)

ISBN 978-3-642-14515-5
Digitally watermarked, DRM-free
Included format: PDF
ebooks can be used on all reading devices
Immediate eBook download after purchase

Softcover 395,19 €

price for Spain (gross)

ISBN 978-3-642-14514-8
Free shipping for individuals worldwide
Institutional customers should get in touch with their account manager
Usually ready to be dispatched within 3 to 5 business days, if in stock
The final prices may differ from the prices shown due to specifics of VAT rules
Services for this Book
Recommended for you
Bibliographic Information
Book Title

6th World Congress of Biomechanics (WCB 2010), 1 - 6 August 2010, Singapore

Book Subtitle

In Conjunction with 14th International Conference on Biomedical Engineering (ICBME) & 5th Asia Pacific Conference on Biomechanics (APBiomech)

Editors

James Goh Cho Hong
Chwee Teck Lim

Series Title

Series Volume

31

Copyright

2010

Publisher

Springer-Verlag Berlin Heidelberg

Copyright Holder

IFMBE

eBook ISBN

978-3-642-14515-5

DOI

10.1007/978-3-642-14515-5

Softcover ISBN

978-3-642-14514-8

Series ISSN

1680-0737

Edition Number

1

Number of Pages

LXVIII, 1698

Topics