Springer International Handbooks of Education
Free Preview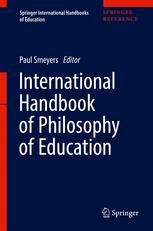 International Handbook of Philosophy of Education
Editors: Smeyers, Paul (Ed.)
Free Preview
Presents a comprehensive introduction to the core areas of philosophy of education combined with an up-to-date selection of the central themes and new areas of scholarship
Written by a group of over 100 distinguished philosophers of education from more than 20 countries
Offers a state-of-the-art overview of philosophy of education dealing with major figures, various schools of thought, enduring debates and new areas and developments
Provides a valuable resource for lecturers teaching undergraduate and graduate courses in philosophy of education as well as for colleagues involved in teacher training
Provides a solid foundation for junior scholars starting out in this field and a valuable update for experienced academics
Combined with different concepts of the purpose of philosophy, it discusses various aspects, using different perspectives to do so
 
see more benefits
Buy this book
eBook 362,73 €

price for Spain (gross)

ISBN 978-3-319-72761-5
Digitally watermarked, DRM-free
Included format: EPUB, PDF
ebooks can be used on all reading devices
Immediate eBook download after purchase

Hardcover 623,99 €

price for Spain (gross)

ISBN 978-3-319-72759-2
Free shipping for individuals worldwide
Institutional customers should get in touch with their account manager
Usually ready to be dispatched within 3 to 5 business days, if in stock
The final prices may differ from the prices shown due to specifics of VAT rules

Softcover 446,16 €

price for Spain (gross)

ISBN 978-3-030-10262-3
Free shipping for individuals worldwide
Institutional customers should get in touch with their account manager
Usually ready to be dispatched within 3 to 5 business days, if in stock
The final prices may differ from the prices shown due to specifics of VAT rules
This handbook presents a comprehensive introduction to the core areas of philosophy of education combined with an up-to-date selection of the central themes. It includes 95 newly commissioned articles that focus on and advance key arguments; each essay incorporates essential background material serving to clarify the history and logic of the relevant topic, examining the status quo of the discipline with respect to the topic, and discussing the possible futures of the field. The book provides a state-of-the-art overview of philosophy of education, covering a range of topics: Voices from the present and the past deals with 36 major figures that philosophers of education rely on; Schools of thought addresses 14 stances including Eastern, Indigenous, and African philosophies of education as well as religiously inspired philosophies of education such as Jewish and Islamic; Revisiting enduring educational debates scrutinizes 25 issues heavily debated in the past and the present, for example care and justice, democracy, and the curriculum; New areas and developments addresses 17 emerging issues that have garnered considerable attention like neuroscience, videogames, and radicalization. The collection is relevant for lecturers teaching undergraduate and graduate courses in philosophy of education as well as for colleagues in teacher training. Moreover, it helps junior researchers in philosophy of education to situate the problems they are addressing within the wider field of philosophy of education and offers a valuable update for experienced scholars dealing with issues in the sub-discipline. Combined with different conceptions of the purpose of philosophy, it discusses various aspects, using diverse perspectives to do so. 


Contributing Editors:
Section 1: Voices from the Present and the Past: Nuraan Davids
Section 2: Schools of Thought: Christiane Thompson and Joris Vlieghe
Section 3: Revisiting Enduring Debates: Ann Chinnery, Naomi Hodgson, and Viktor Johansson
Section 4: New Areas and Developments: Kai Horsthemke, Dirk Willem Postma, and Claudia Ruitenberg


Ann Chinnery is Associate Professor and Director of Undergraduate Programs in the Faculty of Education at Simon Fraser University, Canada. Her research is located at the intersection of philosophy of education and teacher education, drawing primarily on continental philosophy to address ethical issues in education. Specific areas of interest include the cultivation of moral and social responsibility, educating for critical historical consciousness, and the complexities of classroom dialogue in pluralist societies. Her recent work has appeared in the Philosophy of Education Society Yearbooks, and journals such as Educational Theory, Teaching and Teacher Education, Ethics and Education, and the Journal of Educational Controversy. Her current research focuses on the pedagogical potential of critical historical consciousness as a framework for taking collective responsibility for collective harm regardless of one's individual role in committing the harm. This work includes, but is not limited to, educational initiatives intended to address the Calls to Action of the Truth and Reconciliation Commission of Canada, and preparing K-12 teachers to take up that work in their classroom practice.

Nuraan Davids is an Associate Professor of Philosophy of Education, and the Chairperson of the Department of Education Policy Studies in the Faculty of Education at Stellenbosch University. Her research interests include democratic citizenship education; Islamic education; educational leadership inquiry. She is an Associate Editor of the South African Journal of Higher Education, and an Editorial Board Member of Ethics and Education. She is the author of Women, cosmopolitanism, and Islamic education: On the virtues of education and belonging (New York & London: Peter Lang Publishing, 2013); and the co-author with Yusef Waghid, of: Citizenship education and violence in schools: On disrupted potentialities and becoming (Rotterdam/Boston/Taipei: Sense Publishers, 2013); Ethical dimensions of Muslim education (New York & London: Palgrave Macmilllan, 2016); Educational leadership-in-becoming: On the potential of leadership in action (New York & London: Routledge, 2017); Education, assessment and the desire for dissonance (New York & London: Peter Lang, 2017); Philosophy and education as action: Implications for Teacher Education (Lanham, MD (US): Rowman & Littlefield – Lexington Series, 2017); and Education and the Polemic of Tolerance: Towards Dissent in Educational Encounters (New York & London: Palgrave Macmilllan, 2017).

Naomi Hodgson is Lecturer in Education Studies at Liverpool Hope University, UK, and Visiting Researcher in the Laboratory for Education, Culture, and Society, KU Leuven. Her research, situated in the field of educational philosophy, focuses on the relationship between education, governance, and subjectivity, particularly in relation to the figures of the researcher and the parent. Her current research project, funded by the British Academy/Leverhulme Trust, is entitled 'The researcher disposition as today's mode of subjectivation: the case of parenting', and she is currently completing the manuscript of Philosophical Presentations of Raising Children - The Grammar of Upbringing, co-authored with Stefan Ramaekers (KU Leuven) and due to be published in early 2018. She has recently collaborated with Joris Vlieghe (Aberdeen) and Piotr Zamojski (Gdansk) to write a 'Manifesto for a Post-Critical Pedagogy' (Punctum, 2017). Naomi is author of Philosophy and Theory in Education: Writing in the Margin (co-authored with Amanda Fulford; Routledge, 2016), Citizenship for the Learning Society: Europe, Subjectivity, and Educational Research (Wiley, 2016), and numerous journal articles and book chapters in the field of philosophy of education. She is Managing Editor of the PES Yearbook and Reviews Editor for the Journal of Philosophy of Education.

Kai Horsthemke teaches philosophy of education at KU Eichstätt-Ingolstadt in Germany. He is also a visiting professor in the School of Education at the University of the Witwatersrand, South Africa, and a fellow at the Oxford Centre for Animal Ethics, UK. He has published extensively since 2004, on African philosophy, indigenous knowledge systems and animal ethics. Additional research interests include social epistemology and environmental education. He is the author of two monographs, The Moral Status and Rights of Animals (Porcupine Press, 2010) and Animals and African Ethics (Palgrave MacMillan, 2015), and, together with Peggy Siyakwazi, Elizabeth Walton and Charl Wolhuter, the co-editor of the first two editions of Education Studies(Oxford University Press Southern Africa, 2013 and 2016, respectively).

Viktor Johansson gained his PhD in Educational Sciences at Stockholm University in Sweden. He is currently Senior Lecturer at the School of Humanities, Education, and Social Sciences at Örebro University. His expertise and research interests range from philosophy of learning, early childhood education, philosophy with children, children's literature, philosophy of literature. He is the author of Dissonant Voices (2013), and of several articles in the field of philosophy of education, including most recently, "Killing the Buddha: Towards a heretical philosophy of learning" (2017), "Unserious but Serious Pilgrimages: What Educational Philosophy can learn about Fiction and Reality from Children's Artful Play" (2017), and "Questions from the Rough Ground: Teaching, Autobiography, and the Cosmopolitan 'I'" (2015). He is the co-editor of the special issues, "Perfectionism and Education: Kant and Cavell on Ethics and Aesthetics in Society" (2014) and "Bildung, Self-Cultivation, and the Challenge of Democracy: Ralph Waldo Emerson as a Philosopher of Education" (forthcoming in Educational Philosophy and Theory). He is currently working on two monographs, one in Swedish on philosophy in early childhood with the working title Omedelbarhetens pedagogik: Filosofi bortom orden i tidig barndom (The Pedagogy of Immediacy: Philosophy Beyond Words in Early Childhood) (Gleerups); and another in English called Literature and Philosophical Play in Early Childhood Education (Routledge).

Dirk Willem Postma studied History and Philosophy of Education at the State University of Groningen in the Netherlands. As a junior researcher at the universities of Leuven, Belgium, and Nijmegen, the Netherlands, he wrote a PhD-thesis about the ethical and politico-philosophical dimensions of environmental education: Why care for Nature? In search of an ethical framework for environmental responsibility and education (Springer, 2006). Later he conducted applied research and published papers and books in the broader field of citizenship, self-organization, social inequality and cultural diversity, mainly in Dutch journals for an audience of social work professionals. Since 2016 he leads a research group at the NHL and Stenden Universities of Applied Sciences in Leeuwarden, focussing on participatory action research in the field of community development in deprived neighbourhoods. Apart from these academic affiliations he is actively involved in local communities of citizens, working together with institutions on better living conditions for and with vulnerable groups, in particular with LGBT refugees and citizens suffering from mental health problems. 


Claudia Ruitenberg is Professor in the Department of Educational Studies and Academic Director of Vantage College, both at the University of British Columbia in Vancouver, Canada. She is the author of Unlocking the World: Education in an Ethic of Hospitality (Paradigm/Routledge, 2015), co-editor (with D. C. Phillips) of Education, Culture and Epistemological Diversity: Mapping a Disputed Terrain (Springer, 2012), and editor of What Do Philosophers of Education Do? (And How Do They Do It?) (Wiley Blackwell, 2010), the Philosophy of Education 2012 yearbook, and Reconceptualizing Study in Educational Discourse and Practice (Routledge, 2017). She has taught courses on social and political theory, research design, philosophy of education as educational research, critical thinking, and professional ethics. Her areas of research include political and citizenship education; ethics and education; discourse, performativity, and speech act theory; art and aesthetic education. She was Scholar in the UBC Centre for Health Education Scholarship 2013-2017, exploring philosophical aspects of medical and other health professions education. She is currently developing further research on the challenges of translation between languages, cultures, and discourses, especially as these affect education in multicultural and multilingual contexts.

Paul Smeyers is Professor at Ghent University and at KU Leuven, both in Belgium, and Honorary Professor at Stellenbosch University (South Africa). He teaches philosophy of education and methodology of the Geisteswissenschaften (Qualitative/Interpretative Research Methods). He is the author of numerous articles focusing on Wittgenstein's relevance for philosophy of education, on postmodernism, and on issues of the methodology of educational research. He is President of the International Network of Philosophers of Education and link-convenor for Network 13, Philosophy of Education, European Educational Research Association. He is the Editor of Ethics and Education (Taylor and Francis). Together with Nigel Blake, Richard Smith, and Paul Standish he co-authored three books, Thinking Again, Education in an Age of Nihilism, The Therapy of Education, and with Michael Peters and Nick Burbules Showing and Doing. With Marc Depaepe he co-edited the series Educational Research (Springer, thus far 10 books). Recent publications include a co-authored book with Richard Smith (Making sense of education and educational research, Cambridge University Press, Cambridge, 2014) and a collection co-edited with David Bridges, Morwenna Griffiths, and Nick Burbules (International handbook of interpretation in educational research methods, 2 vols., Springer, 2015). His latest work focuses anew on Wittgenstein's legacy for philosophy of education. Some of that is included in the collection edited by Michael Peters and Jeff Stickney (A Companion to Wittgenstein on Education. Springer, 2017). Attention to Smeyers' contributions in this area are discussed in the Foreword (David Bakhurst), the introductory chapter (Editors), and in a separate chapter by Paul Standish.

Christiane Thompson is Professor of "Theory and History of Bildung and Education" at the Goethe University Frankfurt in Germany. She received her PhD with a work on Theodor Ballauff's theory of education in 2002 (published with Leske & Budrich in 2003). From 2002-2008 she worked on a book examining experience and Bildung (published with Schöningh in 2009). From 2009-2010 she was full professor of education at the University of Fribourg, Switzerland. From 2010-2014 she was Heisenberg research professor for "Education with a Special Focus on the Theory and Cultural Research of Bildung" at the Martin Luther University in Halle-Wittenberg, Germany. Since 2014 she is professor at the Goethe University Frankfurt. Her main areas of research lie in the philosophy of education. In her research she relates systematical and historical perspectives in order to provide a well-reflected and critical categorical framework for education and Bildung. Furthermore, her work focuses on the power relations and formations within educational processes. Here, the analytical work concentrates on authorization practices and subject formations in educational contexts. Recently she published: "Autorisierungen des pädagogischen Selbst", Springer 2017 (book edition together with K. Jergus), "Zwischenwelten der Pädagogik", Schöningh 2017 (book edition together with S. Schenk). Currently, she is working on a book edition on Adorno's dictum "Education after Auschwitz" (together with S. Andresen and D. Nittel), and a book edition on "Anxiety" (together with A. Schäfer).

Joris Vlieghe is a lecturer in philosophy of education at the University of Aberdeen. He studied philosophy and art history, and obtained his Phd (KU Leuven, 2010) in educational studies, with a dissertation on The Democracy of the Flesh. Here he explored the role of corporeality in and for education. His recent research deals with the ways in which the ubiquity and pervasiveness of digital technologies change dimensions that traditionally have been considered as vital to education: transformation, emancipation, community, attention, literacy, formation/edification, and creativity. Central to this line of investigation is the question whether or not we still need schools in digital times. Next to this, he is also interested in the intrinsic educational meaning of school practices, and the role of repetition and rehearsal, as well as the collective nature of the things we do at school. Currently he is developing a post-critical approach to education and an affirmative ontological account of teaching (in terms of an unconditional and passionate love for a subject matter). He co-edited in 2015, with Nancy Vansieleghem and Pieter Verstraete, After-School. Images, Education and Research (Leuven University Press) and wrote, together with Naomi Hodgson and Piotr Zamojski a Manifesto for a Post-Critical Pedagogy (Punctum Press, 2017).

 
Table of contents (99 chapters)

Philosophy and Education: A Certain Kind of Wisdom

Pages 1-7

Introduction: Section 1 – Voices from the Present and the Past

Pages 11-15

Nasr Hamid Abu Zayd's Philosophy on Islam and Education

Pages 17-28

Giorgio Agamben

Pages 29-38

"This Is Our World." Hannah Arendt on Education

Pages 39-48
Buy this book
eBook 362,73 €

price for Spain (gross)

ISBN 978-3-319-72761-5
Digitally watermarked, DRM-free
Included format: EPUB, PDF
ebooks can be used on all reading devices
Immediate eBook download after purchase

Hardcover 623,99 €

price for Spain (gross)

ISBN 978-3-319-72759-2
Free shipping for individuals worldwide
Institutional customers should get in touch with their account manager
Usually ready to be dispatched within 3 to 5 business days, if in stock
The final prices may differ from the prices shown due to specifics of VAT rules

Softcover 446,16 €

price for Spain (gross)

ISBN 978-3-030-10262-3
Free shipping for individuals worldwide
Institutional customers should get in touch with their account manager
Usually ready to be dispatched within 3 to 5 business days, if in stock
The final prices may differ from the prices shown due to specifics of VAT rules
Services for this Book
Recommended for you
Bibliographic Information
Book Title

International Handbook of Philosophy of Education

Editors

Series Title

Copyright

2018

Publisher

Springer International Publishing

Copyright Holder

Springer International Publishing AG, part of Springer Nature

eBook ISBN

978-3-319-72761-5

DOI

10.1007/978-3-319-72761-5

Hardcover ISBN

978-3-319-72759-2

Softcover ISBN

978-3-030-10262-3

Series ISSN

2197-1951

Edition Number

1

Number of Pages

XL, 1472

Number of Illustrations

2 b/w illustrations

Topics