Advances in Science, Technology & Innovation
Free Preview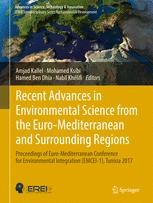 Recent Advances in Environmental Science from the Euro-Mediterranean and Surrounding Regions
Proceedings of Euro-Mediterranean Conference for Environmental Integration (EMCEI-1), Tunisia 2017
Editors: Kallel, A., Ksibi, M., Ben Dhia, H., Khélifi, N. (Eds.)
Free Preview
Shares insights on the development of the Euro-Mediterranean environment (past, present, and future)
Includes case studies that illustrate how science can contribute to promoting a more sustainable environment
Discusses latest advances in environmental science from diverse backgrounds
Maximizes reader insights into emerging environmental issues and challenges in the Euro-Mediterranean zone and surrounding regions
see more benefits
Buy this book
eBook 416,23 €

price for Spain (gross)

ISBN 978-3-319-70548-4
Digitally watermarked, DRM-free
Included format: EPUB, PDF
ebooks can be used on all reading devices
Immediate eBook download after purchase

Hardcover 519,99 €

price for Spain (gross)

ISBN 978-3-319-70547-7
Free shipping for individuals worldwide
Institutional customers should get in touch with their account manager
Usually ready to be dispatched within 3 to 5 business days, if in stock
The final prices may differ from the prices shown due to specifics of VAT rules

Softcover 519,99 €

price for Spain (gross)

ISBN 978-3-319-88958-0
Free shipping for individuals worldwide
Institutional customers should get in touch with their account manager
Usually ready to be dispatched within 3 to 5 business days, if in stock
The final prices may differ from the prices shown due to specifics of VAT rules
This volume includes the papers presented during the 1st Euro-Mediterranean Conference for Environmental Integration (EMCEI) which was held in Sousse, Tunisia in November 2017. This conference was jointly organized by the editorial office of the Euro-Mediterranean Journal for Environmental Integration in Sfax, Tunisia and Springer (MENA Publishing Program) in Germany. It aimed to give a more concrete expression to the Euro-Mediterranean integration process by supplementing existing North-South programs and agreements with a new multilateral scientific forum that emphasizes in particular the vulnerability and proactive remediation of the Euro-Mediterranean region from an environmental point of view. This volume gives a general and brief overview on current research focusing on emerging environmental issues and challenges and its applications to a variety of problems in the Euro-Mediterranean zone and surrounding regions. It contains over five hundred and eighty carefully refereed short contributions to the conference. Topics covered include (1) innovative approaches and methods for environmental sustainability, (2) environmental risk assessment, bioremediation, ecotoxicology, and environmental safety, (3) water resources assessment, planning, protection, and management, (4) environmental engineering and management, (5) natural resources: characterization, assessment, management, and valorization, (6) intelligent techniques in renewable energy (biomass, wind, waste, solar), (7) sustainable management of marine environment and coastal areas, (8) remote sensing and GIS for geo-environmental investigations, (9) environmental impacts of geo/natural hazards (earthquakes, landslides, volcanic, and marine hazards), and (10) the environmental health science (natural and social impacts on Human health). Presenting a wide range of topics and new results, this edited volume will appeal to anyone working in the subject area, including researchers and students interested to learn more about new advances in environmental research initiatives in view of the ever growing environmental degradation in the Euro-Mediterranean region, which has turned environmental and resource protection into an increasingly important issue hampering sustainable development and social welfare.

Amjad Kallel

Dr. Kallel holds a B.Eng. in Georesources and Environment (1998) from the University of Sfax (Tunisia), a M.Sc. and a Ph.D. degree in Georesources and Environment (2004) from Hokkaido University (Japan). He joined Venture Business Laboratory (VBL) at Akita University, Japan (2005–2006) as a researcher focusing on refining and recycling technologies for recovering of rare elements from natural and secondary sources. Back in Tunisia, he started working at the University of Gabes from 2006–2011 where he contributed to the elaboration of teaching programs at the Higher Institute of Water Sciences and Technologies of Gabes. Since 2011, he has started lecturing at the Sfax National School of Engineering (University of Sfax, Tunisia). There, he has been also involved in various research projects related to Environmental Geology and Environmental Geotechnics. In addition, Dr. Kallel is involved as a consultant in urban and environmental projects for the Ministry of Environment and Sustainable Development in Tunisia. In 2017 Dr. Kallel completed his Habilitation (HDR) in Environmental Science at the University of Sfax (Tunisia). He has organized many prestigious workshops, seminars and international conferences. Currently, he is supporting the editorial board of the Euro-Mediterranean Journal for Environmental Integration (Springer). In 2016 Dr. Kallel joined the Arabian Journal of Geosciences (Springer) as an Assistant Editor supporting the Editor-in-Chief.

Mohamed Ksibi

Dr. Ksibi is the Director of the High Institute of Biotechnology at the University of Sfax (Tunisia). Dr. Ksisi obtained his M.Sc. (1989) and PhD (1993) degrees in Applied Chemistry from the University of Poitiers (France). He also gained the Habilitation (HDR) in Chemistry from the University of Sfax, Tunisia (2003). Afterwards, he received a one-year postdoctoral research fellowship at the National Institute of Scientific and Technical Research (Tunisia, 1995) and then was appointed as an Adjunct Professor in Chemistry (1996), Assistant Professor (1999), Associate Professor (2004) and as a full Professor of Chemistry (2009) at the University of Sfax, Tunisia. His research focuses on chemicals in the environment, water and wastewater treatment and reuse. He developed new methods for toxicity assessment of water containing various pollutants (dyes, phenolic and pharmaceutical compounds, pulp and paper mills pollute water, domestic wastewater, …etc.) after applying different wastewater treatment techniques. Dr. Ksibi has been involved in establishing several joint scientific projects with Moroccan, Portuguese, German and Japanese scientists aiming at studying the quantification and risk assessment of emerging organic contaminants and heavy metals in soil and surface waters in Tunisia. Most recently, he has been participating at the NATO-SfP project 'Remediation Processes in Uranium and other Mining Explorations'. Dr. Ksibi is currently the Managing Editor of the Euro-Mediterranean Journal for Environmental Integration (Springer).

Hamed Ben Dhia

Dr. Ben Dhia is currently a Professor Emeritus in the Sfax National School of Engineering (University of Sfax, Tunisia). He studied in Tunisia and then in France where he graduated and obtained his PhD in Geothermal Energy and Aquifers Modeling from the Faculty of Sciences, Bordeaux and the Mining School of Paris. His working career started from Libya in the sector of water research within the Saharan region (1973–74), continued in Morocco at the National Phosphate Company (1975–1978), and ended in Tunisia as a full Professor at the University of Sfax (1979–2012). He was active in several research projects focusing on Hydrogeology, Geothermal Energy, Environmental Sciences and Engineering Geology. He has co-published more than 180 papers at national and international journals. Furthermore, he supervised and successfully handled about 50 master and 30 doctoral theses. Dr. Ben Dhia was also appointed as Head of the Earth Science Department (1982–1986) and Director (1993–1997) of the National School of Engineers of Sfax. He was also the President (Rector) of the University of Sfax (1997–2011). This long career permitted him to acquire solid skills and expertise in several fields such as Natural Resources, Green Growth, University Management and Entrepreneurship Learning/Coaching. Dr. Ben Dhia is currently the Executive Editor-in-Chief of the Euro-Mediterranean Journal for Environmental Integration (Springer).

Nabil Khélifi

Dr. Khélifi holds a B.Sc. in Natural Sciences (2001) and a M.Sc. in Earth & Environmental Sciences (2004) from the University of Sfax (Tunisia). He received fellowships from the global change System for Analysis, Research and Training (START) in 2005 and the German Academic Exchange Service (DAAD) from 2006 to 2010 to continue with his Ph.D. studies in Marine Geosciences (Specialty: Paleoceanography and Paleoclimatology) at the University of Kiel in Germany. After his Ph.D. in 2010, Dr. Khélifi received a postdoctoral research grant from the German Science Foundation (DFG) to start his self-designed research projects at the GEOMAR Ocean Research Centre in Kiel, Germany on reconstructing past changes in oceanography and climate in the North Atlantic and the Mediterranean Sea using marine sediment samples retrieved by the International Ocean Drilling Program (IODP) and applying foraminiferal and geochemical proxy methods. He published afterwards his research findings in highly ranked scientific journals. Dr. Khélifi also received funding from the European Science Foundation (ESF) and some European universities to co-organize with some of his colleagues from Kiel, Bordeaux and Bristol two Workshops on Pliocene climate in Bordeaux, France (2009) and Bristol, UK (2013). In early 2014 he received the Swiss Government Excellence Scholarship (SGES) to continue with his research projects at ETH Zurich, Switzerland. Although his interest in scientific research was and remained strong, he decided in March 2014 to pursue his career as a Senior Publishing Editor with Springer (a part of Springer Nature) in Heidelberg, Germany. He is mainly responsible for developing the Springer's publishing program in the Middle East & North Africa (MENA). The program currently consists of developing 15 academic journals from the Arab World and publishing tens of scientific books each year. Dr. Khélifi also helps researchers in MENA countries publish their work by delivering educational seminars for authors, reviewers, and journal editors to help improve publication output and quality. He is also a Visiting Lecturer at the University of Carthage, Tunisia and King Saud University, KSA giving M.Sc./Ph.D. courses in geo-communication/-presentations and techniques of paper publishing, and career professional development workshops. Most recently, Dr. Khélifi has been awarded the 2016 Africa Green Future Leadership Award in recognition of work contributing to sustainable development through advancing science and promoting publications in Africa and Middle East. In 2017 Dr. Khélifi launched, in close collaboration with the Editors of the Euro-Mediterranean Journal for Environmental Integration, the first Springer conference dedicated to promote the Euro-Mediterranean integration process that emphasizes the vulnerability and proactive remediation of the Euro-Mediterranean region from an environmental point of view.

 
Table of contents (588 chapters)

New Pathways in the Synthesis of 2-Dimensional Materials

Pages 3-4

Kellici, Suela

Environmental Risk Assessment of Pesticides in Soil: Does It Have to Be Different in Different Regions?

Pages 5-6

Römbke, Jörg

New Challenges for the Ecological Risk Assessment of Plant Protection Products to Soil Organisms in the EU

Pages 7-8

Sousa, José Paulo (et al.)

Hydrogeochemical Assesment of Groundwater Quality: A Case Study of a Wetland System in Central Italy

Pages 9-10

Barbieri, Maurizio

Novel Ozone Oxidation Process for Emerging Contaminants Removal in Water

Pages 11-13

Tizaoui, Chedly

Wastewater Treatment and Energy Production Through Electro Membrane Bioreactors

Pages 15-17

Naddeo, Vincenzo (et al.)

Implications of Sulphide on Trace Metal Pollution Mobility in Sediment

Pages 19-21

Ouddane, Baghdad (et al.)

Remediation of Selenium Contaminated Wastewater

Pages 23-24

Hullebusch, Eric D.

Services and Dysservices of Collective Gardens in Urban Areas: A Soil Perspective

Pages 25-26

Colinet, Gilles (et al.)

R&D for Clean Energy Production Through Responsible Utilization of Various Feedstocks Including Coal, Biomass, and Hydrocarbons

Pages 27-27

Slimane, Rachid B.

Can ICZM Help the Resilience of Disappearing Beaches in the Face of Climate Change?

Pages 29-30

Snoussi, Maria (et al.)

Assessment of the Impact of Dams on River Regimes, Sediment Transports to the Sea, and Coastal Changes

Pages 31-32

Mahe, Gil (et al.)

Evolution of GSDs in the Coastal Zone, New Insights

Pages 33-34

Barusseau, Jean-Paul

Geodata the Tool for Environmental and Sustainable Spatial Planning

Pages 35-36

Koch, Barbara

Earthquake Faulting and Their Implications for the Seismic Hazard Assessment Along the Plate Boundary in North Africa

Pages 37-40

Meghraoui, Mustapha

Cryptosporidium: Waterborne and Foodborne Transmission and Worldwide Outbreaks

Pages 41-44

Karanis, Panagiotis

Springer Workshop on How to Get Published in a Scientific Journal: Tips from Springer Editors

Pages 45-45

Khélifi, Nabil (et al.)

Editing a Paper from Submission to Publication

Pages 47-47

Kallel, Amjad

3rd Workshop of the Euro-Mediterranean Consortium of Higher Education and Industrial Institutions: Freshwater and Climate Change

Pages 49-50

Nor-Edine, Abriak (et al.)

An Integrated Environmental Approach—City of Sfax, Tunisia

Pages 51-52

Dhia, Hamed Ben

Groundwater Exploration in the Solar System: "the Restless Hunt for Life"

Pages 53-54

Heggy, Essam

Photocatalytic Membrane Reactor for Sustainable Environmental Remediation

Pages 57-59

Chakraborty, Sudip (et al.)

REAGRITECH: A Relevant Model of Sustainable Water Management

Pages 61-63

Saad, Marwa Ben (et al.)

Zero-Liquid Discharge Desalination of Hypersaline Shale Gas Wastewater: Challenges and Future Directions

Pages 65-67

Onishi, Viviani C. (et al.)

Integrating Future Climate Change, CO2 Increase and Technology Progress on Wheat Production in Northern Tunisia

Pages 69-70

Annabi, Mohamed (et al.)

Terrace Gardens Sustainable Carbon Sinks in Modern Urban Dynamics

Pages 71-73

Khan, Roohul Abad (et al.)

Urban Morphology for a Better Sustainable Urban Strategy: City of Tunis as a Case Study

Pages 75-76

Younsi, Safa Achour (et al.)

Water Quality Modeling in the Mediterranean River Basins

Pages 77-80

Malagò, Anna (et al.)

Characterization of Glauber Hydrate Salt, Recoverable from the Disposal of Lead Batteries, When Used for Thermal Energy Storage

Pages 81-83

Paola, Maria Gabriela (et al.)

Can Conservation Agriculture Sequester Soil Carbon in Northern Tunisia in the Long Run?

Pages 85-87

Bahri, Haithem (et al.)

Climate Change and Water Resources Management in Arab Countries

Pages 89-91

Gayar, Attia El (et al.)

Impact of Agricultural Policies on the Technical and Economic Parameters of the Olive Value Chain in the Djelfa Region (Algeria)

Pages 93-94

Attallaoui, Leila (et al.)

A New Method to Estimate the Instantaneous Pollutants Emissions from Line Sources

Pages 95-98

Gourgue, Hicham (et al.)

From Phyto to Agromining: Past, Present, and Future Scope

Pages 99-101

Novo, Luís A. B. (et al.)

Fernand Pouillon's Architecture: A Sustainable Model in Algeria

Pages 103-104

Soumaya, Kersenna (et al.)

Municipal Solid Waste (MSW) Bio-drying: An Experimental Prototype Conception

Pages 105-106

Saihi, Mohamed Ali (et al.)

Evaluation of the Inhibiting Effect of Organic Compounds on the Adsorption of Iodine Compounds in Cation-Exchanged Zeolites: A DFT Study

Pages 107-109

Hessou, Etienne (et al.)

A Laboratory Investigation of the Hydraulic Performance of String-Wound Filters

Pages 111-112

Viccione, Giacomo (et al.)

Soil Thermal Properties: Effects of Density, Moisture, Salt Concentration and Organic Matter

Pages 113-114

Omer, Abdeen

Decolourization of Real Textile Wastewater by the Combination of Photocatalytic and Biological Oxidation Processes

Pages 115-117

Gebregiorgis, Teklit (et al.)

Efficient Removal of Methylene Blue from Aqueous Solutions Using Olive Stone and Rye Straw as Abundant Adsorbents

Pages 119-121

Dardouri, Sana (et al.)

Thermomechanical Properties of Plastic Films Based on Cassava Starch Reinforced with Kaolin and Metakaolin

Pages 123-124

Meite, Namory (et al.)

Electrocoagulation Process for Simultaneous Nitrate and Phosphate Removal Using Parallel Iron Plates in the Presence of Organic Pollutant: Optimization, Kinetic Study and Energy Consumption Evaluation

Pages 125-127

Ghazouani, Mouna (et al.)

Fenton-like Catalytic Degradations of Neutral Red in Water Using Cerium Oxide Polishing Powder

Pages 129-132

Abdelkader, Elaziouti (et al.)

The Promising Keratin-Biodegradation and Hide-Dehairing Activities of the Keratinase KERUS from Brevibacillus Brevis Strain US575

Pages 133-135

Jaouadi, Nadia Zaraî (et al.)

The Attractive Proprieties of the Keratinase KERQ7 from Bacillus Tequilensis Strain Q7 with Promising Potential for the Leather Bating Process

Pages 137-139

Jaouadi, Nadia Zaraî (et al.)

Spinel Ni0.6Zn0.4Fe2O4 Nano-Catalyst: Synthesis, Characterization and Heterogeneous Fenton-like Degradation of Congo Red Azo-Dye

Pages 141-144

Nadjia, Laouedj (et al.)

Biodegradation of Urban Stromwater Pollution in a Sequence of Constructed Porous Riffles in a Mediterranean Creek

Pages 145-147

Breil, Pascal (et al.)

Effect of Chemical Modifications on the Adsorption of Nickel Ions Using Micro-Particles of Dry Palm Fibers

Pages 149-150

Boudaoud, Asma (et al.)

Effects of Petroleum Pollution in Niger Delta Wetlands: Interplay Between the Social and Ecological Systems

Pages 151-152

Arimoro, Francis O. (et al.)

Influence of Temperature and Doping Content on the Photocatalytic Activity in Visible Light of W-Doped TiO2

Pages 153-154

Moslah, Chérif (et al.)

Phosphorus Removal Efficiencies via a β Proteobacterium Isolated from Active Phosphate Mine Area in Southern Tunisia

Pages 155-157

Daly, Imen (et al.)

Eco-Friendly Finishes for Textile Fabrics

Pages 159-161

Khalifa, Imene Belhaj (et al.)

Variation of Ten Durum Wheat Genotypes Yield and Nitrogen Agronomic Efficiency Under Mediterranean Subhumid Condition

Pages 163-166

Harbaoui, Kalthoum (et al.)

Optimization of Coagulation/Flocculation Process for Landfill Leachate Treatment Using Box–Behnken Design

Pages 167-168

Elmoubarki, Rachid (et al.)

Removal of Arsenic by Iron (Hydr)oxide Impregnated Granular Activated Carbon Derived from a Tunisian Date Stones

Pages 169-170

Bouhamed, Farah (et al.)

Study of Methylene Blue Adsorption in Aqueous Solution Using Alginate-Bentonite Beads

Pages 171-173

Oussalah, Asma (et al.)

Easy and Cost Effective Preparation of Cellulose Beads from Almond Shell: Characterization and Application in Copper (II) Adsorption from Aqueous Solutions

Pages 175-177

Maaloul, Najeh (et al.)

Carboxylic Magnetic Latex Particles Using Seeded Emulsion Polymerization for Wastewater Treatment

Pages 179-182

Marzougui, Zied (et al.)

Fixed Bed Adsorption Dynamics Experimental Study and Modeling of C3H6 Capture into Faujasite Type Zeolite

Pages 183-185

Ouled Ltaief, Olfa (et al.)

Organic Acids Assisted Phytoextraction of Heavy Metals: A Review

Pages 187-188

Tauqeer, Hafiz Muhammad (et al.)

Adsorptive Removal of Cationic and Anionic Dyes from Aqueous Solution by Utilizing Reed Treated with Sodium Dodecyl Sulfate as a New Bioadsorbent

Pages 189-193

Karoui, Sarra (et al.)

Enhanced Removal of Eriochrome Black T from Water Using Phragmites Australis Functionalized with Cetyltrimethylammonium Bromide (CTAB)

Pages 195-196

Arfi, Rim Ben (et al.)

Removal of Cadmium(II) Ions from Synthetic Aqueous Solutions Using Maize Leaves as an Eco-Friendly Sorbent Material in Batch Mode: A Preliminary Study

Pages 197-198

Benaïssa, Houcine (et al.)

Effect of Amphiphilic Copolymers on Armco Steel Corrosion

Pages 199-200

El Korso, Narimene (et al.)

Simplified Model for Adsorption Method on Activated Carbon in Fluidized Bed Reactor

Pages 201-203

Khaled, Ghozlane (et al.)

Cupronickel Alloy Corrosion Inhibition in a Medium (0.5 M Nacl)

Pages 205-208

Essom, Hamida

Optimized Physico-Chemical Treatment of the Fuel Washing Water of an Industrial Gaz-Blok with Ferric Chloride and Polymer

Pages 209-210

Qachach, Hajar (et al.)

Degradation of Pharmaceutical Contaminant in Water via Fountain Photoreactor

Pages 211-214

Tassalit, Djilali (et al.)

Solar Photodegradation Using Zinc Oxide Catalyst for the Elimination of Phenol and Acetamiprid from Water

Pages 215-217

Tassalit, Djilali (et al.)

Comparative Study of Natural and Synthetic Clays Used as Supported Catalysts in Dyes Degradation by Advanced Oxidation Processes

Pages 219-222

Rabah, Hafsa (et al.)

Enhanced Efficiency of the Coagulation/Flocculation Treatment of Vegetable Oil Refinery Wastewater Using Response Surface Methodology

Pages 223-226

Louhichi, Ghofrane (et al.)

Static Studies on Cationic Dye Desorption Efficiencies from Chemically Modified Orange Tree Sawdust: Experimental Results and Mechanisms Investigations

Pages 227-230

Azzaz, Ahmed Amine (et al.)

Biosorption of Methylene Blue from Aqueous Solution Using Seagrass: Batch Study

Pages 231-233

Mahfud, Riyad (et al.)

Adsoptive Removal of an Azo Dye (Methyle Orange) onto a Low Cost Adsorbent Using the Experimental Research Methodology

Pages 235-236

Bencheikh, Imane (et al.)

Catalytic Wet Air Oxidation of Parahydroxybenzoic Acid by Catalysts Based on Zirconia

Pages 237-239

Belkadhi, Itidel (et al.)

Elaboration of a Lignocellulosic Material for a Comparative Study of Adsorption of Micropollutants in Aqueous Solution

Pages 241-242

Rechache, Mustapha (et al.)

Study of the Effectiveness of Copper Retention on Three Different Hydrogels

Pages 243-245

Ben Ammar, Nour Elhouda (et al.)

Orange Methyl Adsorption from Aqueous Solutions by Layered Double Hydroxides

Pages 247-249

Aissat, Miloud (et al.)

Biodegradion Studies and Thermomechanical Caracterisations of PDLA/TPS

Pages 251-253

Mbarki, Khadija (et al.)

Green for Brown (G4B): A Novel Tool for Evaluating Phytoextraction in Soils Polluted by Heavy Metals

Pages 257-258

Gonzalez-Ollauri, Alejandro (et al.)

Optimization of Different Key Culture Conditions for Enhanced Biodegradation of a Refractory Emerging Pollutant by a Bacterial Isolate Through a Statistical Approach

Pages 259-260

Popa Ungureanu, Claudia (et al.)

Assessing the Milk Production Impacts on the Aquatic Ecosystem in Algeria

Pages 261-263

Younsi, Ferroudja (et al.)

Behavior of Titanium Dioxide Nanoparticles in Terrestrial Systems—Evaluation Trough Batch and Leaching Column Tests

Pages 265-268

Tassi, Eliana (et al.)

Organic Carbon in Urban Wetland Sediments and Implication for Potential Greenhouse Gas Emission

Pages 269-271

Shao, Shuai (et al.)

Application of Bacteriophage and Essential Oil to Monitor Bacterial Biofilm Formation

Pages 273-274

Said, Myriam Ben (et al.)

Biostimulation of Microbial Community by Carob (Ceratonia siliqua) to Degrade Total Petroleum Hydrocarbon (TPH) in Contaminated Soil

Pages 275-276

Hamoudi-Belarbi, Latifa (et al.)

Magnetically Separable Low Cost Adsorbent for Bioremediation of Th(IV) and Methylene Blue Dye from Water Sample

Pages 277-280

Chavan, Sugam (et al.)

Characterization of Bacteria Isolated from Hydrocarbon Contaminated Soils and Producers of Biosurfactants

Pages 281-282

Benzina-Tihar, Farida (et al.)

Response of Solanum lycopersicum to the Exposure to the Most Used Pesticides in Tunisia

Pages 283-284

Kamoun, Ikram Jaabiri (et al.)

Clay Soil: A Good Conditioner for Amended Alfalfa with Different Organic Amendments Under Saline Irrigation Production

Pages 285-286

Mbarki, Sonia (et al.)

Environmental Impact Evaluation of Cropping Systems Using Life Cycle Assessment: Case Study of Central Tunisia

Pages 287-289

Jouini, Meriem (et al.)

Metal Induced Cytopathologies in the Copepod Tigriopus brevicornis

Pages 291-292

Barka, Sabria (et al.)

Use of Response Surface Methodology for the Biodegradation of Textile Industrial Effluents by Coniophora puteana IEBL-1

Pages 293-295

Mahmood, Raja Tahir (et al.)

Phosphogypsum Effect on Soil and Rain Water Incubated and Soil Respiration

Pages 297-299

Ardhaoui, Kaouther (et al.)

Short Term Treated Wastewater Reuse Impact on Soil Microbial Biomass, Bacterial Functional Diversity and Enzymatic Activities in the Presence of Earthworms Eisenia andrei

Pages 301-303

Mkhinini, Marouane (et al.)

Development of Electrochemical Immunosensors for Endocrine Disrupting Detection

Pages 305-306

Belkhamssa, Najet (et al.)

The Effects of 15-Year Treated Municipal Wastewater Irrigation on Biological Parameters of Olive Cultivated Soil (Zaouit Sousse Perimeter, Oriental Tunisia)

Pages 307-309

Hidri, Yassine (et al.)

Impact of a Neonicotinoid Insecticide Thiamethoxam on Metric Indexes and Enzymatic Activity of Glutathione S-Transferase in Adult Females of a Mosquitofish Gambusia affinis

Pages 311-312

Chouahda, Salima (et al.)

Pseudomonas putida mt2; A Potential Candidate for Cadmium Bioremediation

Pages 313-317

Shamim, Saba

Filtration and Viability Rate Study of Alexandrium catenella After Contact with Clams Ruditapes decussates

Pages 319-320

Gdoura, Morsi (et al.)

Biological Control of Meloidogyne javanica Associated with Cultivated Peach in Tunisia

Pages 321-323

Chihani-Hammas, Noura (et al.)

Fluctuating Asymmetry in Acanthodactylus boskianus Living in a Contaminated Area Close to Gabès City (Southern Tunisia)

Pages 325-326

Nasri, Intissar (et al.)

Organic Compounds and Heavy Metals Simultaneous Removal from a Tunisian Landfill Leachate Using Dairy Rejects

Pages 327-329

Cherni, Yasmin (et al.)

Evaluation of the Potential Side-Effects of Novaluron an Insect Growth Disruptor on the Shrimp Palaemon adspersus: Cuticle Secretion and Chitin Contents

Pages 331-333

Berghiche, Hinda (et al.)

Antioxidant Responses and Gene Level Expressions of Sulla coronaria Inoculated by Heavy Metals Resistant Plant Growth Promoting Bacteria Under Cadmium Stress

Pages 335-337

Jebara, Salwa Harzalli (et al.)

Growth and Responses of Biomarkers in the Snail Helix aspersa (Mollusca, Gastropoda) Used as Bioindicator of Soil Pollution in Northeast of Algeria

Pages 339-341

Bairi, Yousra (et al.)

Chemical Composition and Some Trace Element Levels in the Surface Waters of Three Coastal Marine Areas Under Contrasted Pollution Influences in the Gulf of Gabes, Tunisia

Pages 343-344

Drira, Zaher (et al.)

Antifungal Activity of Isolated Lactic Acid Bacteria Strain from Wheat Against Some Fusarium graminearum Strains

Pages 345-346

Makhloufi, Souad (et al.)

Thiamethoxam (Neonicotinoïd) and Spinosad (Bioinsecticide) Affect Hypopharyngeal Glands and Survival of Apis mellifera intermissa (Hymenoptera: Apidae)

Pages 347-349

Menail, Hichem Ahmed (et al.)

Bioremediation of Crude Oil Contaminated Sea Water in Lab Microcosms

Pages 351-353

Chekroud, Zohra (et al.)

Heavy Metals Assessment and Their Effects on the Hepatopancreas in Orchestia montagui (Amphipoda, Talitridae)

Pages 355-357

Jelassi, Raja (et al.)

Life Cycle Assessment of Di-Ammonium Phosphate (DAP) Fertilizer Production in Tunisia

Pages 359-362

Aribi, Soumaya (et al.)

Growth and Yield of Triticale Plants Amended with Sewage Sludge Under Sub-humid Mediterranean Conditions

Pages 363-364

Kchaou, Rajia (et al.)

Assessment of Trace Metals in Marine Magnoliophyta in Port El Kantaoui (Sousse, Tunisia)

Pages 365-366

Zakhama-Sraieb, Rym (et al.)

Exogenous Proline Improves Olive Plant Performance Against Cadmium Stress

Pages 367-368

Zouari, Mohamed (et al.)

DDT-Induced Hypothyroidism Mechanisms in Rats

Pages 369-371

Tebourbi, Olfa (et al.)

Rotifers of Foum El Ghis Dam

Pages 373-374

Doukhandji, Nassima (et al.)

Sources and Distributions of Dissolved and Particulate Hydrocarbons in Surface Coastal Waters from the Gulf of Gabès (Tunisia, Southern Mediterranean Sea)

Pages 375-377

Fourati, Rania (et al.)

Biodegradation of Liquid Sludges Hydrocarbons Issued from Oil Refining by a Soil Bacterial Consortium

Pages 379-381

Khelifi, Nadia (et al.)

Excess Fluoride Ion Removal from Saharan Groundwater Using Local Clay Adsorbent: Adsorption Conditions Optimization

Pages 383-385

Nabbou, Nouria (et al.)

Environmental Fate of the Insecticide Chlorpyrifos in Soil Microcosms and Its Impact on Soil Microbial Communities

Pages 387-389

Salem, Asma Ben (et al.)

Impact of Carbon Nanotubes on the Germination of the Phaseolus Vulgaris Seeds

Pages 391-393

Boulmaali, Messaouda (et al.)

Isolation and Characterization of Lecanicillium sp. for Antagonistic Activity Against Meloidogyne Javanica

Pages 395-398

Hajji-Hedfi, Lobna (et al.)

Fumigant Toxicity and Repellent Effect of Azadirachtin Against the Lesser Grain Beetle, Rhyzopertha dominica (F.) (Col.: Bostrichidae)

Pages 399-401

Tine, Samir (et al.)

Physical Factors Influence on Phytomediation Processes

Pages 403-404

Politaeva, Natalia (et al.)

Deriviation of Terrestrial Predicted No-Effect Concentration (PNEC) for Cobalt Oxide Nanomaterial

Pages 405-407

Bouguerra, Sirine (et al.)

Effects of UV-C Radiation on Viability, Outer Membrane Proteins and Lipopolysaccharides of Shigella

Pages 409-410

Chourabi, Kalthoum (et al.)

Titanium Dioxide Nanomaterial and Copper Binary Mixture Phytotoxicity in Maize Plants (Zea mays. L)

Pages 411-412

Bouguerra, Sirine (et al.)

Biochemical and Enzymatic Characterization of a Gram-negative Fish Pathogen Isolated in Morocco from Rainbow Trout and Comparison with Isolates of Other Countries and Sources

Pages 413-415

Kritihi, Assia (et al.)

Effects of Boron Distribution on Sugar Beet Crop Yield in Two Soils of Dour Ismail Irrigated Perimeter (Béja-Goubellat, Northwest Tunisia)

Pages 417-420

Tlili, Ahlem (et al.)

Hydrocarbon Pollution of Kuwait Bay: Differentiation of Petrogenic, Anthropogenic and Biogenic Hydrocarbons

Pages 421-423

Saeed, Talat (et al.)

Effects of Polybrominated Diphenyl Ethers and the Benzo[a]Pyrene on Survival and Settlement of Moon Jellyfish (Aurelia solida) Planulae

Pages 425-427

Ensibi, Cherif (et al.)

Phytoremediation of Metal Industry Wastewaters: A Review

Pages 429-430

Dursun, Sukru (et al.)

Assessment of Heavy Metal Concentrations in the Muscles of Ten Commercially Important Fish Species from Lagos Lagoon, Nigeria

Pages 431-433

Taiwo, Iyabode O. (et al.)

Field and Laboratory Study of Nitrogen Mineralization Dynamics in Four Tunisian Soils

Pages 435-438

Dridi, Imene

Mercury Bioaccumulation via Genus Baetis (Ephemeroptera, Macroinvertebrates)

Pages 439-440

Bouchelouche, Djaouida (et al.)

Soils Characterization Around Erstwhile Oyem Electrical Station and Sediments and Water of Neighboring Lake in Northern Region of Gabon

Pages 441-444

Mombo, Jean Bernard (et al.)

Pesticides Used in Tunisian Vineyards: What's the Risk for the Environment and the Human Health?

Pages 445-447

Bouagga, Ala (et al.)

Using an Eco-System for Frightening Fish-Eating Birds

Pages 449-453

Al-Rajhi, Mohamed A.

Estrogenic Potency Assessments in a Context of Treated Wastewater Reuse for Artificial Groundwater Recharge

Pages 455-457

Etteieb, Selma (et al.)

Bioecology of Culicidae (Diptera; Nematocera) of the Tizi-Ouzou Wetlands (Algeria)

Pages 459-461

Lounaci, Zohra (et al.)

Occurrence, Sources and Environmental Health Risk Assesement of Polycyclic Aromatic Hydrocarbons in Domestic Effluents Discharges in Wadi El Bey (Tunisia)

Pages 463-466

Gdara, Imen (et al.)

Effect of 17α-Ethinylestradiol Exposure on Phycocyanin Metabolite Production and Antioxydant System of Phormidium Versicolor NCC466

Pages 467-469

Belhaj, Dalel (et al.)

Determination of Trace and Oligo-Elements in the Constantine Region Soils

Pages 471-474

Naili, Samira (et al.)

Former Extractive Activities in Tunisia: Environmental Risk Assessement and Heavy Metals Immobilization

Pages 475-477

Nouairi, Jihène (et al.)

Urban Sediment Contamination with Heavy Metals in Southern China

Pages 479-481

Xia, Jinmeng (et al.)

Life Cycle Assessment of Sulfuric Acid Production System in Tunisia

Pages 483-485

Mami, Marwa (et al.)

Eco (Geno) Toxic Assessment of Urban Sewage Sludge from Sfax Wastewater Treatment Plant

Pages 487-489

Jerbi, Bouthaina (et al.)

Cellular Compartmentalization and Chemical Forms of Cell Accumulation of Nickel in the Halophyte of Sesuvium Portulacastrum

Pages 491-493

Fourati, Emna (et al.)

Study of the Toxicity of Cadmium Selenide (CdSe) Nanoparticles on a Terrestrial Ecosystem Model Helix Aspersa

Pages 495-497

Aya, Salmi (et al.)

Investigation of Nanoparticles and Ultra Fine Particles in the Workplace

Pages 499-500

Benlatreche, Med Salah (et al.)

New Environmental Culture in Algeria: Eco Design

Pages 501-502

Tireche, Sihem (et al.)

Chemical Composition and Insecticide Properties of the Essential Oils from Mentha Pulegium Against Aedes Caspius (Diptera: Culicidae)

Pages 503-505

Tine-Djebbar, Fouzia (et al.)

Comparison of Three Techniques for the Detection and Quantification of Enteric Parasites in Wastewater Samples in Tunisia

Pages 507-509

Ben Ayed, Layla (et al.)

Morphological and Biochemical Effect of Iron Stress on Date Palm V.Deglet Nour Seeds

Pages 511-513

Mnafki, Wiem (et al.)

Copper Effect on Phosphate Nitrogen and Fungicide Removal from Water Using an Aquatic Plant Lemna Gibba

Pages 515-516

Megateli, Smain (et al.)

Mitochondrial Dysfunction of Rat Wistar Nervous System After an Exposure to Abamectin (Oxidative Stress Status, Caspase-3, Stromal Enzymes and Mitochondrial Respiration and Swelling)

Pages 517-519

Rouabhi, Rachid (et al.)

Assessment of Lead Contamination in Pepper and Agricultural Soils in Hammam Boughrara, Northwest Algeria

Pages 521-523

Baba Ahmed, Abderrazzak (et al.)

Determination of Heavy Metals in Sediments and Gardon (Rutilus rutilus) of the Sikkak Dam, Northwest Algeria

Pages 525-527

Derrag, Zineb (et al.)

Towards a Thermoregulation Filter Facing the Urban Heat Stress: Algiers Case Study

Pages 529-531

Fernini-Haffif, Assia (et al.)

Impact of the Neonicotinoid Insecticide, Actara®, on the Shrimp Palaemon adspersus: Biomarkers Measurement

Pages 533-534

Berghiche, Hinda (et al.)

Occurrence and Enhanced Removal of Heavy Metals in Industrial Wastewater Treatment Plant Using Coagulation-Flocculation Process

Pages 535-538

Marzougui, Zied (et al.)

Impact of Wind on the Temporal Distribution of Rotifers in the Foum El Gherza Dam

Pages 539-541

Doukhandji, Nassima (et al.)

Effect of Copper on the Physiological Parameters of Broad Bean (Vicia faba L.)

Pages 543-547

Slimane, Benouis (et al.)

Field Assessment of Sewage Sludge as Sustainable Agriculture Practice

Pages 549-552

Baccar, Rim (et al.)

Contamination by Selected Trace Elements in Groundwater of Azzaba District in Northeast of Algeria

Pages 553-554

Benhamza, Moussa (et al.)

Assessment of the Bioaccumulation Capacity of Heavy Metals of the Species: Quercus Ilex L Tree Plant Garden of El Hamma-Algeria for Use in Phytoremediation

Pages 555-557

Benosmane, Nadjib (et al.)

Effect of Salinity and Compost of Aleppo Pine Pinus halepensis L on the Proline and Chlorophyll Content of the Bean Vicia faba L Minor

Pages 559-561

Nouri, Tayeb (et al.)

Impact of Soil Properties on Groundwater Contamination Risks by Nickel and Lead

Pages 563-565

Abdelwaheb, Mohamed (et al.)

Evaluation of Hepatotoxicity: Nickel on an Indicator Model of Pollution (Oryctolagus cuniculus)

Pages 567-569

Nadjiba, Toualbia (et al.)

Effect of Coal Fly Ash on Vegetative Growth, Photosynthetic Pigmens and Heavy Metal Content of Helianthus annuus L.

Pages 571-573

Dash, Nilakantha (et al.)

Isolation and Characterization of Some Chlorpyriphos-Degrading Bacteria from Different Ecological Niches of the "Ouargla" Province

Pages 575-576

Aloui, Nabiha (et al.)

Effects of Gold Nanoparticles on the Mediterranean Clams Ruditapes decussatus: Chemical and Biochemical Investigations

Pages 577-580

Sellami, Badreddine (et al.)

Fusarium Brachygibbosum and Fusarium Chlamydosporum Causing Wilt and Die-back of Olive in Tunisia

Pages 581-582

Trabelsi, Rahma (et al.)

Paper Industry Effluent Short and Long Effect on Soil Heavy Metals Accumulation and Phytoremediation

Pages 583-584

Ltifi, Abdelkader (et al.)

Quantitative Microbial Risk Assessment Arising from Consumption of Salad Crops Irrigated with Contaminated Water by Human Sewage in the Infulene Valley

Pages 585-587

Matangue, Mario Tauzene Afonso (et al.)

A Naïve Bayesian Network Approach to Determine the Potential Drivers of the Toxic Dinoflagellate Coolia monotis in the Gulf of Gabès, Tunisia

Pages 589-592

Feki-Sahnoun, Wafa (et al.)

Contaminant-Driven Habitat Fragmentation: Should Ecological Risk Assessments Include Avoidance and Recolonisation Testing?

Pages 593-594

Ribeiro, Rui (et al.)

Biodegradation of the Antibiotics Oxytetracycline and Enrofloxacin by Microbial Communities from Douro Estuary (Portugal) Sediments

Pages 595-596

Malek, Harrabi (et al.)

Gabes Jeffara Aquifers Management in Relation with Oasien Ecosystems

Pages 599-601

Vernoux, Jean-Francois (et al.)

Management of the Laayoune-Dakhla Deep Aquifer System (South Sahara, Morocco)

Pages 603-605

El Kanti, Sidi Mokhtar (et al.)

Assessment of the Impact of Climatic Variability and Human Activities on Groundwater Quality: Case of Mitidja Plain, North of Algeria

Pages 607-609

Bouderbala, Abdelkader

Groundwater Economics in Arid Regions: Abu Dhabi Emirate Case Study

Pages 611-613

Dawoud, Mohamed A.

A New Model (DRASTIC-LU) for Evaluating Groundwater Vulnerability in Alluvial Aquifer of Upper Cheliff (Algeria)

Pages 615-617

Zafane, Djelloul (et al.)

Geochemical Characteristics of Groundwater and Its Suitability for Irrigation in the Lower Cheliff Plain, Algeria

Pages 619-621

Bradaï, Abdelhamid (et al.)

Groundwater Depletion in Tunisian Arid Regions: Causes, Consequences and Possible New Policy Instruments

Pages 623-625

El Amami, Hacib (et al.)

Efficiency of Aquifer Artificial Recharge from Hill Dam by Analytical Method

Pages 627-630

Ibn Ali, Zouheira (et al.)

Integrated Multi-criteria Evaluation and Weighted Overlay Analysis in Assessment of Groundwater Potentiality in Segui Region, Southern Tunisia

Pages 631-632

Msaddek, Mohamed Haythem (et al.)

Optimal Groundwater Sampling Design for Nitrate Monitoring by Geostatistical Analysis and Vulnerability Mapping

Pages 633-635

Triki, Ibtissem (et al.)

Hydrochemical Analysis and Evaluation of Groundwater Quality of an Alluvial Aquifer. Algeria

Pages 637-639

Drias, Tarek (et al.)

Building Constrained (3D) Geostatistical Models Case of the Triassic Sandstone Aquifer System (SE Tunisia)

Pages 641-642

Hammami, Mohamed Amin (et al.)

Exploitation of the Main Aquifer Units in the Biskra Region: Analysis of the Current Situation and Prospects for Rationalization of Their Use in Agriculture

Pages 643-645

Soualili, Nasser-Eddine (et al.)

Ground Water Quality Characterization in the South of Algeria (Tindouf Region)—In Excess Fluorine

Pages 647-651

Nabbou, Nouria (et al.)

Assessment of Different Irrigational Practices on Managing the Nitrogen Loss into the Groundwater Using HYDRUS-1D Numerical Software Gaza Strip as a Case Study—Palestine

Pages 653-657

Reem, Abukmeil (et al.)

Assessment of Groundwater Quality for Irrigation in Chelghoum Laid Area (Eastern Algeria)

Pages 659-663

Khedidja, Abdelhamid (et al.)

Statistical Characterization of Groundwater Quality in Jijel Plain Area (Northeastern Algeria)

Pages 665-667

Boufekane, Abdelmadjid (et al.)

Nitrate Impact on the Groundwater Quality Degradation in Arid Areas (Timiaouine Region South of Algeria)

Pages 669-672

Nasri, Bahous (et al.)

Water Geochemistry for a Sand Aquifer of the Complex Terminal in the Northern Algerian Sahara (Case of the Lower Oued Rhir Valley)

Pages 673-675

Houari, Idir Menad (et al.)

Application of the GALDIT Method to the Study of Groundwater Vulnerability of the East Mitidja Alluvial Waters

Pages 677-680

Djoudar/Hallal, Dahbia (et al.)

Evaluation of Hydrogeochemical Quality Parameters of Groundwater Under Urban Activities. Case of Beni Mellal City (Morocco)

Pages 681-682

El Baghdadi, Mohamed (et al.)

Application of Inverse Geochemical Modelling to Understand Geochemical Evolution of Groundwater in Berrechid Aquifer, Morocco

Pages 683-684

El Ghali, Tibari (et al.)

Hydrochemical Evolution of Groundwater in the Tamlouka Plain, Influence of Lithology, Geomorphology and Anthropogenic Actions

Pages 685-687

Djorfi, Samir (et al.)

Water Supply and Waterborne Diseases in the Population of Za-Kpota Commune (Benin, West Africa)

Pages 689-690

Odoulami, Léocadie (et al.)

Estimation of Aquifer Parameters from Pumping Test Data Using the Only Corresponding Competitor Method (OCC): Case Oude of Korendijk (South of Rotterdam)

Pages 691-693

Oulad Naoui, Noureddine (et al.)

Dohuk Syncline as an Artificial Recharge Aquifer, Northern Iraq

Pages 695-698

Al-Azzawi, Nabeel K. (et al.)

Assessment of Seawater Intrusion in the Maritime Djeffara Coastal Aquifer (Southeastern Tunisia)

Pages 699-702

Ayed, Bachaer (et al.)

Geochemical and Isotopic Study of a Coastal Phreatic Aquifer from the NE of Tunisia: Guenniche Basin

Pages 703-705

Ben Ammar, Safouan (et al.)

Naturel Tracer and Isotopic Approach to Describe Groundwater Behaviour: An Example of the Mateur Plain (North-Eastern Tunisia)

Pages 707-710

Ben Alaya, Mohsen (et al.)

Inhibition of Scaling of Potable Water by a Food Product Phosphate Based

Pages 711-712

Ben-Aazza, Said (et al.)

Lessons Learned from a Partnership Between the University of Liège and Water Agencies for the Management of Surface Water Quality

Pages 713-715

Deliege, Jean-François (et al.)

Physical, Chemical and Bacteriological Characterization of Wastewater Discharged into Wadi Tleta (NW, Algeria)

Pages 717-718

Hadji, Fatiha (et al.)

Brine Outfall Discharges Modelling and Design: Case of a Desalination Plant in Algeria

Pages 719-721

Belkacem Filali, M'hamed (et al.)

Qualitative Study of Irrigation and Drinking Water in Tindla Area

Pages 723-725

Ben Mya, Omar (et al.)

Providing Clean Water to Rural Villages

Pages 727-729

Di Giacomo, Tullia Valeria (et al.)

Assessment of Two Conceptual Models IHBV and HBV-Light in Estimation of Increase Water Harvesting to Help Cloud Seeding Technology (Case Study: Catchment Taft-Dehshir, Iran)

Pages 731-733

Javadianzade, Mohammad Mehdi (et al.)

A 3-Parameter Empirical Model to Predict Extreme Rainfall Rates in the Extreme North-East of Algeria

Pages 735-737

Beloulou, Laroussi (et al.)

Impact of Spring Water Qualitative Assessment on the Environmental Management System in the West Bank

Pages 739-741

Ghanem, Marwan

Scheduling Deficit Subsurface Drip Irrigation of Apple Trees to Optimize Water Use Efficiency

Pages 743-745

Chenafi, Azzeddine (et al.)

Multivariate Statistics of Physico-Chemical Parameters to Develop the Baseline Level of Water Quality Around the Proposed Jaitapur Nuclear Power Plant, India

Pages 747-751

Shinde, Ramesh (et al.)

Impact of Climate Variability on Hydrology of the Western Mitidja Watershed, Algeria

Pages 753-754

Hallouz, Faiza (et al.)

Assessment of Citizens' Virtual Water Footprint

Pages 755-757

Kolahi, Mahdi (et al.)

Water Management and Related Environmental Issues in Large Mediterranean Basins: Case Studies from the Ebro and the Po Catchments

Pages 759-761

Salmaso, Francesca (et al.)

Spatial Evolution of Physical-Chemical Parameters Characterizing the Quality of the Surface Waters After the Developpement of the Marchica Lagoon (North-East Morocco)

Pages 763-766

Aknaf, Asmae (et al.)

Comparison of Three Different Biochemical Compositions of Foods in the Rainbow Trout (Onchorynchys mykiss) and Their Effect on Oum Er-Rbia River Water Quality (Morocco)

Pages 767-769

Ouaissa, Khadija (et al.)

Modeling Integrated Water Resources Management by WEAP, Case of Watersheds Mabtouh (North-Western Algeria)

Pages 771-774

Zerkaoui, Laidia (et al.)

Water and Energy Nexus in Gulf Cooperation Council (GCC) Countries

Pages 775-777

Dawoud, Mohamed A.

Wheat Yield and Water Use Efficiency in the North of Tunisia Under Supplemental Irrigation

Pages 779-780

Belhaj Mguidiche, Amel (et al.)

Prediction of Dams Silting in Semi-arid Region Using Erosion Map Under GIS Environment, Case of Ksob Watershed in Hodna Region (Algeria)

Pages 781-783

Hasbaia, Mahmoud (et al.)

Identification of Emerging Contaminants in Drinking Waters

Pages 785-787

Mokrane, Sana (et al.)

The Stormwater Network Behavior Simulation by SWMM

Pages 789-791

Laouacheria, Fares (et al.)

Characterisation of Mean Monthly Rainfall Variability Over Mellegue Catchment—Tunisia

Pages 793-795

Feki, Haifa (et al.)

Monitoring and Modeling Digestate Fate and Transport in Infiltrating Afforested Areas Versus Maize/Ray-Grass Rotation Plots

Pages 797-799

Mastrocicco, Micòl (et al.)

Fertilizing Value of Treated Wastewater Under Short Term Irrigation of Olive Tree (Olea europaea L.)

Pages 801-803

Ben Hassena, Ameni (et al.)

A Multivariate Analysis of Water Quality in Lake Ghrib, Algeria

Pages 805-807

Hamil, Somia (et al.)

Phytoplankton Community Diversity and Seasonal Variation in the Boukourdane Lake, Northern Algeria

Pages 809-810

Arab, Siham (et al.)

Trophic Status Assesement of Lacustrine Ecosystem, Boukourdane Lake, Algeria

Pages 811-812

Arab, Siham (et al.)

Correlation Between the Extreme Climate Indices and the AMO Index in Northern Algeria

Pages 813-814

Karahacane, Hafsa (et al.)

Impact of DEM Data Resolution on SWAT Model in Runoff Simulation

Pages 815-817

Aouissi, Jalel (et al.)

Analysis of Stream Flow Trends in Sub-basins of the Upper Blue Nile Basin

Pages 819-822

Samy, Abeer (et al.)

Modeling and Forcasting of Surface Runoff in the Beni Bahdel Dam: Using ARDL Model (Autoregressive Distributed Lag)

Pages 823-824

Rahmouni, Abdelwahab (et al.)

Desalinated Water for Human Consumption and Public Health Risks in West Algeria: The Case of Souk Tleta Water Plant

Pages 825-826

Badid, Naïma (et al.)

Integrating Hydrological and Hydraulic Modelling for Flood Risk Management in a High Resolution Urbanized Area: Case Study Taibah University Campus, KSA

Pages 827-829

Abdulrazzak, Mohamed (et al.)

A Double Effect Desalination Unit Parametric Study

Pages 831-833

Fathia, Hafdhi (et al.)

Modelling Catchment Scale Agricultural Pollution in North Tunisia Using the PEGASE Model

Pages 835-837

Boukari, Amira (et al.)

State of Organic Pollution in Waters of the Seybouse Wadi, Region of Guelma (Northeast of Algeria)

Pages 839-842

Aissaoui, Marwa (et al.)

Water Governance and Collective Action Performance in Tunisian Irrigated Area

Pages 843-845

Ben Nasr, Jamel (et al.)

Phytoremediation Potential of Terrestrial Herbaceous Species for Nitrate in Contaminated Water

Pages 847-848

Mokeddeme, Ikram (et al.)

Understanding the Evolution of Water Deficit in the North African Region

Pages 849-851

Mazzoni, Annamaria (et al.)

ANN-Based Approach to Predict Changes in Ground Water Levels as a Result of Constructing New Naga-Hammadi Barrage, Egypt

Pages 853-856

Noureldeen, Ahmed S. (et al.)

Depuration of Wastewater from Table Olive Industries

Pages 857-860

Cisneros-Aguirre, Jesús (et al.)

Evolution of Water and Soil Conservation Interventions in the Merguellil Catchment: Impact on the Agricultural Land Protection and the Income of the Local Population

Pages 861-863

Hermassi, Taoufik (et al.)

Hydrological Modeling of Stream Flow in Trans boundary Catchment and the Climate Change Impact: Case Study of Mellegue Catchment, Northwest Tunisia

Pages 865-867

Hermassi, Taoufik (et al.)

Drought Stress Effects on Growth and Yield of Three Soybean Genotypes in Second Cropping of Moghan Plain of Iran

Pages 869-870

Farboodi, Manoochehr (et al.)

Analysis of Dam Deformation Using Artificial Neural Networks Methods and Singular Spectrum Analysis

Pages 871-874

Gourine, Bachir (et al.)

BOD and COD Estimation in Wastewater Outflow via Artificial Neural Network

Pages 875-876

Bayat-Varkeshi, Maryam (et al.)

Wetting Patterns Estimation Under Subsurface Drip Irrigation Systems for Different Discharge Rates and Soil Types

Pages 877-878

Douh, Boutheina (et al.)

Flood Risk Mapping in the Region of Ouled Ben Abdelkader in the Wilaya of Chlef, Northern Algeria

Pages 879-881

ZaÏri, Youssouf

How Does the Rainwater Harvesting Protect the Urban Areas Against Flooding?

Pages 883-884

Guebail, Abdelkarim (et al.)

Sanitation Scheme Development of the Urban Community of Harhoura Contribution to Sectoral Liquid Sanitation Survey of Skhirat-Témara Province

Pages 885-886

Ait Hmeid, Hanane (et al.)

Assessment of the Quality of Liquid Waste of Traditional Hammams in the Periurbain of Casablanca, Morocco (Case of Dar Bouazza Community)

Pages 887-889

Chakri, Nihad (et al.)

Changes in Species Composition of Brachionidae (Rotifera) Community in Ghrib Lake (North West Algeria)

Pages 891-892

Hamil, Somia (et al.)

Trivariate Copulas for Characterisation of Past and Future Droughts Over North-West Algeria

Pages 893-895

Zeroual, Ayoub (et al.)

Energy Dissipation by Hydraulic Jump in a Half Circular Channel with Bench Seat

Pages 897-899

Khattaoui, Mohammed (et al.)

Physical and Chemical Quality of Surface Waters of the Wilaya de Bouira (Northern Algeria)

Pages 901-907

Djafer Khodja, Hakim (et al.)

Measuring Crop Evapotranspiration Over Hilly Areas

Pages 909-911

Boudhina, Nissaf (et al.)

Estimation of Specific Degradation by Application of a Regional Model for the North of Algeria

Pages 913-915

Chellali, Rachid (et al.)

Effects of Treated Wastewater Irrigation of Sfax, Agareb and Mahres Stations on Olive Plants

Pages 917-919

Bakari, Zaineb (et al.)

Modeling Watershed Operation: Case Study of the Chaffia Dam (Algerian Extreme North East)

Pages 921-925

Nafa, Mehdi (et al.)

To What Extent Can Groundwater Uses Affect Long Term Sustainable Exploitation Schemes? Case Study of the Bouhefna-Haffouz Aquifer System (Central Tunisia)

Pages 927-930

Jerbi, Hamza (et al.)

Morphological, Chemical and Electrochemical Carbon Based and Nobel Metal Electrode Characterization for Use in Water Electrochemical Disinfection

Pages 933-935

Guizani, Mokhtar (et al.)

Development of Eco-Engineering Sector Specific Routines and Curricula for the Mediterranean Region

Pages 937-939

Mickovski, Slobodan B. (et al.)

Codigestion: Toward a Simple Model to Predict Methane Production

Pages 941-943

Kouas, Mokhles (et al.)

Refuse Derived Fuel Gasification Possibilities in Small Scale Units

Pages 945-946

Klavins, Maris (et al.)

Removal of Methylene Blue Dye by Fenton-like Process Using Laterites

Pages 947-949

Kpinsoton, Gloria M. R. (et al.)

Effects of Recycled Materials Added to the Substrate on Nursery Trees

Pages 951-953

Bretzel, Francesca (et al.)

Effect of Acclimatization on Earthworm's (Eisenia Andrei) Potential on Olive Mill Wastewaters Detoxification

Pages 955-957

Kharbouch, Barhoum (et al.)

Production and Characterization of Activated Carbon from Orange Peels by Chemical Activation with Sulfuric Acid

Pages 959-961

Guiza, Sami (et al.)

Cheap and High Quality Housing with Emphasis on Modular Building

Pages 963-966

Asadi, Shaham (et al.)

Methylene Blue Removal from Aqueous Solution by Using Smectite Clay and Silty Soil: Batch and Fixed Bed Column Studies

Pages 967-970

Dardouri, Sana (et al.)

A Theoretical Study on Municipal Solid Waste Characterization in Jordan and Its Economic Feasibility

Pages 971-973

Bani-Melhem, Khalid (et al.)

Optimization of Cost and Pollutant Emissions from MSW Collection Using GIS. The Case Study of Mostaganem, Western Algeria

Pages 975-978

Abdelli, Islam Safia (et al.)

Optimal Locations Determination for an Electric Vehicle Charging Infrastructure in the City of Tunis, Tunisia

Pages 979-981

Bouguerra, Seifeddine (et al.)

Preparation of Graphite Ultrafiltration Membrane Over Macroporous Graphite Support for Oily Waste Water Separation by Air Gap Membrane Distillation

Pages 983-984

Derbel, Imen (et al.)

Diagnostic and Treatment of Leachate from Municipal Solid Waste in Morocco Using Experimental Design Methodology

Pages 985-987

Abouri, Meriem (et al.)

Combined Process for Olive Oil Mill Wastewater Treatment Based on Flocculation and Heterogeneous Photocatalysis

Pages 989-991

Hodaifa, Gassan (et al.)

Analyses of Complex Rainfall Change Using Non Parametric Trend Tests in Semi Arid Zone-Case Study: Center of Tunisia

Pages 993-995

Snoussi, Manel (et al.)

Catalytic Wet Air Oxidation of Phenol Using W-La/CexZr1−XO2 Catalysts

Pages 997-999

Bouabdellah, Mohamed Achraf (et al.)

Comparative Study of Pressure Reduction Valve Controllers in Water Distribution Systems

Pages 1001-1003

Doghri, Mouna (et al.)

Salt Solar Wastelands: To New "Saltscapes" Resilient in the Mediterranean

Pages 1005-1008

Pacitto, Jean-Louis (et al.)

Radioactive Waste Management in South Africa

Pages 1009-1012

Matyaba, Thabo (et al.)

Numerical Simulation of Dye Adsorption/Desorption in Three Layered Soil and Models Comparison

Pages 1013-1016

Dardouri, Sana (et al.)

Nitrogen Oxide Removal from Nitric Acid Production Process by Absorption into Hydrogen Peroxide Solution

Pages 1017-1019

Ghriss, Ons (et al.)

Effect of Preparation Manufacturing Process on the Quality of Cotton Recycled DENIM Yarn

Pages 1021-1023

Ben Hassen, Mohamed (et al.)

Methylene Blue Removal from Brackish Water by Natural Algerian Clay

Pages 1025-1026

Fadel, Ammar (et al.)

On the Use of Brouers-Sotolongo Kinetics Equation and Isotherm for the Removal Fluorine from Aqueous Solutions by Clay

Pages 1027-1029

Brouers, Francois (et al.)

Numerical Study of Soil Water Content to Estimate the Hydraulic Properties of Soil in Tunisia

Pages 1031-1033

Jedidi, Asma (et al.)

An Alternative Method for Predicting Bed Load Transport Rate in River—Application to the Medjerda River, Tunisia

Pages 1035-1037

Gharbi, Mohamed (et al.)

Adsorption of Model Dyes Onto Porous Materials: Effect of pH and Temperature on the Parameters of Brouers-Sotolongo Kinetic Fractal and Generalized Isotherm

Pages 1039-1041

Selmi, Taher (et al.)

Evaluation of Diallyl Phthalate Biodegradation Mechanisms in the Treatment of Synthetic Wastewater

Pages 1043-1046

Ahmadi, Ehsan (et al.)

Abnormal Behavior of Chott Ain Beida Brines, Ouargla Basin, Algerian Sahara

Pages 1047-1050

Zatout, Merzouk (et al.)

Dimunition of Pollution by Improving the Properties of Polymers Against Climatic Aleas

Pages 1051-1053

Hassini, Noureddine

Prediction of Solid Transport in the Wandering Section of the Maritime Reach of the Congo River, Accounting for the Limits of the Ashmore's Method

Pages 1055-1056

Konzi Panise Siamo, Edouard (et al.)

The Communication Process for a Sustainable Urbanism in Algeria

Pages 1057-1059

Hadj-Smaha, Lyazid

Simplification of Soil Description for the Modeling of Nitrogen Leaching with STICS Model

Pages 1061-1062

Ines Zoghlami, Rahma (et al.)

Design and Achievement of a New Hybrid Filter System Used in Cement Works

Pages 1063-1066

Ouari, Abbes (et al.)

Kinetic Study of Removal of Pollutants from Aqueous Solutions

Pages 1067-1068

Hamouda, Sarra (et al.)

Spatial Distribution of Methane Emissions at Bizerte Active Landfill (Northern Tunisia)

Pages 1069-1070

Abid, Sana (et al.)

Control of Particles Flow in Pneumatic Conveying Lines by Capacitive Measurement

Pages 1071-1074

Sayah, Rafik (et al.)

Seawater: Affordable, Reliable and Sustainable Energy for All

Pages 1075-1077

Al Mesfer, Mohammed K.

Study of Nusselt Number Evolution in PCM Shell-and-Tube Configuration

Pages 1079-1080

Bechiri, Mohammed (et al.)

Analysis of Numerical Simulation of the Hydrodynamics in Swimming Pools, in Terms of Water Quality

Pages 1081-1085

Dougha, Mostefa (et al.)

Flow Behaviour Analysis Through a Venturi

Pages 1087-1088

Mokrane, Wahiba (et al.)

Investigating the Impacts of Soil and Water Conservation Measures on Hydrology and Soil Loss in Humid Ethiopian Highlands of Upper Blue Nile Basin

Pages 1089-1090

Dagnew, Addisu (et al.)

Experimental Analysis of the Morphological Evolution of a Sand Bed Channel

Pages 1091-1093

Gharbi, Mohamed (et al.)

Magnetic Treatment Effects on Salt Water and Tomato Plants Growth

Pages 1095-1097

Fakhri, Nesrine (et al.)

CO2 Adsorption on Activated Carbon Based Olive Stone: A Comparison of Langmuir and Freundlich Models

Pages 1099-1100

Moussa, Meriem (et al.)

Study of Oxidized Stainless Steel Thin Films Obtained by Reactive Thermal Evaporation

Pages 1101-1104

Merakeb, Noureddine

LCA and Cherry Tomato Production in the South of Tunisia

Pages 1105-1106

Maaoui, Meriem (et al.)

Offshore Drilling: Drilling Fluids and Additives

Pages 1107-1108

Baba Hamed, Samira

Response Surface Methodology Optimization of Heterogeneous Catalyst Fe2O3-Zeolite Synthesis for the Discoloration of Indigo Carmine Dye by Photo-Fenton Process

Pages 1109-1111

Moumni, Chamirane (et al.)

Green Collaborative Vehicle Routing Problem with Environmental Concerns

Pages 1113-1116

Rekik, Akram (et al.)

Effect of Temperature, Humidity and Gas Flow on PEM Fuel Cell Performances for Environmental Applications

Pages 1117-1118

Barbouche, Mohamed (et al.)

Thermal Stability Evaluation Through the Comparison of Potassium Chloride to Potassium/Sodium Formate Fluids

Pages 1119-1121

Davarpanah, Afshin (et al.)

Optical Annealing Effect on Zinc Oxide Thin Films Synthesized via Sol Gel Method as Used in Water Treatment Field

Pages 1123-1126

Haya, Soumia (et al.)

Combined Process for Olive Oil Mill Wastewater Treatment Based in Flocculation, Photolysis, Microfiltration and Microalgae Culture

Pages 1127-1129

Hodaifa, Gassan (et al.)

Rapid Analysis of Antibiotic Residues in Urban Wastewater of South Sfax WWTP by Ultra-High-Performance Liquid Chromatography Coupled to Quadrupole-Linear Ion Trap Tandem Mass Spectrometry

Pages 1131-1133

Harrabi, Malek (et al.)

Separation of Pb (II) and Cu (II) Ions by the Cloud Point Technique: Statistical Study by the Taguchi Design

Pages 1135-1138

Mesli, Meriem (et al.)

Atmospheric Emission Inventory and Modeling of VOCs in a Petroleum Site in Sfax Region

Pages 1139-1141

Masmoudi, Sahar (et al.)

Valorisation of Berry Pomace: From Waste to Bioactive Compounds

Pages 1145-1146

Klavins, Maris (et al.)

Lemonene Recovery from Waste Lemon Peels with Supercritical Extraction

Pages 1147-1149

Lopresto, Catia Giovanna (et al.)

Integrating Science and Knowledge to Boost Mediterranean Traditional Products: The REALMed Pilot Study

Pages 1151-1153

Giovanetti, Manuela (et al.)

Improving Cellulose Structure for Bioconversion: Sugarcane Bagasse Pretreatment Accompanied by Lignin Recovery and Ionic Liquid Recycle

Pages 1155-1156

Saha, Koel (et al.)

Interactions Between Cationic Porphyrins and Standards Clays: Spectroscopic and 3D Confocal Investigations

Pages 1157-1158

Lajmi, Amira (et al.)

Emerging Use of Plant-Based Flocculants for Industrial Wastewater Treatment: Case Study from Phosphate Clay of Metlaoui (Gafsa-Tunisia)

Pages 1159-1160

Rachdi, Raouen (et al.)

A New Stratigraphic Correlation for the Upper Campanian Phosphorites and Associated Rocks in Egypt and Jordan

Pages 1161-1163

Ahmad, Fayez (et al.)

Analytical Characterization of Eocene Deposits for the Identification of Dolomitic-Palygorskite in Jebel Rheouis, Central Tunisia

Pages 1165-1167

Saadaoui, Imen (et al.)

Characterization and Valuation of Clays in the North Eastern Region

Pages 1169-1172

Ait Hmeid, Hanane (et al.)

Technological Characterization of Organo-beidellite for a New Insecticidal Formulation

Pages 1173-1174

Ghrab, Sana (et al.)

Synthesis and Characterization of Nanoparticles Prepared from Tunisian Bentonite Clay

Pages 1175-1177

Hamza, Wiem (et al.)

Assessment of Seed Propagation Ability of Almond Genotypes (Prunus dulcis (Mill.) D.A. Webb.) for a Mediterranean Environment

Pages 1179-1180

Msalmi Taoueb, Saloua (et al.)

Methods to Estimate Water Use Efficiency (WUE) of Two Olive Tree Cultivars (Olea europaea L. cv Koroneiki and Chemlali) Under Water Restriction Conditions

Pages 1181-1182

Ben Hassine, Mortadha (et al.)

Carotenoids-Rich Fatty Fractions Extraction from Tomato Industrial By-Products, Peels and Seeds, Using Supercritical CO2 Green Technology

Pages 1183-1185

Kehili, Mouna (et al.)

Tunisian Extra Virgin Olive Oil: Richness in Antioxidants and Aroma Compounds

Pages 1187-1190

Manai-Djebali, Hedia (et al.)

Effect of Temperature and Density on Diet Training of the Largemouth Bass (Micropterus Salmoides, Lacepede, 1802)

Pages 1191-1192

Ouizgane, Anouar (et al.)

The Effect of Environmental Factors on the Development of Pine Root Systems

Pages 1193-1195

Mickovski, Slobodan B.

Phylogenetic Insights into the History of Tunisian and Iberian Cattle Using the Illumina BovineSNP50 BeadChip

Pages 1197-1199

Ben Jemaa, Slim (et al.)

A Hydrodynamic Approach to Hydrocarbon Migration Analysis in the Onshore Niger Delta

Pages 1201-1203

Ene, G. Ezekwesili (et al.)

Geo-historical Review of the Mediterranean Rivers from Kitab-ı Bahriye (Book of Navigation)

Pages 1205-1207

Yilmaz, Mustafa (et al.)

Phytosociometry, a Tool for Managing Resources and Maintaining the Sustainability of Livestock Systems in Arid Zones

Pages 1209-1211

Hadj, Bouyahia (et al.)

Effect of Polyethylene Glycol on in Vitro Gas Production of Three Leguminous Shrubs in Algerian Arid Areas

Pages 1213-1215

Medjekal, Samir (et al.)

Essential Oil of Mentha Spicata Leaves from Algeria: Chemical Composition and Antibacterial Activity

Pages 1217-1218

Khiari, Mohammed (et al.)

Biodiversity, Traditional Medicine and Diabetes in North-Eastern Algeria

Pages 1219-1221

Bouzabata, Amel

Urban and Industrial Wastes Induced Water Pollution Diagnosis and Risk Assessment of the Kherraza Plain Aquifer (N-E Algeria)

Pages 1223-1225

Djorfi, Saadane (et al.)

Plants Extracts as Coagulants-Flocculants for Wastewater Treatment: A Short Review

Pages 1227-1229

Othmani, Bouthaina (et al.)

Grapevine Prediction of End of Flowering Date

Pages 1231-1233

Gentilucci, Matteo

Physical and Chemical Characterization of Ampelodesmos Mauritanicus

Pages 1235-1236

Chenah, May (et al.)

Research of Secondary Metabolites with Non-polyenic Antifungal Activity Produced by Actinomycetes Isolated from Different Moroccan Habitats

Pages 1237-1238

Nafis, Ahmed (et al.)

Screening of Insect Pathogenic Bacteria Isolated from Agricultural Soils, Characterization of Their Bioactive Metabolites and Study of Their Effects Against Galleria Mellonela (Lepidoptera, Pyralidae)

Pages 1239-1240

Oulebsir-Mohandkaci, Hakima (et al.)

Acridicidal Activity of Cassia italica Butanolic Extract on Locusta migratoria (Linnaeus, 1758)

Pages 1241-1243

Soudani, Abderrahmane (et al.)

Nitrophenol Removal from Wastewater onto Prepared Activated Carbon from Opuntia ficus-indica

Pages 1245-1246

Elhleli, Hanedi (et al.)

NaOH-Activated Carbon Prepared from Date Palm Petiole as Adsorbent for Indigo Carmine

Pages 1247-1248

Khadhri, Nisrine (et al.)

Protective Effects of Nigella Sativa Oil on IL-4 and Nitric Oxide Levels in a Model of Experimental Asthma in Wistar Rat

Pages 1249-1251

Khaldi, Taha (et al.)

Antibacterial and Antioxidant Activities of Rosemary (Rosmarinus officinalis L.) Essential Oil Growing in Djelfa (Algeria)

Pages 1253-1254

Lakehal, Samah (et al.)

Diagnosis of Biodiversity of Rhizobium Leguminosarum Nodulating Pea (Pisum Sativum L.) in Differents Soils of Tunisia

Pages 1255-1256

Hachana, Amira (et al.)

Treated Olive Mill Wastewater Effects on Soil Properties and Olive Plants

Pages 1257-1258

Mseddi, Salma (et al.)

Ecophysiological, Nutritive and Growth Responses of Two Olive Tree Cultivars (Olea Europaea L. 'Chemlali' and 'Koroneiki') Under Salt Stress

Pages 1259-1260

Boussadia, Olfa (et al.)

Variability of Chemical and Physical Parameters and Plankton in the Rearing Ponds of Three Species of Carp-Rearing Period

Pages 1261-1262

Farid, Sana (et al.)

Extraction of Chitosan from Shrimp Shells: Effect of Deacetylation Time on the Morphological, Thermal Properties and the Value of Deacetylation Degree (DD)

Pages 1263-1265

Bougueraa, Fatima Zahra (et al.)

Yogurt Enrichment with Spirulina (Arthrospira platensis): Effect of Storage on Physicochemical Parameters

Pages 1267-1268

Debbabi, Hajer (et al.)

Impact of Ploughing Techniques on Wind Erosion: Field Experiments Assessment

Pages 1269-1270

Labiadh, Mohamed

Volatile Compounds as Propolis Characterization Markers

Pages 1271-1273

Segueni, Narimane (et al.)

Effect of Interaction Between Tow Cytokinins and Tow Auxins on Alkaloidss Accumulation in Hyoscyamus Albus L.

Pages 1275-1276

Kadi, Kenza (et al.)

Quality of Crop Residues Influence on the Variations of Soil Microbial Biomass (Tiaret Region -Algeria)

Pages 1277-1278

Oulbachir, Karima (et al.)

Spatio-Temporal Variability of the Soil Hydraulic Properties—Effect on Modelling of Water Flow and Solute Transport at Field-Scale

Pages 1279-1281

Kanzari, Sabri

Perceptions and Threats to Wetlands in South-Eastern Algeria: The Case of Lake Ayata

Pages 1283-1285

Demnati, Fatma (et al.)

From the Characterization, Geochemical Behavior and Health Risk Assessments of Tunisian Phosphogypsum to a Potential Way of Inerting and Valorization

Pages 1287-1288

Lazaar, Sonia (et al.)

Assessment of Land Degradation Related to Groundwater Irrigation of Oasis Environments: (Case Study: The Zibans, Biskra, Algeria)

Pages 1289-1290

Belghemmaz, Salah (et al.)

Electrochemical and Surface Morphological Studies of a Carbon Steel Corrosion by Natural Product in Acidic Solution

Pages 1291-1292

Ferkous, Hana (et al.)

Green Corrosion Inhibitor for Carbon Steel in 1 M HCl: A Comparative Study of Polysaccharides Extracted from Prickly Pear Nopals of Opuntia Ficus-Indica (Peel and Pulp)

Pages 1293-1296

Ferkous, Hana (et al.)

Extraction and Characterization of Tannins Obtained from Fresh and Dried Tunisian Pomegranate Peel

Pages 1297-1299

Ben-Ali, Samia

Methane Production from Browse Species of Algerian Arid Areas

Pages 1301-1303

Medjekal, Samir (et al.)

Adsorptive Removal of Nickel (II) Using Luffa cylindrica: Effect of NaCl Concentration on Equilibrium and Kinetic Parameters

Pages 1305-1306

Ad, Chifaa (et al.)

Efficiency of SSR Markers to Analyze the Molecular Fingerprinting of Some Tunisian Olive Cultivars

Pages 1307-1309

Mnasri Rahmani, Sameh (et al.)

Kinetic, Equilibrium and Thermodynamic Studies of Nickel Adsorption in Batch on a Red Alga Corallina Elongata

Pages 1311-1320

Bouremmad, Farida (et al.)

Valorization of Industrial Glass Debris in Road Works

Pages 1321-1323

Boudlal, Omar (et al.)

The Oued Amizour VHMS Zn-Deposit, Northeastern Algeria: Does It Have a Kuroko-Type Signature?

Pages 1325-1328

Laouar, Rabah (et al.)

Recycling of Tunisian Phosphogypsum as Road Material: Assessment of the Mechanical and Leaching Behavior

Pages 1329-1332

Zmelma, Raja (et al.)

Heat Shock Effects on Physiological Parameters Durum Wheat Seedlings and Relationships with Stress Tolerance Indices

Pages 1333-1335

Hamli, Sofia (et al.)

An AFM Study of the Surface Propriety and Corrosion Inhibition on Carbon Steel in Acidic Media

Pages 1337-1339

Zerroug, Meriem (et al.)

Design of the Bricks Based on the Marine Sediments of Bethioua Port

Pages 1341-1343

Boudjenane, Nasr (et al.)

Classification of Some Pristine Sand Deposit from Ajali Formation (Southeastern Nigeria) as Construction Aggregate and Industrial Material

Pages 1345-1347

Ene, G. Ezekwesili (et al.)

Thermodynamic Analysis of an SOFC Coupled with Gas Turbine Power Plant

Pages 1349-1351

Khir, Tahar (et al.)

Mass Transfer During Combined Processes of Osmotic Dehydration and Blanching

Pages 1353-1354

Khoualdia, Basma (et al.)

Characterization and Assessment of Fig (Ficus carica L.) Genetic Resources in Tunisia: An Overview

Pages 1355-1356

Aljane, Fateh (et al.)

Characterization of Three Different Sewage Sludge for Reuse in the Context of Sustainable Development in Algeria

Pages 1357-1359

Belkaid, Ishak (et al.)

Variability in the Response of Citrullus Colocynthis (L.) to Water Deficiency Stresses

Pages 1361-1362

El Madidi, Said (et al.)

Enthalpy-Entropy Compensation in Carob Seeds Sorption Phenomena (Ceratonia selequa L.)

Pages 1363-1365

Tagnamas, Zakaria (et al.)

Metallic Contamination of Water and Sediments of "Hillil River" (North-West of Algeria) Near Wild Dump Site

Pages 1367-1368

Ould Ali, Ouiza (et al.)

N-Doping Effect on the Activity of TiO2 Supported Catalysts in Glycerol Oxidation

Pages 1369-1370

Cherni, Dhia (et al.)

Breeding Regime of Two Accessions of Vicia Narbonensis L.

Pages 1371-1373

Bouabid, Siwar (et al.)

Optimization of Humic Acid Liquid Fertilizer Production from Lignite: Effect on Wheat and Barley Seeds Germination

Pages 1375-1377

Salah, Ines Ben (et al.)

Methanolic Extract of Artemisia Herba Alba as Eco-Friendly Inhibitor of Carbon Steel Corrosion in 1M HCl Media

Pages 1379-1381

Radjai, Manelle (et al.)

Tunisian Almond Shell for Efficient Removal of Eriochrome Black T and Malachite Green Dyes from Aqueous Solution

Pages 1383-1385

Arfi, Rim Ben (et al.)

Geo-Environmental Information About Tunisian Cities and Coasts Within Kitab-ı Bahriye

Pages 1387-1389

Yilmaz, Ibrahim (et al.)

Valorization of Fish Processing Waste: A Microbial Perspective

Pages 1391-1393

Embrandiri, Asha (et al.)

Growth Hormones Effect on the Regeneration of Three Wild Medicinal Plants from Algeria

Pages 1395-1397

Mehalaine, Souad (et al.)

Karyotype Analysis of Echinus Medic (Medicago ciliaris L.) Populations Collected in Tunisia

Pages 1399-1402

Jabri, Cheima (et al.)

Effect of the Ripening Stage on the Volatile Composition of Chétoui Virgin Olive Oil

Pages 1403-1405

Oueslati, Imen (et al.)

Sprouting, an Eco-Friendly Technology for Improving Nutritional Quality of Tunisian Wheat Cultivar "Khiar"

Pages 1407-1408

Jribi, Sarra (et al.)

The Effect of the Spawning Period on the Viability of Silver Carp (Hypophthalmichthys molitrix) Eggs

Pages 1409-1411

Majdoubi, Fatima-Zahra (et al.)

Ethnobotanical Survey on the Use of Traditional Medicine for the Treatment of Osteoarthritis in Oran, Algeria

Pages 1413-1414

Lardjam, Abderrahmene (et al.)

Chemical Composition of Leaves and Fruits of a South Algerian Pistacia Atlantica Desf. Ecotype

Pages 1415-1417

Fetati, Aicha (et al.)

Sediment Geochemistry and Weathering Indices of Asa River Sediments, Lower Niger River Basin, West Central Nigeria

Pages 1419-1421

Kolawole, Lateef L. (et al.)

Understanding the Resilience of Mediterranean Ecosystems to Global Changes: An Overview on Applications of Stable Isotopes of Light Elements in Ecophysiological Studies

Pages 1423-1424

Lauteri, Marco (et al.)

A Socio-ecological Analysis of the Date Palm (Phoenix dactylifera L.) System in Jericho Area, Palestine

Pages 1425-1427

Russo, Giuseppe (et al.)

Evolution of Earthen Pond Water Chemical and Physical Parameters in Polyculture System (Case of Nile Tilapia, Largemouth Bass, Chinese Carps) at Deroua Fisheries Station (Fkih Ben Saleh, Morocco)

Pages 1429-1430

Ouizgane, Anouar (et al.)

Adaptation to Climate Change: The Dynamics of Production Systems in the Semi-arid Regions of Tunisia

Pages 1431-1433

Sansa, Amira (et al.)

Phosphate Ions Sequestration Strategy by Agricultural By-Products

Pages 1435-1437

Boubaker, Hana (et al.)

Study of Sludge at the Beni Messous Purification Station (Algeria)

Pages 1439-1441

Nakib, Maamar (et al.)

Study of the Physicochemical Characteristics of Marine Sediments of Oran Port (Northwest Algeria) for Their Valorization

Pages 1443-1445

Dehilis, Asmaa (et al.)

Diversity and Distribution of Fish Species in Lake Asejire, South West Nigeria

Pages 1447-1448

Ipinmoroti, Mabel O. (et al.)

Multi-biomarker Approach in Transplanted Donax trunculus (Mollusc, Bivalve) from the Gulf of Annaba (Algeria)

Pages 1449-1451

Rabei, Amina (et al.)

First Record of Doris verrucosa Linnaeus, 1758 (Mollusca: Heterobranchia: Nudibranchia) in the bay of Tunis, Tunisia (Central Mediterranean)

Pages 1453-1454

Antit, Mouna (et al.)

Effect of Mineral Amendment in Gypsum and Salinity Distribution in Oasis System of South Tunisia

Pages 1455-1458

Karbout, Nissaf (et al.)

Instant Controlled Pressure Drop Texturing for Intensifying Physicochemical Characteristics of Orange by Products

Pages 1459-1461

Louati, Ines (et al.)

Occurrence and Bioindication of Lichens Within Oak Forests of Tunisia

Pages 1463-1465

El Mokni, Ridha (et al.)

Geotechnical and Environmental Characterization of the Sediments of the Commercial Port of Sfax City, Tunisia

Pages 1467-1470

Slema, Abdelwaheb Ben (et al.)

Effectiveness Use of Olive Mill Wastewaters as Impregnator Agent for the Production of Biochars from Cypress Sawdust: Chemical Charcterization and Effects on a Plant Growth

Pages 1471-1473

Haddad, Khouloud (et al.)

Diachronic Evolution and Spatial Changes in the Steppe Ecosystem of the Southern Region of Tlemcen (North-West of Algeria)

Pages 1475-1478

Haddouche, Driss (et al.)

Phosphate Sludge from Tunisian Phosphate Mines: Valorisation as Ceramics Products

Pages 1479-1480

Baccour, Hajer (et al.)

Comparison of Pollen Distribution in Surface Sediments of the Northeastern Tunisia (Ghar El Melh Lagoon) with Remotely Sensed Vegetation Data

Pages 1481-1483

Gaceur, Emna (et al.)

Development of Antibacterial Braided PET Sutures Using Chitosan—Laurus nobilis Essential Oil Emulsion

Pages 1485-1487

Bhouri, Nesrine (et al.)

Passive Solar Energy in Buildings

Pages 1491-1492

Kacham, Shiva Teja (et al.)

Selecting Suitable Areas for New Solar Energy Projects in the South of Algeria Using Combined GIS and MCDA Model

Pages 1493-1495

Dokkar, Abdelghani (et al.)

Modeling of a Forced Convection Solar Drying System by Experimental Designs

Pages 1497-1499

Moussaoui, Haytem (et al.)

Experimental and Theoretical Investigation of the Temperature Difference and Its Effect on the Efficiency in a New Solar Still System

Pages 1501-1503

Ladouy, Sara (et al.)

Collector Area and Storage Tank Volume Size in the Solar Air Conditioning System: Case of Ouargla Town in Algeria

Pages 1505-1507

Marif, Yacine (et al.)

Models for Obtaining the Daily Global Solar Radiations in Clear Sky in Sahara

Pages 1509-1512

Benatiallah, Djelloul (et al.)

Feasability Study of Evaporative Cooling Under Algerian Climate

Pages 1513-1515

Merabti, Leila (et al.)

Simultaneous Decontamination of Seven Residual Antibiotics in Secondary Treated Effluents by Solar Photo-Fenton and Solar TiO2 Catalytic Processes

Pages 1517-1518

Moslah, Bilel (et al.)

Characterization of the Catalytic Glass Plates GP-TiO2 Elaborated by Heat Attachment Method: Application in the Photocatalysis

Pages 1519-1521

Aitatmane, Abdenour (et al.)

Solar Adsorption Cooling System Study

Pages 1523-1526

Jrad, Amal Bel Haj (et al.)

Solar Photocatalytic Degradation of Tartrazine Via Immobilized Catalyst

Pages 1527-1530

Benhabiles, Ouassila (et al.)

Study of Pharmaceutical Pollutant Degradation in Solar Immobilized Reactor

Pages 1531-1533

Chekir, Nadia (et al.)

The Landscape of the City of Biskra in Front of Proposal Strategies of Wind and Solar Energy: Evaluation of the Quality of Energetic Landscape

Pages 1535-1537

Brahimi, Souad (et al.)

Experiences with the Borehole Heat Exchanger

Pages 1539-1540

Omer, Abdeen

Economic Feasibility of a Biogas System in a Small Palestinian Poultry Farm

Pages 1541-1543

Ali, Rowayda (et al.)

Open Pond Culture of Green Algae Chlorella sp. Using Municipal Wastewater as Medium in an Arid Desert

Pages 1545-1547

Omari, Zinedine (et al.)

Two-Stage Culture Strategy to Enhance Both Biomass and Lipid Content of Microalgae for Biodiesel Production

Pages 1549-1551

Benhima, Redouane (et al.)

Alkaline Pretreatment Effect on the Production of Biogas from the Sludge of the Lagoon Station of Adrar City (Southwest of Algeria)

Pages 1553-1555

Dahou, Mohamed EL-Amine (et al.)

Sewage Sludge as Source of Energy: Experimental and Numerical Investigations of Thermochemical Conversion of Sewage Sludge via Pyrolysis

Pages 1557-1559

Ben Hassen Trabelsi, Aïda (et al.)

Pyrolysis of Tunisian Date Palm Residues for the Production and Characterization of Bio-Oil, Bio-Char and Syngas

Pages 1561-1563

Bensidhom, Gmar (et al.)

Single Nucleotide Polymorphism Variation in Switchgrass (Panicum virgatum) for Lignin Biosynthesis-Involved Genes

Pages 1565-1566

Bahri, Bochra Amina (et al.)

Analysis of the Methanol Production Starting from SSC and Fluegas

Pages 1567-1568

Borgianni, Carlo (et al.)

Biofuels and Bioenergy from Residual Biomasses: When a Waste Becomes a Resource

Pages 1569-1571

Albo, Laura (et al.)

Mineral Composition, Growth Performance and Yield of Pleurotus ostreatus on Rice Straw-Based Substrate Enriched with Natural Calcium Sources

Pages 1573-1575

Julian, Arianne V. (et al.)

Experimental Investigation of Palm Fiber Surface Treatment Effect on Thermal, Acoustical, and Mechanical Properties of a New Bio-Composite

Pages 1577-1579

Lahouioui, Marwa (et al.)

Performance Analysis and Optimization of a Hybrid Solar Geothermal Power Plant

Pages 1581-1584

Maali, Rafika (et al.)

A Hierarchy of Models for the Numerical Modelling of the Tunisia Marine Waters

Pages 1587-1588

Harzallah, Ali (et al.)

Water Masses Exchanges Within Boughrara Lagoon-Gulf of Gabes System (Southeastern Tunisia)

Pages 1589-1590

Ben Ismail, Sana (et al.)

Modeling Baroclinic Circulation off the Tunisian Coasts

Pages 1591-1593

Ben Jaber, Imen (et al.)

Simulation of Hydrodynamic Behavior Using Data from Coastal Weather Stations at the Bejaia Bay, Algeria

Pages 1595-1598

Amarouche, Khalid (et al.)

A 2350-Year Sequence of Extreme Events Revealed by Lagoonal Deposits in Northeastern Tunisia (Ghar el Melh Lagoon)

Pages 1599-1601

Kohila, Balkis Samah (et al.)

Non-uniform Morphological Trend of Sheltered Microtidal Flats: Example the Gulf of Gabes, Southern Mediterranean Coast, Tunisia

Pages 1603-1605

Gzam, Maher (et al.)

Physical and Numerical Modeling Complementarity for an Overtopping Study of the Algerian Center Zone "The Site of the Sablettes"

Pages 1607-1609

Dahmani, Abd El Alim (et al.)

Sedimentological Study for the Monitoring of the Sediment Transport Pattern in the Lagoon of Bizerte (Northern Tunisia)

Pages 1611-1613

Douss, Nessim (et al.)

Estimation of Beach Erosion Due to Future Sea Level Rise in Morocco

Pages 1615-1617

Khalfaoui, Otmane (et al.)

Risk Analysis of Antalya Konyaalti Beach in Turkey

Pages 1619-1622

Uysal, Murat (et al.)

Monitoring of Coastal Erosion of Karasu Coast in Black Sea

Pages 1623-1625

Uysal, Murat (et al.)

Satellite Images Survey for the Identification of the Coastal Sedimentary System Changes and Associated Vulnerability Along the Western Bay of the Gulf of Tunis (Northern Africa)

Pages 1627-1628

Hzami, Abderraouf (et al.)

Assessing Coastal Flood Vulnerability and Marine Erosion Risk. Case of the Bay of Algiers

Pages 1629-1631

Atroune, Farid (et al.)

Valuing the Economic Costs of Beach Erosion Related to the Loss in the Tourism Industry: The Case of Tetouan Coast (Morocco)

Pages 1633-1636

Flayou, Latifa (et al.)

Mathematical Model for Primary Production Within the Portuguese Coastal Zone

Pages 1637-1639

Pinho, Jose (et al.)

Seasonal and Interannual Variability of Primary Production and Chlorophyll Concentrations in the Algerian Basin: Application of Ocean Color

Pages 1641-1643

Harid, Romaïssa (et al.)

Salinity as a Growth-Regulating Factor of the Toxic Dinoflagellate Alexandrium Minutum

Pages 1645-1647

Abdennadher, Moufida (et al.)

Swimming Behavior and Acetylcholinesterase Activity of the D-Larvae of the Mediterranean Mussel Mytilus Galloprovincialis Exposed to Copper and/or Silver at Different Temperatures

Pages 1649-1650

Boukadida, Khouloud (et al.)

Marine Anticancer Drug Research: An Overview

Pages 1651-1652

Pandey, Kartikay

Preliminary Analysis of the Nador Lagoon (NE Morocco) Trophic Network with the Ecopath Model

Pages 1653-1654

Rhomad, Hanane (et al.)

An Ecopath Model For the Management of Moroccan Fisheries

Pages 1655-1656

Elkalay, Khalid (et al.)

Spatiotemporal Variation of Physicochemical and Bacteriological Parametres for Site Selection of Finfish Cage in Souahlia Bay, Chlef (Algeria)

Pages 1657-1658

Laama, Chahinez (et al.)

Population Dynamics of Two Lessepsian Migrant Goatfish Species; Upeneus Pori and Upeneus Moluccensis from the Southeastern Mediterranean, Port Said Region, Egypt

Pages 1659-1661

Mehanna, Sahar Fahmy

Diagenetic Modeling of Organic Matter Recycling in Two Eutrophicated Estuaries: Bioirrigation Effect

Pages 1663-1664

Khalil, Karima (et al.)

Long Term Survey of Dissolved Nutrient (N, P, Si) Fluxes from Seybouse and Mafragh Estuaries into Annaba Bay (NE Algeria)

Pages 1665-1667

Ounissi, Mahlouf (et al.)

Organotin Pollution Along the Tunisian Coasts: Status of Imposex Before and After the Ratification of the Anti-Fouling Systems (AFS) Convention

Pages 1669-1671

Lahbib, Youssef (et al.)

Application of Geochemistry to Characterize the Progressive Paleoenvironmental Changes Linked to Abrupt Warming Hyperthermal Event During the Latest Danian of Central Tunisia (Southern Tethys) and Impact on Foraminifera Fauna

Pages 1673-1676

Kotti, Noura (et al.)

Granulometric Analysis and Environtment of Deposits of Surface Sediments of the Marchica Lagoon (North-East of Morocco)

Pages 1677-1678

Aknaf, Asmae (et al.)

Spatial Distribution and Pollution Assessment of Heavy Metals in the Surface Marine Sediments of the Southern Coast of Sfax, Tunisia

Pages 1679-1681

Neifar, Ikram (et al.)

Characterization of Marine Dredged Sediment, from the Port of Kalâat Andalous (Bay of Gulf of Tunis), Tunisia

Pages 1683-1684

Amrouni, Oula (et al.)

Kalâat Andalous Harbor Lagoon Sediments: Quality and Characteristics

Pages 1685-1686

Khsiba, Samia (et al.)

Trace Metals Accumulation in Surface Sediments of the Gulf of Gabes, Tunisia: Usefulness of Metal Sediment Fractionation

Pages 1687-1689

Amri, Sirine (et al.)

Identification of Key Issues for Integrated Coastal Zone Management in Egypt

Pages 1691-1692

Merino, María (et al.)

The Contribution of Endemism in Biomimetic Eco-architecture Applied to Coastal Tourist Facilities: Case of Ben M'hidi ZET in Skikda Town, Algeria

Pages 1693-1695

Teraa, Saida (et al.)

Some Model Studies on Reinforced Dredged Soil for Sustainable Environment

Pages 1697-1700

Mir, Bashir Ahmed (et al.)

Human Impact on the Morpho-Sedimentary Evolution on the Coastal Deltaic Zones (Case of Application: Artificial Canal of Medjerda River, Tunisa)

Pages 1701-1703

Benmoussa, Thouraya (et al.)

Toward a Study of Environmental Impact of Conventional Ships

Pages 1705-1708

Ait Allal, Abdelmoula (et al.)

Toward a Study of Environmental and Social Impact of Autonomous Ship

Pages 1709-1711

Ait Allal, Abdelmoula (et al.)

Environmental Effects of Implementation of Offshore Wind Turbines Close to Coastal Communities

Pages 1713-1715

Alves, Gisele (et al.)

The Global Phenomena of Harmful Algal Blooms (HAB): Environmental and Socioeconomic Impacts

Pages 1717-1718

Basti, Leila (et al.)

Finding Space to Grow Urban Hedges as a Natural Air Filter Along Pedestrian Paths: A GIS Based Investigation of Cardiff City Centre, Wales

Pages 1721-1722

Irfan, Muhammad (et al.)

Potentially Invasive Alien Plants Surveying and Monitoring in the Agro-ecosystems of the Tunisian Sahel

Pages 1723-1724

Sayari, Najla (et al.)

Utilizing Remote Sensing at a Subsistence Farming Level to Explore Child Undernutrition in the Context of Climate Change

Pages 1725-1728

Sorgho, Raissa (et al.)

Modelling Bird Species Richness Using Satellite Data

Pages 1729-1731

Ozdemir, Ibrahim (et al.)

Applied of Non-parametric Kriging Method to Improve Soil Salinity Map: The Case Study of the Lower Cheliff Plain, Algeria

Pages 1733-1735

Koulla, Noureddine (et al.)

A Hydrogeological Information System (HISM) Design and Implementation for Groundwater Management of Monastir, Tunisia

Pages 1737-1739

Hentati, Imen (et al.)

Using Geographic Information System for Mapping Water Erosion of Wadi Sahel-Soummam Watershed's Soils (Algeria)

Pages 1741-1743

Mokhtari, El Hadj (et al.)

Burned Area Mapping Using Single-Date Principal Component Analysis

Pages 1745-1748

Aitkaci, Mazari (et al.)

Use of GIS and Satellite Imagery in the Study of the Spatial Distribution of Vegetation in the Entifa Forest (High Atlas Central, Morocco)

Pages 1749-1751

Slimani, Mohammed Amine (et al.)

Remote Sensing for Drought Assessment and Monitoring: A Case of Botswana

Pages 1753-1755

Tirivarombo, Sithabile (et al.)

Coastline Change of the Aksehir Lake (Southwestern Turkey) Between 1984 and 2016

Pages 1757-1758

Uysal, Murat (et al.)

Refining Surface Net Radiation Estimates in Arid and Semi-arid Climates of Iran

Pages 1759-1761

Sabziparvar, Ali-Akbar (et al.)

Multi-level Risk Analysis and Sensitivity Mapping for the Mediterranean Sea Basin—RAOP-MED Project

Pages 1763-1765

Ph. Prokopi, Kyriakos (et al.)

Land Cover Change Detection in Tunisian Oases Through MODIS Data (Products: MOD13Q1)

Pages 1767-1769

Khalfallah, Cherine Ben (et al.)

Investigating the Morphological Changes of the Nile River from Aswan High Dam to Delta Barrages, (Egypt) Using RS/GIS

Pages 1771-1773

Negm, Abdelazim (et al.)

The Use of Remote Sensing and GIS for the Mapping of Diachronic Evolution from Wetlands to the Arid Regions

Pages 1775-1778

Oukba Kounta, Habib (et al.)

Vegetation Changes Detection in Gabes Oases Using EO1/Hyperion Data

Pages 1779-1781

Ben Arfa, Jouda (et al.)

Satellite-Derived Land Surface Temperature and Landscape Characterization of National Capital Region (NCR), India Using Multispectral and Thermal Data

Pages 1783-1785

Hang, Hoang Thi (et al.)

Land Use Land Cover Mapping of Borj Touil (Northern Tunisia) Irrigated District with Reclaimed Water Using Landsat-8 and Sentinel-2 Satellite Images

Pages 1787-1789

Bettaibi, Asma (et al.)

Volcanic SO2 Conversion to Sulfate Aerosols: Impact on Nadir TIR Satellite Observations

Pages 1791-1793

Guermazi, Henda (et al.)

Estimation of Dinoflagellate and Diatoms Algae in Algiers Bay from Landsat Satellite Data

Pages 1795-1796

Boufeniza Redouane, Larbi (et al.)

Lake Nubia Sediment Capacity Estimation Based on Satellite Remotely Sensed Detected Bathymetry (Southern Egypt)

Pages 1797-1800

Negm, Abdelazim M. (et al.)

Use of Remote-Sensing to the Study of Landuse Change in the Lower-Cheliff Plain (Algeria)

Pages 1801-1803

Mokhtari, Djamel-Eddine (et al.)

Assessment of Soil Erosion by Water Using RUSLE, Remote Sensing and GIS in Gabes Coast-Southern Tunisia: Study Case of Oued El Sourrag Watershed

Pages 1805-1806

Medhioub, Emna (et al.)

Evaporation Estimation Using Landsat 8 Data and Its Contribution to Salts Dynamics in the Lower Cheliff Plain (Algeria)

Pages 1807-1809

Yahiaoui, Ibrahim (et al.)

Investigating Satellite Based Navigation Approach in Soil Loss Predication—Case Study of Soan Watershed, Pakistan

Pages 1811-1812

Ahmad, Sheikh Saeed (et al.)

Flood Water Management in Arid Regions, Case Studies: Wadi Al Jizzi, Oman, Wadi Abu Nsheifah, Saudi Arabia, and Wadi Dhuleil, Jordan

Pages 1813-1814

Abushandi, Eyad

Essay of Lineaments and Mega-Fractures Identification and Their Role in the Water Upwelling and the Formation of the Sebkhats in Ouargla Basin-Algeria Sahara

Pages 1815-1818

Hadj Kouider, Mohammed (et al.)

Change Detection and Spatial Dynamics of Land Cover Degradation in the Southeast of Aurès (Algeria)

Pages 1819-1821

Benmessaoud, Hassen (et al.)

Empirical Fragility Curves for Masonry Buildings in Slow-Moving Landslide-Affected Areas of Southern Italy

Pages 1825-1828

Ferlisi, Settimio (et al.)

Identification of Expansive Soils as Weathering Product of Volcanic Materials in Jatinangor Area, West Java, Indonesia

Pages 1829-1832

Fauzi, Riyan Rizki (et al.)

Geospatial Approach on Landslide Susceptibility Zonation and Geo-design in Semi-arid Mountainous Watershed, Saudi Arabia

Pages 1833-1835

Mallick, Javed (et al.)

Landslide Susceptibility Mapping Using Analytic Hierarchy Process Method in BBA-Bouira Region, Case Study of East-West Highway, NE Algeria

Pages 1837-1840

Dahoua, Lamri (et al.)

Spatio-temporal Analysis of Ground Movement Susceptibility in the Kef Area (North West Tunisia)

Pages 1841-1843

Mansour, Radhia (et al.)

Rehabilitation of a Centenary Viaduct Affected by Landslides in the City of Constantine (Algeria)

Pages 1845-1847

Saihia, Abdallah

Landslide Hazard Zonation Mapping Using Frequency Ratio and Fuzzy Logic Approach, A Case Study National Road n°11 (Bizerte-Béja: Northern Tunisia)

Pages 1849-1852

Klai, Adel (et al.)

Using GIS and RS for Slope Movement Susceptibility Mapping: Comparing AHP, LI and LR Methods for the Oued Mellah Basin, NE Algeria

Pages 1853-1856

Hadji, Riheb (et al.)

Saturated Sandy Soils Mechanical Instability Under Vibration Effect

Pages 1857-1859

Bousmaha, Mohammed (et al.)

Landslide Assessment and Hazard Zonation in Ebantu District of Oromia Regional State Western Ethiopia

Pages 1861-1863

Firomsa, Misgana (et al.)

GIS-Based Statistical Model for the Assessement of Landslide Susceptibility. Case Study: Laalam (East of Algeria)

Pages 1865-1867

Mokadem, Safia

Impact of Landslides on Environment

Pages 1869-1871

Singh, Ankit (et al.)

The Role of Local Authorities in Communicating Landslide Hazard to the Orang Asli (Indigenous) Community in Cameron Highlands

Pages 1873-1875

Ahmad, Jamilah (et al.)

An Artificial Neural Network Model for Predicting Safety Factor of a Homogenous Earth Dam

Pages 1877-1879

Djeddou, Messaoud (et al.)

Seismic Stability Analysis and Stabilization of an Unstable Urbanized Slope

Pages 1881-1882

Khemissa, Mohamed (et al.)

New Relationship Between Fundamental Site Frequency and Thickness of Soft Sediments from Seismic Ambient Noise

Pages 1883-1885

Abd el-aal, Abd el-aziz Khairy

Estimation of Site Effect Using Microtremor Technique at 15th May City, Helwan, Egypt

Pages 1887-1889

Atef, Mohammed (et al.)

Improved Crustal Structure Models in Western Part of Romania: A Step Forward to Assessment of the Seismic Risk in an Earthquake Endangered Country

Pages 1891-1893

Bala, Andrei (et al.)

Crustal Deformation Modelling by GNSS Measurements: Southwestern Anatolia, Turkey

Pages 1895-1897

Tiryakioglu, İbrahim (et al.)

Current Tectonic Movements Monitoring in Aksehir-Sultandagi Fault Zone After the February 2002 (Mw: 6.2) Earthquake

Pages 1899-1901

Tiryakioglu, İbrahim (et al.)

Meeting Paraseismic Knowledge Needs of Algerian Architects

Pages 1903-1906

Benabdelfattah, Mohammed (et al.)

Extreme Flood Events Reconstruction Spanning the Last Century in the El Bibane Lagoon (Southeast of Tunisia)

Pages 1907-1910

Affouri, Aida (et al.)

Modeling and Quantification of Hydro-Sedimentary Flow of Risk Areas in the Catchment of Wadi Chemorah, Wilaya of Batna, Algeria

Pages 1911-1912

Balla, Faiza (et al.)

Analysis of Hydrosedimentary Indicators for the Study of Coastal Erosion: Case of Bejaia Coast (Algeria)

Pages 1913-1915

Bouhmadouche, Mohamed (et al.)

Quick Urban Flood Risk Assessment in Arid Environment Using HECRAS and Dam Break Theory: Case Study of Daghbag Dam in Jeddah, Saudi Arabia

Pages 1917-1919

Elfeki, Amro (et al.)

Tsunami Evacuation Planning: Application to an Extreme Event in the Western Mediterranean Sea

Pages 1921-1922

Aguirre-Ayerbe, Ignacio (et al.)

Environmental Impact Assessment of Dairut Power Plant Project, El-Beheira Governorate, Egypt

Pages 1923-1926

Abbas, Mohamed Said

Human Fibrosarcoma Targetting Integrins with Cucurbitacin B Purified from Ecballium elaterium (L.) A. Rich

Pages 1929-1930

Touihri-Barakati, Imen (et al.)

Helminths in the Digestive Tract of Chickens in the Region of Sidi Aissa (Algeria)

Pages 1931-1932

Guerzou, Ahlem (et al.)

Extended- Spectrum Beta-lactamases- Producing Enterobacteriaceae Isolated from a River Water Receiving an Effluent Treatment Plant

Pages 1933-1934

Mechai, Abdelbasset (et al.)

In Vitro Activity of Antifungal Combinations Against Planktonic Cells of C. albicans Isolated from Medical Devices at the University Hospital Center of Tlemcen (Algeria)

Pages 1935-1936

Touil, Hidaya Fatima Zohra (et al.)

Phenotypic Characterization of Gram Negative Bacilli Strains Isolated from Dry Sludge of a Wastewater Treatment Plant

Pages 1937-1938

Debabza, Manel (et al.)

Study of the Phytosanitary Products and Livestock Growth Hormones Impact on Tunisian Consumer Health

Pages 1939-1940

Salah, Meriem (et al.)

Evaluation of the Anti-bacterial Activity of Thyme (Thymus Vulgaris) and Rosemary (Romarinus Officinalis) Essential Oils on Pseudomonas Aeruginosa

Pages 1941-1942

Djeghboub, Souad (et al.)

The New Epidemiological Challenges of the Tunisian School: Are We Ready?

Pages 1943-1944

Maaoui, Foued (et al.)

Epidemiological and Climate Impact on the Distribution of Leishmaniasis in the Middle Eastern Part of Algeria

Pages 1945-1947

Zeroual, Samir (et al.)

The Effects of Global Warming on Cardio-Respiratory System

Pages 1949-1951

Tsaloglidou, Areti (et al.)

Perceived Neighborhood Environment and Adults Health in Three Tunisian Cities

Pages 1953-1955

Hassine, Khaled

The Impact of Pesticides on Health

Pages 1957-1959

Kourkouta, Lambrini (et al.)

Cognitive Approaches to Architectural Conception: An Aid Tool for Therapy of People with Depression, Case of the Inhabitants of the Old Town of Annaba, Algeria

Pages 1961-1963

Soundouss Ismahane, Talantikite (et al.)

Breast Cancer: Hereditary, Dietary and Environmental Risk Factors

Pages 1965-1969

Taleb, Salima (et al.)

Air Pollution Effects on Health in Kenitra, Northern Morocco

Pages 1971-1973

El Morabet, Rachida (et al.)

Impact of Climate Parameters on Respiratory Syncytial Virus Bronchiolitis in Children During a 13-Year Surveillance Period

Pages 1975-1978

Brini, Ines (et al.)

Environmental Impacts and Cost of Degradation-Remediation of Air Pollution and Noise Pollution of the Urban Community of Fez (Morocco)

Pages 1979-1980

Antouh, Bassma (et al.)

Poisoning by Dangerous Gases

Pages 1981-1983

Iliadis, Christos (et al.)

The Effects of Exposure of Health Care Professionals to Volatile Anesthetic Gases

Pages 1985-1986

Dalagkozi, Paraskevi (et al.)

Allergy to Mites, Sensitivity to Tropical Species in Two Regions in Algeria

Pages 1987-1988

Lahiani, Sadjia (et al.)

Blood Cr and Ni in Bladder Cancer and Prostate Adenoma Patients

Pages 1989-1991

Feki-Tounsi, Molka (et al.)

Organochlorine Pesticides and Polychlorinated Biphenyls in Human Adipose Tissue from Northern Tunisia: Current Extent of Contamination and Contributions of Socio-demographic Characteristics and Dietary Habits

Pages 1993-1995

Achour, Amani (et al.)

Speciation, Oral Bioaccessibility and Health Risk Assessments of Cd, Pb and Zn in Agricultural Soils Contaminated by Mine Tailings in a Mediterranean Environment

Pages 1997-1998

Rania, Hbaieb (et al.)

Determination of Mercury in Human Blood and Hair Samples from the People Living Environment Adjacent to Petrochemical Industry Zone in Libya

Pages 1999-2002

Banana, Adel A. S. (et al.)

Assessment of Radiological Hazards Associated with Using Pumice Samples as Building Materials in Turkey

Pages 2003-2004

Turhan, Şeref

Ecological Survey of Endocrine Disrupting Chemicals in Environmental Media: An Insight into Public Health Protection

Pages 2005-2006

Okpashi, Victor Eshu (et al.)

Dapagliflozin Influence on the Clinical Course of Diabetes Mellitus Type 2 and Essential Hypertension in Patients

Pages 2007-2008

Virstyuk, Natalia Hrigorivna (et al.)

Corticotropic and Fecondity Responses of Footshocked Pregnant Female Rats Treated with Harmine

Pages 2009-2010

Benatoui, Rima (et al.)

Chemical Risk Assessment Approaches Regarding Human Health and the Environment

Pages 2011-2013

Aleksandryan, Anahit V. (et al.)

Risk Assessment at Exposure to Persistent Organic Pollutants: Human Health and the Environment

Pages 2015-2017

Aleksandryan, Anahit V. (et al.)

Qualitative Study on the Management of Chemicals at Research Laboratories at Casablanca Medecine and Pharmacy Faculty (Morocco)

Pages 2019-2020

Housni, Hajar (et al.)

Heavy Metals' Assessment in Environments Adjacent to Petrochemical Industry Zone in Libya

Pages 2021-2023

Banana, Adel A. S. (et al.)

Erratum to: Recent Advances in Environmental Science from the Euro-Mediterranean and Surrounding Regions

Pages E1-E2

Kallel, Amjad (et al.)
Buy this book
eBook 416,23 €

price for Spain (gross)

ISBN 978-3-319-70548-4
Digitally watermarked, DRM-free
Included format: EPUB, PDF
ebooks can be used on all reading devices
Immediate eBook download after purchase

Hardcover 519,99 €

price for Spain (gross)

ISBN 978-3-319-70547-7
Free shipping for individuals worldwide
Institutional customers should get in touch with their account manager
Usually ready to be dispatched within 3 to 5 business days, if in stock
The final prices may differ from the prices shown due to specifics of VAT rules

Softcover 519,99 €

price for Spain (gross)

ISBN 978-3-319-88958-0
Free shipping for individuals worldwide
Institutional customers should get in touch with their account manager
Usually ready to be dispatched within 3 to 5 business days, if in stock
The final prices may differ from the prices shown due to specifics of VAT rules
Services for this Book
Recommended for you
Bibliographic Information
Book Title

Recent Advances in Environmental Science from the Euro-Mediterranean and Surrounding Regions

Book Subtitle

Proceedings of Euro-Mediterranean Conference for Environmental Integration (EMCEI-1), Tunisia 2017

Editors

Amjad Kallel
Mohamed Ksibi
Hamed Ben Dhia
Nabil Khélifi

Series Title

Copyright

2018

Publisher

Springer International Publishing

Copyright Holder

Springer International Publishing AG

eBook ISBN

978-3-319-70548-4

DOI

10.1007/978-3-319-70548-4

Hardcover ISBN

978-3-319-70547-7

Softcover ISBN

978-3-319-88958-0

Series ISSN

2522-8714

Edition Number

1

Number of Pages

LIX, 2023

Number of Illustrations

152 b/w illustrations, 612 illustrations in colour

Topics