Lecture Notes in Electrical Engineering
Free Preview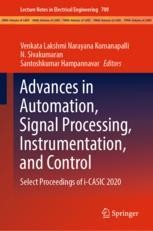 Advances in Automation, Signal Processing, Instrumentation, and Control
Select Proceedings of i-CASIC 2020
Editors: Komanapalli, Venkata Lakshmi Narayana, Sivakumaran, N., Hampannavar, Santoshkumar (Eds.)
Free Preview
Presents select peer-reviewed contribution from the international conference i-CASIC 2020
Covers latest research findings in signal processing, industrial automation and instrumentation
Discusses design and analysis of energy-efficient power controllers
see more benefits
Buy this book
eBook £143.50

price for United Kingdom (gross)

Due: April 5, 2021
ISBN 978-981-15-8221-9
Digitally watermarked, DRM-free
Included format:
ebooks can be used on all reading devices

Hardcover £179.99

price for United Kingdom (gross)
This book presents the select proceedings of the International Conference on Automation, Signal Processing, Instrumentation and Control (i-CASIC) 2020. The book mainly focuses on emerging technologies in electrical systems, IoT-based instrumentation, advanced industrial automation, and advanced image and signal processing. It also includes studies on the analysis, design and implementation of instrumentation systems, and high-accuracy and energy-efficient controllers. The contents of this book will be useful for beginners, researchers as well as professionals interested in instrumentation and control, and other allied fields.


Dr. Venkata Lakshmi Narayana K received his Bachelors in instrumentation engineering from the Nagarjuna University, Guntur, India, his Masters in electrical engineering from Motilal Nehru National Institute of Technology (MNNIT), Allahabad, India, and his Ph.D in instrumentation engineering from the Andhra University, Visakhapatnam. He has authored about 45 research papers and published in various journals and conferences of international repute. He has reviewed a good number of research papers of IET Science, Measurement & Technology, Journal of Engineering Science and Technology (JESTEC) and Recent Advances in Electrical and Electronic Engineering. He is currently an Associate Professor at the School of Electrical Engineering, Vellore Institute of Technology (VIT), Vellore, India. He is a senior member of IEEE. His interests are in the area of sensors and signal conditioning, measurements, process instrumentation, wireless sensor networks and virtual instrumentation.

Dr. N. Sivakumaran is currently a professor at the Department of Instrumentation and Control, National Institute of Technology, Tiruchirapalli. He obtained his B.E. (Electronics and Instrumentation) from Bharathidasan University, Tiruchirapalli, and M.E (Process Control and Instrumentation) from Annamalai University and Ph.D from National Institute of Technology, Trichy. His major areas of research interests include process control, biomedical instrumentation, physiological control system and intelligent systems. He has published 40 papers in respected international/national journals and 51 papers in conferences.. Dr. Sivakumaran received the young faculty research fellow, Visvesvaraya Research Programme, MeitY in 2018. He is a principal investigator for three ongoing research projects funded by AICTE, Ministry of electronics & IT and DST-IPHEE.
Dr. Santoshkumar Hampannavar received his Bachelors in Electrical and Electronics Engineering from Karnatak University, Dharwad, Karnataka, India and his Masters in Digital Electronics from the Amravati University, Maharashtra, India in 2003. He received his Ph.D. from National Institute of Technology Karnataka (NITK), Surathkal in 2016. He is presently Associate Professor in the School of Electrical Engineering and Computing, Adama Science and Technology University, Adama, Ethiopia. He has published more than 13 papers in international journals and presented more than 13 papers at various conferences. His interests are in the area of power system, smart grid communication, Vehicle-to-Grid (V2G), deregulated power system, energy market, cyber physical systems for power distribution networks, DSP for power system applications.

Table of contents (307 chapters)

Application of Differential Evolution Algorithm for Substation Expansion Planning Problem of Tamil Nadu—A Real-Time Investigation

Pages 1-11

Bhuvanesh, Ananthan (et al.)

A Survey on Sentiment Analysis for Depression Detection

Pages 13-24

Verma, Bhanu (et al.)

White Blood Cell Components Separation for Hematological Disease Detection

Pages 25-34

Biji, G.

Performance Comparison of Conventional IC and Dragonfly-Based MPPT for Solar PV Systems Under Partial Shading Conditions

Pages 35-48

Chitra, A. (et al.)

Tagging of Weakly Labeled Acoustic Data Using Skip Layer Connection Detection Classification Model

Pages 49-56

Sisodia, Shaurya Pratap Singh (et al.)

Lifetime Estimation of Insulated Gate Bipolar Transistor Modules Used for Industrial Application

Pages 57-73

Das, Apurb (et al.)

Reduction of Rain and Snow Within the Image Using Image Processing

Pages 75-81

Kodieswari, A. (et al.)

Comparison and Suitability of Motors for Propulsion in Electric Vehicles

Pages 83-89

Chavan, Datta (et al.)

Enhancing Performance of an Electric Vehicle on Slope Using Supercapacitor

Pages 91-99

Chavan, Datta (et al.)

Public Acceptance of Residential Solar Roof Tops in Chennai

Pages 101-112

Quraishi, Kausar Suraiya (et al.)

Optimal Pi Controller Tuning for a Multivariable Flotation Column by Hyperbolic Tangent Weighted Error Function Using GA

Pages 113-122

Kota, Venkata Kiran Kumar (et al.)

A Review on Actuator and Manipulator Techniques in Soft Robotics

Pages 123-137

Salunkhe, Sanket A. (et al.)

Synchronous Detection Method-Based Effective Power Transfer for Hybrid Wind-PV System

Pages 139-150

Sathya Prishma, J. (et al.)

Evaluation of Double Precision Dual-Rail Asynchronous IEEE 754 Intermediate Product Shifter

Pages 151-161

Jyothula, Sudhakar (et al.)

A Novel Autonomous Energy Management System: Solution for a Fossil Fuel Free Future

Pages 163-172

Paul Joshua, K. (et al.)

Efficient Method to Reduce Power Consumption in Air-Conditioning System of Warehouses

Pages 173-183

Sujatha, R. (et al.)

Confidence Level Assessment of a Measured Parameter in Complex Computational Dependent Aero Engine Platform

Pages 185-193

Srinivasan, Usha (et al.)

Demand Response of a Solar Photovoltaic Dominated Microgrid with Fluctuating Power Generation

Pages 195-210

Sarin, C. R. (et al.)

Performance Evaluation of Multi DC and Single DC Source on Cascaded Multi-Level Inverter

Pages 211-220

Gowrishankar, J. (et al.)

River Water Pollution Management Utilizingsmart Sensors Along with Internet of Things

Pages 221-231

Chavan, Datta (et al.)

Green House Management Using Intelligent Sensors and Internet of Things

Pages 233-241

Chavan, Datta (et al.)

Optimal Reactive Power Dispatch of Interconnected Power System Using Firefly Algorithm

Pages 243-251

Chaitanya, S. N. V. S. K. (et al.)

Auto-tuning of Decentralized PI Controllers for a Non-square System

Pages 253-259

Kalpana, D. (et al.)

A Methodical Procedure for Home Autonetics System Using Internet of Things with Multi-functional Sensors

Pages 261-269

Vanitha, C. N. (et al.)

Multiple Target Tracking Using KNN-Based Classifier and Probabilistic Data Association

Pages 271-281

Valarmathi, J. (et al.)

Fabrication of Didactic Model to Demonstrate Bottle Filling System Using Programmable Logic Controller

Pages 283-290

Akilesh, V. K. R. (et al.)

Stock Market Trend Prediction Using Regression Model, RNNs, and Sentiment Analysis

Pages 291-298

Sujatha, Rajkumar (et al.)

A Comprehensive Review on Environmental Energy Sources for Low-Power Applications

Pages 299-309

Suganya, P. (et al.)

Enhancing System Loadability with Multiple FACTS Devices Using Artificial Bee Colony Algorithm

Pages 311-322

Shaik, Mohammad Rafee (et al.)

Design of Internal Model Control Using Neurofuzzy Controller for Power Converter Applications

Pages 323-330

Durgadevi, S. (et al.)

The Study of Image Completion Technique Using Low-Rank Concept in Matrix and Tensor Domain

Pages 331-339

Unnikrishnan, Reshma (et al.)

Vehicular Monitoring Using RFID

Pages 341-350

Appaji, Impana (et al.)

Review on Brain MRI Segmentation Methods

Pages 351-360

Natarajan, Senthilkumar (et al.)

Applications of Parabolic Trough Concentrating Technology: A Review

Pages 361-370

Bindu, M. V. (et al.)

Deep Learning-Based Mammogram Classification for Breast Cancer Diagnosis Using Multi-level Support Vector Machine

Pages 371-383

Leena Nesamani, S. (et al.)

A Literary Survey on Multimodal Biometric Identification of Monozygotic Twins

Pages 385-398

Rehkha, K. K. (et al.)

Linear Quadratic Regulator Technique Used for Pole Placement for Single Axis Active Magnetic Bearing

Pages 399-409

Gupta, Suraj (et al.)

Evaluating Model Fit for a Time Series Solar Irradiance and DC Power Data to Forecast Accuracy Measures

Pages 411-426

Surendra, H. H. (et al.)

Session-Based Random Selection Padding Scheme with Elliptic Curve Cryptography for Web Service Security Development

Pages 427-434

Menaka, R. (et al.)

Identifying Sensor Node Behavior Using Temporal Correlation for Data Modifier Attack

Pages 435-448

Kishoreraja, P. C. (et al.)

Analysis of PI, PR and SMC Controllers for Bidirectional Converter Used in Electric Vehicle

Pages 449-466

Premchand, Mendem (et al.)

A Review of Design and Protocol for Smart Continuous Monitoring E-Health Systems in 5G

Pages 467-475

Anline Lizie, R. (et al.)

Blockchain-Based Agriculture Assistance

Pages 477-483

Anand, R. (et al.)

Design and Operation of Modular Multilevel Converter with Phase-Shift Carrier PWM for Grid Integration

Pages 485-503

Sanjay, Moganti (et al.)

Sliding Mode Control Design for Higher-Order Uncertain System

Pages 505-520

Ghogare, M. G. (et al.)

Design and Configuration of IoT-Based Application for Vacuum Parameter Monitoring and Trigger Control Output for Thermovacuum System

Pages 521-530

Vaghela, Purvil (et al.)

Low-Power Deep-Submicron CMOS Adder Using Optimized Delay Universal Gates

Pages 531-549

Jeba Johannah, J. (et al.)

Pentatope Based Elliptic Curve Encryption for Privacy and Protection of Multimedia Data

Pages 551-560

Jayakumari, D. (et al.)

Emergency Vehicle Detection in Traffic Surveillance Using Region-Based Convolutional Neural Networks

Pages 561-567

Uma, K. (et al.)

Automated Drip Irrigation System Using Neural Network

Pages 569-586

Elakkiya, M. (et al.)

Hyper-Spectral Image Classification with Support Vector Machine

Pages 587-593

Priyadharshini @ Manisha, K. (et al.)

Smart Women Safety Device

Pages 595-602

Dilip Kumar, S. (et al.)

Prediction and Classification of Cardiac Arrhythmia Using a Machine Learning Approach

Pages 603-610

Iyer, Tharun J. (et al.)

Design and Implementation of Safety Suit Using IoT

Pages 611-618

Akshaya Yadav, V. (et al.)

Analysis, Design, and Verification of High Frequency MOSFET Gate Drivers

Pages 619-630

Shanmugam, S. (et al.)

Wearable Tactile Braille Device Using (Modular Low-Cost Braille Electronic Display) MOLBED and Finger-Held Scroller

Pages 631-639

Thandapral, Jose Joseph (et al.)

Friction Compensation in Robot Manipulator Using Artificial Neural Network

Pages 641-650

Grami, Said (et al.)

Univariate Sensor Data Prediction Using Conventional and Machine Learning Based Time Series Techniques

Pages 651-660

Mahalingam, Priyadarshini (et al.)

A Study of Smart Cancer Detection System Using Image Processing and Deep Learning

Pages 661-667

Durgadevi, S. (et al.)

Priority Parking Based on Cloud Technology

Pages 669-676

Dilip Kumar, S. (et al.)

Geometric Approach for Disturbance Decoupling in Speed Control of PMSM

Pages 677-685

Srinivasan, Kanthalakshmi (et al.)

Automation of Car Based on 7 Concepts

Pages 687-693

Deepakraj, R. (et al.)

Detecting Duplicate Question Pairs Using GloVe Embeddings and Similarity Measures

Pages 695-702

Pankajakshan, Vindusha (et al.)

Development of Copper Nanoparticles from E-waste for Biomedical Applications

Pages 703-715

Mathew, Ammu Anna (et al.)

Text Emotion Classification Using Stacked CNNs and LSTMs

Pages 717-724

Ramesh, Shashank (et al.)

Smart Irrigation Using Embedded System

Pages 725-734

Shubiksha, T. V. (et al.)

A Comparative Study of Machine Learning Classifiers for Diabetic Retinopathy Detection

Pages 735-742

Devi, M. Kalpana (et al.)

Performance Evaluation of LQR Method for Motor Employed in Medical Grade Infusion Pump

Pages 743-749

Alamelu, J. V. (et al.)

Performance Analysis of Segmentor Adversarial Network (SegAN) on Bio-Medical Images for Image Segmentation

Pages 751-758

Sachin Saj, T. K. (et al.)

An Improved Approach for Extracting Features and Classifying Motor Imagery EEG Signals Through Machine Learning

Pages 759-766

Thenmozhi, T. (et al.)

Tuberculosis Classification Using Pre-trained Deep Learning Models

Pages 767-774

Seshu Babu, G. (et al.)

Classification of Epileptic EEG Signal from Normal EEG Using Wavelet Transforms

Pages 775-784

Dash, Kushagra (et al.)

Gas Leakage Detection and Shutoff System

Pages 785-793

Prem Chander, J. (et al.)

A Smart Delimit Scrutinization Droid for Defence Border Surveillance Through LIDAR

Pages 795-800

Gokula Vishnu Kirti, D. (et al.)

Artificial Intelligence-Based Real-Time Control of Induction Motor Using dSPACE Controller

Pages 801-815

Menghal, P. M. (et al.)

Detection of Vehicle Emissions Through Green IoT for Pollution Control

Pages 817-826

Makhija, Jigar (et al.)

Prognostic Monitoring and Analyzing System for Motors

Pages 827-841

Mahaveer, Pranav (et al.)

Investigation of Switched Capacitor Quasi-Z-Source DC-DC Converter for E-Trike Battery Charger

Pages 843-852

Harika, S. (et al.)

Smart Digital Bus Ticketing System

Pages 853-858

Harini, K. (et al.)

Efficient and Economically Optimized Way to Limit Inrush Current in an Induction Motor Using Solid-State Devices

Pages 859-871

Gajera, Kartik (et al.)

Preliminary Study on Automatic Dependent Surveillance-Broadcast Coverage Design in the Mountainous Terrains of Bhutan

Pages 873-880

Adhikari, Devi Maya (et al.)

Violent Event Detection: An Approach Using Fusion GHOG-GIST Descriptor

Pages 881-890

Lohithashva, B. H. (et al.)

CPW-Fed Planar Antenna with Corrugated Patch for Multiple Operations

Pages 891-897

Smitha, K. M. (et al.)

Real-Time Simulation and Performance Analysis of SMIB System with PSO-PSS Using dSPACE Simulator

Pages 899-912

Ramya, R. (et al.)

PolyOnto: Conceptual Modeling and Evaluation of Ontologies for Polymerization Reactions Based on XML to OWL Transfiguration

Pages 913-925

Ayush Kumar, A. (et al.)

Design of a Photoacoustic Imaging System

Pages 927-933

Thattankandy, Anagha (et al.)

Image Extraction Using Image Attribute Conception Technique

Pages 935-943

Saravanan, D. (et al.)

An Overview and Advancement of Electricity Peak Load Saving Methods: A Review

Pages 945-958

Singaravelan, A. (et al.)

Soft Computing Approaches for Automotive Image Processing: Opportunities and Challenges

Pages 959-968

Sunitha Patel, M. S. (et al.)

Application of Electric Source Imaging for Analysis of Epileptic Seizures

Pages 969-976

Devakumar, D. (et al.)

Design and Analysis of BLDC Motor for Electric Vehicle Application

Pages 977-985

Priyanka, C. P. (et al.)

Review on Power System Instability and Its Mitigation Techniques

Pages 987-993

Suriya Devi, D. M. (et al.)

Design of Electric Vehicle with the Help of Regenerative Braking System

Pages 995-1003

Ashwath, (et al.)

PLC-Based Fire Accident Prevention System

Pages 1005-1010

Singaravelan, A. (et al.)

Advancement in Onchip Clocking to Improve ATPG Coverage Between Clock Domains

Pages 1011-1019

Devani, Ramesh (et al.)

Six-Wheeled Wireless Bomb Defusal Rover

Pages 1021-1033

Azim, Mehdi (et al.)

RGA-Based Stabilizer for Stability Enhancement Using Local and Wide-Area Signals

Pages 1035-1054

Sreedivya, K. M. (et al.)

Enhancing Learnability of Classification Algorithms Using Simple Data Preprocessing in fMRI Scans of Alzheimer's Disease

Pages 1055-1063

Garg, Rishu (et al.)

A Family of Extendable Multitudinous Source DC-DC Converter with High Gain for Microgrid

Pages 1065-1072

Lavanya, A. (et al.)

Hybrid Scheme for Reduction of PAPR in Hadamard Precoding-Based OFDM System

Pages 1073-1080

Ayeswarya, R. (et al.)

Implementation of Square Architecture Based on Yavadunam Sutra Using Multiplexer-Based Full Adders

Pages 1081-1089

Kandula, Bala Sindhuri (et al.)

FVSI Based Load Stability Enhancement with Shunt Compensator

Pages 1091-1098

Venu, Y. (et al.)

Multifunctional Load Cell and RFID with Stock Management

Pages 1099-1106

Soni, Sneh (et al.)

Design and Implementation of a Low-Cost Power Diagnosis Node for Monitoring the Stand-Alone PV System in the Mockery of IoT

Pages 1107-1116

Mahamudul Hasan, Md. (et al.)

Comparison of Wind Energy Systems with TSR & HCS-Based ANFIS MPPT Controller

Pages 1117-1125

Pavan Kumar Naidu, R. (et al.)

Phonocardiography (PCG) Signal Optimization and Compression for Low Line Transmission in Telemedicine

Pages 1127-1137

Ahmed, Syed Thouheed (et al.)

Design of Minimum-Power High-Speed CMOS Amplifier Using Self Biased Current Reference Circuit for Biosensor Application

Pages 1139-1148

Kalaivaani, P. T. (et al.)

A Self-Compensated Low-Pass Gain Circuit for Biomedical Applications

Pages 1149-1157

Krishnamoorthy, Raja (et al.)

Solar Panel Position Monitoring System for Maximum Power Generation

Pages 1159-1167

Siddula, Sundeep (et al.)

DNS Security—Overview and Analysis

Pages 1169-1175

Gopi, Geetika (et al.)

Performance Analysis of PV System Under Partial Shading Condition Using Predictive Current Control

Pages 1177-1186

Pilakkat, Deepthi (et al.)

Garbage Monitoring System Using IoT for Mobile Application

Pages 1187-1197

Dhanamjayulu, C. (et al.)

Flood Damage Assessment Using H-A-Alpha Dual Polarimetric Decomposition for Godavari Flood-2019

Pages 1199-1208

Gomathi, M. (et al.)

Autonomous Vehicle Spray Paint and Defect Detection Using Machine Vision

Pages 1209-1222

Rawat, Mukul (et al.)

A Concept Framework for Design and Evaluation of Heavy-Duty Vehicle Platoons

Pages 1223-1238

Vyas, Manu

mm-Wave MIMO Channel Modeling and Estimation

Pages 1239-1249

Kalphana, I. (et al.)

Life Cycle Energy Analysis of an Isolated Photovoltaic-Wind-Battery Microgrid in India

Pages 1251-1260

Das, Jani

Information Retrieval System Based on Query Translation Approach for Cross-Languages

Pages 1261-1269

Madankar, Mangala (et al.)

Black Box—Vehicular Accident Detection and Automatic Intimation System

Pages 1271-1287

Ashwin, A. S. (et al.)

Power Quality Improvement Using Shunt Active Filter with SRF Theory for Residential Loads

Pages 1289-1302

Gopika, N. P. (et al.)

Investigation on Centralized and Decentralized Fuzzy Inference Systems for Intelligent Light Illumination in Vehicle Headlights

Pages 1303-1314

Uma, S. (et al.)

A Review of Energy Management Control Schemes for Energy Harvesting Systems

Pages 1315-1322

Lavanya, A. (et al.)

Reversible Fade Gate as Decoder, Encoder and Full Adder

Pages 1323-1331

Krishnaveni, D. (et al.)

Mapping of Wet and Dry Snow for Himalayan Glaciers Using Band Ratioing and Thresholding Techniques

Pages 1333-1340

Geetha Priya, M. (et al.)

Design of Multibaryonic H-Shaped Coupled Microstrip Antenna for Wi-Fi, WiMAX and 5G Applications

Pages 1341-1351

Kumutha, D. (et al.)

Implementation of Carrier-Based PWM Technique for a Three-Level T-Type 25 kW Solar Inverter

Pages 1353-1367

Dhanamjayulu, C. (et al.)

Performance Evaluation of Carrier-Based Modulation Strategies for Five-Level Modular Multilevel Converter (MMC)

Pages 1369-1380

Nair, Nithin S. (et al.)

A Review of Approximate Multipliers and Its Applications

Pages 1381-1392

Jagadeeswara Rao, E. (et al.)

Epileptic Seizure Detection of EEG Signal Using Wavelet Based Feature Extraction and Machine Learning Algorithms

Pages 1393-1401

Dhuria, Hemanshu (et al.)

Multi-exposure Image Reconstruction by Energy-Based Fusion Technique

Pages 1403-1410

Dhivya Lakshmi, R. (et al.)

Modeling and Control of Electric Power Assist System in Steering

Pages 1411-1417

Jaganatha Pandian, B. (et al.)

Implementation of Iterative Learning Control Schemes on Maglev System

Pages 1419-1430

Bablani, Shradha (et al.)

Gear Prediction Using Unsupervised Machine Learning to Aid Driver Profile Detection and Correction

Pages 1431-1440

Anoop Chandra, P. R. (et al.)

Application of Ackermann's Recurrence Relation and Moore Machine on Cryptography

Pages 1441-1447

Noor Mohammed, Vali Mohamad (et al.)

Automatic Generation Control of Single Area Power System with PID Controller Using State Space Approach

Pages 1449-1457

Babu Nayak, D. H. C. P. (et al.)

An Optimized Wireless Power Transmission Coil Design for Vehicle-to-Vehicle (V2V) Charging Application

Pages 1459-1469

Joseph, Peter K. (et al.)

IoT-Based Smart Electrification System

Pages 1471-1479

Sankaramurthy, Padmini (et al.)

Analysis of Torque Ripple Characteristics of Induction Motor for Whole-Coiled and Half-Coiled Windings

Pages 1481-1488

Vineela, K. N. S. (et al.)

Optimal PMU Placement in Smart Grid Including the Effects of Zero Injection Buses

Pages 1489-1498

Krishnavenishri, R. (et al.)

Optimal Planning of PV-Diesel Hybrid Systems

Pages 1499-1507

Pavithra, K. (et al.)

Image Interpolation Using Non-adaptive Scaling Algorithms for Multimedia Applications—A Survey

Pages 1509-1516

Neetha, C. H. (et al.)

Control of SOFC Systems for DG Application Using MATLAB/Simulink

Pages 1517-1531

Bharathi, Manne (et al.)

Concept Bank Driven Semantic Video Retrieval Model

Pages 1533-1542

Sasithradevi, A. (et al.)

DDCVS Logic for Asynchronous Gate-Level Pipelined Circuits

Pages 1543-1548

Sravani, K. (et al.)

Minisun IDEEA Life Gait for Gait Analysis

Pages 1549-1562

Singh, Avanish Kumar (et al.)

Melanoma Detection Using Recurrent Neural Network

Pages 1563-1573

Gowthami, V. (et al.)

Fault Detection in Electro-Mechanical Actuator System

Pages 1575-1589

Rengasamy, S. (et al.)

Face Template Security: LBP-Based LSB Watermarking Technique for Multi-class SVM Classification Using HoG

Pages 1591-1598

Mohana, S. D. (et al.)

Experimental Validation of Fuzzy SMC and Lyapunov Fuzzy SMC Over a Cylindroconical Fermenter

Pages 1599-1607

Kanthalakshmi, S. (et al.)

Capacitive Touch Sensing-Based Automated Collaborative Robotic Arm

Pages 1609-1618

Prashanth, R. (et al.)

A Novel Model of Active Balancing Supercapacitors Using Renewable Energy Harvesting System

Pages 1619-1627

Nithin, K. M. (et al.)

Secured Healthcare Monitoring System

Pages 1629-1639

Devi Mahalakshmi, S. (et al.)

Fault Diagnosis of Nonlinear System Using Particle Filter

Pages 1641-1649

Raghappriya, M. (et al.)

Reducing Road Accidents in India by Predicting Vehicle Defects and Black Spots

Pages 1651-1660

Vijayakumar, G. (et al.)

Intelligent Traffic Prediction Using LSTM Network

Pages 1661-1669

Vidya, G. S. (et al.)

Performance Analysis of Various Cryptographic Techniques

Pages 1671-1679

Lenin Solomon, A. (et al.)

Smart Health Monitoring Using LabVIEW

Pages 1681-1691

Boxi, Rahul Kumar (et al.)

Rainfall Forecasting for Raising the Yield Production Using Machine Learning Algorithms

Pages 1693-1708

Suganya, R. (et al.)

Open-Switch Fault Analysis of Three-Level Neutral Point Clamped Inverter

Pages 1709-1717

Rinsha, V. (et al.)

Fresh Water Aqua Culturing Using Under Water Sensors

Pages 1719-1726

Madhumitha Kulandaivel, (et al.)

An Adaptive Evolutionary Approach for Localization in Wireless Sensor Networks

Pages 1727-1736

Madhumitha Kulandaivel, (et al.)

A Novel Cross Connected Square T-Type Multilevel Inverter

Pages 1737-1748

Sadanala, Chiranjeevi (et al.)

IOT-Enabled Economic Planning of a Solar PV System for Long-Term Horizon Under Demand and Climatic Scenario

Pages 1749-1763

Rizwin, M. Y. (et al.)

FPGA-Based PI Controller for a Buck Converter

Pages 1765-1772

Pandit, Sonali (et al.)

Heuristic-Based Clustering Approach for Discovering Colossal Patterns from High-Dimensional Databases

Pages 1773-1782

Sreenivasula Reddy, T. (et al.)

Smart Agriculture: A Survey on Challenges and Opportunities with Recent Advancements

Pages 1783-1793

Thangatamilan, M. (et al.)

Classification of Primary User Occupancy Using Deep Learning Technique in Cognitive Radio

Pages 1795-1804

Ambika, N. (et al.)

Hybrid Electric Bicycle with Regeneration Capability

Pages 1805-1823

Koppolu, Pratap Kumar (et al.)

Digitalized Water Quality Management Using SCT Algorithm

Pages 1825-1836

Pandithurai, O. (et al.)

Norm Optimal Iterative Learning Control for Improved Trajectory Tracking of Servo Motor

Pages 1837-1845

Jonnalagadda, Vimala Kumari (et al.)

A New Energy-Saving Technique for Multiple-Induction Motor-Based Drive Heads at Mines Under Light-Load Conditions

Pages 1847-1857

Behera, Pusparanjan (et al.)

Dynamic Symmetric Key Encryption in Wireless Sensor Networks Over Cellular Automata Centred on Groups

Pages 1859-1863

Sipani, Lokesh (et al.)

Power Quality Improvement in Ten-Bus Distribution System Using Distributed Unified Power Quality Conditioner

Pages 1865-1880

Abdul Pasha, S. K. (et al.)

Detection and Localization of Pulmonary Carcinoma Using Deep Learning Approach in Computed Tomography Images

Pages 1881-1888

Jacob, Chinnu (et al.)

A Cost-Effective Mock Circulatory System for Initial Testing of Cardiovascular Devices

Pages 1889-1896

Jeevan, Ranjitha Rebecca (et al.)

A Comprehensive Review on Thermoelectric Generator for Energy Harvesting

Pages 1897-1905

Lourdu Jame, S. (et al.)

Performance of FACTS Devices on Power System Reliability

Pages 1907-1915

Mahiban Lindsay, N. (et al.)

Crop Suitability Prediction and Fertilizer Recommendation Using Classification Techniques

Pages 1917-1923

Selva Anushiya, A. (et al.)

Power System Security and Adequacy Assessment in a Deregulated Power Industry

Pages 1925-1933

Lindsay, N. Mahiban (et al.)

Off-Line Tamil Handwritten Character Recognition Based on Convolutional Neural Network with VGG16 and VGG19 Model

Pages 1935-1945

Lincy, R. Babitha (et al.)

Automated RFID-Based Traffic Regulation and Vehicle Alert System for Emergency Conditions

Pages 1947-1962

Gupta, Aditya (et al.)

Advanced SOC and SOH Estimation Methods for EV Batteries—A Review

Pages 1963-1977

Singirikonda, Srinivas (et al.)

Specular Corneal Endothelium Dystrophy's Analysis Using Particle Filter

Pages 1979-1989

Chandra, Kamireddy Vijay (et al.)

Performance Analysis of Multi-level Inverter Using Phase Disposition with Various Carrier Signal Arrangements

Pages 1991-1999

Garapati, Durga Prasad (et al.)

Characterization of Microcontroller Under Gamma Radiation Environment

Pages 2001-2008

Sharma, Charu (et al.)

Utilization of Renewable Energy Sources Using Smart Grid Technology

Pages 2009-2018

Karimulla, Shaik (et al.)

Detection of Road Violators Using Machine Learning

Pages 2019-2026

Srivatchan, N. S. (et al.)

Remote Triggered Laboratory for Boost Converter Using LabVIEW

Pages 2027-2035

Ansal, V. (et al.)

RF Analysis of Silicon Nanotube FET for Ultra-Low-Power Applications

Pages 2037-2044

Josephine Anucia, A. (et al.)

Detumbling of Nano Satellites with Variable Magnetic Torquer on Time—A Practical Implementation

Pages 2045-2059

Kakanuru, Sumithra (et al.)

Optimal Tuning of Parameters for Impulse Voltage Generator Using Soft Computing Technique

Pages 2061-2072

Sheeba, R. (et al.)

Classification of Primary Users Using Deep Residual Learning

Pages 2073-2078

Vikneshwar, J. (et al.)

Deep Learning-Based Autonomous Drone(s) Assistance

Pages 2079-2087

Prithvi Krishna, C. (et al.)

High Gain Super-Lift Converters for Multi-node Connected Low-Output Transducers

Pages 2089-2095

Kandaswamy, K. V.

A Comprehensive Review on Non-isolated Bidirectional DC–DC Converter Topologies for Electric Vehicle Application

Pages 2097-2108

Mounica, V. (et al.)

Study of Coverage Enhancement Methods in Narrowband Internet of Things (NB-IoT)

Pages 2109-2119

Gnanaselvam, R. (et al.)

Development of a Microgrid System with Smart Consumption Topology Using MATLAB/SIMULINK

Pages 2121-2129

Durdana, Whomaira F. (et al.)

Optimal Design and Implementation of Solar-Powered EV Public Charging Station

Pages 2131-2139

Sheeba, R. (et al.)

Efficient Filter Implementation Using Cutset Retiming and Pipelining Approaches

Pages 2141-2153

Nirmal, A. Navis (et al.)

Multi-Frequency Current Source for Varying Loads in Electrical Impedance Tomography Systems

Pages 2155-2166

Ahmed, Adnan Munir (et al.)

Adaptive Neuro-Fuzzy Inference Healthcare System for Cardiac Arrhythmia Detection Using Heart Rate Variability Features

Pages 2167-2174

Lakshmi Devi, R. (et al.)

Fast and Minimized Error Approximate Carry Look-Ahead Adder

Pages 2175-2182

George, Dhanya (et al.)

Regenerative Loading of Asynchronous Machine Drive—An Evaluation using Motor Analyzer

Pages 2183-2195

Singh, R. Raja (et al.)

Radiomics Based Analysis of Breast Tumors in DCE-MRI due to Neoadjuvant Treatment Therapy

Pages 2197-2204

Moyya, Priscilla Dinkar (et al.)

PV System with Multimaster Technique Implemented String Inverters

Pages 2205-2213

Sreekanth, S. (et al.)

Spectrum Sensing System for Cognitive Radio

Pages 2215-2224

Veerappan, Kavitha (et al.)

BELBIC Study for PMBLDC Motor Drive System in Industrial Applications

Pages 2225-2232

Gunapriya, B. (et al.)

Mouth Breathing Controller-Boon to Twenty-First Century Medical Era

Pages 2233-2240

Telang, A. S.

Puncture Identification System

Pages 2241-2248

Srivatchan, N. S. (et al.)

A Whale Optimization Algorithm for Pollution Monitoring in WSN

Pages 2249-2261

Patil, Harshala (et al.)

Anterior Segment OCT Image Analysis of Corneal Opacities that Guide Ophthalmologists in Making Decisions About Corneal Transplant Surgeries

Pages 2263-2270

Solomons, Cassandra D. (et al.)

Application of Particle Swarm Optimization for Threshold Setting in Fault Detection Unit

Pages 2271-2279

Durga Prasad, Ch. (et al.)

Medical Image Compression: A Leap on Recent Progress and Publications

Pages 2281-2289

Bindu, P. V. (et al.)

Multi-objective Linear Fractional Stochastic Transportation Problems Involving Logistic Distribution

Pages 2291-2299

Gessesse, Adane Abebaw (et al.)

Control of Micro-grid by Discretized PR Controller Using Tustin Frequency Pre-wrapping Method

Pages 2301-2311

Mandava, Srihari (et al.)

Design of Practical PID Controller for First-Order Process with Time Delay Using Polynomial Approach

Pages 2313-2321

Praveen Kumar, M. (et al.)

Novel CNN Architecture for Human Action Recognition

Pages 2323-2333

Kalaivani, P. (et al.)

FPGA Realization of Multi-stage Decimator for WN Applications

Pages 2335-2348

Kumutha, D. (et al.)

Image Steganography Using Discrete Cosine Transform Algorithm for Medical Images

Pages 2349-2358

Keshava Murthy, Nikhitha (et al.)

Recital Study of Different Segmentation Techniques for Brain Tumor Detection

Pages 2359-2368

Deepa, B. (et al.)

Designing of General Purpose 8-Bit RISC Processor and Implementation on FPGA

Pages 2369-2380

Thakkar, Divyang (et al.)

Tracking of Fish School in Aquaculture with Weighted Clustering Technique Using Kalman Filter

Pages 2381-2390

Abinaya, N. S. (et al.)

A Hybrid Optimization Technique-Based Transient Stability Improvement Using Static VAR Compensator

Pages 2391-2398

Dhal, P. K.

ABC Based Optimal Tuning of PID Controller for Speed Control of D.C Motor

Pages 2399-2408

Venu, Y. (et al.)

A Review of Existing Non-invasive Techniques for Glucose Monitoring

Pages 2409-2420

Mathew, Ammu Anna (et al.)

Enhanced Krill Herd Optimization Algorithm: Total Harmonic Distortion Minimization

Pages 2421-2429

Aala Kalananda, Vamsi Krishna Reddy (et al.)

Social Media Bias Using Centrality Measures and Machine Learning

Pages 2431-2440

Reddy, Rachana (et al.)

A Cost-Effective Digital Thermometer

Pages 2441-2446

Amare, Addisu (et al.)

Design of Dual-Port Multiband Antenna for Sub-6 GHz 5G Applications

Pages 2447-2455

Ishaan, Sharma (et al.)

Fuzzy- and MPC-Controlled Symmetrical Cascaded Multicell Inverter: A Comparison

Pages 2457-2473

Ponnambalam, P. (et al.)

Simulation and Realization of Rectified Inverted Sine Hybrid Pulse Width Modulation Strategy for Quasi-Impedance Source Cascaded Multilevel Inverter

Pages 2475-2487

Seyezhai, R. (et al.)

Autonomous Space Debris Collision Avoidance System

Pages 2489-2501

Ramaneti, Ketan Akul (et al.)

Reducing TCR Harmonics Using Sequential Switching

Pages 2503-2510

Venu, Y. (et al.)

Diabetic Retinopathy Image Classification Using Transfer Learning

Pages 2511-2524

Rajini, G. K. (et al.)

Instrument Reader Using Machine Learning

Pages 2525-2532

Suriya, S. (et al.)

Mitigation of Ferranti Effect Using Thyristor Controlled Reactor

Pages 2533-2545

Venu, Y. (et al.)

Novel Authentication Process of the Smart Cards Using Face and Fingerprint Recognition

Pages 2547-2556

Anjaneyulu, G. S. G. N. (et al.)

Accurate Center of Gravity Measurement for Aerospace Components

Pages 2557-2565

Das, Renjith (et al.)

Design and Implementation of Fractional Order PI Controller for FCCU

Pages 2567-2577

ThayaaSree, P. (et al.)

Robust and Novel Dynamic Password Using SVD and Linear Systems Involving Euclidean Algorithm

Pages 2579-2592

Anjaneyulu, G. S. G. N. (et al.)

Generation of Handwriting Applying RNN with Mixture Density Network

Pages 2593-2601

Jayashree, D. (et al.)

Impact of Mobility MAC Protocol on Network Performance in Mobile Wireless Sensor Networks

Pages 2603-2611

Diniesh, V. C. (et al.)

Integrated Secured Digitized Home Using IoT-Based Sensors

Pages 2613-2618

Jayashree, D. (et al.)

Review of Model-Based State-Of-Charge Estimation Methods for Batteries of Electric Vehicles

Pages 2619-2625

Arun Chendhuran, R. (et al.)

Thermal Aware Device Design Using Hotspot Analysis

Pages 2627-2637

Ashok Kumar, B. (et al.)

Simulation of Electric Vehicle Driven by PWM Inverter Fed Induction Machine

Pages 2639-2648

Muhammed Alaudeen Ashiq, M. (et al.)

A Cognitive System Process Approach: ELT Pedagogy for a Hybrid Communication Model

Pages 2649-2654

John Vijayakumar, I. S. (et al.)

Radar Emitter Identification in Multistatic Radar System: A Review

Pages 2655-2664

Dash, Dillip (et al.)

QoS Aware Machine Learning Algorithms for Real-Time Applications in Wireless Sensor Networks

Pages 2665-2673

Raut, Archana R. (et al.)

A Compact Circular Shaped Monopole Antenna for UWB Application with WiMAX Band Rejection

Pages 2675-2682

Jayanthi, K. (et al.)

Prediction of Software Bugs Using Machine Learning Algorithm

Pages 2683-2692

Sangeetha, Yalamanchili (et al.)

A Simple Image Processing Technique for Non-invasive Blood Glucose Monitoring

Pages 2693-2699

Kulkarni, Sumedha Sanjiv (et al.)

A Modified Coupled Inductor with Switched Capacitor Based High Step-Up Converter for Electric Drive Systems

Pages 2701-2709

Peer Mohamed, A. (et al.)

Digital Filter Implementation for Removal of Baseline Wander in ECG Signals

Pages 2711-2718

Chitra, R. (et al.)

Detection of First-Episode of Schizophrenia Brain MRI Images Using Random Forest Classifier

Pages 2719-2731

Angali, P. T. (et al.)

Cost Analysis of Solar-Wind Based Hybrid Renewable Energy System

Pages 2733-2746

Sharma, Chandani (et al.)

Lifetime Enhancement Based on Energy and Buffer Residual Status of Intermediate Node in Wireless Sensor Networks

Pages 2747-2757

Lodhi, Amairullah Khan (et al.)

Context-Aware Handover Analysis in Heterogenous Wireless Network Using Machine Learning

Pages 2759-2768

Parambanchary, Divya (et al.)

Design of a Compact Circular Metamaterial Absorber with Unsymmetrical Slots for Energy Harvesting Applications

Pages 2769-2777

John Paul, J. (et al.)

Design and Performance Analysis of Solid-State Transformer

Pages 2779-2791

Joshi, Kedar (et al.)

Advanced Engineering Solution for an Ammonium Phosphate Plant Using Yokogawa Distributed Control System

Pages 2793-2805

Sairam, A. J. (et al.)

Understanding Neuronal Connectivity of Subjects with Autism Spectrum Disorder Using fMRI

Pages 2807-2814

Samuel Berkins, S. (et al.)

A Multiband E-shaped Antenna with Defected Ground Structure (DGS) for MIMO Applications

Pages 2815-2823

Adhikari, Devi Maya (et al.)

Brain MR Image Lesion Identification Using Threshold-Based Segmentation Techniques

Pages 2825-2833

Geetha, R. (et al.)

Comparative Study of Feature Extraction Using Different Transform Techniques in Frequency Domain

Pages 2835-2846

Deepak, M. D. (et al.)

Mathematical Modeling of Elbow-Actuated Wearable Robotic Arm for Muscular Disorders

Pages 2847-2854

Karthicraja, V. M. (et al.)

An Advanced Signature Scheme Based on Non-abelian Group Over Algebraic Technique

Pages 2855-2864

Narendra Mohan, L. (et al.)

A Pedagogical Approach on Digital Signal Processing for ECG Signals

Pages 2865-2874

Abhijnan, Parimisetti (et al.)

Multi-criteria Leader Selection in Ad Hoc Networks Using Fuzzy Analytical Hierarchy Process

Pages 2875-2885

Julian, Anitha (et al.)

Developing a Sustainable and Economical Infrastructure for the Implementation of IoT in Agriculture

Pages 2887-2897

Dhule, Akshayee Bharat (et al.)

Computer Vision-Based Vehicle Detection and Tracking

Pages 2899-2906

Senthil Murugan, A. (et al.)

Energy Harvesting by Electromechanical System Using Weight Pulses

Pages 2907-2915

Kumar, Deepak (et al.)

Feature Extraction and Classification of VAG Signal of Human Knee for Early Diagnosis of Chondromalacia Patella

Pages 2917-2922

Equbal, Kamran (et al.)

Analyzing the Open-Loop and Closed-Loop Models of Self-Excited Synchronous Machine

Pages 2923-2928

Venu, Y. (et al.)

Optimization of Shunt Compensation for Voltage Stability Improvement Using PSO

Pages 2929-2940

Venu, Y. (et al.)

Brightness and Contrast Controllable Fingerprint Image Enhancement Based on Histogram Specification

Pages 2941-2954

Ramya, C. (et al.)

Power Distribution Module for a Formula SAE Combustion Race Car

Pages 2955-2969

Goyal, Kushagra (et al.)

Scheduler of a LTE Downlink System

Pages 2971-2976

Amutha Prabha, N. (et al.)

Smart Attendance System Using Deep Transfer Learning

Pages 2977-2985

Umme Kulsum Faiza, V. (et al.)

Friendly Waste Seggregator Using Deep Transfer Learning

Pages 2987-2995

Umme Kulsum Faiza, V. (et al.)

Automation of Malarial Cell Count and Stage Classification Using Morphological Operations and Variable Optimization Using Hyper-Parameter Tuning

Pages 2997-3003

Dutta, Prakhar (et al.)

A Review on a Secure IoT-Based Healthcare System

Pages 3005-3016

Jain, Udit (et al.)

Lower Limb Amputees Rehabilitation: IOT-Based Real-Time Human Movement

Pages 3017-3033

Arun Ganesh, K. (et al.)

Exclusively Automated Agricultural Engineering System using PLC-HMI and ZigBee based WSN

Pages 3035-3049

Priyadharson, A. Selwin Mich (et al.)

Model Predictive Control of Quasi-Z-Source Inverter

Pages 3051-3062

Razia Sultana, W. (et al.)

Sentiment Analysis for Refining Word Vectors Using Naïve Bayes Approach

Pages 3063-3070

Paul Jasmine Rani, L. (et al.)

Multi-precision Multi-mode Floating Point Multiplier

Pages 3071-3082

Jyothula, Sudhakar

Causative Fault Classification Using Artificial Neural Network in Transmission System

Pages 3083-3093

Dey, Shiladitya (et al.)

Detection of Rumors in Tweets Using Machine Learning Techniques

Pages 3095-3111

Dhanya, N. M. (et al.)

Cloud Management: An Autoencoder-Based Clustering of Virtual Machines for Data Centre Workload

Pages 3113-3121

Sathiya, R. R. (et al.)

Digital Image Security in DICOM

Pages 3123-3133

Kannammal, A. (et al.)

Agent-Based Wireless Sensor System for V2G Aggregation in Smart Grid

Pages 3135-3141

Hampannavar, Santoshkumar (et al.)

Mitigation of Phase Noise and BER by different CE in the MIMO-OFDM system

Pages 3143-3158

Kumutha, D. (et al.)

Optimal Placement of GEV Aggregation in Smart Grid: An Evolutionary Computation Algorithm Approach

Pages 3159-3167

Hampannavar, Santoshkumar (et al.)

An Efficient Approach for the Detection of Abnormalities in Different Cancerous Images Using TFD Techniques

Pages 3169-3174

Homa Kesav, O. (et al.)

Comparative Analysis of Different Edge Detection Methodologies in Medical Imaging

Pages 3175-3183

Jeevitha, S. (et al.)

Design and Analysis of a Higher Order Process by Employing Pspice Modelling

Pages 3185-3196

Ganesh, C. (et al.)

Analysis of Breast Cancer Diagnosis and Prognosis Using Machine Learning Algorithms

Pages 3197-3211

Varadhan, Sankardoss (et al.)

High Performance Buffer with Body Biasing Technique

Pages 3213-3220

Karthikeyan, A. (et al.)

Energy-Efficient and Emergency Dispatch System for Smart Street Lighting

Pages 3221-3233

Rajendhar, Puppala (et al.)

Performance Comparison of Transmit Antenna Selection Schemes for Quadrature Spatial Modulation

Pages 3235-3245

Asha, S. (et al.)

Eye Controlled Rover for Mapping the Environment

Pages 3247-3258

Rajendhar, Puppala (et al.)

A Review on Requirements for Data Communication and Information Technology Areas for Smart Grid

Pages 3259-3271

Kulkarni, Vikram (et al.)

Design of Polar Encoder and Decoder for Next-Generation Networks

Pages 3273-3283

Sarkar, Aniket (et al.)

Analysis of the Consumers' Satisfaction in Andhra Pradesh, Services Provided by Southern Power Distribution Company Limited

Pages 3285-3294

Ramesh, P. (et al.)

Analysis of Quality, Installation of Power Supplied by APSPDCL to Urban and Rural Areas

Pages 3295-3309

Ramesh, P. (et al.)

Discrete Taylor Transform and Inverse Transform

Pages 3311-3329

Baghai-Wadji, Alireza
Buy this book
eBook £143.50

price for United Kingdom (gross)

Due: April 5, 2021
ISBN 978-981-15-8221-9
Digitally watermarked, DRM-free
Included format:
ebooks can be used on all reading devices

Hardcover £179.99

price for United Kingdom (gross)
Services for this Book
Recommended for you
Bibliographic Information
Book Title

Advances in Automation, Signal Processing, Instrumentation, and Control

Book Subtitle

Select Proceedings of i-CASIC 2020

Editors

Venkata Lakshmi Narayana Komanapalli
N. Sivakumaran
Santoshkumar Hampannavar

Series Title

Series Volume

700

Copyright

2021

Publisher

Springer Singapore

Copyright Holder

Springer Nature Singapore Pte Ltd.

eBook ISBN

978-981-15-8221-9

DOI

10.1007/978-981-15-8221-9

Hardcover ISBN

978-981-15-8220-2

Series ISSN

1876-1100

Edition Number

1

Number of Pages

XXXIV, 3329

Number of Illustrations

588 b/w illustrations, 1556 illustrations in colour

Topics