Lecture Notes in Educational Technology
Vorschau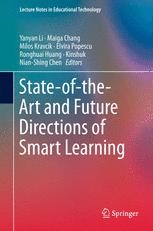 State-of-the-Art and Future Directions of Smart Learning
Herausgeber: Li, Y., Chang, M., Kravcik, M., Popescu, E., Huang, R., Kinshuk, Chen, N.-S. (Eds.)
Vorschau
Presents state-of-the-art research on smart learning from around the world
Sets the future course of research and practice for effective futuristic learning
Guides research on and practices in future learning environments
Weitere Vorteile
Dieses Buch kaufen
eBook 149,79 €

Preis für Deutschland (Brutto)

ISBN 978-981-287-868-7
Versehen mit digitalem Wasserzeichen, DRM-frei
Erhältliche Formate: EPUB, PDF
eBooks sind auf allen Endgeräten nutzbar
Sofortiger eBook Download nach Kauf

Hardcover 192,59 €

Preis für Deutschland (Brutto)

ISBN 978-981-287-866-3
Kostenfreier Versand für Individualkunden weltweit
Institutionelle Kunden wenden sich bitte an ihren Kundenbetreuer
Gewöhnlich versandfertig in 3-5 Werktagen, sofern auf Lager

Softcover 192,59 €

Preis für Deutschland (Brutto)

ISBN 978-981-10-1313-3
Kostenfreier Versand für Individualkunden weltweit
Institutionelle Kunden wenden sich bitte an ihren Kundenbetreuer
Gewöhnlich versandfertig in 3-5 Werktagen, sofern auf Lager
This book provides an archival forum for researchers, academics, practitioners and industry professionals interested and/or engaged in reforming teaching and learning methods by transforming today's learning environments into smart learning environments. It will facilitate opportunities for discussions and constructive dialogue between various stakeholders on the limitations of current learning environments, the need for reform, innovative uses of emerging pedagogical approaches and technologies, and sharing and promoting best practices, which will lead to the evolution, design and implementation of smart learning environments. The focus of the contributions is on the interplay and fusion of pedagogy and technology to create these new environments. The components of this interplay include but are not limited to:


Pedagogy: learning paradigms, assessment paradigms, social factors, policy

Technology: emerging technologies, innovative uses of mature technologies, adoption, usability, standards, and emerging/new technological paradigms (open educational resources, cloud computing, etc.)

Fusion of pedagogy and technology: transformation of curricula, transformation of teaching behavior, transformation of administration, best practices of infusion, piloting of new ideas.
Inhaltsverzeichnis (58 Kapitel)

Influencing Metacognition in a Traditional Classroom Environment Through Learning Analytics

Seiten 1-12

Predicting Newcomer Integration in Online Knowledge Communities by Automated Dialog Analysis

Seiten 13-17

SCALE: A Competence Analytics Framework

Seiten 19-30

VAT-RUBARS: A Visualization and Analytical Tool for a Rule-Based Recommender System to Support Teachers in a Learner-Centered Learning Approach

Seiten 31-38

Improving Learning Style Identification by Considering Different Weights of Behavior Patterns Using Particle Swarm Optimization

Seiten 39-49
Dieses Buch kaufen
eBook 149,79 €

Preis für Deutschland (Brutto)

ISBN 978-981-287-868-7
Versehen mit digitalem Wasserzeichen, DRM-frei
Erhältliche Formate: EPUB, PDF
eBooks sind auf allen Endgeräten nutzbar
Sofortiger eBook Download nach Kauf

Hardcover 192,59 €

Preis für Deutschland (Brutto)

ISBN 978-981-287-866-3
Kostenfreier Versand für Individualkunden weltweit
Institutionelle Kunden wenden sich bitte an ihren Kundenbetreuer
Gewöhnlich versandfertig in 3-5 Werktagen, sofern auf Lager

Softcover 192,59 €

Preis für Deutschland (Brutto)

ISBN 978-981-10-1313-3
Kostenfreier Versand für Individualkunden weltweit
Institutionelle Kunden wenden sich bitte an ihren Kundenbetreuer
Gewöhnlich versandfertig in 3-5 Werktagen, sofern auf Lager
Services zu diesem Buch
Bibliografische Information
Buchtitel

State-of-the-Art and Future Directions of Smart Learning

Herausgeber

Yanyan Li
Maiga Chang
Milos Kravcik
Elvira Popescu
Ronghuai Huang
Kinshuk
Nian-Shing Chen

Titel der Buchreihe

Copyright

2016

Verlag

Springer Singapore

Copyright Inhaber

Springer Science+Business Media Singapore

eBook ISBN

978-981-287-868-7

DOI

10.1007/978-981-287-868-7

Hardcover ISBN

978-981-287-866-3

Softcover ISBN

978-981-10-1313-3

Buchreihen ISSN

2196-4963

Auflage

1

Seitenzahl

XVIII, 503

Themen