Indian Institute of Metals Series
Vorschau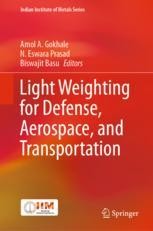 Light Weighting for Defense, Aerospace, and Transportation
Herausgeber: Gokhale, Amol, Prasad, N. Eswara, Basu, Biswajit (Eds.)
Vorschau
Provides an overview of the state-of-the-art research in light weighting solutions
Discusses challenges faced in the complete assimilation of light weighting solutions at industry level
Describes new and emerging solution
Weitere Vorteile
Dieses Buch kaufen
eBook 85,59 €

Preis für Deutschland (Brutto)

ISBN 978-981-15-1263-6
Versehen mit digitalem Wasserzeichen, DRM-frei
Erhältliche Formate: PDF, EPUB
eBooks sind auf allen Endgeräten nutzbar
Sofortiger eBook Download nach Kauf

Hardcover 149,79 €

Preis für Deutschland (Brutto)

ISBN 978-981-15-1262-9
Kostenfreier Versand für Individualkunden weltweit
Institutionelle Kunden wenden sich bitte an ihren Kundenbetreuer
Gewöhnlich versandfertig in 3-5 Werktagen, sofern auf Lager

Softcover 106,99 €

Preis für Deutschland (Brutto)

ISBN 978-981-15-1265-0
Kostenfreier Versand für Individualkunden weltweit
Institutionelle Kunden wenden sich bitte an ihren Kundenbetreuer
Gewöhnlich versandfertig in 3-5 Werktagen, sofern auf Lager
This book covers recent developments and current status of various materials, designs, and manufacturing practices which together contribute towards weight reduction of systems used in defense, aerospace, and automotive sectors. The topics covered in the volume range from new manufacturing methods such as additive manufacturing, intermetallics, aluminum-based solutions, near net-shaped processes, ultra-light weight metal foam and honeycomb based sandwich structures, advanced high strength steels, magnesium alloy castings and carbon fiber composites. It also talks about specific manufacturing and characterization techniques, property variability and reliability of light weight components. This volume will be useful to researchers, professionals, and students working in the fields of aerospace, transportation and defense.

Amol A. Gokhale is currently a Professor in the Department of Mechanical Engineering in IIT Bombay, where he teaches courses related to 'Aerospace Materials' and pursuing research in shock and blast mitigation by foams and sandwich structures, processing and oxidation of niobium alloys, aluminium alloy thick products for air frames etc. He did his B Tech from IIT Bombay in 1978, and M S and Ph D from University of Pittsburgh, USA in Metallurgical Engineering in 1980 and 1985, respectively. He served in DRDO for 30 years, retiring as Distinguished Scientist and Director, Defence Metallurgical Research Laboratory, Hyderabad in July 2015. At DMRL, he led research on aluminium lithium alloys for Light Combat Aircraft and INSAT series satellites; aluminium alloy components for torpedoes; crash resistant metallic foams; additive manufacturing; and very high temperature materials for hypersonic vehicles. He has been recipient of several awards from the University of Pittsburgh, DRDO, National Research and Development Corporation and the Indian Institute of Metals, and is a Fellow of the Indian National Academy of Engineering. He serves on national committees of NITI Aayog, the Ministry of Defence, Department of Science and Technology, IITs, Indian Institute of Metals, Indian National Academy of Engineering etc. Since January 2017, he is the Convener, Technical Committee, Aeronautical Research and Development Board, DRDO. He is the Chairman of Research Council of National Metallurgical Laboratory Jamshedpur and Vice President of Indian Institute of Metals.
N. Eswara Prasad B. Tech. and Ph.D. from IIT-BHU (Metallurgical Engineering Department) is currently serving as Outstanding Scientist and Director, Defense Materials and Stores Research and Development Establishment (DMSRDE), DRDO at Kanpur, India. He has made significant contributions to the design, development, characterization and airworthiness certified production of alloys for the Indian Space and Missile Programmes and aided Defence Materials Airwothy Production of several hundred Crores with >10 Type Approvals and 240 Certifications. Dr. Eswara Prasad now specializes in several functional and special materials such as Stealth and Camouflage, SiC Fibre, Personal and Vehicle Armour based on Modular Structures and CNT-Based Materials and Components for Indian Defense. Dr. Prasad's prolific research resulted over 260 research articles in peer-reviewed national and international journals and conference proceedings, apart from 35 patents, 16 written/edited books and 32 book chapters as well as 68 classified and unclassified, as also peer reviewed technical reports and Editor of the only International monograph on Al-Li alloys and a widely-referred 2-Volume Vade Mecum on Aerospace Materials and Material Technologies. Dr. Prasad is the Chairman of NITI Aayog Committees on Personnel Protection Systems & Their Materials, DRDO Committee for National Materials Policy and Materials Standarisation Sub-Committee of MOD; Vice-President, SFA; Senate Member, IIT-Kanpur and IIT-BHU, Varanasi; AvH Research Fellow and MPI-Stuttgart Visiting Scientist; Fellow of IE(I), IIM, TAS, AeSI, APAM and InSIS; and, recipient of 10 other National awards, including the prestigious GD Birla Gold Medal of IIM and National Aeronautical Prize of AeSI. Biswajit Basu is Dy. Chief Technology Officer and Head of Aditya Birla Science & Technology Co. Pvt Ltd (ABSTCPL). He is the key architect in the foundation of the ABSTCPL as the R&D Hub of the Aditya Birla Group and led ABSTCPL as a unique multi-business R&D campus – one of its kind in India and inaugurated in 2012. He is also responsible for providing R&D strategic direction based on the identified centres of excellence to explore new avenues for growth. He has over 30 years of experience in R&D, digital engineering and innovation management and joined the Aditya Birla Group in 2003. Prior to joining the AB Group, he was Senior Consultant in Tata Consultancy Services leading a R&D group on Engineering Simulation in the Tata Research Development & Design Centre which is the Corporate R&D centre. He was a Visiting Scientist at the Institute of Fluid Mechanics in Erlangen, Germany, from 1998-99. Dr. Basu successfully led & partnered numerous technology & product development programs for a range of industries in Metals and Chemical sectors. He completed his bachelor's degree in mechanical engineering from Jadavpur University, Kolkata and master's degree in mechanical engineering from the Indian Institute of Science, Bangalore. He completed PhD in Fluid Mechanics and Materials Processing from the Indian Institute of Technology, Bombay in 1991. He was the President of Indian Institute of Metals during 2017-18. He has over 30 Journal Publications, 45 Conference presentations and few patents. He is recipient of Young Metallurgist Award from Indian Institute of Metals and Young Associate Award from Indian Academy of Sciences. Dr. Basu has been key note speaker at several National and International Conferences.

Inhaltsverzeichnis (9 Kapitel)

Opportunities for Lighter Weight and Lower Total Cost Component Manufacturing

Seiten 1-26

Lightweighting and the Future of Aerospace Metals

Seiten 27-38

Exploring the Trends, Opportunities and Aluminum Solutions Behind Automotive Material Innovation

Seiten 39-52

The Role of Materials Engineer in the Product Cycle: A New Outlook

Seiten 53-59

Light-Weighting in Transportation and Defence Using Aluminium Foam Sandwich Structures

Seiten 61-72
Dieses Buch kaufen
eBook 85,59 €

Preis für Deutschland (Brutto)

ISBN 978-981-15-1263-6
Versehen mit digitalem Wasserzeichen, DRM-frei
Erhältliche Formate: PDF, EPUB
eBooks sind auf allen Endgeräten nutzbar
Sofortiger eBook Download nach Kauf

Hardcover 149,79 €

Preis für Deutschland (Brutto)

ISBN 978-981-15-1262-9
Kostenfreier Versand für Individualkunden weltweit
Institutionelle Kunden wenden sich bitte an ihren Kundenbetreuer
Gewöhnlich versandfertig in 3-5 Werktagen, sofern auf Lager

Softcover 106,99 €

Preis für Deutschland (Brutto)

ISBN 978-981-15-1265-0
Kostenfreier Versand für Individualkunden weltweit
Institutionelle Kunden wenden sich bitte an ihren Kundenbetreuer
Gewöhnlich versandfertig in 3-5 Werktagen, sofern auf Lager
Services zu diesem Buch
Bibliografische Information
Buchtitel

Light Weighting for Defense, Aerospace, and Transportation

Herausgeber

Amol Gokhale
N. Eswara Prasad
Biswajit Basu

Titel der Buchreihe

Copyright

2019

Verlag

Springer Singapore

Copyright Inhaber

Springer Nature Singapore Pte Ltd.

eBook ISBN

978-981-15-1263-6

DOI

10.1007/978-981-15-1263-6

Hardcover ISBN

978-981-15-1262-9

Softcover ISBN

978-981-15-1265-0

Buchreihen ISSN

2509-6400

Auflage

1

Seitenzahl

XIV, 126

Anzahl der Bilder

12 schwarz-weiß Abbildungen, 55 Abbildungen in Farbe

Themen