Energy, Environment, and Sustainability
Vorschau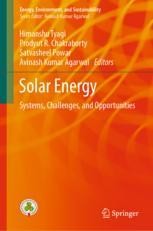 Solar Energy
Systems, Challenges, and Opportunities
Herausgeber: Tyagi, H., Chakraborty, P., Powar, S., Agarwal, A.K. (Eds.)
Vorschau
Includes detailed discussions on sustainable and clean energy sources
Provides a wide overview of the relevant and current topics
Adopts an analytical approach to solutions of solar energy technologies
Weitere Vorteile
Dieses Buch kaufen
eBook 85,59 €

Preis für Deutschland (Brutto)

ISBN 978-981-15-0675-8
Versehen mit digitalem Wasserzeichen, DRM-frei
Erhältliche Formate: EPUB, PDF
eBooks sind auf allen Endgeräten nutzbar
Sofortiger eBook Download nach Kauf

Hardcover 149,79 €

Preis für Deutschland (Brutto)

ISBN 978-981-15-0674-1
Kostenfreier Versand für Individualkunden weltweit
Institutionelle Kunden wenden sich bitte an ihren Kundenbetreuer
Gewöhnlich versandfertig in 3-5 Werktagen, sofern auf Lager

Softcover 106,99 €

Preis für Deutschland (Brutto)

ISBN 978-981-15-0677-2
Kostenfreier Versand für Individualkunden weltweit
Institutionelle Kunden wenden sich bitte an ihren Kundenbetreuer
Gewöhnlich versandfertig in 3-5 Werktagen, sofern auf Lager
This book covers challenges and opportunities related to solar-energy based systems. It covers a wide variety of topics related to solar energy, including applications-based systems such as solar thermal systems that are focused on drying, desalination, space cooling, refrigeration, and processing; recent advances in solar cells (DSSC) and photovoltaics; technologies for storage of energy (both sensible heating as well as latent heating); and the design of concentrated solar receivers. The information is presented in the context of the overall global energy utilization, and the role of solar energy has been highlighted. The contents of this book will be of interest to researchers, professionals, and policymakers alike.

Dr. Himanshu Tyagi is currently working as an Associate Professor in the School of Mechanical, Materials and Energy Engineering at IIT Ropar. He has previously worked at the Steam Turbine Design Division of Siemens (Germany and India) and at the Thermal and Fluids Core Competency Group of Intel Corp (USA). He received his Ph.D. from Arizona State University, in the field of heat transfer and specifically looked for the radiative and ignition properties of nanofluids. He and his co-workers proposed the concept of direct absorption solar collectors using nanofluids which won the Best Paper Award at the ASME Energy Sustainability Conference at Long Beach, CA. He obtained his master's degree from University of Windsor, Canada, and his bachelor's from IIT Delhi, in Mechanical Engineering. At present, he is working to develop nanotechnology-based clean and sustainable energy sources with a team of several Ph.D., postgraduate, and undergraduate students. Among other awards, he has received Summer Undergraduate Research Award (SURA) from IIT Delhi, International Graduate Student Scholarship from University of Windsor Canada, Indo-US Science and Technology Forum (IUSSTF) grant awarded for organizing an Indo-US Workshop on 'Recent Advances in Micro/Nanoscale Heat Transfer and Applications in Clean Energy Technologies' at IIT Ropar.
Dr. Prodyut Ranjan Chakraborty is an Assistant Professor in the Mechanical Engineering, IIT Jodhpur since February 2013. He received his Bachelor degree of Mechanical Engineering from the North Bengal University in 2000, and his M.Sc Engineering in 2004, and PhD in 2011 both from the Department of Mechanical Engineering, Indian Institute of Science Bangalore. Prior to his joining at IIT Jodhpur, he worked for two years at the Department of Material Physics in Space in German Aerospace Center (DLR) Cologne as a postdoctoral research fellow. He also worked as a Research Analyst at the Applied CFD Lab, G.E. Global Research Centre Bangalore from 2004 to 2005. His primary area of research is numerical modeling of alloy solidification, latent heat based energy storage systems for high temperature applications, Thermal management and thermal comfort, and sorption cooling.
Dr. Satvasheel Powar is an Assistant Professor in the School of Engineering, IIT Mandi since June 2015. He received his Bachelors (Production Engineering) from Shivaji University in 2003, and Masters (Mechanical Engineering) from the Dalarna University, Sweden in 2005. He then worked with Greatcell Solar S.A., Switzerland, and G24i, the UK. He received his Ph.D. in Chemistry/Materials Engineering from the Monash University, Australia in 2013. Before joining at IIT Mandi, he worked for two and half years at the Nanyang Technological University, Singapore as a postdoctoral research fellow. His primary area of research is new generation solar photovoltaic and solar thermal utilization. He was recently awarded the Bhaskara Advanced Solar Energy fellowship by Indo-US Science and Technology Forum (IUSSTF) to visit Lawrence Berkeley National Laboratory, University of California, Berkeley, USA for three months.
Prof. Avinash Kumar Agarwal joined IIT Kanpur in 2001. He worked at the Engine Research Center, University of Wisconsin at Madison, USA as a Post-Doctoral Fellow (1999 – 2001). His interests are IC engines, combustion, alternate and conventional fuels, lubricating oil tribology, optical diagnostics, laser ignition, HCCI, emissions and particulate control, and large bore engines. Prof. Agarwal has published 270+ peer reviewed international journal and conference papers, 35 edited books, and 63 books chapters. He is an associate editor of ASME Journal of Energy Resources Technology, and has edited the Handbook of Combustion, Wiley VCH, Germany. Prof. Agarwal is a Fellow of SAE, ASME, NASI, Royal Society of Chemistry, ISEES, and INAE. He has been the recipient of several prestigious awards such as Clarivate Analystics India Citation Award-2017 in Engineering and Technology, NASI-Reliance Industries Platinum Jubilee Award-2012; INAE Silver Jubilee Young Engineer Award-2012; Dr. C. V. Raman Young Teachers Award: 2011; SAE Ralph R. Teetor Educational Award -2008; INSA Young Scientist Award-2007; UICT Young Scientist Award-2007; INAE Young Engineer Award-2005. Prof. Agarwal received Prestigious Shanti Swarup Bhatnagar Award-2016 in Engineering Sciences.

Inhaltsverzeichnis (18 Kapitel)

Introduction to Solar Energy: Systems, Challenges, and Opportunities

Seiten 3-12

Sustainable Development Goals in Context to BRICS Countries

Seiten 13-22

Installations of Solar Systems in Remote Areas of Himachal Pradesh, INDIA: Challenges and Opportunities

Seiten 23-34

Utilising Passive Design Strategies for Analysing Thermal Comfort Levels Inside an Office Room Using PMV-PPD Models

Seiten 35-57

Design and Development of a Concentrated Solar Water Heating System

Seiten 61-75
Dieses Buch kaufen
eBook 85,59 €

Preis für Deutschland (Brutto)

ISBN 978-981-15-0675-8
Versehen mit digitalem Wasserzeichen, DRM-frei
Erhältliche Formate: EPUB, PDF
eBooks sind auf allen Endgeräten nutzbar
Sofortiger eBook Download nach Kauf

Hardcover 149,79 €

Preis für Deutschland (Brutto)

ISBN 978-981-15-0674-1
Kostenfreier Versand für Individualkunden weltweit
Institutionelle Kunden wenden sich bitte an ihren Kundenbetreuer
Gewöhnlich versandfertig in 3-5 Werktagen, sofern auf Lager

Softcover 106,99 €

Preis für Deutschland (Brutto)

ISBN 978-981-15-0677-2
Kostenfreier Versand für Individualkunden weltweit
Institutionelle Kunden wenden sich bitte an ihren Kundenbetreuer
Gewöhnlich versandfertig in 3-5 Werktagen, sofern auf Lager
Services zu diesem Buch
Bibliografische Information
Buchtitel

Solar Energy

Buchuntertitel

Systems, Challenges, and Opportunities

Herausgeber

Himanshu Tyagi
Prodyut Chakraborty
Satvasheel Powar
Avinash K Agarwal

Titel der Buchreihe

Copyright

2020

Verlag

Springer Singapore

Copyright Inhaber

Springer Nature Singapore Pte Ltd.

eBook ISBN

978-981-15-0675-8

DOI

10.1007/978-981-15-0675-8

Hardcover ISBN

978-981-15-0674-1

Softcover ISBN

978-981-15-0677-2

Buchreihen ISSN

2522-8366

Auflage

1

Seitenzahl

XV, 423

Themen