Energy, Environment, and Sustainability
Vorschau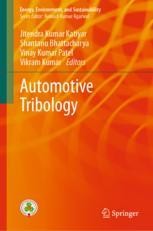 Automotive Tribology
Herausgeber: Katiyar, J.K., Bhattacharya, S., Patel, V.K., Kumar, V. (Eds.)
Vorschau
Provides a comprehensive review of current trends adopted by automobile sectors for friction and wear reduction
Discusses the potential of bio lubricants
Discusses scope for reducing friction loss in engines
Weitere Vorteile
Dieses Buch kaufen
eBook 93,08 €

Preis für Deutschland (Brutto)

ISBN 978-981-15-0434-1
Versehen mit digitalem Wasserzeichen, DRM-frei
Erhältliche Formate: PDF, EPUB
eBooks sind auf allen Endgeräten nutzbar
Sofortiger eBook Download nach Kauf

Hardcover 160,49 €

Preis für Deutschland (Brutto)

ISBN 978-981-15-0433-4
Kostenfreier Versand für Individualkunden weltweit
Institutionelle Kunden wenden sich bitte an ihren Kundenbetreuer
Gewöhnlich versandfertig in 3-5 Werktagen, sofern auf Lager

Softcover 117,69 €

Preis für Deutschland (Brutto)

ISBN 978-981-15-0436-5
Kostenfreier Versand für Individualkunden weltweit
Institutionelle Kunden wenden sich bitte an ihren Kundenbetreuer
Gewöhnlich versandfertig in 3-5 Werktagen, sofern auf Lager
This book presents a comprehensive study of all important aspects of tribology. It covers issues and their remedies adopted by researchers working on automobile systems. The book is broadly divided in to three sections, viz. (i) new materials for automotive applications, (ii) new lubricants for automotive applications, and (iii) impact of surface morphologies for automotive applications. The rationale for this division is to provide a comprehensive and categorical review of the developments in automotive tribology. The book covers tribological aspects of engines, and also discusses influence of new materials, such as natural fibers, metal foam materials, natural fiber reinforced polymer composites, carbon fiber/silicon nitride polymer composites and aluminium matrix composites. The book also looks at grease lubrication, effectiveness and sustainability of solid/liquid additives in lubrication, and usage of biolubricants. In the last section the book focuses on brake pad materials, shot peening method, surface texturing, magnetic rheological fluid for smart automobile brake and clutch systems, and application of tribology in automobile systems. This book will be of interest to students, researchers, and professionals from the automotive industry.

Jitendra Kumar Katiyar is an Assistant Professor in the Department of Mechanical Engineering, SRM Institute of Science and Technology, Kattankulathur, Tamil Nadu, India. His research interests include tribology of carbon materials, polymer composites, self-lubricating polymers, lubrication tribology and coatings for advanced technologies. He obtained his BE from UPTU Lucknow in 2007and his Masters and Ph.D. from the Indian Institute of Technology Kanpur in 2010 and 2017 respectively. He is affiliated with several professional societies including the Tribology Society of India, Malaysian Society of Tribology, and The Indian Society for Technical Education (ISTE). He has published more than two dozen papers in reputed journals and international conferences and also serves as a reviewer in many reputed journals.

Shantanu Bhattacharya is a Professor of Mechanical Engineering and the Head of the Design Program at Indian Institute of Technology Kanpur. Prior to this, he completed his MS in Mechanical Engineering from Texas Tech University, Lubbock, Texas, and a PhD in Bioengineering from the University of Missouri, Columbia, USA. He also completed postdoctoral training at the Birck Nanotechnology Center at the Purdue University, USA. His main research interests are design and development of micro- and nano-sensors and actuation platforms, nanoenergatic materials, micro- and nano-fabrication technologies, and water remediation using visible light photo catalysis, and product design and development. He has received many awards and accolades, including the Institute of Engineers Young Engineer Award, the Institute for Smart Structures and Systems Young Scientist Award, the Best Mechanical Engineering Design Award (National Design Research Forum, IEI), and Fellowship from the High Energetic Materials Institute in Australia, Fellowship of the Institution of Engineers (India).

Vinay K. Patel is an Assistant Professor in the Department of Mechanical Engineering, Govind Ballabh Pant Institute of Engineering and Technology, Pauri Garhwal, Uttarakhand, India. He completed his Ph.D. from Indian Institute of Technology Kanpur in 2015, specializing in nano-energetic materials. His research interests include nano-energetic materials, MEMS, welding and tribology. He has published 25 peer-reviewed journal articles, 7 conference papers, 8 chapters and edited one book on nano-energetic materials.

Vikram Kumar is a Post-Doctoral Fellow in the Department of Mechanical Engineering, IIT Kanpur. He completed his PhD in the area of engine tribology from Department of Mechanical Engineering, IIT Kanpur. He completed his Masters in Heat and Power Engineering from UIT, RGPV Bhopal and Bachelors in Mechanical Engineering from COE, BVU Pune. As an Assistant Professor in UIT RGPV Bhopal, he taught courses on heat and mass transfer, fluid mechanics, thermodynamics and IC engine from 2010 to 2012. He has published 7 peer-reviewed journal papers and 2 book chapters. His doctoral thesis was awarded the Best PhD Thesis Award by the International Society for Energy, Environment and Sustainability, and he has also received the CSIR Senior Research Associateship at IIT Kanpur. Currently, he is working on methanol fueled vehicles development.
Inhaltsverzeichnis (17 Kapitel)

Introduction of Automotive Tribology

Seiten 3-13

Tribological Aspects of Automotive Engines

Seiten 17-29

The Potential of Natural Fibers for Automotive Sector

Seiten 31-49

Future of Metal Foam Materials in Automotive Industry

Seiten 51-63

Study of Tribo-Performance and Application of Polymer Composite

Seiten 65-99
Dieses Buch kaufen
eBook 93,08 €

Preis für Deutschland (Brutto)

ISBN 978-981-15-0434-1
Versehen mit digitalem Wasserzeichen, DRM-frei
Erhältliche Formate: PDF, EPUB
eBooks sind auf allen Endgeräten nutzbar
Sofortiger eBook Download nach Kauf

Hardcover 160,49 €

Preis für Deutschland (Brutto)

ISBN 978-981-15-0433-4
Kostenfreier Versand für Individualkunden weltweit
Institutionelle Kunden wenden sich bitte an ihren Kundenbetreuer
Gewöhnlich versandfertig in 3-5 Werktagen, sofern auf Lager

Softcover 117,69 €

Preis für Deutschland (Brutto)

ISBN 978-981-15-0436-5
Kostenfreier Versand für Individualkunden weltweit
Institutionelle Kunden wenden sich bitte an ihren Kundenbetreuer
Gewöhnlich versandfertig in 3-5 Werktagen, sofern auf Lager
Services zu diesem Buch
Bibliografische Information
Buchtitel

Automotive Tribology

Herausgeber

Jitendra Kumar Katiyar
Shantanu Bhattacharya
Vinay Kumar Patel
Vikram Kumar

Titel der Buchreihe

Copyright

2019

Verlag

Springer Singapore

Copyright Inhaber

Springer Nature Singapore Pte Ltd.

eBook ISBN

978-981-15-0434-1

DOI

10.1007/978-981-15-0434-1

Hardcover ISBN

978-981-15-0433-4

Softcover ISBN

978-981-15-0436-5

Buchreihen ISSN

2522-8366

Auflage

1

Seitenzahl

XIII, 343

Anzahl der Bilder

56 schwarz-weiß Abbildungen, 74 Abbildungen in Farbe

Themen