Materials Horizons: From Nature to Nanomaterials
Vorschau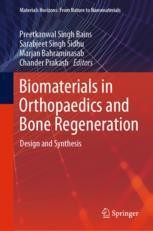 Biomaterials in Orthopaedics and Bone Regeneration
Design and Synthesis
Herausgeber: Bains, P.S., Sidhu, S.S., Bahraminasab, M., Prakash, C. (Eds.)
Vorschau
Covers latest research in biomaterials as applied to orthopaedics
Focuses on the design, synthesis, and processing of biomimetic materials
Includes contributions from leading experts working in orthopaedic biomaterials
Weitere Vorteile
Dieses Buch kaufen
eBook 85,59 €

Preis für Deutschland (Brutto)

ISBN 978-981-13-9977-0
Versehen mit digitalem Wasserzeichen, DRM-frei
Erhältliche Formate: PDF, EPUB
eBooks sind auf allen Endgeräten nutzbar
Sofortiger eBook Download nach Kauf

Hardcover 149,79 €

Preis für Deutschland (Brutto)

ISBN 978-981-13-9976-3
Kostenfreier Versand für Individualkunden weltweit
Institutionelle Kunden wenden sich bitte an ihren Kundenbetreuer
Gewöhnlich versandfertig in 3-5 Werktagen, sofern auf Lager

Softcover 106,99 €

Preis für Deutschland (Brutto)

ISBN 978-981-13-9979-4
Kostenfreier Versand für Individualkunden weltweit
Institutionelle Kunden wenden sich bitte an ihren Kundenbetreuer
Gewöhnlich versandfertig in 3-5 Werktagen, sofern auf Lager
This book focuses on the recent advances in the field of orthopaedic biomaterials, with a particular emphasis on their design and fabrication. Biomimetic materials, having similar properties and functions to that of the natural tissue, are becoming a popular choice for making customized orthopaedic implants and bone scaffolds. The acceptability of these materials in the human body depends on the right balance between their mechanical and biological properties. This book provides a comprehensive overview of the state-of-the-art research in this rapidly evolving field. The chapters cover different aspects of multi-functional biomaterials design, and cutting-edge methods for the synthesis and processing of these materials. Advanced manufacturing techniques, like additive manufacturing, used for developing new biomimetic materials are highlighted in the book. This book is a valuable reference for students and researchers interested in biomaterials for orthopaedic applications.

Dr. Preetkanwal Singh Bains is a researcher and faculty in the Department of Mechanical Engineering, Beant College of Engineering and Technology, Gurdaspur, India. His current research interests include materials engineering and advanced machining processes. He received his Ph.D. in Mechanical Engineering from IKG Punjab Technical University, India, in year 2018. He has contributed numerous innovative and novel manufacturing techniques, for which three patents have been filed in various fields of mechanical engineering. He is a member of the Indian Society for Technical Education (ISTE) and American Society of Mechanical Engineers (ASME). He has also contributed many significant publications and served as a reviewer for prominent journals and conferences.

Dr. Sarabjeet Singh Sidhu is an Assistant Professor in the Department of Mechanical Engineering, Beant College of Engineering and Technology, Gurdaspur, Punjab, India. He received his Masters of Technology from IKG Punjab Technical University, Jalandhar and Ph.D. from Thapar University, Patiala, India. His research interests include surface modification, and residual stress analysis in metal matrix composites, biomaterials and non-conventional machining processes. He has published more than 50 technical papers in reputed national and international journals/conferences and also served as reviewer for various journals. Recently, he was awarded with the Contribution Award by the Journal of Mechanical Science and Technology (Springer).

Dr. Marjan Bahraminasab is an Assistant Professor in the Department of Tissue Engineering and Applied Cell Sciences at Semnan University of Medical sciences. She received her Ph.D. in Biomaterials Engineering from Universiti Putra Malaysia, and she is active in the design and manufacture of hybrid biomaterials. Her areas of interest include new biomaterials for hard tissue replacement and repair, orthopaedic prostheses, biomaterials design and selection, and biomechanics and finite element analysis.

Dr. Chander Prakash is Associate Professor in the School of Mechanical Engineering, Lovely Professional University, Jalandhar, India. He received his Ph.D in Mechanical Engineering from Panjab University, Chandigarh, India. His research areas include biomaterials, rapid prototyping and 3-D printing, advanced manufacturing, modeling, simulation, and optimization. He has more than 11 years of teaching experience and 6 years research experience. He has made extensive contributions in the domain of titanium and magnesium based implant with publications appearing in several reputed journals. He has authored 70 research papers and 10 book chapters. He has also edited books titled "Current Trends in Bio-manufacturing", and "3D Printing in Biomedical Engineering", both published by Springer. Dr. Prakash is also the Guest Editor of 6 journals.
Inhaltsverzeichnis (14 Kapitel)

Parametric Evaluation of Medical Grade Titanium Alloy in MWCNTs Mixed Dielectric Using Graphite Electrode

Seiten 1-14

Computational Tailoring of Orthopaedic Biomaterials: Design Principles and Aiding Tools

Seiten 15-31

EDM Surface Treatment: An Enhanced Biocompatible Interface

Seiten 33-40

Development of Cellular Construction for the Jaw Bone Defects Replacement by Selective Laser Melting

Seiten 41-53

Squeeze Film Bearing Characteristics for Synovial Joint Applications

Seiten 55-72
Dieses Buch kaufen
eBook 85,59 €

Preis für Deutschland (Brutto)

ISBN 978-981-13-9977-0
Versehen mit digitalem Wasserzeichen, DRM-frei
Erhältliche Formate: PDF, EPUB
eBooks sind auf allen Endgeräten nutzbar
Sofortiger eBook Download nach Kauf

Hardcover 149,79 €

Preis für Deutschland (Brutto)

ISBN 978-981-13-9976-3
Kostenfreier Versand für Individualkunden weltweit
Institutionelle Kunden wenden sich bitte an ihren Kundenbetreuer
Gewöhnlich versandfertig in 3-5 Werktagen, sofern auf Lager

Softcover 106,99 €

Preis für Deutschland (Brutto)

ISBN 978-981-13-9979-4
Kostenfreier Versand für Individualkunden weltweit
Institutionelle Kunden wenden sich bitte an ihren Kundenbetreuer
Gewöhnlich versandfertig in 3-5 Werktagen, sofern auf Lager
Services zu diesem Buch
Bibliografische Information
Buchtitel

Biomaterials in Orthopaedics and Bone Regeneration

Buchuntertitel

Design and Synthesis

Herausgeber

Preetkanwal Singh Bains
Sarabjeet Singh Sidhu
Marjan Bahraminasab
Chander Prakash

Titel der Buchreihe

Copyright

2019

Verlag

Springer Singapore

Copyright Inhaber

Springer Nature Singapore Pte Ltd.

eBook ISBN

978-981-13-9977-0

DOI

10.1007/978-981-13-9977-0

Hardcover ISBN

978-981-13-9976-3

Softcover ISBN

978-981-13-9979-4

Buchreihen ISSN

2524-5384

Auflage

1

Seitenzahl

X, 256

Anzahl der Bilder

23 schwarz-weiß Abbildungen, 72 Abbildungen in Farbe

Themen