Natural Computing Series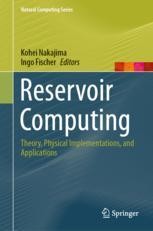 Reservoir Computing
Theory, Physical Implementations, and Applications
Herausgeber: Nakajima, Kohei, Fischer, Ingo (Eds.)
The first comprehensive book on the exciting field of reservoir computing
Provides both an introduction to and cutting-edge research in a wide range of domains
Features contributions by leading international researchers in the field
Weitere Vorteile
Dieses Buch kaufen
eBook

ISBN 978-981-13-1687-6
Versehen mit digitalem Wasserzeichen, DRM-frei
Erhältliche Formate:
eBooks sind auf allen Endgeräten nutzbar

Hardcover ca. 128,39 €

Preis für Deutschland (Brutto)

Erscheinungstermin: 7. Juni 2021
ISBN 978-981-13-1686-9
Kostenfreier Versand für Individualkunden weltweit
Institutionelle Kunden wenden sich bitte an ihren Kundenbetreuer
The exciting field of reservoir computing, which originated from a pioneering study on echo state networks and liquid state machines in the early 2000s, has emerged as a highly promising and efficient training scheme for recurrent neural networks. Reservoir computing has developed considerably in recent years, in response to demands for increasingly complex real-time signal processing methods based on new technologies for sensing, communication, and the Internet-of-Things. As such, it is becoming increasingly appealing to a broad range of research fields, not only in the neural network/machine-learning community but also in mathematics, physics (e.g., nonlinear physics, quantum physics, and optics), chemistry, nanotechnology, spintronics, and soft robotics.

Reflecting this growing interest, the book covers cutting-edge research in domains ranging from computational neuroscience to quantum systems, lasers, and optics and being pursued around the globe. Reviewing the current state of the art and providing a concise guide to the field, it introduces readers to its basic concepts, theory, techniques, and physical implementation. As such, it offers a valuable resource for practitioners and researchers alike, as well as those readers with a more general interest in the cutting edge of what is one of the most promising and innovative areas in computing today.

Kohei Nakajima is a project associate professor at the Graduate School of Information Science and Technology in the University of Tokyo.

Ingo Fisher is a professor at the Institute for Cross-Disciplinary Physics and Complex Systems IFISC (UIB-CSIC), Palma de Mallorca, Spain.
Dieses Buch kaufen
eBook

ISBN 978-981-13-1687-6
Versehen mit digitalem Wasserzeichen, DRM-frei
Erhältliche Formate:
eBooks sind auf allen Endgeräten nutzbar

Hardcover ca. 128,39 €

Preis für Deutschland (Brutto)

Erscheinungstermin: 7. Juni 2021
ISBN 978-981-13-1686-9
Kostenfreier Versand für Individualkunden weltweit
Institutionelle Kunden wenden sich bitte an ihren Kundenbetreuer
Services zu diesem Buch
Wir empfehlen
Bibliografische Information
Buchtitel

Reservoir Computing

Buchuntertitel

Theory, Physical Implementations, and Applications

Herausgeber

Kohei Nakajima
Ingo Fischer

Titel der Buchreihe

Copyright

2021

Verlag

Springer Singapore

Copyright Inhaber

Springer Nature Singapore Pte Ltd.

eBook ISBN

978-981-13-1687-6

Hardcover ISBN

978-981-13-1686-9

Buchreihen ISSN

1619-7127

Auflage

1

Themen