Perspectives on Rethinking and Reforming Education
Vorschau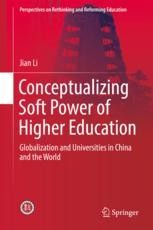 Conceptualizing Soft Power of Higher Education
Globalization and Universities in China and the World
Autoren: Xu, Jinhui
Vorschau
Proposes and conceptualizes a new concept of soft power in education
Provides a unique viewpoint to analyze the globalization of higher education
Clarifies the differences and similarities between globalization and internationalization of higher education
Weitere Vorteile
Dieses Buch kaufen
eBook 67,40 €

Preis für Deutschland (Brutto)

ISBN 978-981-13-0641-9
Versehen mit digitalem Wasserzeichen, DRM-frei
Erhältliche Formate: EPUB, PDF
eBooks sind auf allen Endgeräten nutzbar
Sofortiger eBook Download nach Kauf

Hardcover 117,69 €

Preis für Deutschland (Brutto)

ISBN 978-981-13-0640-2
Kostenfreier Versand für Individualkunden weltweit
Institutionelle Kunden wenden sich bitte an ihren Kundenbetreuer
Gewöhnlich versandfertig in 3-5 Werktagen, sofern auf Lager

Softcover 85,59 €

Preis für Deutschland (Brutto)

ISBN 978-981-13-4469-5
Kostenfreier Versand für Individualkunden weltweit
Institutionelle Kunden wenden sich bitte an ihren Kundenbetreuer
Gewöhnlich versandfertig in 3-5 Werktagen, sofern auf Lager
This book examines the globalization trends in higher education from an international political science perspective, using Nye's theory of soft power to explore the rationale behind it. It focuses on conceptualizing the Soft Power Conversion Model of Higher Education, which is embedded in the globalization of higher education, and analyzes the globalization of Chinese higher education reform.
Also, this book provides innovative and unique viewpoints on conceptualizing and mapping the globalization and internationalization of higher education, especially for current Chinese higher education (1949-2016). It discusses and illustrates cutting-edge concepts of global higher education, such as global learning, global competency, and global citizenship and refines them in the conceptualized soft power conversion model of higher education.
This book reports on and enriches the theoretical concept of global education, and provides practical insights into global learning, global citizenship and global competency for Chinese undergraduate students.

​Jian Li is an assistant professor at the China Institute of Education and Social Development at Beijing Normal University. She received her Ph.D. degree from Indiana University Bloomington, USA. Dr. Li's general area of scholarship is the assessment of global competency and global learning within higher education institutions, an area in which she has pursued four themes: higher education policy and management; undergraduate students' global learning performance assessment; faculty global perspective within higher education; and global learning and development as a framework for institutional research. Dr. Li has published over 20 articles and book chapters, and delivered over 30 workshops and seminars and more than 10 keynote, peer-reviewed and invited presentations throughout the U.S. and in Europe, Africa, and Asia.

Inhaltsverzeichnis (12 Kapitel)

Introduction on Nye's Theory of Soft Power

Seiten 3-9

Endogenous Complexity and Exogenous Interdependency: Internationalization and Globalization of Higher Education

Seiten 11-17

Conceptualizing Soft Power Conversion Model of Higher Education

Seiten 19-65

Mapping Soft Power of Chinese Higher Education

Seiten 69-89

Globalization and Decentralization Forces in Chinese Higher Education

Seiten 91-111
Dieses Buch kaufen
eBook 67,40 €

Preis für Deutschland (Brutto)

ISBN 978-981-13-0641-9
Versehen mit digitalem Wasserzeichen, DRM-frei
Erhältliche Formate: EPUB, PDF
eBooks sind auf allen Endgeräten nutzbar
Sofortiger eBook Download nach Kauf

Hardcover 117,69 €

Preis für Deutschland (Brutto)

ISBN 978-981-13-0640-2
Kostenfreier Versand für Individualkunden weltweit
Institutionelle Kunden wenden sich bitte an ihren Kundenbetreuer
Gewöhnlich versandfertig in 3-5 Werktagen, sofern auf Lager

Softcover 85,59 €

Preis für Deutschland (Brutto)

ISBN 978-981-13-4469-5
Kostenfreier Versand für Individualkunden weltweit
Institutionelle Kunden wenden sich bitte an ihren Kundenbetreuer
Gewöhnlich versandfertig in 3-5 Werktagen, sofern auf Lager
Services zu diesem Buch
Bibliografische Information
Buchtitel

Conceptualizing Soft Power of Higher Education

Buchuntertitel

Globalization and Universities in China and the World

Autoren

Titel der Buchreihe

Copyright

2018

Verlag

Springer Singapore

Copyright Inhaber

Springer Nature Singapore Pte Ltd.

eBook ISBN

978-981-13-0641-9

DOI

10.1007/978-981-13-0641-9

Hardcover ISBN

978-981-13-0640-2

Softcover ISBN

978-981-13-4469-5

Buchreihen ISSN

2366-1658

Auflage

1

Seitenzahl

XV, 251

Anzahl der Bilder

34 schwarz-weiß Abbildungen

Themen