Springer International Handbooks of Education
Vorschau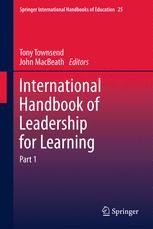 International Handbook of Leadership for Learning
Herausgeber: Townsend, Tony, MacBeath, John (Eds.)
Vorschau
Has 66 chapters from 31 countries around the world
Provides the first in-depth analysis of the concept 'leadership for learning'
Analyses the differences between other common terms such as 'instructional leadership' and 'leadership for learning'
Provides an understanding of the similarities and differences facing school leaders in different countries and contexts
Provides an analysis of the problems leaders are facing when they are expected to broaden the range of learning experiences and outcomes, but when success is judged by performance on a narrow range of outcomes
Weitere Vorteile
Dieses Buch kaufen
eBook 384,13 €

Preis für Deutschland (Brutto)

ISBN 978-94-007-1350-5
Versehen mit digitalem Wasserzeichen, DRM-frei
Erhältliche Formate: EPUB, PDF
eBooks sind auf allen Endgeräten nutzbar
Sofortiger eBook Download nach Kauf

Hardcover 695,49 €

Preis für Deutschland (Brutto)

ISBN 978-94-007-1349-9
Kostenfreier Versand für Individualkunden weltweit
Institutionelle Kunden wenden sich bitte an ihren Kundenbetreuer
Gewöhnlich versandfertig in 3-5 Werktagen, sofern auf Lager

Softcover 491,13 €

Preis für Deutschland (Brutto)

ISBN 978-94-017-7867-1
Kostenfreier Versand für Individualkunden weltweit
Institutionelle Kunden wenden sich bitte an ihren Kundenbetreuer
Gewöhnlich versandfertig in 3-5 Werktagen, sofern auf Lager
The International Handbook of Leadership for Learning brings together chapters by distinguished authors from thirty-one countries in nine different regions of the world. The handbook contains nine sections that provide regional overviews; a consideration of theoretical and contextual aspects; system and policy approaches that promote leadership for learning with a focus on educating school leaders for learning and the role of the leader in supporting learning. It also considers the challenge of educating current leaders for this new perspective, and how leaders themselves can develop leadership for learning in others and in their organisations, especially in diverse contexts and situations. The final chapter considers what we now know about leadership for learning and looks at ways this might be further improved in the future. The book provides the reader with an understanding of the rich contextual nature of learning in schools and the role of school leaders and leadership development in promoting this. It concludes that the preposition 'for' between the two readily known and understood terms of 'leadership' and 'learning' changes everything as it foregrounds learning and complexifies, rather than simplifies, what that word may mean.  Whereas common terms such as 'instructional leadership' reduce learning to 'outcomes', leadership for learning embraces a much wider, developmental view of learning.

Tony Townsend commenced as Professor and Chair of Public Service, Educational Leadership and Management at the University of Glasgow in January 2009. Prior to that he spent five years as Professor and Chair of the Department of Educational Leadership in the College of Education at Florida Atlantic University and more than 20 years in the Faculty of Education at Monash University in Australia. From 1987 to 1996, Regional Director of the International Community Education As-sociation's Pacific Region He has been President of the Australian Association for Community Education (1986) the International Congress for School Effectiveness and Improvement (1999-2001) and the International Council on Education for Teaching (2003-2006). He has been the Myron and Margaret Winegarden visiting professor at the University of Michigan (2002-03) and visiting professor in Pretoria (2006) and Durban (2008), South Africa; Saskatoon, Canada (2000); Macau (2006); and Malaysia (2007-2010). In May 2005 he was the Australian Council for Educational Leaders' Travelling Scholar. He has published extensively in the areas of leadership, school effectiveness, school improvement community education and development, in Australia, Europe and North America. His recent books include:

- The Elusive What and the Problematic How: The Essential Leadership Questions for School Leaders and Educational Re-searchers, (2008), Sense, (edited with Ira Bogotch)

- Teacher Education in Times of Change: Globalization, Standards and Professionalism (2007), Springer, (edited with Richard Bates)

- The International Handbook of School Effectiveness and Improvement (2007), Springer, (Edited)

 

John MacBeath is Professor Emeritus at the University of Cam-bridge where he has held the Chair of Educational Leadership since 2000. He is currently is Project Director for the Commonwealth Centre in Education. From 1997 to 2001 he was a member of the Tony Blair's Task Force on Standards and from 1997 to 1999 Scotland's Action Group on Standards. In 1997 he received the OBE for services to education. International consultancies have included OECD, UNESCO and ILO (International Labour Organisation), the Bertelsmann Foundation, the European Commission and an EU working party on European indicators. In 2006 he assumed the Presidency of the International Congress on School Effectiveness and Improvement. In June 2008 he received an honorary doctorate from the University of Edinburgh. Since 1997 he has been a consultant to the Hong Kong Education Bureau on school self evaluation, external school review and on implementation of the new 3-3-4 reform.

 
Inhaltsverzeichnis (66 Kapitel)

Leadership and Learning: Paradox, Paradigms and Principles

Seiten 1-25

US Cultural History: Visible and Invisible Influences on Leadership for Learning

Seiten 29-49

Leadership and Learning: The Canadian Context

Seiten 51-56

Leadership Issues and Experiences in Latin America

Seiten 57-63

Transnational and Local Conditions and Expectations on School Leaders

Seiten 65-79
Dieses Buch kaufen
eBook 384,13 €

Preis für Deutschland (Brutto)

ISBN 978-94-007-1350-5
Versehen mit digitalem Wasserzeichen, DRM-frei
Erhältliche Formate: EPUB, PDF
eBooks sind auf allen Endgeräten nutzbar
Sofortiger eBook Download nach Kauf

Hardcover 695,49 €

Preis für Deutschland (Brutto)

ISBN 978-94-007-1349-9
Kostenfreier Versand für Individualkunden weltweit
Institutionelle Kunden wenden sich bitte an ihren Kundenbetreuer
Gewöhnlich versandfertig in 3-5 Werktagen, sofern auf Lager

Softcover 491,13 €

Preis für Deutschland (Brutto)

ISBN 978-94-017-7867-1
Kostenfreier Versand für Individualkunden weltweit
Institutionelle Kunden wenden sich bitte an ihren Kundenbetreuer
Gewöhnlich versandfertig in 3-5 Werktagen, sofern auf Lager
Services zu diesem Buch
Wir empfehlen
Bibliografische Information
Buchtitel

International Handbook of Leadership for Learning

Herausgeber

Tony Townsend
John MacBeath

Titel der Buchreihe

Buchreihen Band

25

Copyright

2011

Verlag

Springer Netherlands

Copyright Inhaber

Springer Science+Business Media B.V.

eBook ISBN

978-94-007-1350-5

DOI

10.1007/978-94-007-1350-5

Hardcover ISBN

978-94-007-1349-9

Softcover ISBN

978-94-017-7867-1

Buchreihen ISSN

2197-1951

Auflage

1

Seitenzahl

XV, 1357

Themen