ESACT Proceedings
Vorschau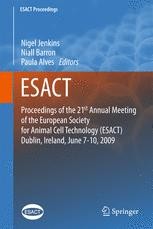 Proceedings of the 21st Annual Meeting of the European Society for Animal Cell Technology (ESACT), Dublin, Ireland, June 7-10, 2009
Herausgeber: Jenkins, Nigel, Barron, Niall, Alves, Paula (Eds.)
Vorschau
A comprehensive review of the latest research in animal cell culture and technology
This book includes unique papers on animal cell technology from an industrial point of view
Provides the latest practical information on the applications of animal cell technology in the production of biomedicines
Weitere Vorteile
Dieses Buch kaufen
eBook 277,13 €

Preis für Deutschland (Brutto)

ISBN 978-94-007-0884-6
Versehen mit digitalem Wasserzeichen, DRM-frei
Erhältliche Formate: EPUB, PDF
eBooks sind auf allen Endgeräten nutzbar
Sofortiger eBook Download nach Kauf

Hardcover 374,49 €

Preis für Deutschland (Brutto)

ISBN 978-94-007-0883-9
Kostenfreier Versand für Individualkunden weltweit
Institutionelle Kunden wenden sich bitte an ihren Kundenbetreuer
Gewöhnlich versandfertig in 3-5 Werktagen, sofern auf Lager

Softcover 349,99 €

Preis für Deutschland (Brutto)

ISBN 978-94-007-3806-5
Kostenfreier Versand für Individualkunden weltweit
Institutionelle Kunden wenden sich bitte an ihren Kundenbetreuer
Gewöhnlich versandfertig in 3-5 Werktagen, sofern auf Lager
The 21st ESACT conference was held in the beautiful surroundings of the CityWest Hotel resort in Dublin, Ireland. For the first time in ESACT history the number of participants exceeded 900: a sign of the ever increasing importance of this area. The conference commenced on Sunday June 5th with two sets of parallel workshops on the subjects listed below. An additional workshop was held on Monday lunchtime of the conferenceProcess Analytical Technology (PAT), Quality by Design (QbD) and other recent regulatory developments.

2.      Innovative media products for the 21st century biopharmaceutical industry.

3.      The impact of high titre media feed-streams on monoclonal antibody purification.

4.      Advances in genomics and proteomics.

5.      Stem Cell Technology: new developments and clinical applications.
Inhaltsverzeichnis (119 Kapitel)

MicroRNAs as Potential Engineering Targets for Improvement of CHO Cell Production Phenotypes

Seiten 3-11

Are Clones Really Unstable?

Seiten 13-18

An Optimised Transfection Platform for the Epi-CHO Transient Expression System in Serum-free Media

Seiten 19-23

Using the "OMICS" Technologies as Complementary Tools to Study the Molecular Mechanisms Involved with the Adaptation of Myeloma Cell Line to Protein-Free Medium

Seiten 25-29

Galectin-3 Over-Expression Enhances Survival and Recombinant Protein Expression in Mammalian Cells

Seiten 31-35
Dieses Buch kaufen
eBook 277,13 €

Preis für Deutschland (Brutto)

ISBN 978-94-007-0884-6
Versehen mit digitalem Wasserzeichen, DRM-frei
Erhältliche Formate: EPUB, PDF
eBooks sind auf allen Endgeräten nutzbar
Sofortiger eBook Download nach Kauf

Hardcover 374,49 €

Preis für Deutschland (Brutto)

ISBN 978-94-007-0883-9
Kostenfreier Versand für Individualkunden weltweit
Institutionelle Kunden wenden sich bitte an ihren Kundenbetreuer
Gewöhnlich versandfertig in 3-5 Werktagen, sofern auf Lager

Softcover 349,99 €

Preis für Deutschland (Brutto)

ISBN 978-94-007-3806-5
Kostenfreier Versand für Individualkunden weltweit
Institutionelle Kunden wenden sich bitte an ihren Kundenbetreuer
Gewöhnlich versandfertig in 3-5 Werktagen, sofern auf Lager
Services zu diesem Buch
Wir empfehlen
Bibliografische Information
Buchtitel

Proceedings of the 21st Annual Meeting of the European Society for Animal Cell Technology (ESACT), Dublin, Ireland, June 7-10, 2009

Herausgeber

Nigel Jenkins
Niall Barron
Paula Alves

Titel der Buchreihe

Buchreihen Band

5

Copyright

2012

Verlag

Springer Netherlands

Copyright Inhaber

Springer Science+Business Media B.V.

eBook ISBN

978-94-007-0884-6

DOI

10.1007/978-94-007-0884-6

Hardcover ISBN

978-94-007-0883-9

Softcover ISBN

978-94-007-3806-5

Auflage

1

Seitenzahl

XLIV, 756

Themen