Higher Education Dynamics
Vorschau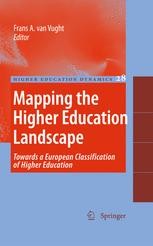 Mapping the Higher Education Landscape
Towards a European Classification of Higher Education
Herausgeber: van Vught, F. (Ed.)
Vorschau
Contains the first presentation of a new higher education tool in Europe
Relates to world-wide discussions about rankings and offers an alternative
Opens up a new debate about international quality of European higher education
Highly relevant in the Bologna process, which includes 46 European and other countries
Relates to international activities in ranking in Asia, Australia and the United States
Relates to the further development of the European Higher Education Area and the European Research Area, as well as the general EU innovation policy (Lisbon agenda)
Weitere Vorteile
Dieses Buch kaufen
eBook 106,99 €

Preis für Deutschland (Brutto)

ISBN 978-90-481-2249-3
Versehen mit digitalem Wasserzeichen, DRM-frei
Erhältliche Formate: PDF
eBooks sind auf allen Endgeräten nutzbar
Sofortiger eBook Download nach Kauf

Hardcover 139,09 €

Preis für Deutschland (Brutto)

ISBN 978-90-481-2248-6
Kostenfreier Versand für Individualkunden weltweit
Institutionelle Kunden wenden sich bitte an ihren Kundenbetreuer
Gewöhnlich versandfertig in 3-5 Werktagen, sofern auf Lager

Softcover 139,09 €

Preis für Deutschland (Brutto)

ISBN 978-90-481-8479-8
Kostenfreier Versand für Individualkunden weltweit
Institutionelle Kunden wenden sich bitte an ihren Kundenbetreuer
Gewöhnlich versandfertig in 3-5 Werktagen, sofern auf Lager
An important contribution to the international discussion on higher education globalization and worldwide rankings of higher education institutions, this volume criticizes the existing one-dimensional and aggregated international ranking models and suggests an interesting and exciting new approach of multi-dimensional mapping of higher education institutions.

The text gives readers a window on the unique process of developing a new approach to creating effective transparency in the diversity of higher education systems. It describes the conceptual, practical and methodological frameworks relevant to this new approach, whose development was based on theoretical and empirical literature on diversity in higher education. The authors report on the design methodology and research that were applied to develop the new instrument and also place it in the context of current supranational and national higher education policies.

The new system emerged from a top-level EU project to design the first European classification of higher education institutions as a tool for mapping the diversity of the higher education landscape. The editor and chapter authors are all international leaders in the field who took part in the multi-year project. They also explore the potential application of the classification in the contexts of the Bologna Process and the European Higher Education and Research Areas (EHEA and ERA). The book analyzes, too, how the system can be used at the level of individual higher education institutions, where the classification is shown to be a useful instrument for strategic institutional profiling.

This volume will be of interest to politicians and policy-makers in higher education at the supranational, national and sub-national levels, and to leaders and managers of higher education institutions and associations. It is also highly relevant to staff members and advisors at different policy levels, to higher education researchers and students, and to all who are interested in the further development of higher education systems and institutions.
Inhaltsverzeichnis (10 Kapitel)

Diversity and Differentiation in Higher Education

Seiten 1-16

Diversity in European Higher Education: Historical Trends and Current Policies

Seiten 17-37

The Search for Transparency: Convergence and Diversity in the Bologna Process

Seiten 39-55

The European Higher Education Classification: Objectives and Concepts

Seiten 57-69

Rankings and Classifications: The Need for a Multidimensional Approach

Seiten 71-86
Dieses Buch kaufen
eBook 106,99 €

Preis für Deutschland (Brutto)

ISBN 978-90-481-2249-3
Versehen mit digitalem Wasserzeichen, DRM-frei
Erhältliche Formate: PDF
eBooks sind auf allen Endgeräten nutzbar
Sofortiger eBook Download nach Kauf

Hardcover 139,09 €

Preis für Deutschland (Brutto)

ISBN 978-90-481-2248-6
Kostenfreier Versand für Individualkunden weltweit
Institutionelle Kunden wenden sich bitte an ihren Kundenbetreuer
Gewöhnlich versandfertig in 3-5 Werktagen, sofern auf Lager

Softcover 139,09 €

Preis für Deutschland (Brutto)

ISBN 978-90-481-8479-8
Kostenfreier Versand für Individualkunden weltweit
Institutionelle Kunden wenden sich bitte an ihren Kundenbetreuer
Gewöhnlich versandfertig in 3-5 Werktagen, sofern auf Lager
Services zu diesem Buch
Wir empfehlen
Bibliografische Information
Buchtitel

Mapping the Higher Education Landscape

Buchuntertitel

Towards a European Classification of Higher Education

Herausgeber

Titel der Buchreihe

Buchreihen Band

28

Copyright

2009

Verlag

Springer Netherlands

Copyright Inhaber

Springer Science+Business Media B.V.

eBook ISBN

978-90-481-2249-3

DOI

10.1007/978-90-481-2249-3

Hardcover ISBN

978-90-481-2248-6

Softcover ISBN

978-90-481-8479-8

Buchreihen ISSN

1571-0378

Auflage

1

Seitenzahl

XIV, 170

Themen