Disaster Risk Reduction
Vorschau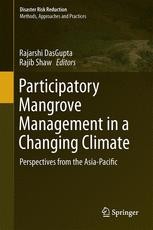 Participatory Mangrove Management in a Changing Climate
Perspectives from the Asia-Pacific
Herausgeber: DasGupta, Rajarshi, Rajib, Shaw (Eds.)
Vorschau
Presents the status and responses of coastal communities towards mangrove conservation
Emphasizes holistic learning from across the countries of the Asia-Pacific region
Provides strategies for mangrove-based adaptation and disaster risk reduction
Weitere Vorteile
Dieses Buch kaufen
eBook 117,69 €

Preis für Deutschland (Brutto)

ISBN 978-4-431-56481-2
Versehen mit digitalem Wasserzeichen, DRM-frei
Erhältliche Formate: PDF, EPUB
eBooks sind auf allen Endgeräten nutzbar
Sofortiger eBook Download nach Kauf

Hardcover 160,49 €

Preis für Deutschland (Brutto)

ISBN 978-4-431-56479-9
Kostenfreier Versand für Individualkunden weltweit
Institutionelle Kunden wenden sich bitte an ihren Kundenbetreuer
Gewöhnlich versandfertig in 3-5 Werktagen, sofern auf Lager

Softcover 160,49 €

Preis für Deutschland (Brutto)

ISBN 978-4-431-56799-8
Kostenfreier Versand für Individualkunden weltweit
Institutionelle Kunden wenden sich bitte an ihren Kundenbetreuer
Gewöhnlich versandfertig in 3-5 Werktagen, sofern auf Lager
This book outlines the performance and management of mangroves in the changing climatic scenario of the Asia-Pacific region and draws examples and lessons from the national and community-driven mangrove conservation programs of relevant countries including Pakistan, India, Bangladesh, Sri Lanka, Myanmar, Thailand, Cambodia, Indonesia, the Philippines, and Japan as well as the Pacific islands. By highlighting the major drawbacks that hinder effective mangrove conservation, the book contributes towards enhancing climate resilience of communities through proposition of corrective methods and ameliorative approaches of mangrove conservation.

Mangroves play an important role in adapting to climate change and provide a plethora of ecosystem services that are fundamental to human survival. Yet these ecosystems are exceptionally prone to extinction due to increased human interventions and changes in environmental boundary conditions. Especially in the Asia-Pacific region, mangroves have dwindled at an exceptional high rate over the past three decades. As the threat of climate change hovers over millions of people in this region, particularly those who crowd the low-lying coastal areas, conservation/restoration of mangroves through appropriate policies and practices remain highly imperative.

The primary target readers for this book are students and researchers in the fields of conservation and management of mangroves, especially from the developing tropical countries of the Asia-Pacific region. Other target groups comprise policy planners, practitioners, and NGO workers, who will be able to apply the collective knowledge from this work towards proactive mangrove conservation through effective mediation in local communities.

Rajarshi DasGupta is a Japan Society for Promotion of Sciences (JSPS) post-doctoral researcher in the Graduate School of Agricultural and Life Sciences, The University of Tokyo. He received his Ph.D. in Global Environmental Studies from Kyoto University, Japan. He has worked extensively with the mangrove communities in India, Bangladesh, and Myanmar and authored a number of research articles in peer-reviewed journals and edited volumes. His current research interest includes assessment and management of mangrove ecosystem services and their effective utilization for climate change adaptation and disaster risk reduction through proactive landscape planning.




Rajib Shaw is the executive director of Integrated Research on Disaster Risk (IRDR)—a decade-long research program co-sponsored by the International Council for Science (ICSU), the International Social Science Council (ISSC), and the United Nations International Strategy for Disaster Reduction (UNISDR). He is the co-chair of UNISDR's Asia Science Technology Academic Advisory Group (ASTAAG). He is also a senior fellow of the Institute of Global Environmental Strategies (IGES) Japan, and the chairperson of SEEDS Asia, a Japanese NGO. Previously, he was a professor in the Graduate School of Global Environmental Studies of Kyoto University, Japan. His expertise includes community-based disaster risk management, climate change adaptation, urban risk management, and disaster and environmental education. He has published more than 40 books and more than 300 academic papers and book chapters.
Inhaltsverzeichnis (20 Kapitel)

Mangroves in Asia-Pacific: A Review of Threats and Responses

Seiten 1-16

Fragile Mangroves and Increasing Susceptibility to Coastal Hazards in Pakistan

Seiten 17-30

Mangroves in India and Climate Change: An Overview

Seiten 31-57

Retrofitting Joint Forest Management (JFM) in Protected Areas of Indian Sundarbans: How Sustainable It Is?

Seiten 59-71

Chronicling Development in the Mangrove Conservation Project: Education, a Pathway for the Irula Tribe to Integrate in the Mainstream Society

Seiten 73-83
Dieses Buch kaufen
eBook 117,69 €

Preis für Deutschland (Brutto)

ISBN 978-4-431-56481-2
Versehen mit digitalem Wasserzeichen, DRM-frei
Erhältliche Formate: PDF, EPUB
eBooks sind auf allen Endgeräten nutzbar
Sofortiger eBook Download nach Kauf

Hardcover 160,49 €

Preis für Deutschland (Brutto)

ISBN 978-4-431-56479-9
Kostenfreier Versand für Individualkunden weltweit
Institutionelle Kunden wenden sich bitte an ihren Kundenbetreuer
Gewöhnlich versandfertig in 3-5 Werktagen, sofern auf Lager

Softcover 160,49 €

Preis für Deutschland (Brutto)

ISBN 978-4-431-56799-8
Kostenfreier Versand für Individualkunden weltweit
Institutionelle Kunden wenden sich bitte an ihren Kundenbetreuer
Gewöhnlich versandfertig in 3-5 Werktagen, sofern auf Lager
Services zu diesem Buch
Wir empfehlen
Bibliografische Information
Buchtitel

Participatory Mangrove Management in a Changing Climate

Buchuntertitel

Perspectives from the Asia-Pacific

Herausgeber

Rajarshi DasGupta
Shaw Rajib

Titel der Buchreihe

Copyright

2017

Verlag

Springer Japan

Copyright Inhaber

Springer Japan KK

eBook ISBN

978-4-431-56481-2

DOI

10.1007/978-4-431-56481-2

Hardcover ISBN

978-4-431-56479-9

Softcover ISBN

978-4-431-56799-8

Buchreihen ISSN

2196-4106

Auflage

1

Seitenzahl

XIII, 336

Anzahl der Bilder

16 schwarz-weiß Abbildungen, 52 Abbildungen in Farbe

Themen