MPI Studies on Intellectual Property and Competition Law
Vorschau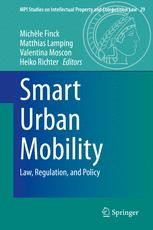 Smart Urban Mobility
Law, Regulation, and Policy
Herausgeber: Finck, M., Lamping, M., Moscon, V., Richter, H. (Eds.)
Vorschau
Offers a range of legal perspectivesPuts a spotlight on recent developments
Written for the academic community and policymakers alike
Alle Vorteile anzeigen
Dieses Buch kaufen
eBook 106,99 €

Preis für Deutschland (Brutto)

ISBN 978-3-662-61920-9
Versehen mit digitalem Wasserzeichen, DRM-frei
Erhältliche Formate: EPUB, PDF
eBooks sind auf allen Endgeräten nutzbar
Sofortiger eBook Download nach Kauf

Hardcover 139,09 €

Preis für Deutschland (Brutto)

ISBN 978-3-662-61919-3
Kostenfreier Versand für Individualkunden weltweit
Institutionelle Kunden wenden sich bitte an ihren Kundenbetreuer
Gewöhnlich versandfertig in 3-5 Werktagen, sofern auf Lager
This book adds a critical perspective to the legal dialogue on the regulation of 'smart urban mobility'. Mobility is one of the most visible sub-domains of the 'smart city', which has become shorthand for technological advances that influence how cities are structured, public services are fashioned, and citizens coexist. In the urban context, mobility has come under pressure due to a variety of different forces, such as the implementation of new business models (e.g. car and bicycle sharing), the proliferation of alternative methods of transportation (e.g. electric scooters), the emergence of new market players and stakeholders (e.g. internet and information technology companies), and advancements in computer science (in particular due to artificial intelligence). At the same time, demographic changes and the climate crisis increase innovation pressure.
In this context law is a seminal factor that both shapes and is shaped by socio-economic and technological change. This book puts a spotlight on recent developments in smart urban mobility from a legal, regulatory, and policy perspective. It considers the implications for the public sector, businesses, and citizens in relation to various areas of public and private law in the European Union, including competition law, intellectual property law, contract law, data protection law, environmental law, public procurement law, and legal philosophy.
Chapter 'Location Data as Contractual Counter-Performance: A Consumer Perspective on Recent EU Legislation' of this book is available open access under a CC BY 4.0 license at link.springer.com.


Dr. Michèle Finck, LL.M. is a (tenured) Senior Research Fellow at the Max Planck Institute for Innovation and Competition. She previously worked at the London School of Economics and the University of Oxford. Michèle holds a doctorate in EU law from the University of Oxford, an LL.M. degree from the European University Institute and a dual degree in French and English Law (King's College London / Paris 1 Panthéon Sorbonne). She was a visiting researcher at New York University from 2013 — 2014. Michèle's research agenda engages with various aspects of the data economy. She is an editor of the Cambridge Handbook on the Law and Regulation of the Sharing Economy (together with Nestor Davidson and John Infranca) and the author of 'Subnational Authorities in EU Law' (OUP 2017) as well as 'Blockchain Regulation and Governance' (Cambridge University Press 2019).
Dr. Matthias Lamping Born grew up in Spain and studied law in Salzburg, Austria. After concluding his doctoral studies on the interface of intellectual property and competition law, he joined the Max Planck Institute for Innovation and Competition in Munich as a senior research fellow. Matthias maintains an international network and pursues an interdisciplinary focus in his work. He is active as a visiting lecturer at the Ludwig Maximilians University of Munich, the Europa-Kolleg Hamburg and the Tongji University in Shanghai, and serves as an associate editor of Delphi, an interdisciplinary journal on emerging technologies. His research examines the interaction of intellectual property protection and innovation processes, including the legal and regulatory framework of research and development. The focus of his work is on new technologies and business models, specifically in the areas of life sciences and the data economy. His experience in interdisciplinary research extends, in particular, to economics and sociology. He is a member of the Institute's Committee and is responsible for the Institute's lecture series on patent law.
Dr. Valentina Moscon is a Senior Research Fellow at the Max Planck Institute for Innovation and Competition. Her fields of interest are Copyright Law and Copyright-related Rights (European, International and National); Information Regulation; Open Access and University Technology Transfer; Intellectual Property and Competition Law (in particular with regard to Technology- and Content-driven Markets); Law & Economics; Civil Law (in particular, Contract Law and Tort Law);Comparative Law.
Heiko Richter, Dipl.-Kfm., LL.M. (Columbia) is a Doctoral Student and Junior Research Fellow at the Max Planck Institute for Innovation and Competition. His fields of interest are Competition Law; Copyright Law; Information Regulation (Access and Re-use); Law & Economics.
Inhaltsverzeichnis (16 Kapitel)

Smart Urban Mobility as a Regulatory Challenge

Seiten 1-17

Governing a Risky Relationship Between Sustainability and Smart Mobility

Seiten 21-39

Environmental Implications of the EU's Urban Mobility Agenda

Seiten 41-59

Smart Mobility, Transport Poverty and the Legal Framework of Inclusive Mobility

Seiten 61-80

Local Leadership and Its Limits in the Deployment of Sustainable Mobility Policies

Seiten 81-98
Dieses Buch kaufen
eBook 106,99 €

Preis für Deutschland (Brutto)

ISBN 978-3-662-61920-9
Versehen mit digitalem Wasserzeichen, DRM-frei
Erhältliche Formate: EPUB, PDF
eBooks sind auf allen Endgeräten nutzbar
Sofortiger eBook Download nach Kauf

Hardcover 139,09 €

Preis für Deutschland (Brutto)

ISBN 978-3-662-61919-3
Kostenfreier Versand für Individualkunden weltweit
Institutionelle Kunden wenden sich bitte an ihren Kundenbetreuer
Gewöhnlich versandfertig in 3-5 Werktagen, sofern auf Lager
Services zu diesem Buch
Wir empfehlen
Bibliografische Information
Buchtitel

Smart Urban Mobility

Buchuntertitel

Law, Regulation, and Policy

Herausgeber

Michèle Finck
Matthias Lamping
Valentina Moscon
Heiko Richter

Titel der Buchreihe

Buchreihen Band

29

Copyright

2020

Verlag

Springer-Verlag Berlin Heidelberg

Copyright Inhaber

Springer-Verlag GmbH Germany, part of Springer Nature

eBook ISBN

978-3-662-61920-9

DOI

10.1007/978-3-662-61920-9

Hardcover ISBN

978-3-662-61919-3

Buchreihen ISSN

2191-5822

Auflage

1

Seitenzahl

VI, 340

Anzahl der Bilder

1 schwarz-weiß Abbildungen, 1 Abbildungen in Farbe

Themen