CSR, Sustainability, Ethics & Governance
Vorschau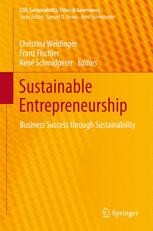 Sustainable Entrepreneurship
Business Success through Sustainability
Herausgeber: Weidinger, Christina, Fischler, Franz, Schmidpeter, René (Eds.)
Vorschau
Academic and business leaders provide a comprehensive understanding on the concept of "Sustainable Entrepreneurship" and its relevance to latest management approaches
Managerial and academic insides help to clearly understand the opportunities and challenges related to this evolving concept
Best practices show how successful companies apply the concept of Sustainable Entrepreneurship in their strategic management as well as in their core business
Provides a clear approach to the pure terminus of Sustainable Entrepreneurship through the link between Business and Society
Provides a framework for business opinion leaders and professionals, as well as an orientation for academics and students
Weitere Vorteile
Dieses Buch kaufen
eBook 64,19 €

Preis für Deutschland (Brutto)

ISBN 978-3-642-38753-1
Versehen mit digitalem Wasserzeichen, DRM-frei
Erhältliche Formate: EPUB, PDF
eBooks sind auf allen Endgeräten nutzbar
Sofortiger eBook Download nach Kauf

Hardcover 80,24 €

Preis für Deutschland (Brutto)

ISBN 978-3-642-38752-4
Kostenfreier Versand für Individualkunden weltweit
Institutionelle Kunden wenden sich bitte an ihren Kundenbetreuer
Gewöhnlich versandfertig in 3-5 Werktagen, sofern auf Lager

Softcover 80,24 €

Preis für Deutschland (Brutto)

ISBN 978-3-642-44692-4
Kostenfreier Versand für Individualkunden weltweit
Institutionelle Kunden wenden sich bitte an ihren Kundenbetreuer
Gewöhnlich versandfertig in 3-5 Werktagen, sofern auf Lager
Sustainable Entrepreneurship stands for a business driven concept of sustainability which focusses on increasing both social as well as business value - so called Shared Value.

This book shows why and how this unique concept has the potential to become the most recognised strategic management approach in our times. It aims to point out the opportunities that arise from putting sustainable entrepreneurship into practice. At the same time, this book is a wake-up call for all those companies and decision makers who underestimated Sustainable Entrepreneurship before or who are simply not aware of its greater dimension. Well structured chapters from different academic and business perspectives clearly outline how Sustainable Entrepreneurship contributes to solving the world's most challenging problems, such as Climate Change, Finance Crisis and Political Uncertainty,  as well as to ensuring business success. The book provides a framework of orientation where the journey might go: What can a successful concept of SE look like? What are the key drivers for its realisation? What is the role of business in shaping the future of our society?

The book also presents best practices and provides unique learnings as well as business insights from the international Sustainable Entrepreneurship Award (www.se-award.org). The Sustainable Entrepreneurship Award (short SEA) is an award for companies today who are thinking about tomorrow by making sustainable business practices an integral part of their corporate culture. Companies that receive the SEA are being recognised for the vision they have shown in combining economic and sustainable responsibility.

In September 2009 Christina Weidinger founded diabla media Verlag, a Vienna-based publishing house where she is a managing partner. Diabla media Verlag is an international business publisher with a portfolio that includes business media for specific target groups, eg the European business magazine SUCCEED, Vienna City Guide, and Unternehmer, a business magazine for Austria's self-employed elite. Further, diabla media Verlag specialises in corporate publishing and produces high-quality magazines such as Skylines, Qatar and special issues of SUCCEED. In December 2011 Weidinger founded the Sustainable Entrepreneurship Award (SEA). The SEA aims to achieve a synergy of politics, industry and society on the topic of sustainability. It showcases companies who are making important contributions to Sustainable Entrepreneurship.The actions of Sustainable Entrepreneurs and organisations are just as future oriented as the core principle of sustainability. This is why the SEA is endorsed by renowned experts and organizations.   

 Dr. Franz Fischler is the chairman of the RISE-Foundation, Brussels, and a consultant for several governments and the OECD.He holds eight honorary doctorates, the high ranking Austrian medal for special merits, and various awards. He was a member of the EU Commission responsible for agriculture and rural development. He started his career as a university assistant at the Department for Regional Agricultural Planning at the Institute for Farm management in Vienna. Afterwards he was appointed director of the Chamber of Agriculture and became Member at the ALPI dairy factory and Raiffeisen bank, Tyrol. Before he was elected Member of the Austrian National Parliament (Nationalrat), he was involved in the preparations of the Austrian agriculture and forestry sector to join the EU as Federal Minister of Agriculture and Forestry

Dr. René Schmidpeter is the academic head of the Centre for Humane Market Economy ("Zentrum für humane Marktwirtschaft") in Salzburg, member of the Club of Rome (Austrian Chapter) and member of the Jury for the Sustainable Entrepreneurship Award (SEA). He teaches CSR and Sustainability at several business schools and universities in Europe. He studied business administration, applied European studies, social ethics and social politics in Germany, Great Britain and the USA. For more than ten years he has worked and done research in the field of corporate social responsibility and sustainability. He is Section Editor of the CSR Encyclopaedia and Editor of several publications on Corporate Social Responsibility with Springer: e.g. "Social Innovation" (2013), "Corporate Social Responsibility – Verantwortungsvolle Unternehmensführung in Theorie und Praxis" (2012); "Handbuch Corporate Citizenship" (2008) and "CSR across Europe" (2005).
Inhaltsverzeichnis (26 Kapitel)

Linking Business and Society: An Overview

Seiten 1-10

Sustainability: The Concept for Modern Society

Seiten 13-21

Sustainability: Challenges for the Future

Seiten 23-37

Innovation and Entrepreneurship: The Invisible Cycle

Seiten 39-50

Sustainability: Ethical Perspectives

Seiten 51-65
Dieses Buch kaufen
eBook 64,19 €

Preis für Deutschland (Brutto)

ISBN 978-3-642-38753-1
Versehen mit digitalem Wasserzeichen, DRM-frei
Erhältliche Formate: EPUB, PDF
eBooks sind auf allen Endgeräten nutzbar
Sofortiger eBook Download nach Kauf

Hardcover 80,24 €

Preis für Deutschland (Brutto)

ISBN 978-3-642-38752-4
Kostenfreier Versand für Individualkunden weltweit
Institutionelle Kunden wenden sich bitte an ihren Kundenbetreuer
Gewöhnlich versandfertig in 3-5 Werktagen, sofern auf Lager

Softcover 80,24 €

Preis für Deutschland (Brutto)

ISBN 978-3-642-44692-4
Kostenfreier Versand für Individualkunden weltweit
Institutionelle Kunden wenden sich bitte an ihren Kundenbetreuer
Gewöhnlich versandfertig in 3-5 Werktagen, sofern auf Lager
Services zu diesem Buch
Wir empfehlen
Bibliografische Information
Buchtitel

Sustainable Entrepreneurship

Buchuntertitel

Business Success through Sustainability

Herausgeber

Christina Weidinger
Franz Fischler
René Schmidpeter

Titel der Buchreihe

Copyright

2014

Verlag

Springer-Verlag Berlin Heidelberg

Copyright Inhaber

Springer-Verlag Berlin Heidelberg

eBook ISBN

978-3-642-38753-1

DOI

10.1007/978-3-642-38753-1

Hardcover ISBN

978-3-642-38752-4

Softcover ISBN

978-3-642-44692-4

Buchreihen ISSN

2196-7075

Auflage

1

Seitenzahl

XXIII, 314

Themen