Global Power Shift
Vorschau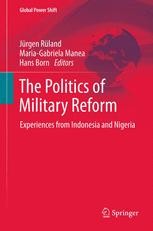 The Politics of Military Reform
Experiences from Indonesia and Nigeria
Herausgeber: Rüland, Jürgen, Manea, Maria-Gabriela, Born, Hans (Eds.)
Vorschau
​Informs the reader on latest developments of military reform in newly democratizing countries
Shows why democratization and military reforms stagnate
Provides insights in latest developments of political change in two leading regional powers
Weitere Vorteile
Dieses Buch kaufen
eBook 93,08 €

Preis für Deutschland (Brutto)

ISBN 978-3-642-29624-6
Versehen mit digitalem Wasserzeichen, DRM-frei
Erhältliche Formate: EPUB, PDF
eBooks sind auf allen Endgeräten nutzbar
Sofortiger eBook Download nach Kauf

Hardcover 117,69 €

Preis für Deutschland (Brutto)

ISBN 978-3-642-29623-9
Kostenfreier Versand für Individualkunden weltweit
Institutionelle Kunden wenden sich bitte an ihren Kundenbetreuer
Gewöhnlich versandfertig in 3-5 Werktagen, sofern auf Lager

Softcover 117,69 €

Preis für Deutschland (Brutto)

ISBN 978-3-642-43048-0
Kostenfreier Versand für Individualkunden weltweit
Institutionelle Kunden wenden sich bitte an ihren Kundenbetreuer
Gewöhnlich versandfertig in 3-5 Werktagen, sofern auf Lager
This volume seeks to explain why democratization and military reforms stagnate in newly democratizing countries. The contributions blend historical, ideational, cultural and structural explanatory factors to analyze the trajectories of military reform in Indonesia and Nigeria, two major regional powers that share many structural commonalities. In the tradition of the literature on security sector reform (SSR), the book not only scrutinizes executive initiatives toward military reform, but also provides ample coverage of societal actors. Findings show that while military reform is stagnating in both countries, societal forces ought to be taken into account more as major driving forces in explaining military reform. Several chapters study how legislatures, non-governmental organizations and the civilian defence epistemic community contribute to the transformation of military institutions. The last part of the book tackles another aspect rarely studied in the literature on military reform, namely, the role of militias in military reform.

Jürgen Rüland is Professor at the Department of Political Science, University of Freiburg, Germany, and Chairman of the university's Southeast Asian Studies Program. He has published extensively on Southeast Asian politics and security issues in journals such as the European Journal of International Relations, Journal of European Public Policy, The Pacific Review, Pacific Affairs, Asian Survey, International Relations of the Asia-Pacific, Contemporary Southeast Asia, European Journal of East Asian Studies, Asia Europe Journal and Security Dialogue. He is co-author of Parliaments and Political Change in Asia (2005), and co-editor of Asian Security Reassessed. Contemporary Policies and New Challenges (2006).

Maria Gabriela Manea is a Lecturer at the Department of Political Science, University Freiburg, Germany. Her publications appeared in The Pacific Review and Cooperation and Conflict.

Hans Born is a Senior Fellow at the Centre for the Democratic Control of Armed Forces (DCAF), Geneva, Switzerland, where he heads the DCAF's research working groups on Parliamentary Accountability of the Security Sector and Legal Aspects of Security Sector Governance. He co-authored Security Sector Reform in Transitional Societies (2002), Parliamentary Oversight of the Security Sector: Principles, Mechanisms and Practices (2003) and The "Double Democratic Deficit": Parliamentary Accountability and the Use of Force under International Auspices (2004).
Inhaltsverzeichnis (11 Kapitel)

The Politics of Military Reform in Indonesia and Nigeria

Seiten 3-25

Taking Stock of Military Reform in Indonesia

Seiten 29-56

Taking Stock of Military Reform in Nigeria

Seiten 57-76

Reinventing the Military as a Political Actor: Alternative Discourses of Civil-Military Relations in Nigeria

Seiten 77-100

Military Businesses in Post-Suharto Indonesia: Decline, Reform and Persistence

Seiten 101-120
Dieses Buch kaufen
eBook 93,08 €

Preis für Deutschland (Brutto)

ISBN 978-3-642-29624-6
Versehen mit digitalem Wasserzeichen, DRM-frei
Erhältliche Formate: EPUB, PDF
eBooks sind auf allen Endgeräten nutzbar
Sofortiger eBook Download nach Kauf

Hardcover 117,69 €

Preis für Deutschland (Brutto)

ISBN 978-3-642-29623-9
Kostenfreier Versand für Individualkunden weltweit
Institutionelle Kunden wenden sich bitte an ihren Kundenbetreuer
Gewöhnlich versandfertig in 3-5 Werktagen, sofern auf Lager

Softcover 117,69 €

Preis für Deutschland (Brutto)

ISBN 978-3-642-43048-0
Kostenfreier Versand für Individualkunden weltweit
Institutionelle Kunden wenden sich bitte an ihren Kundenbetreuer
Gewöhnlich versandfertig in 3-5 Werktagen, sofern auf Lager
Services zu diesem Buch
Wir empfehlen
Bibliografische Information
Buchtitel

The Politics of Military Reform

Buchuntertitel

Experiences from Indonesia and Nigeria

Herausgeber

Jürgen Rüland
Maria-Gabriela Manea
Hans Born

Titel der Buchreihe

Copyright

2012

Verlag

Springer-Verlag Berlin Heidelberg

Copyright Inhaber

Springer-Verlag Berlin Heidelberg

eBook ISBN

978-3-642-29624-6

DOI

10.1007/978-3-642-29624-6

Hardcover ISBN

978-3-642-29623-9

Softcover ISBN

978-3-642-43048-0

Buchreihen ISSN

2198-7343

Auflage

1

Seitenzahl

XX, 240

Themen